Home is my happy place. After living in rentals for years, it is amazing to have a place of our own. We'd love to show you our place in this virtual condo home tour. It's a little 757 square foot condo in Seattle. One bathroom. One bedroom + den. Three humans and one dog. Half of me wishes we lived somewhere bigger with a backyard and a front yard, a long porch and a cute mailbox, but the other half of me screams location, location, location. We live in a pretty cool pocket of Seattle. We are one block from the library, one block from a million restaurants and cafes and shops, three blocks from the grocery store, a 15 minute walk to an awesome park, a 9 minute drive to the zoo, and a 10 minute drive to a beach. So for right now we're content trading a bigger space for staying in the action and living city life to the fullest!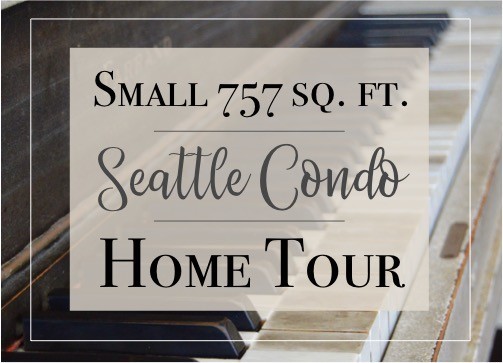 Confession #1… Our home is not always this spotless.
Confession #2… I'm hesitant to post my condo home tour for a couple of reasons. The main reason being my home is always a work in progress. I constantly add things and change things so in a couple months I'll look back at this post and wonder how I possibly could have shared my home tour before I added blank and blank. But sometimes you just gotta go for it. So here we go… my Seattle city condo home tour.
Amber's Seattle Condo Home Tour
Also, my husband works at Amazon so you better believe we're an Amazon-loyal family 😉 I'll be putting in some links into this condo home tour to things we have in our home and love. (These are affiliate links that we may be compensated for. Your clicks and purchases help support The DIY Lighthouse at no extra charge to you. We only put links to products we love and would recommend anyway!)
Condo Home Tour: The Kitchen
Let's start this condo home tour with the most important room of the house, am I right?! It feels like half of my life is spent cooking, feeding, eating, and cleaning in this place. But I love it because my little boy LOVES to eat. Our kitchen is probably my favorite room because of those huge, white counters… and the sink… and the dishwasher (a luxury we've previously been without)… and everything. For being in a small condo, the kitchen actually feels pretty spacious, and I attribute that to the nice, open layout.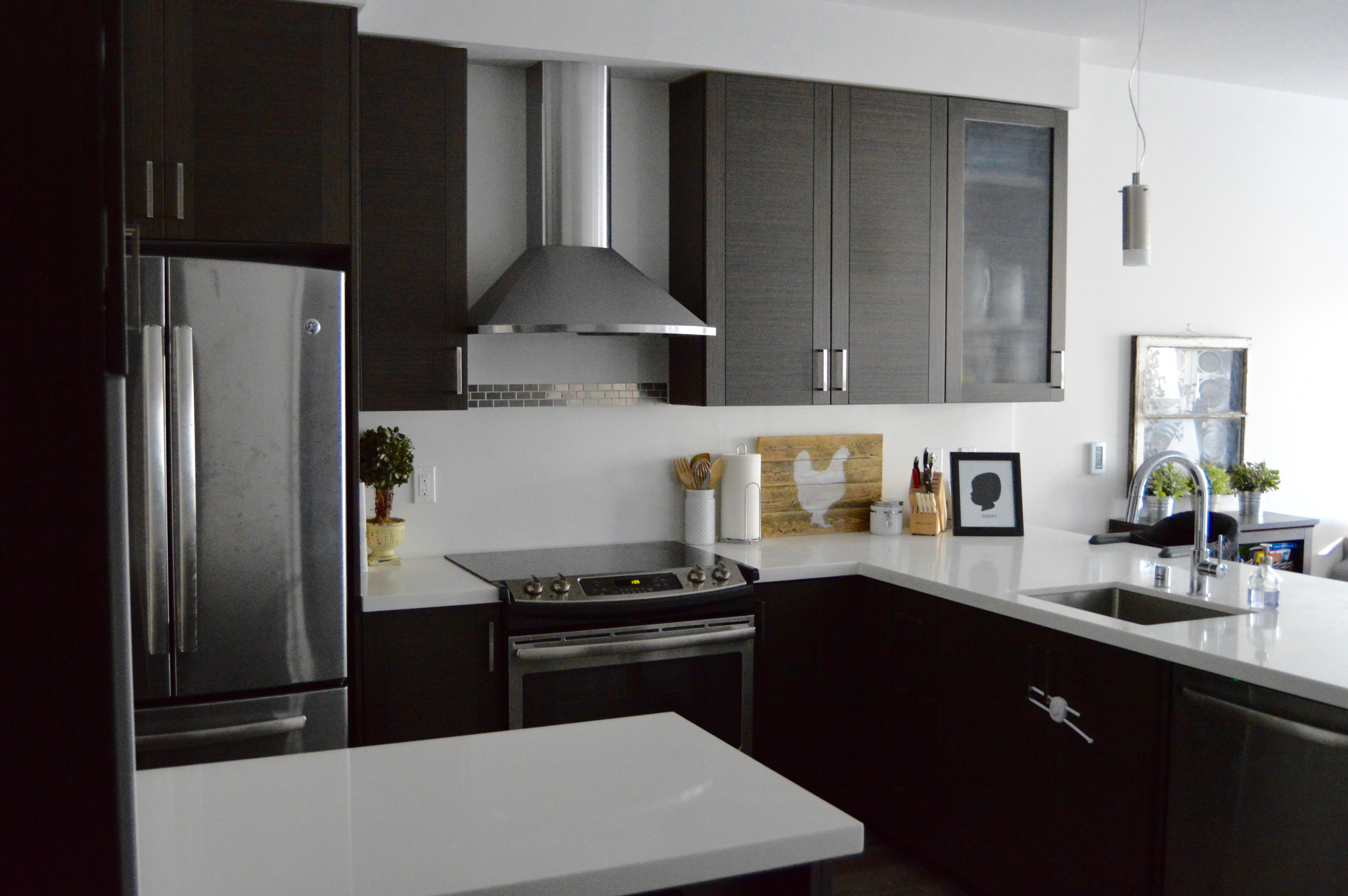 For people with babies: Once our little man learned how to open our kitchen cabinets it was game over for living free and easy. We needed cabinet locks, but a lot of them make you screw into the cabinets. We were not about to do that, so we found some discrete, heavy-duty, stick on magnetic locks that have held up tremendously well with our mini muscle man. We also use this slide lock with a decoy button for our double cabinets. We are very happy with both types of locks.
One thing we don't have room for is a dinning table and chairs, so we utilize our awesome, swivel leather bar stools and our space-saving high chair.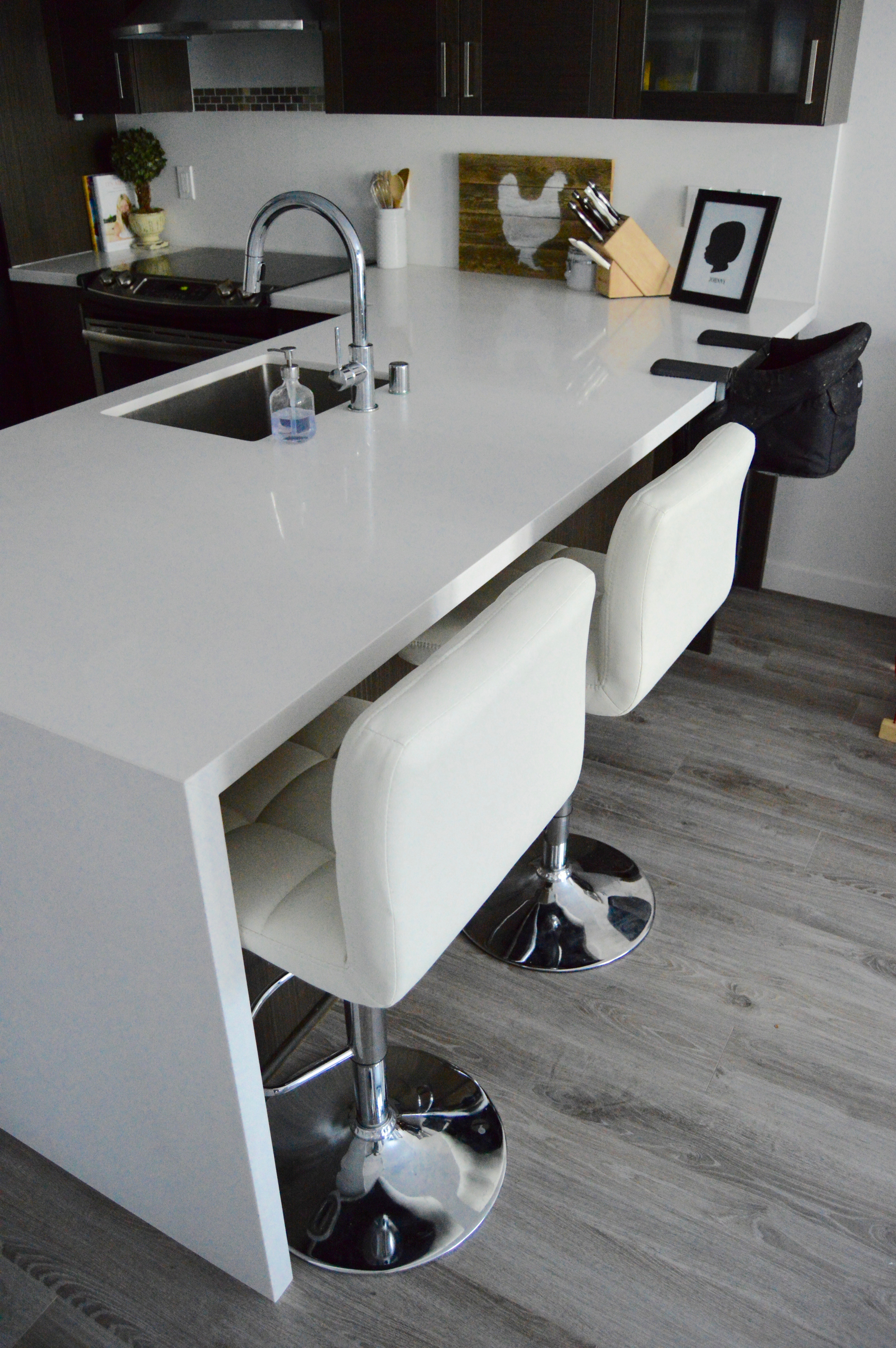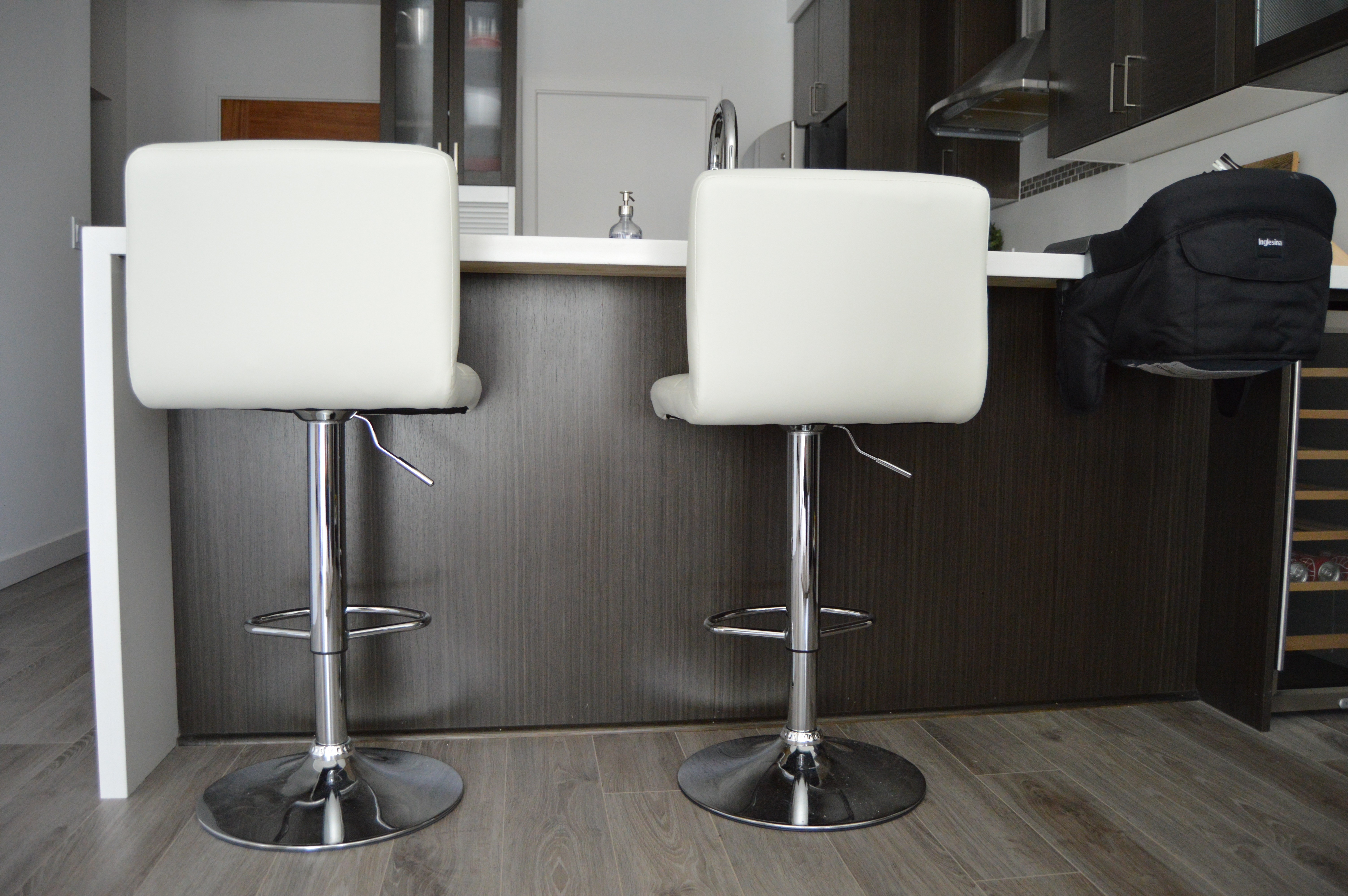 And did you notice my cute silhouette profile portrait of my little man? Aubri was so thoughtful and surprised me with it! She is currently selling custom silhouettes on the shop if you want to get one of your own.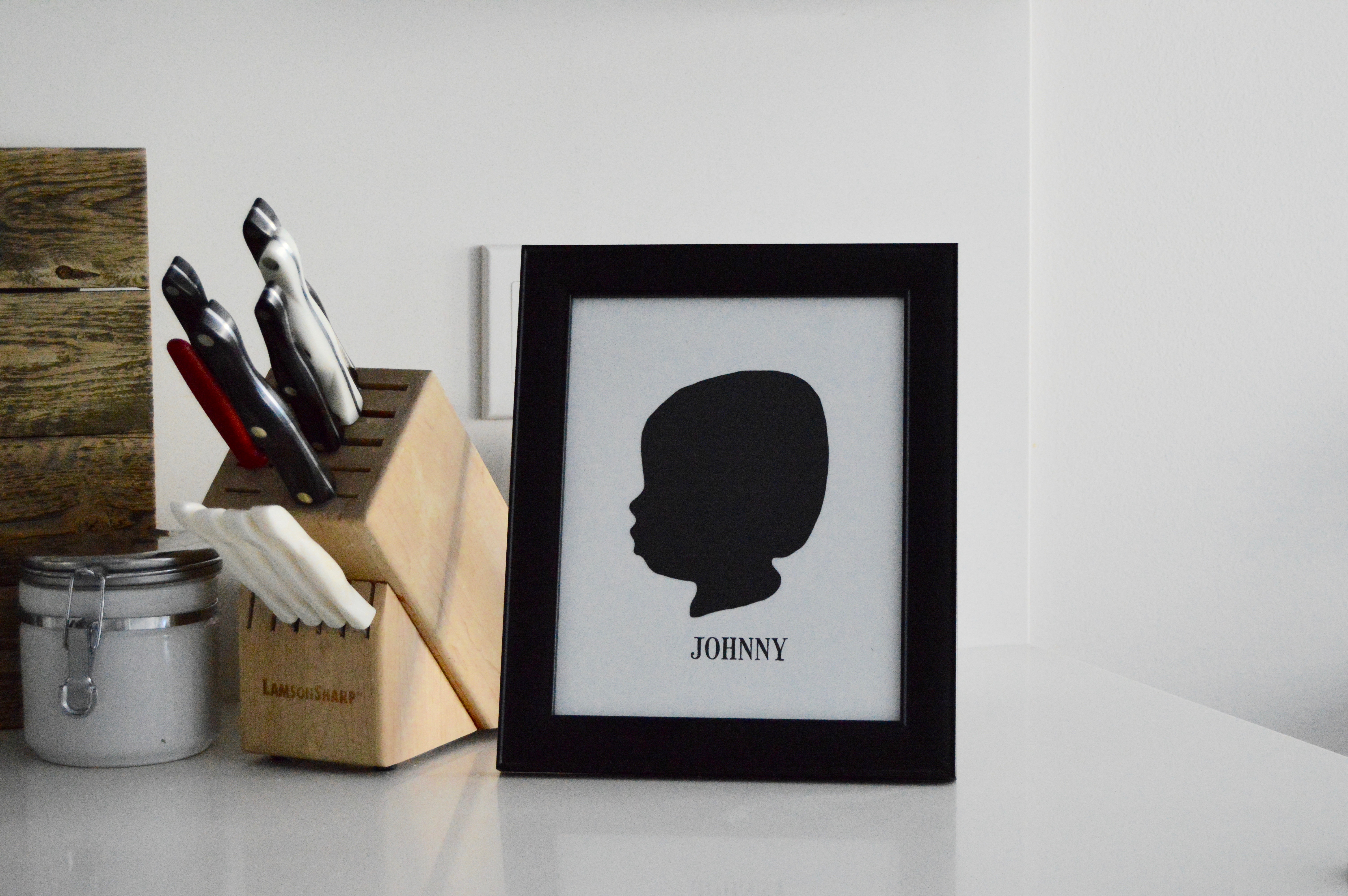 Condo Home Tour: The Entryway & Hallways
Inside our door is this cute owl holding a cool key I got in Istanbul and our other house keys. Sometimes the details are the best part.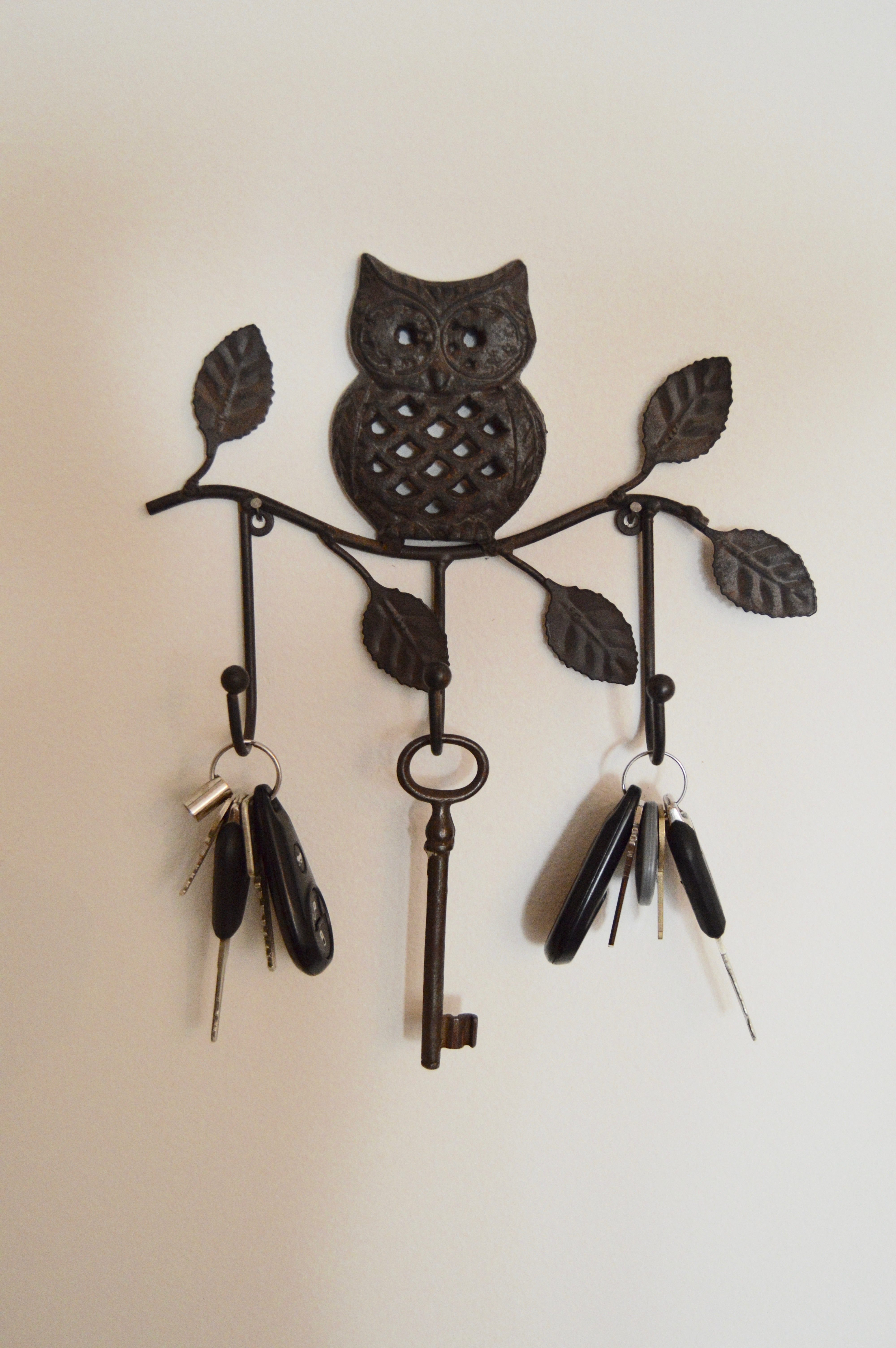 And this crate is hanging well out of our little man's reach. It houses leashes, our dog's raincoat (yep, he has a raincoat), and other miscellaneous items we need by the front door. I love that I finally found a good use for the super cool door knob I found for free on an abandoned, antique door. (I used to have the whole door… but when we moved I just kept the knob.)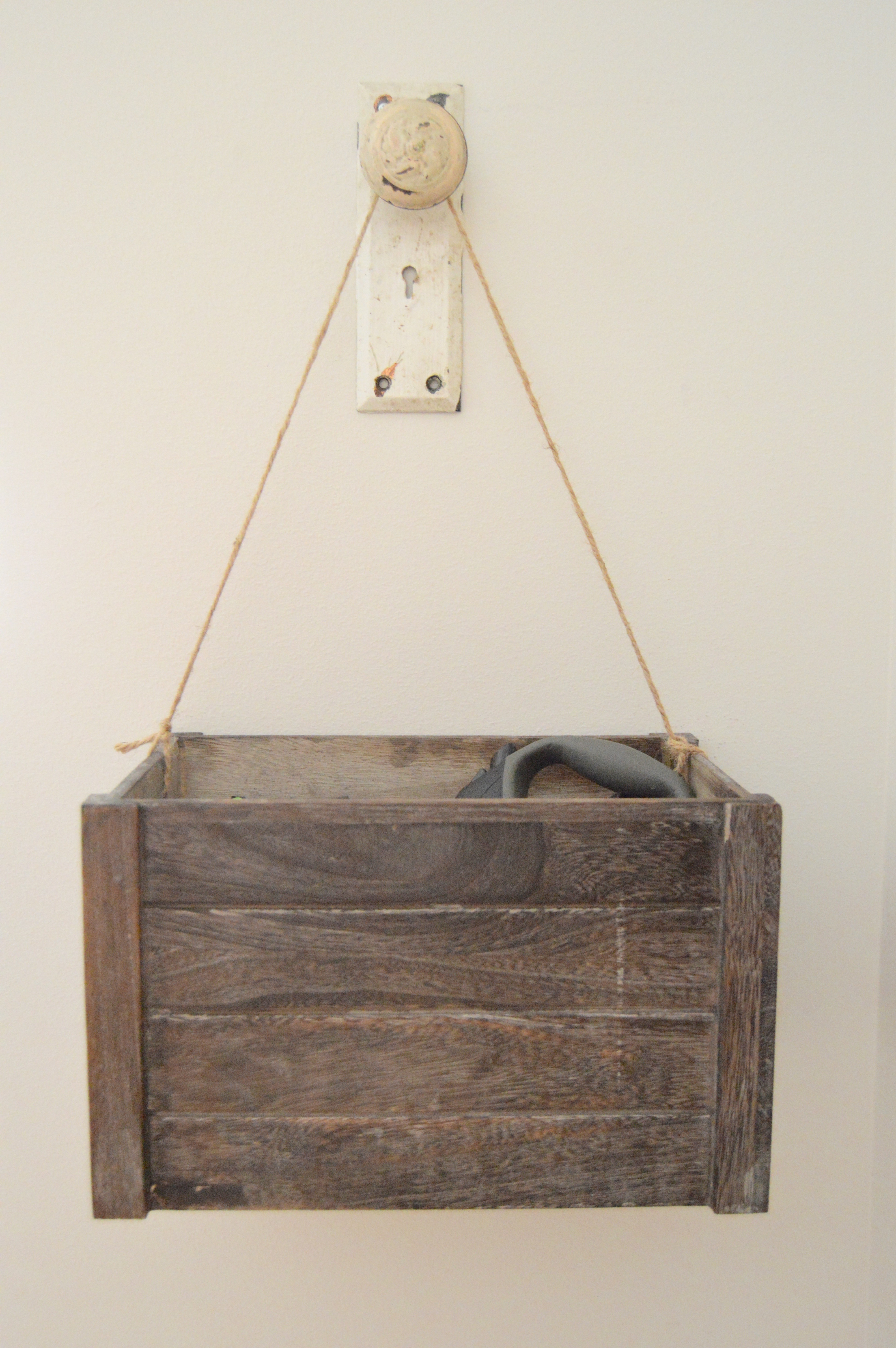 "Hallways" is misleading because we really don't have any, but I couldn't not show you the fabulous wooden Seattle skyline silhouette we got from my talented friend, ShaNae. (Various skylines selling in the gift shop so click here.) Our custom order was the first in her series of skylines and I love it!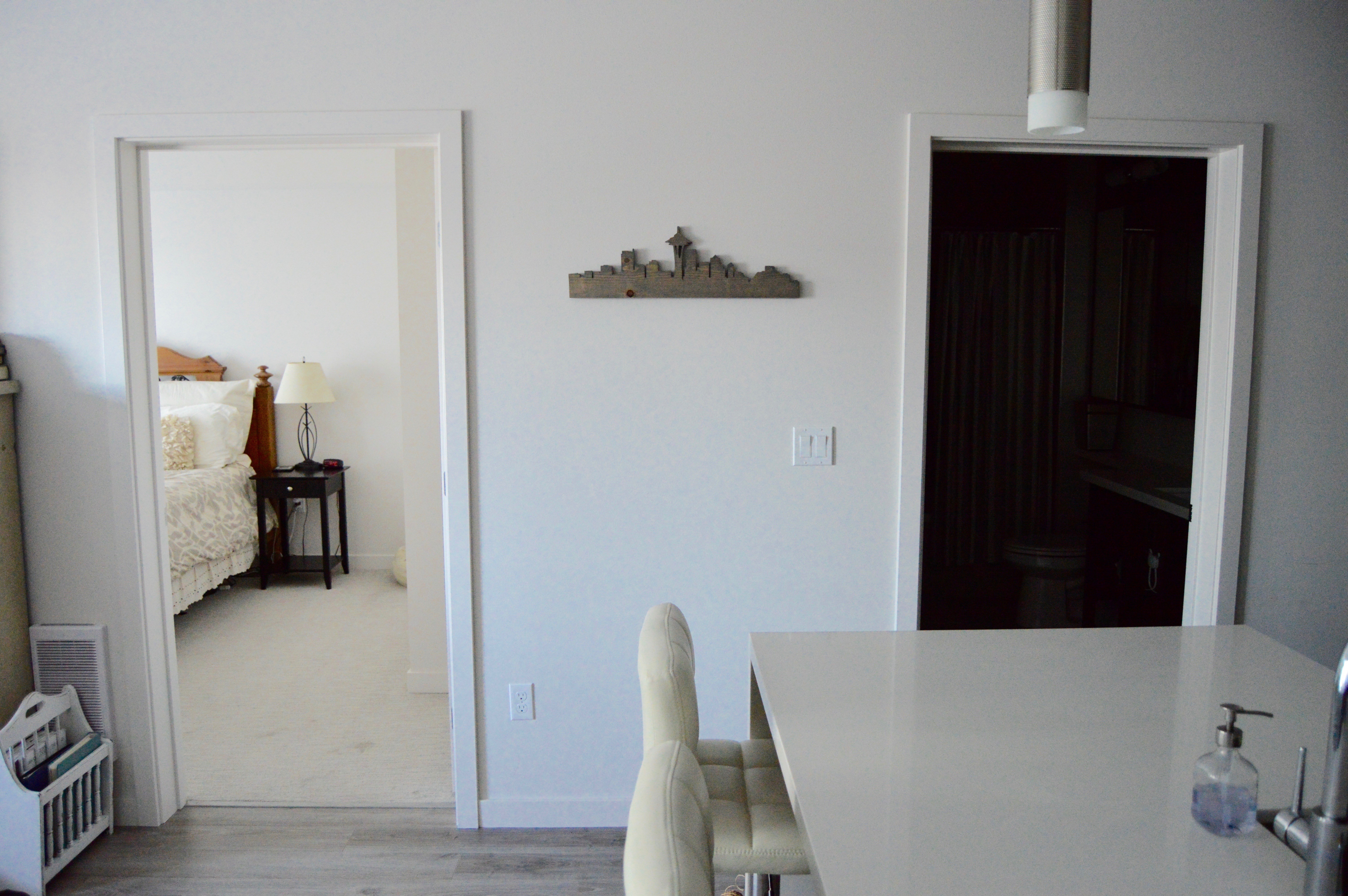 Condo Home Tour: The Living Room
Onto the living room! This room is definitely multi-purpose. It's our living room, music room, office, and playroom all rolled into one. And check out that wall… you better believe I painted my wall black. (One of the best decision I've ever made.) As you look through the pics, you'll get a sense of my style. I am super into neutrals and monochromatic colors. My living room is basically a bunch of blacks, grays, and whites. Call me boring, but it feels so peaceful and right to me. I also love antique, weathered pieces sprinkled into a clean, modern background. Out of all of the rooms in our home, the living room has the most antique feel to it which I think gives it character.
Last thing to note… I am a huge tightwad. I love home decor, but I hate spending a bunch of money on it so most of my living room decor has been pieced together over a few years as I've found deals and steals (craigslist for the win!) and made things (DIY for the win!) myself. Public Service Announcement: If you need a rug, head to Home Depot and ask if there is anything on clearance. We basically stole that guy for 20 bucks!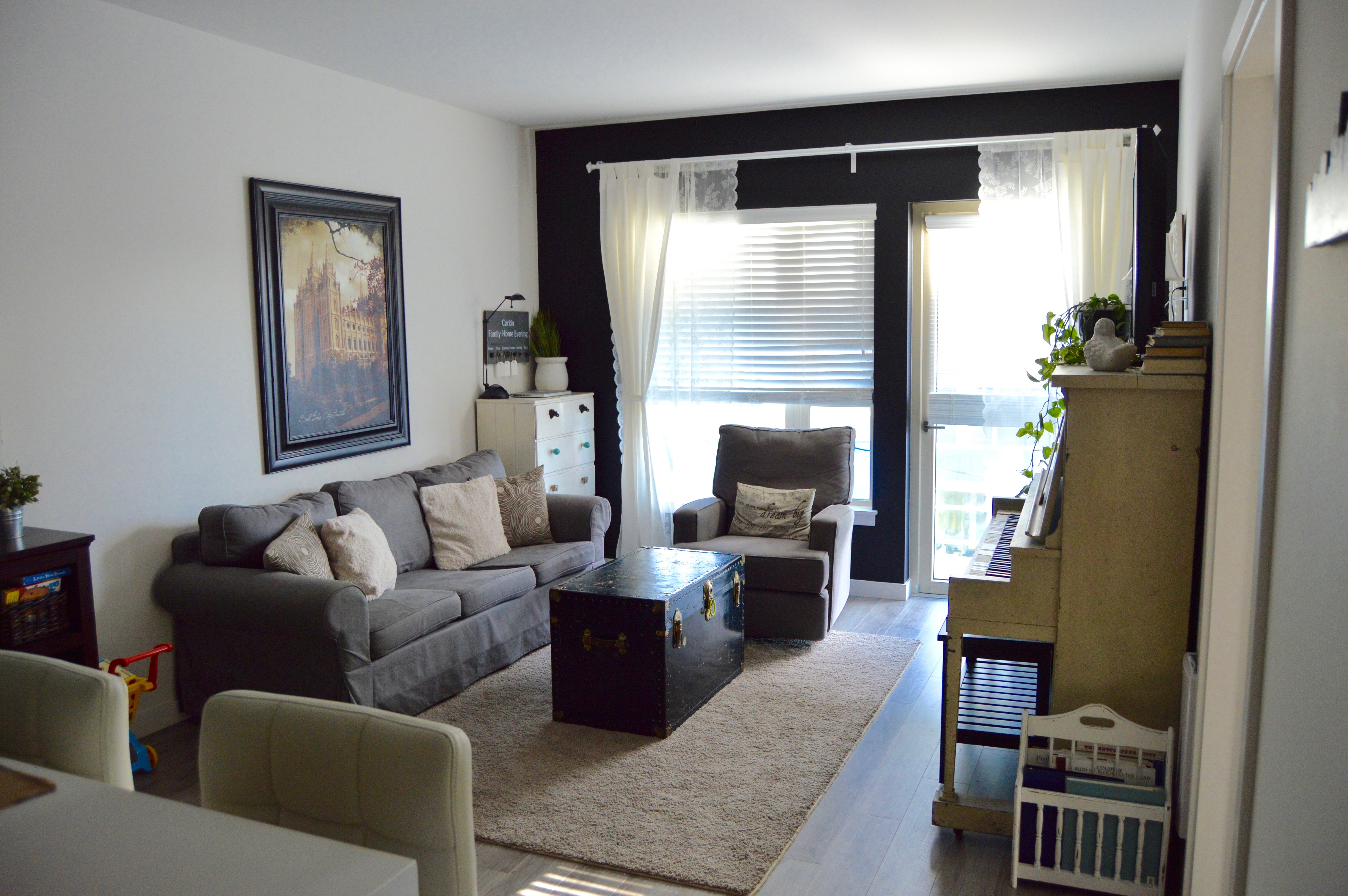 So why don't you step into my office… a.k.a. the back corner of the living room. This dresser is my standing desk. The top two drawers are for my work/office supplies. The bottom three hold all of Johnny's clothes, sheets, towels, etc. When you live in a small space you have to get creative sometimes.
My little sister used this dresser back in the day and my parents gave it to us when we were newly weds and didn't want to buy a bunch of furniture. Well, I still have it. I distressed it a bit and added some fun dresser knobs from the clearance section in Hobby Lobby to spice it up a bit.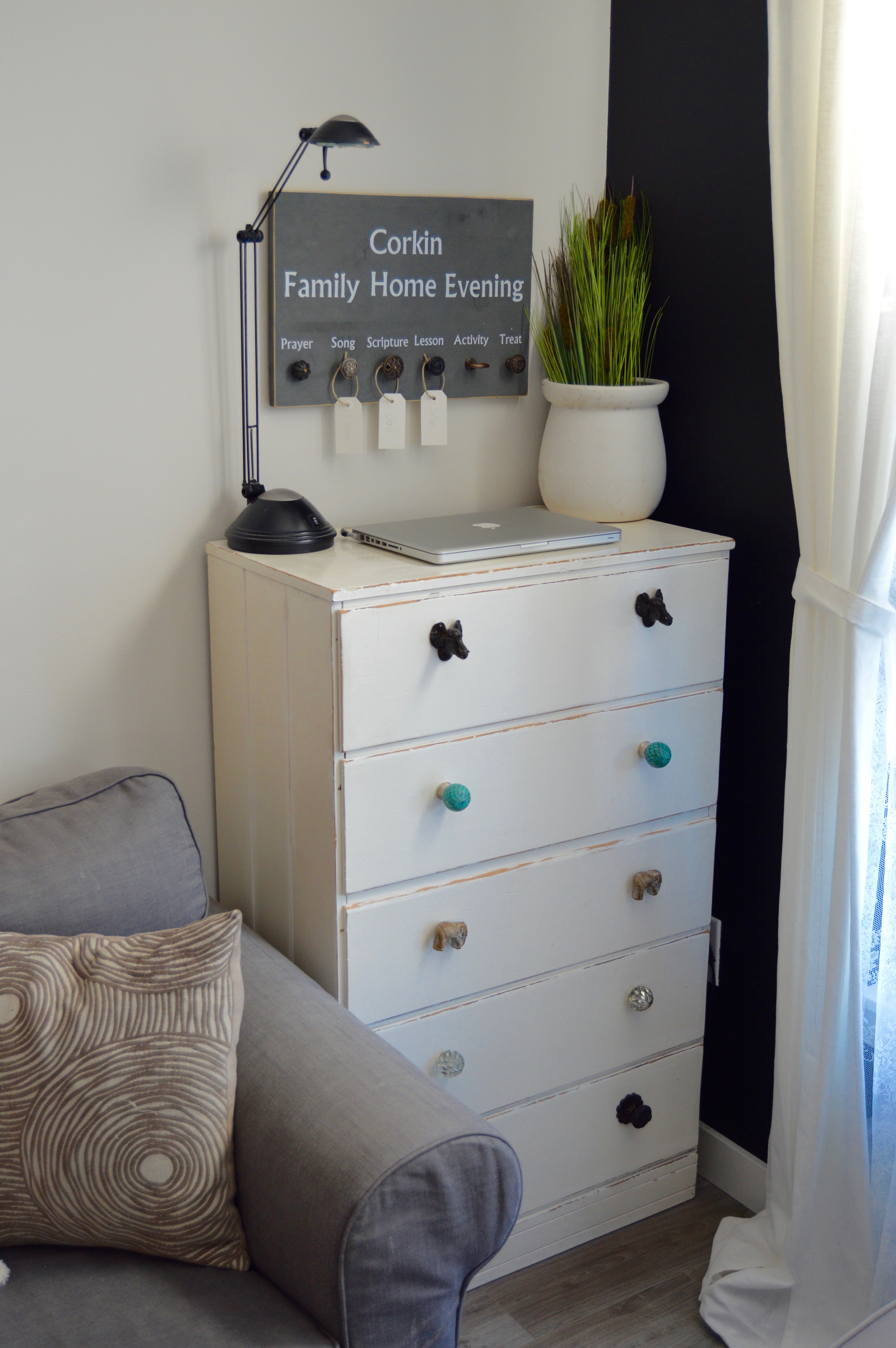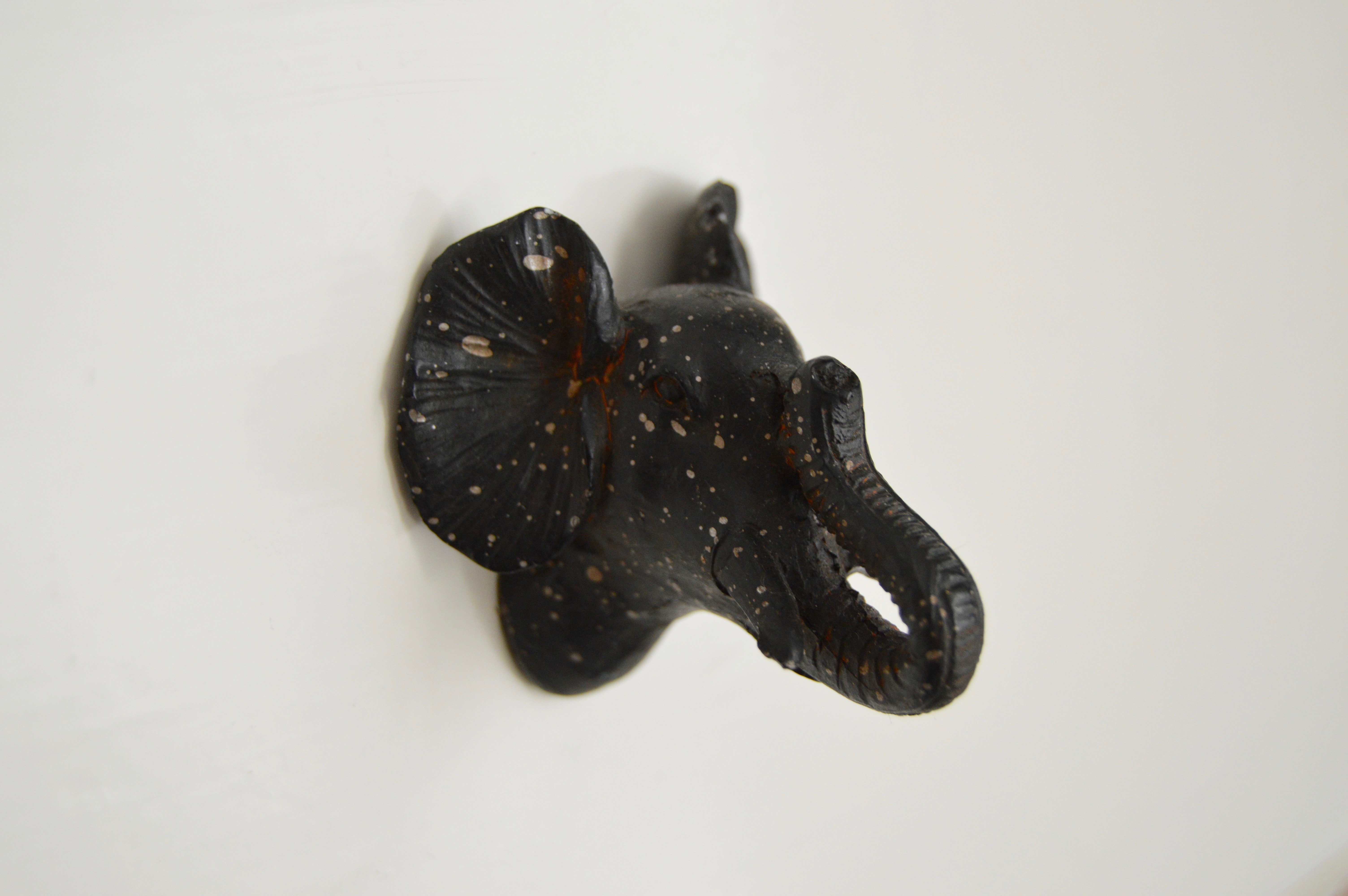 And don't you just love the family home evening board Aubri and her husband made for me? Every Monday night our family has "FHE" where we take turns doing the activities below. As our family grows we will add on more name tags to rotate.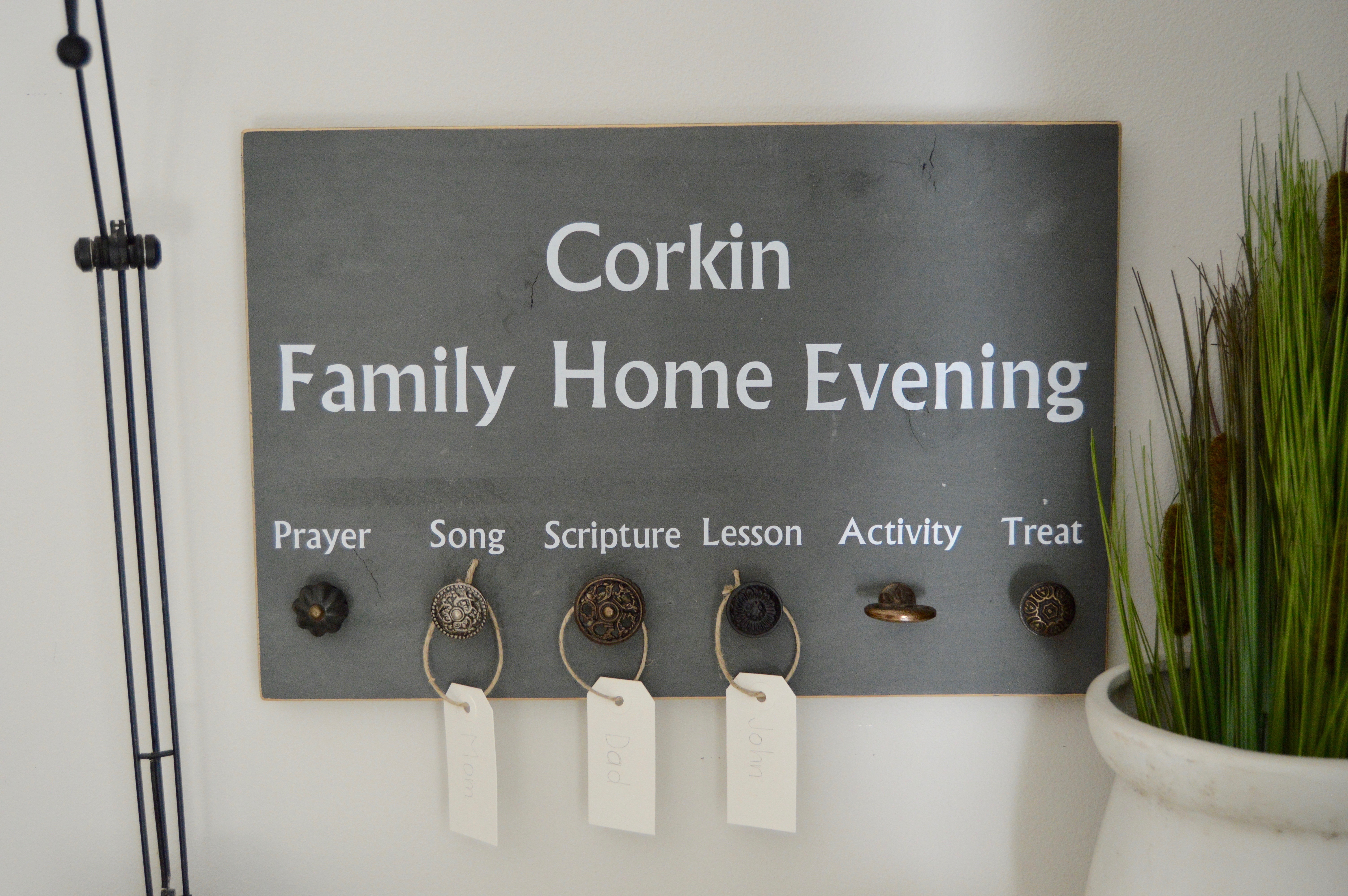 In another corner of the room (by the kitchen) is where we keep my little's toys and books. Since taking this picture I have purged a bit and started rotating toys in and out. Toys that are not out are in bins under the bed. Doing this has helped keep the mess to a minimum. Also, don't miss the steamy pic of me and my main man on our wedding day. I'm in love with my DIY antique window sash picture frame. If you want to make one, check out this post for a tutorial.
Btw, we definitely have all of our furniture bolted to the wall. An absolute safety MUST with kids. Click here for the safety straps we used.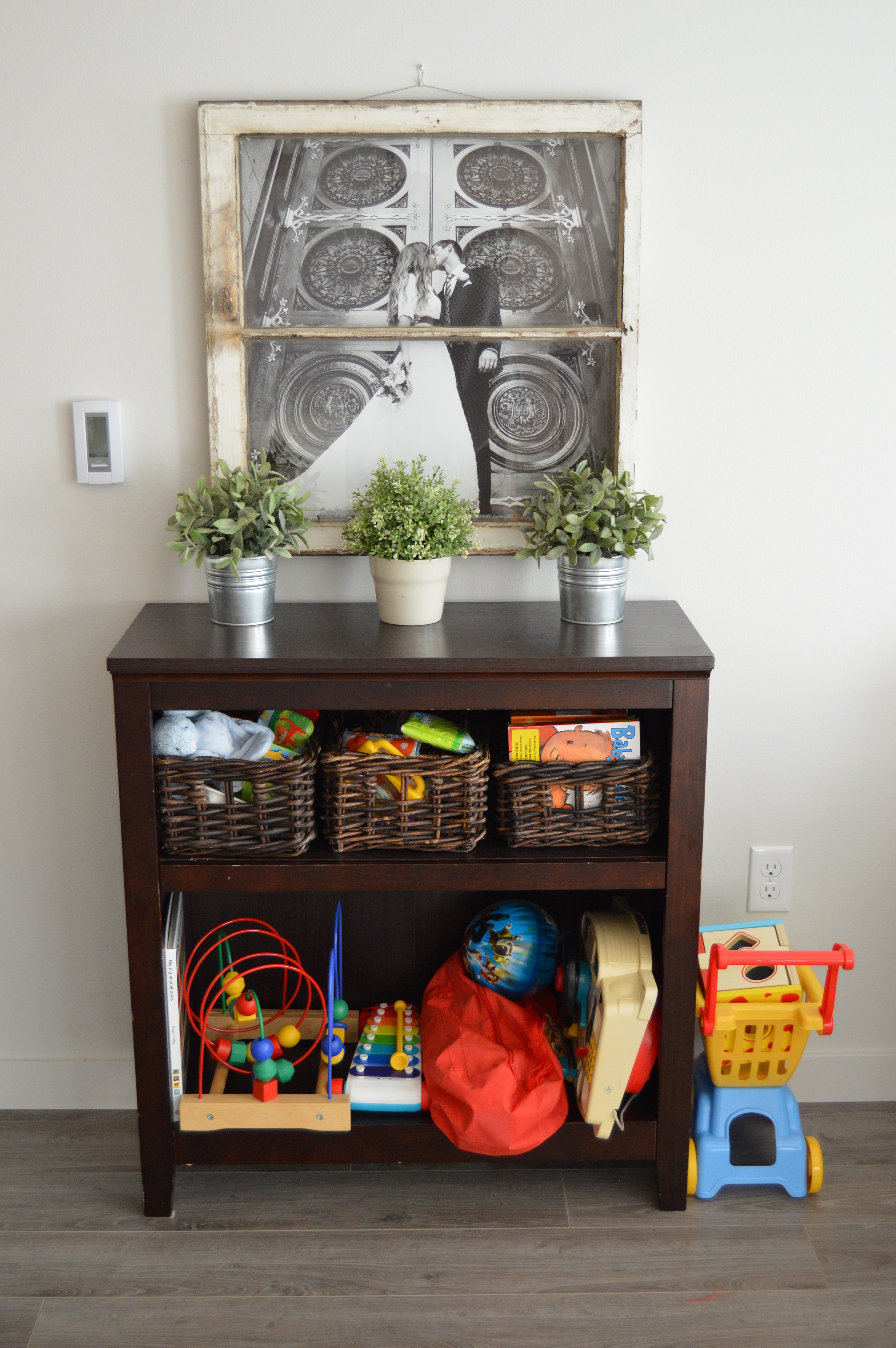 Our piano is one of my favorite pieces in our home. No, I don't play (much to my mother's dismay), but my husband does. We got the piano for free off of craigslist and it totally matches my home decor style. As you can see, the T.V. gets to live on top of the piano. And to the left we have the coolest chair you've ever seen (thanks, craigslist!) and a mirror that I love and have had forever but just recently found the right spot for it.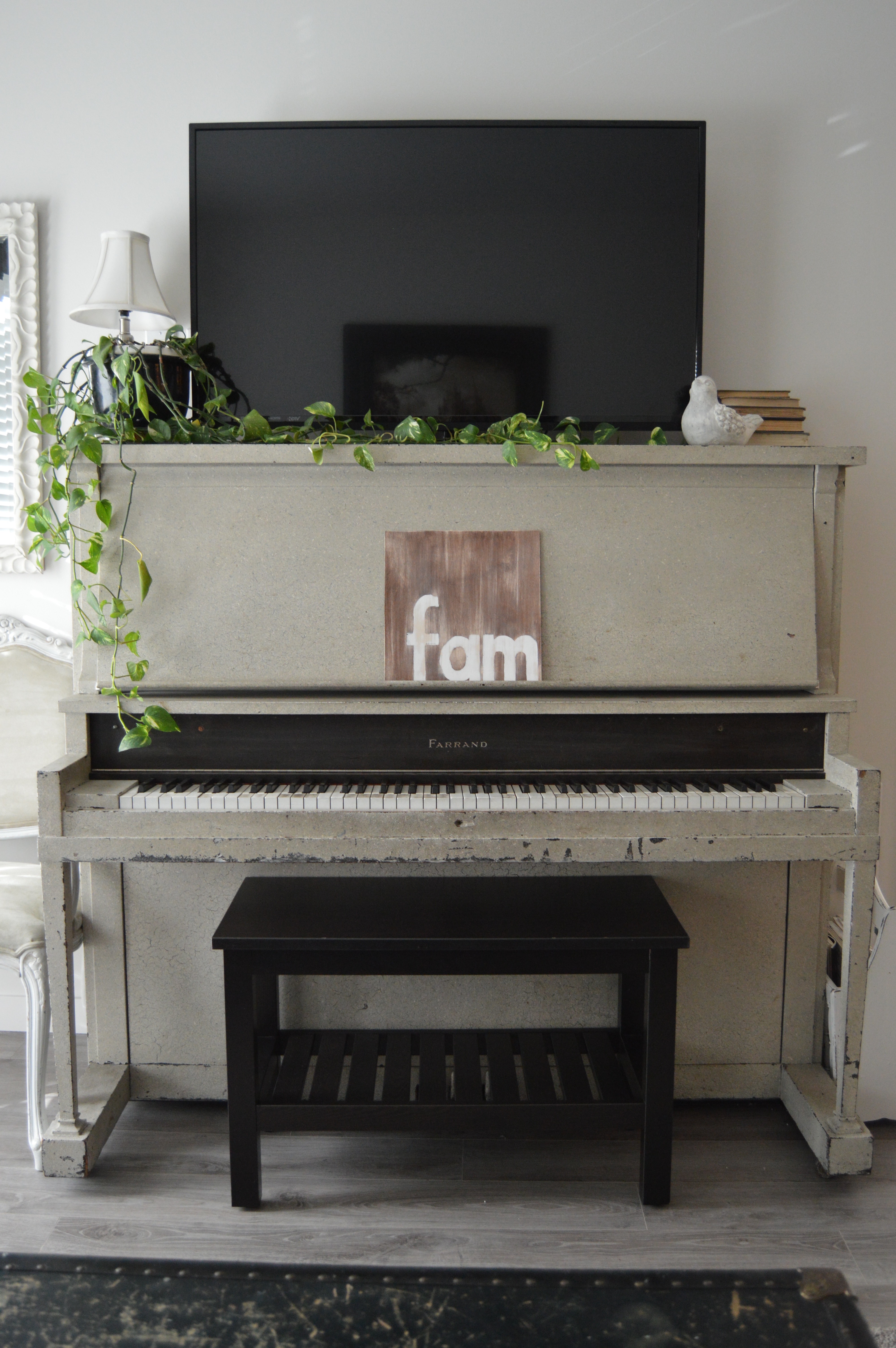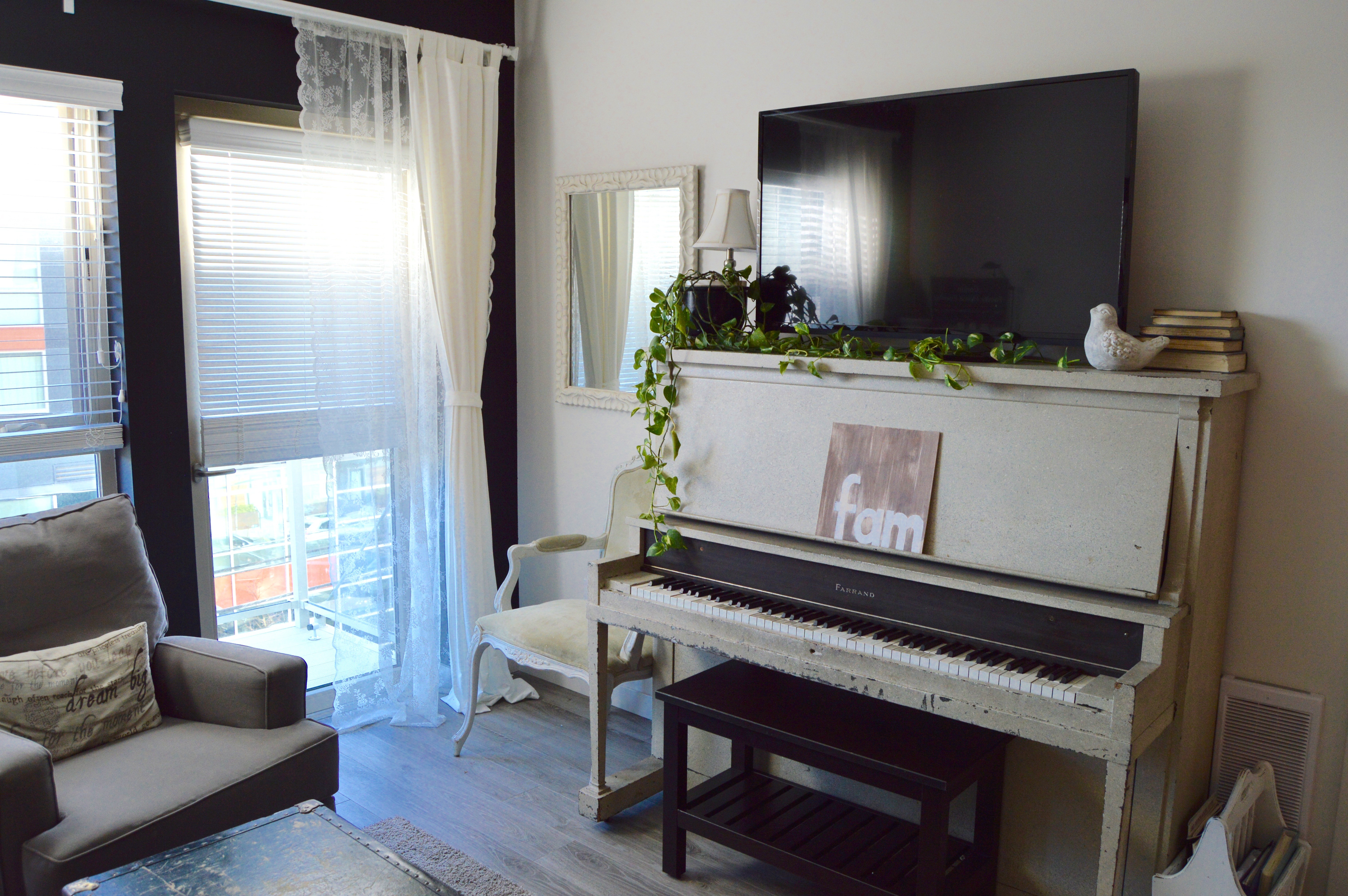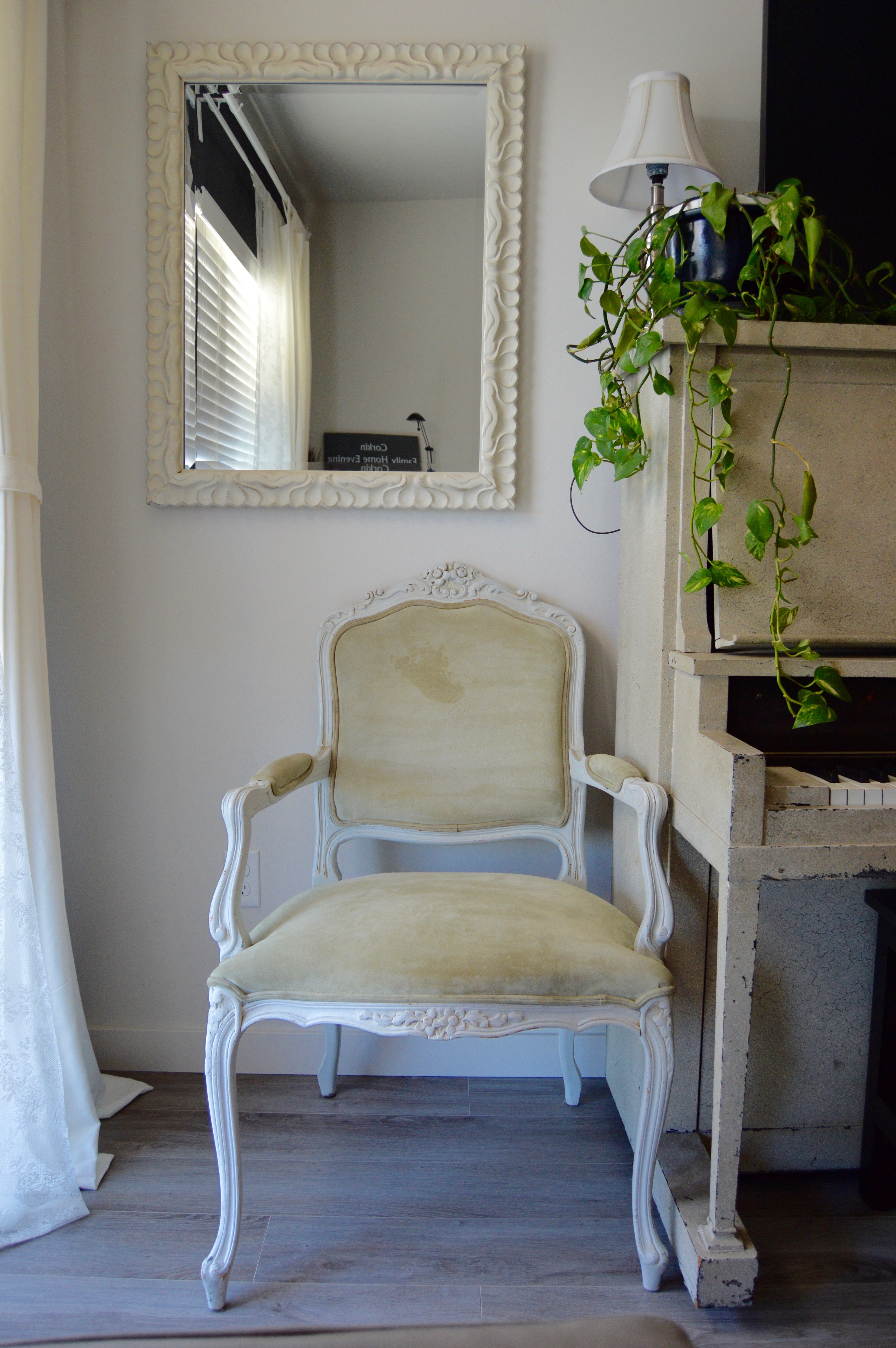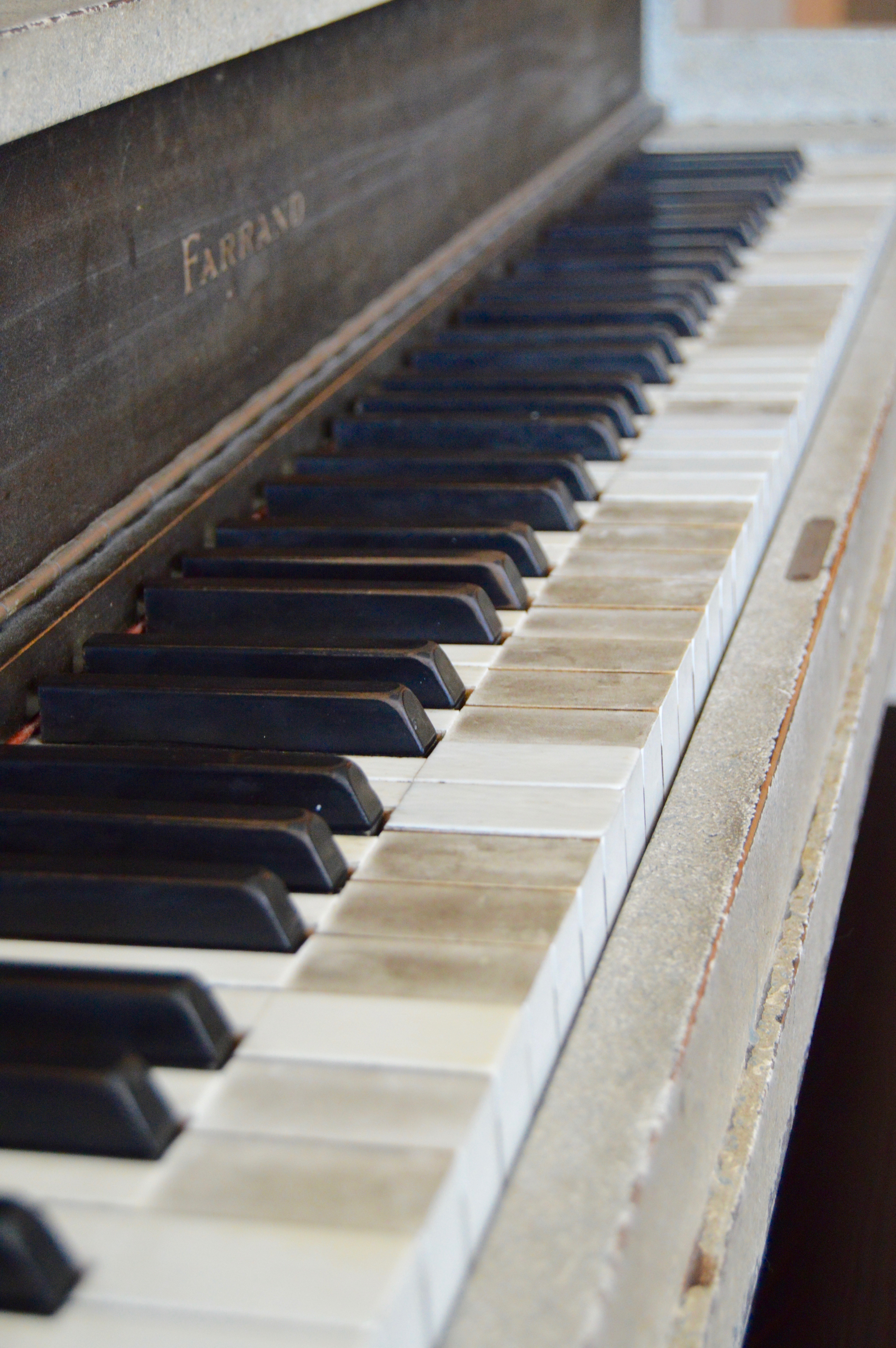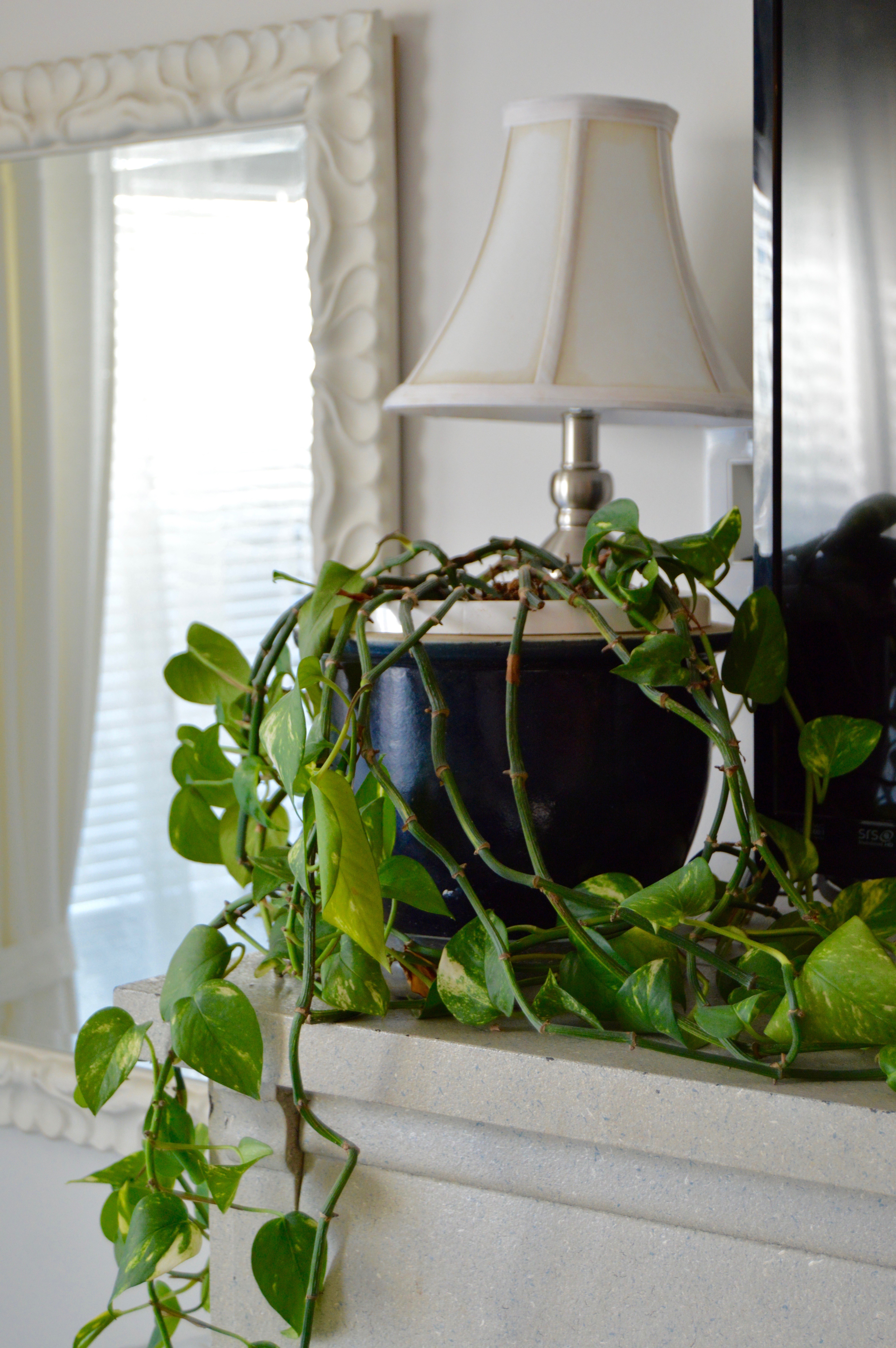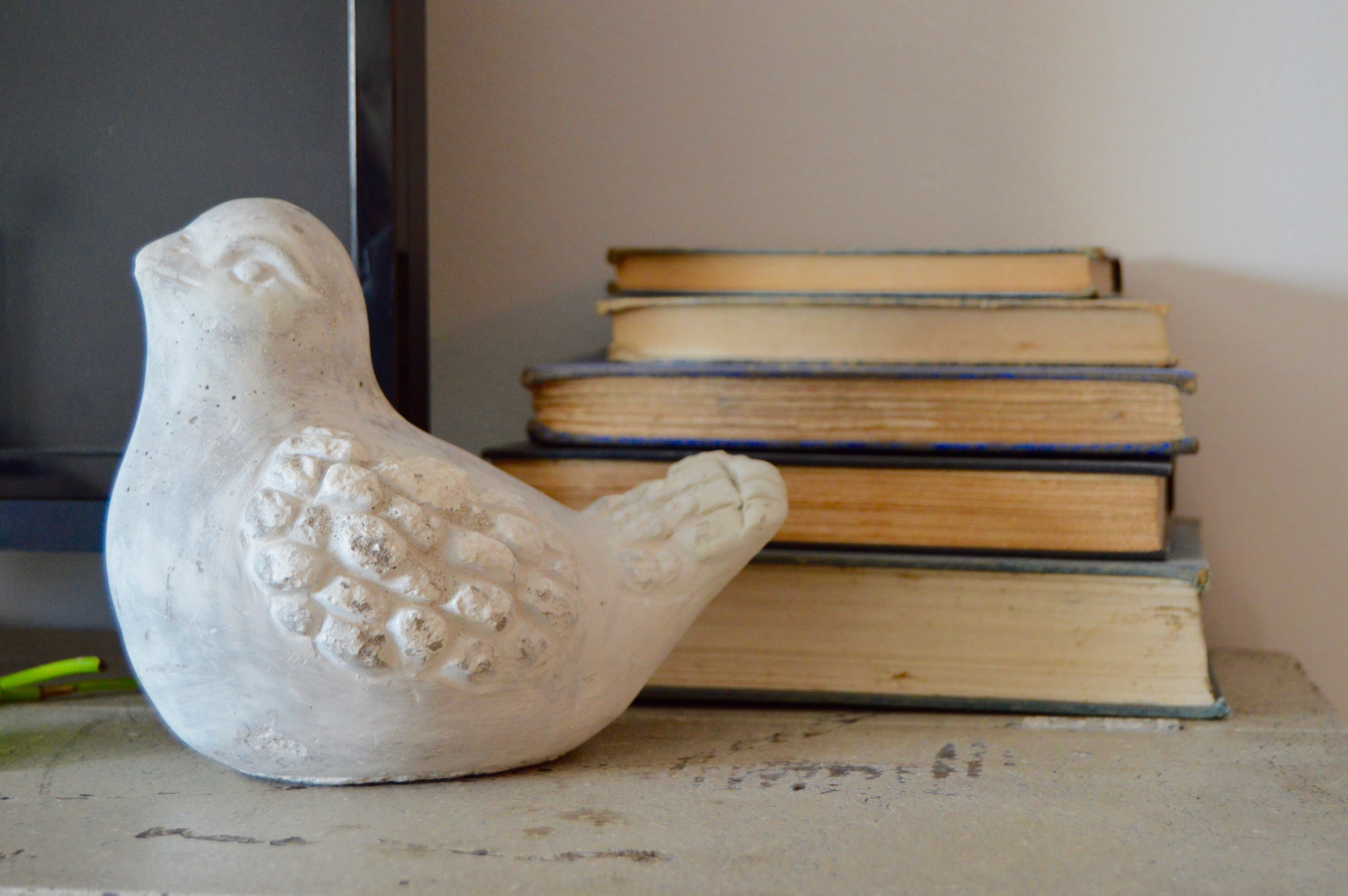 Of course with a piano you've got to have music. I found this cute, free antique magazine rack and painted and distressed it. If you want a tutorial click here.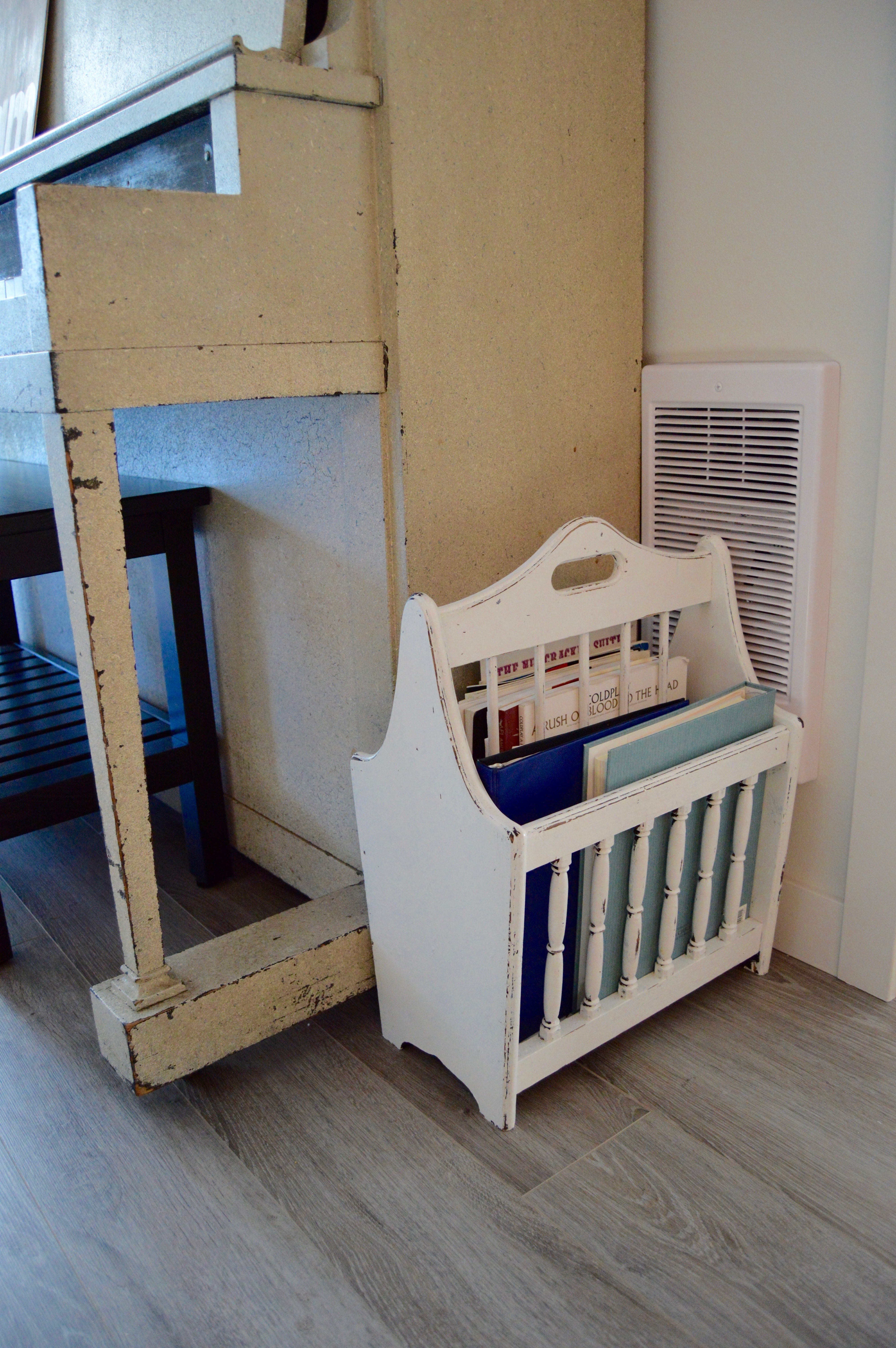 And last but not least in the living room, we'll come to my "coffee table." In small spaces, I highly recommend a storage solution like this. Not only is this our coffee table, but it also doubles as much needed storage space. (We store all of our extra blankets and pillows in here.) This was a cheap craigslist find that is worth much more than I paid for it.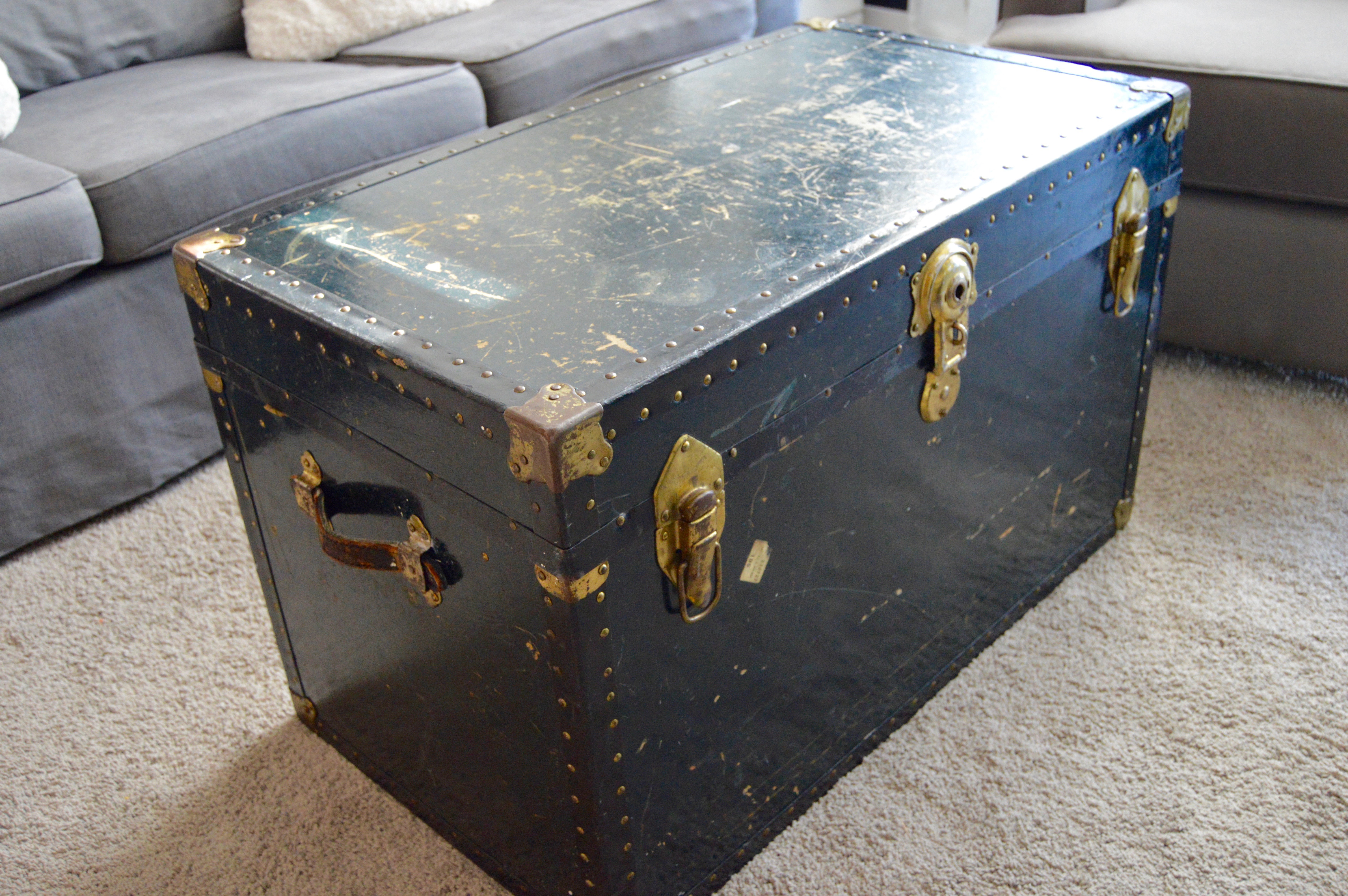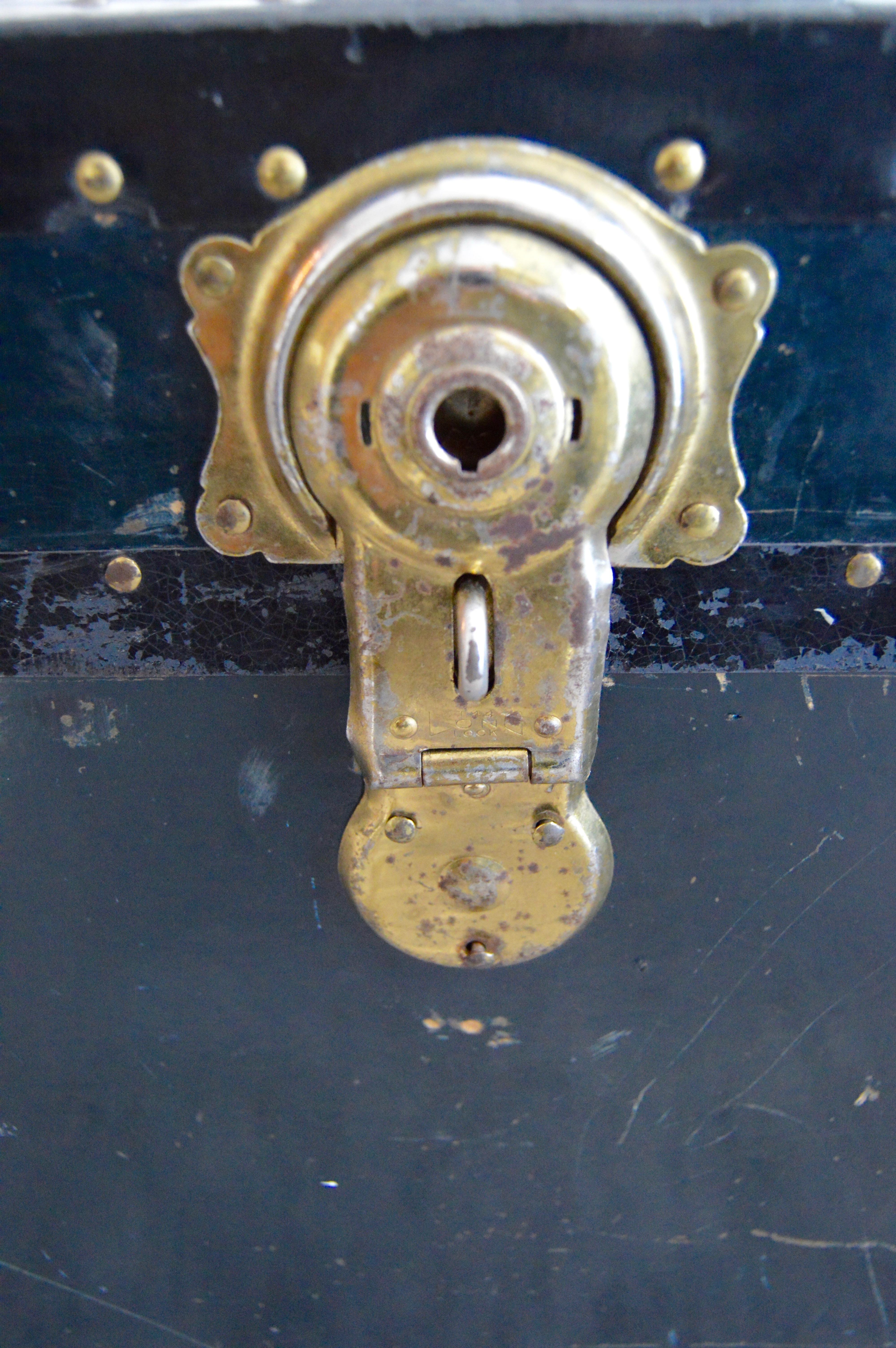 Condo Home Tour: The Bedroom
Welcome to the love nest. This is our retreat after Little J goes to sleep for the night. We aren't even a huge t.v. watching family, but this 40 in flat screen we mounted in our bedroom has been a game changer. Nothing like a good snuggle under the covers, a late-night snack (eggos or cereal), and a show at the end of a long, full day to relax and unwind! Also, you'll notice my adorable, wire laundry baskets under the t.v…. those represent one of only two times Amazon has failed me. I had to turn to Walmart.com for those but I sure do love them!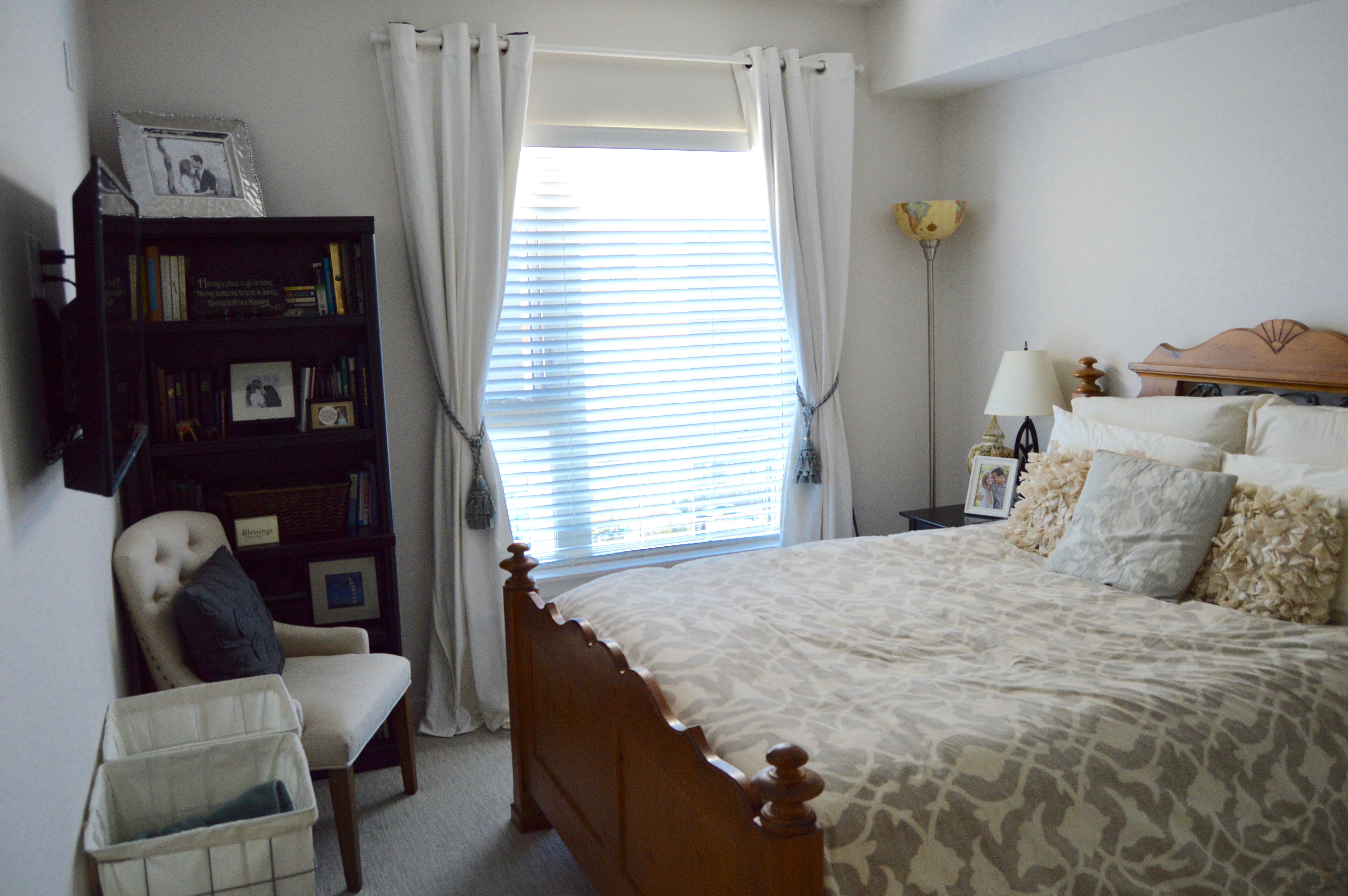 Our bed is from Jake's bachelor days (his mom has good taste)… In our future is definitely a new, king-size bed so Jake will stop complaining about me hogging the space (haha) and so we don't have to hold up the middle beam with a stack of books under the bed. I also see new nightstands and new lamps in the not-too-distant-future (pretty please, Jake?). Yes, I bought them, but now I'm not a big fan. Dusting black furniture is the worst!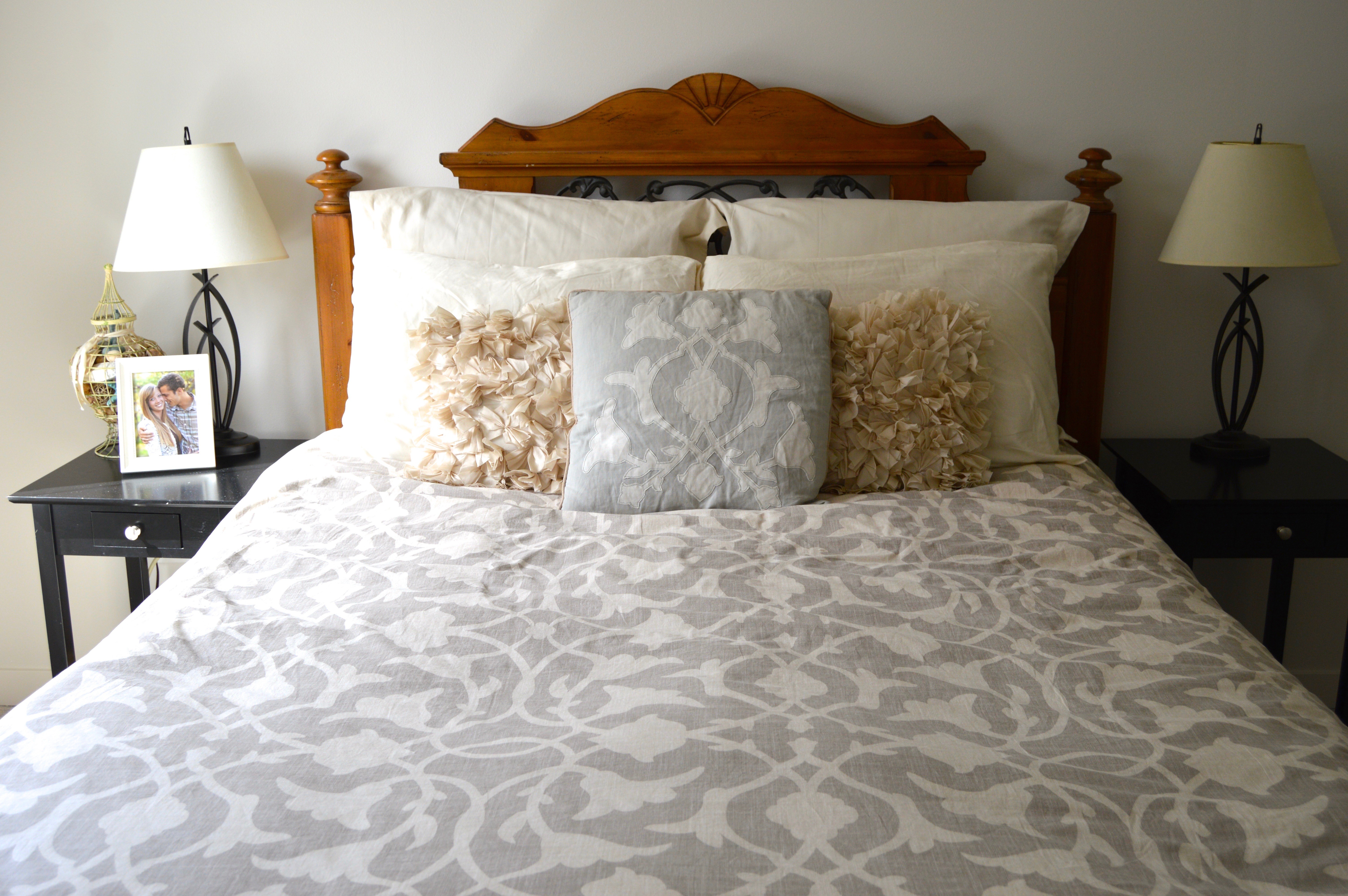 This bookcase is from my bachelorette days. Since taking this picture, we have purged about a third of the stuff on our bookshelves and it's way better.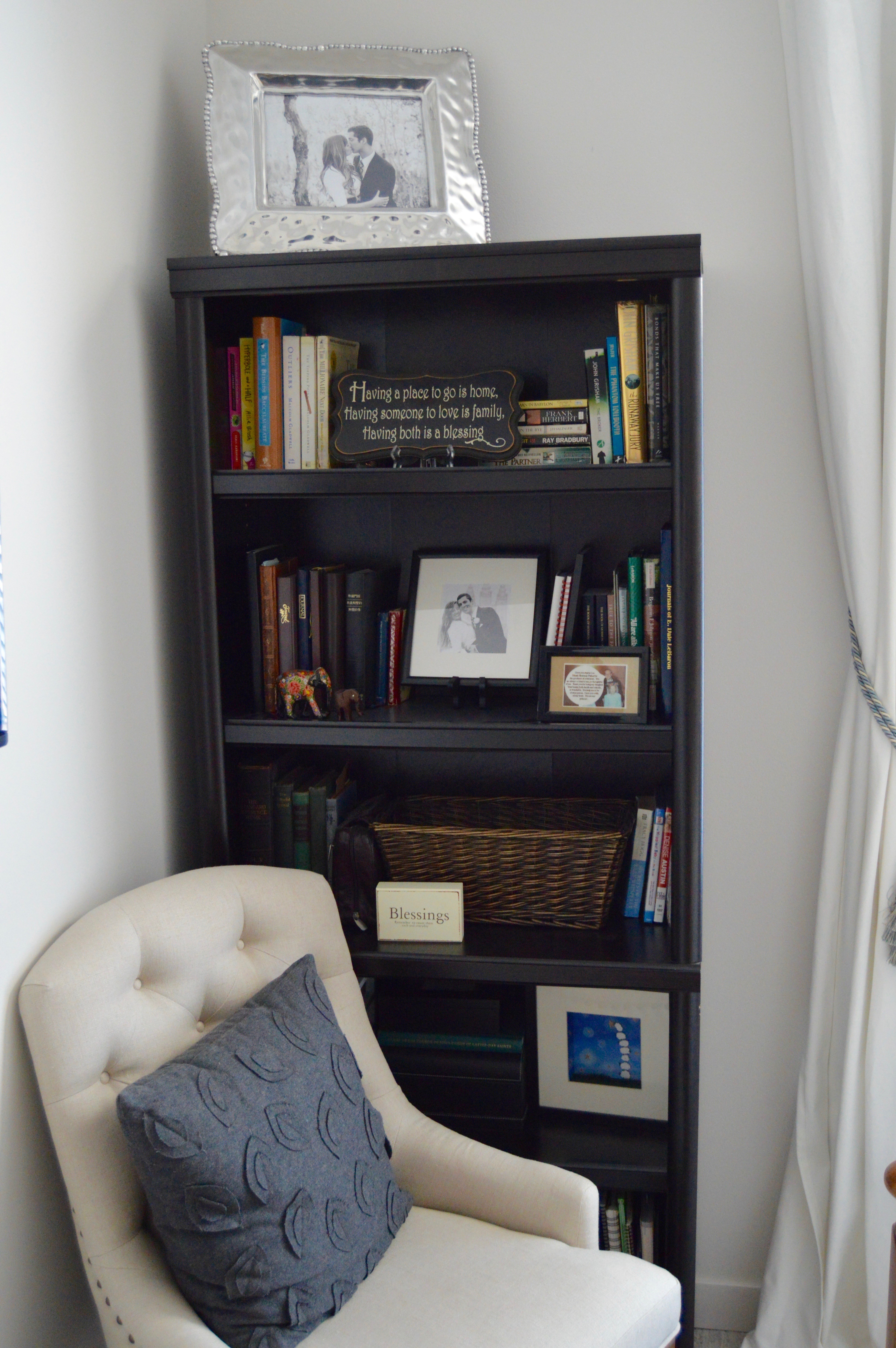 And last but not least, little Moose's bed in the corner and a pic of the most annoying but cutest dog in the universe. (Okay, he's not thaaat annoying. It just seems like it on ruff days. Boom! Pun intended.)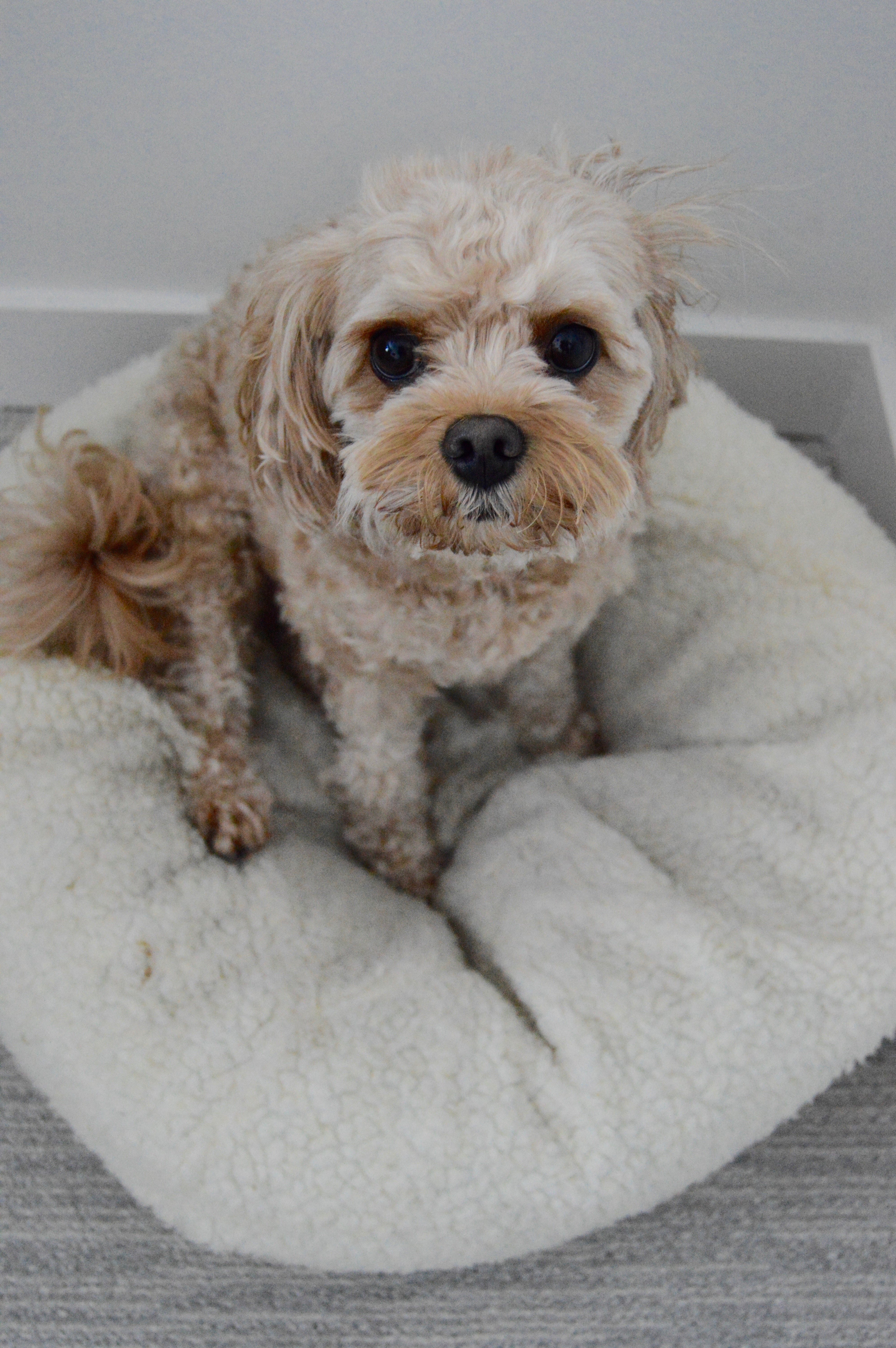 Condo Home Tour: The Baby's Nursery (The Den)
Our little baby bear lives in a little den. This room's decor feel is the least like my usual taste, but it's a nice change from the rest of the house and helps this room feel like it's own little space. I went with a Pacific Northwest theme and did this room in one weekend. I painted the mountain wall — tutorial coming soon — and added some cheap, mostly-handmade decor to round it out.
Head's up… The lighting for some of these pictures is awful. Well, yeah, without getting super technical, the reason it's a den and not a bedroom is because it has no window (or closet). It is actually awesome for little man because no windows makes it nice and dark in there when we close his "door" a.k.a. blackout curtains for naps/nighttime.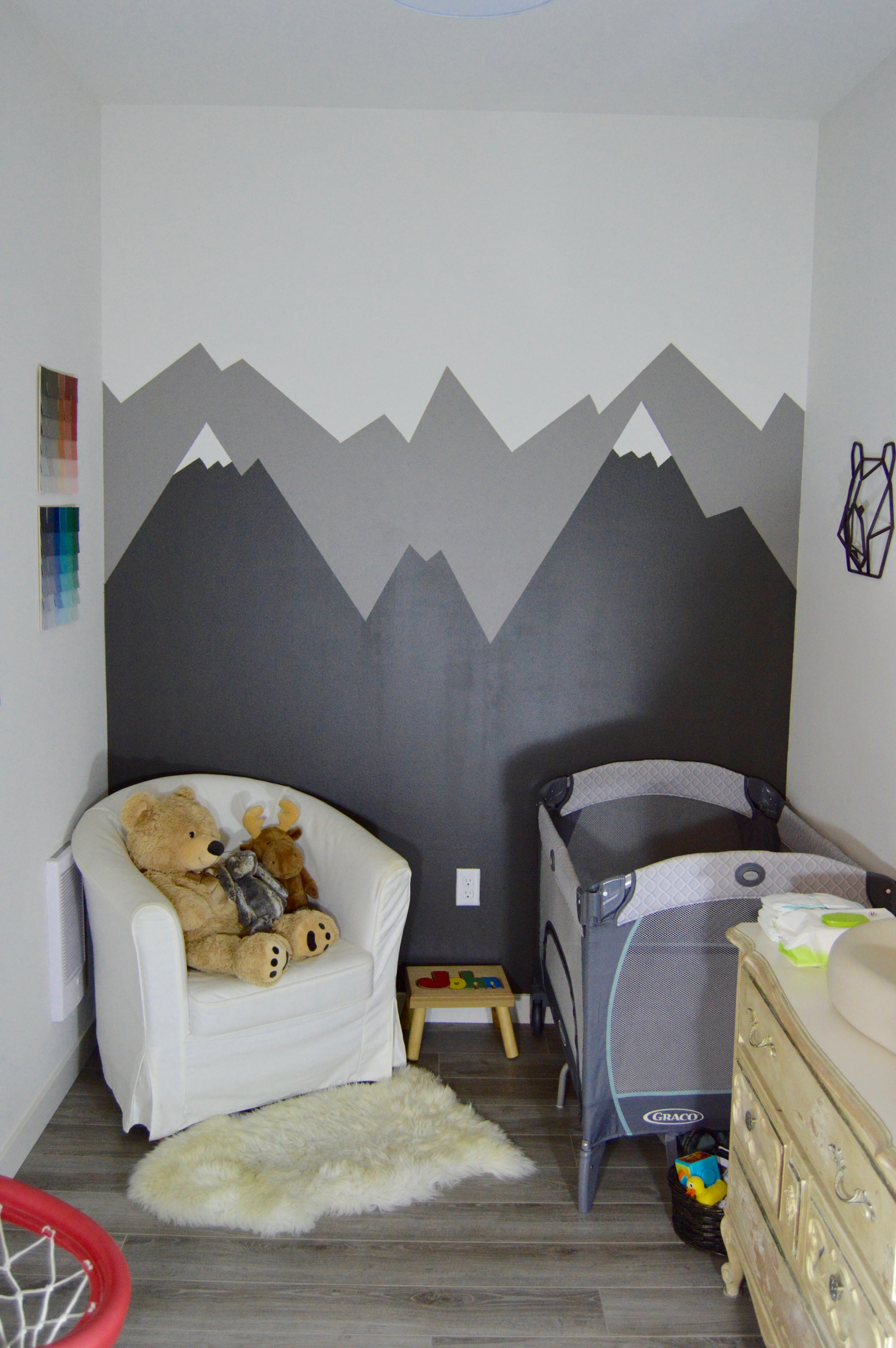 Little's diaper changing dresser houses his extra diapers and wipes which we buy in bulk to save money. The weirdly shaped mat on top of the dresser is only the best thing ever: the keekaroo peanut changer. Although it's pricier than a regular changing mat, a friend recommended it to me and I've loved it since day one. It is impermeable to fluids and super easy to wipe down, which, if you have a baby boy, you'll understand why these are must-have qualities. Basically, you won't regret it.
The raccoon, red fox, Stellar's jay, and black bear (totally made it brown instead because I can) are all indigenous to the PNW and Washington state. I made the little creatures out of paint chip samples and dollar store picture frames. You may have noticed that we use a Graco pack 'n play playard with this mattress, mattress pad, and sheet. After doing a TON of research, I opted for a pack 'n play instead of using a crib or mini crib. Although it's not the cutest thing you've ever seen, in small spaces the pack 'n play wins the "most practical" award.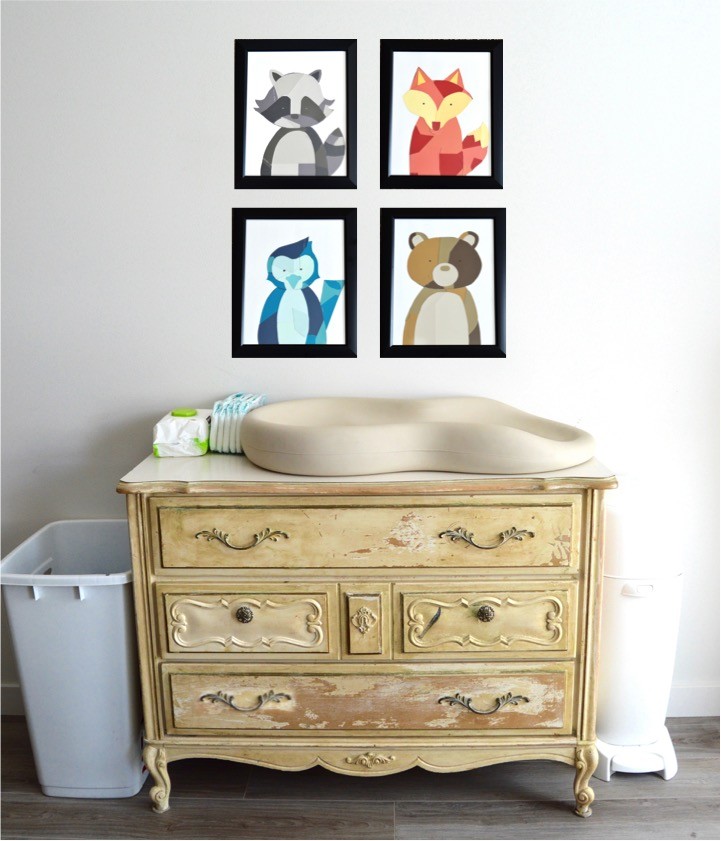 The geometric bear hanging above his bed you may recognize from Hobby Lobby. With their always available 40% off coupon, why not?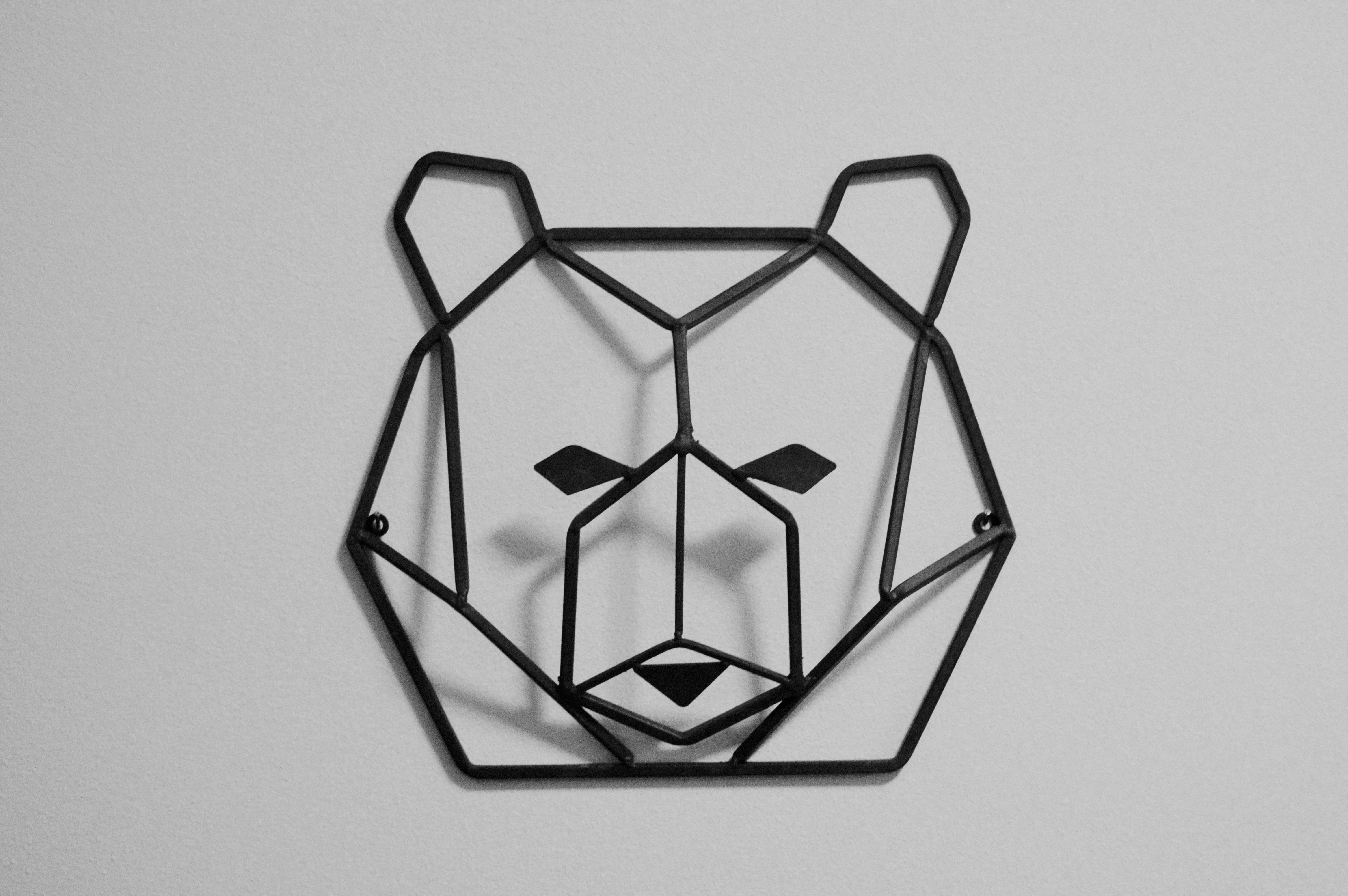 On the opposite wall, I hung some DIY art: a Washington state outline and some paint chip sample ombres that matched the forest creatures on the other wall. And then he has his chair where his forest stuffed animals live, and then his basketball hoop in the corner where he dunks for days. Well, that's about it for the den… my little man's nook in the world.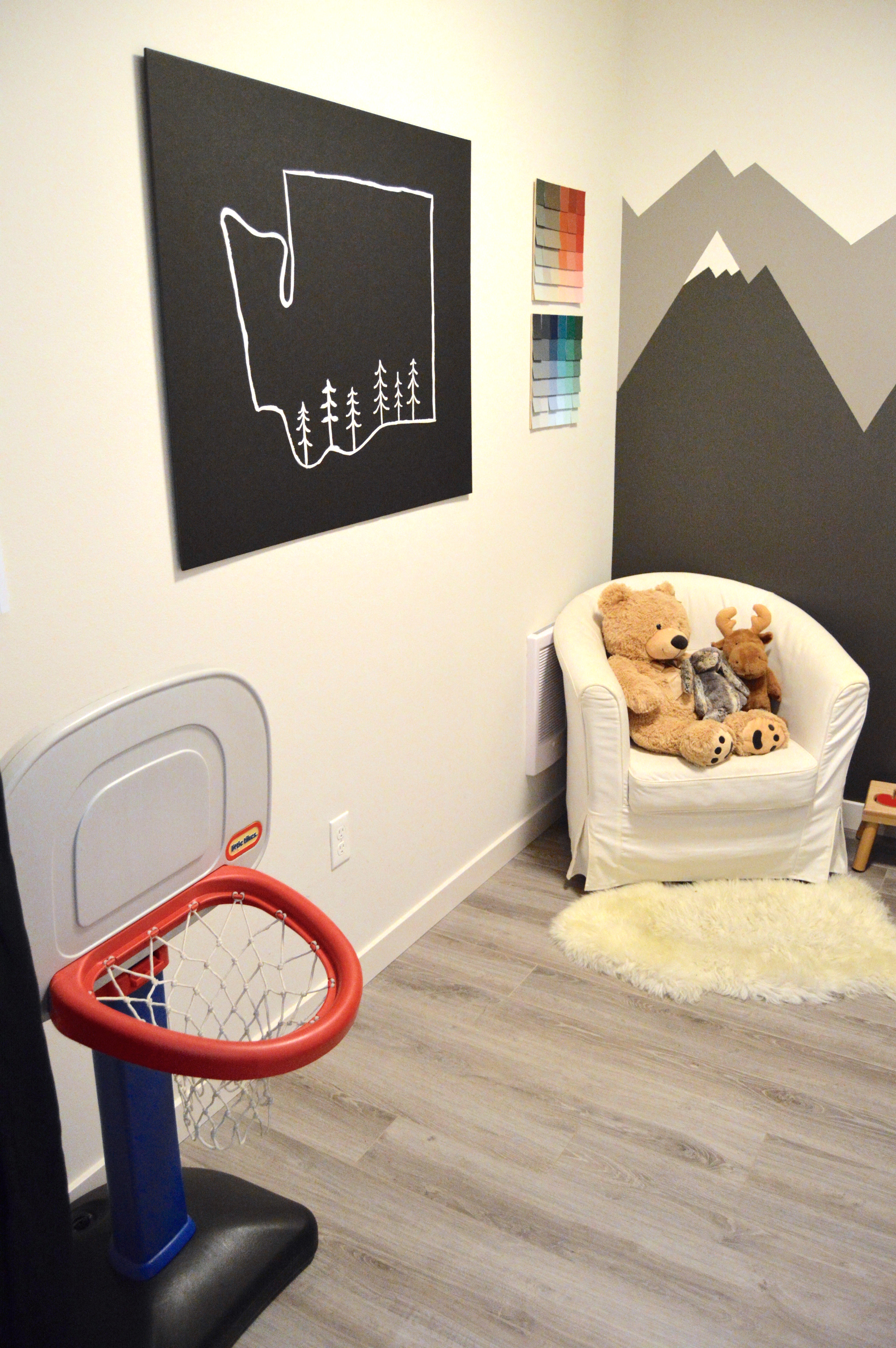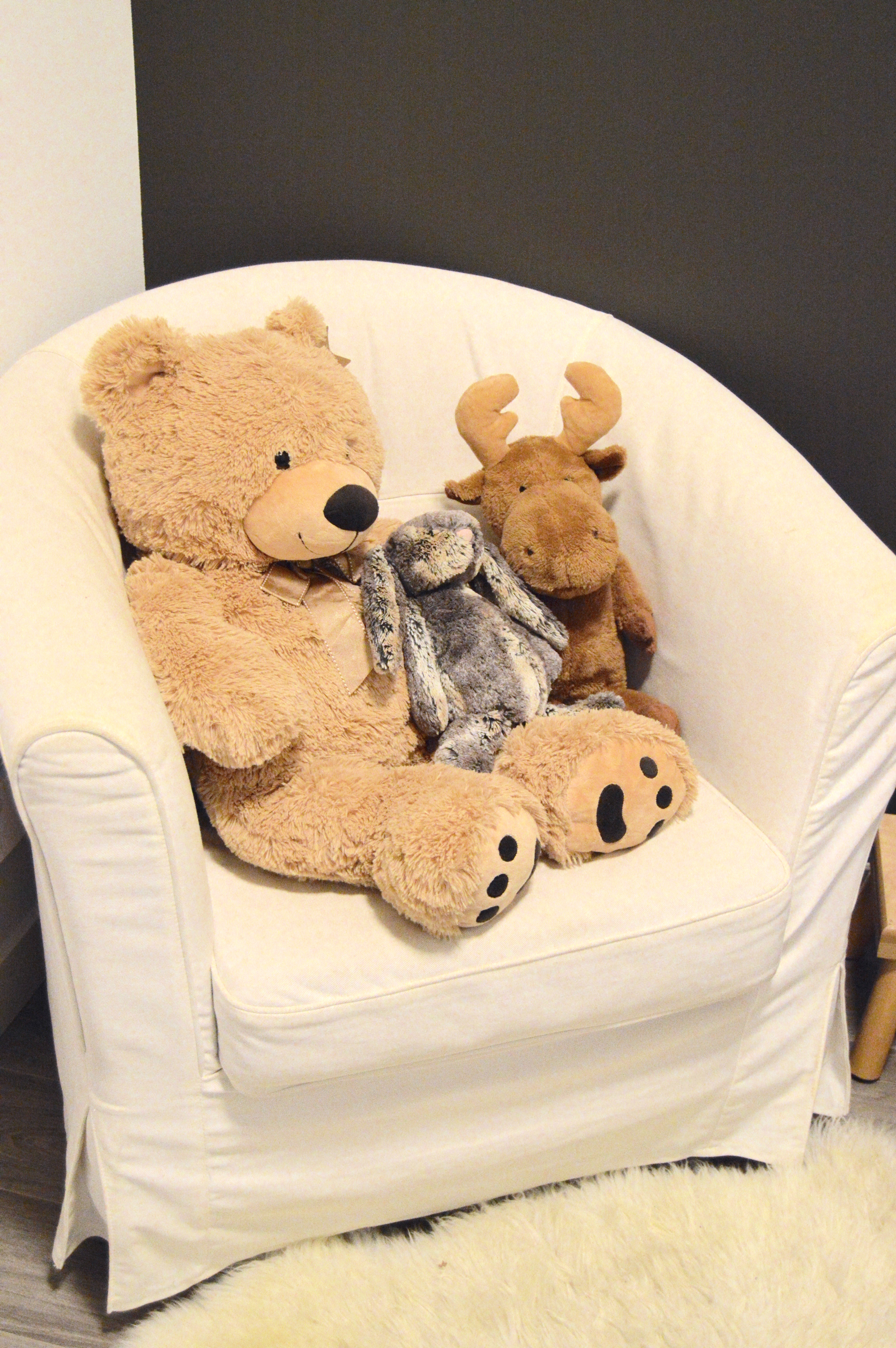 Condo Home Tour: The Bathroom
The last official room in our home is the bathroom. (Also with terrible picture lighting.) I love this room because it's clean, modern, and spacious. Because there's not a lot going on it feels hotel-like which is refreshing to me.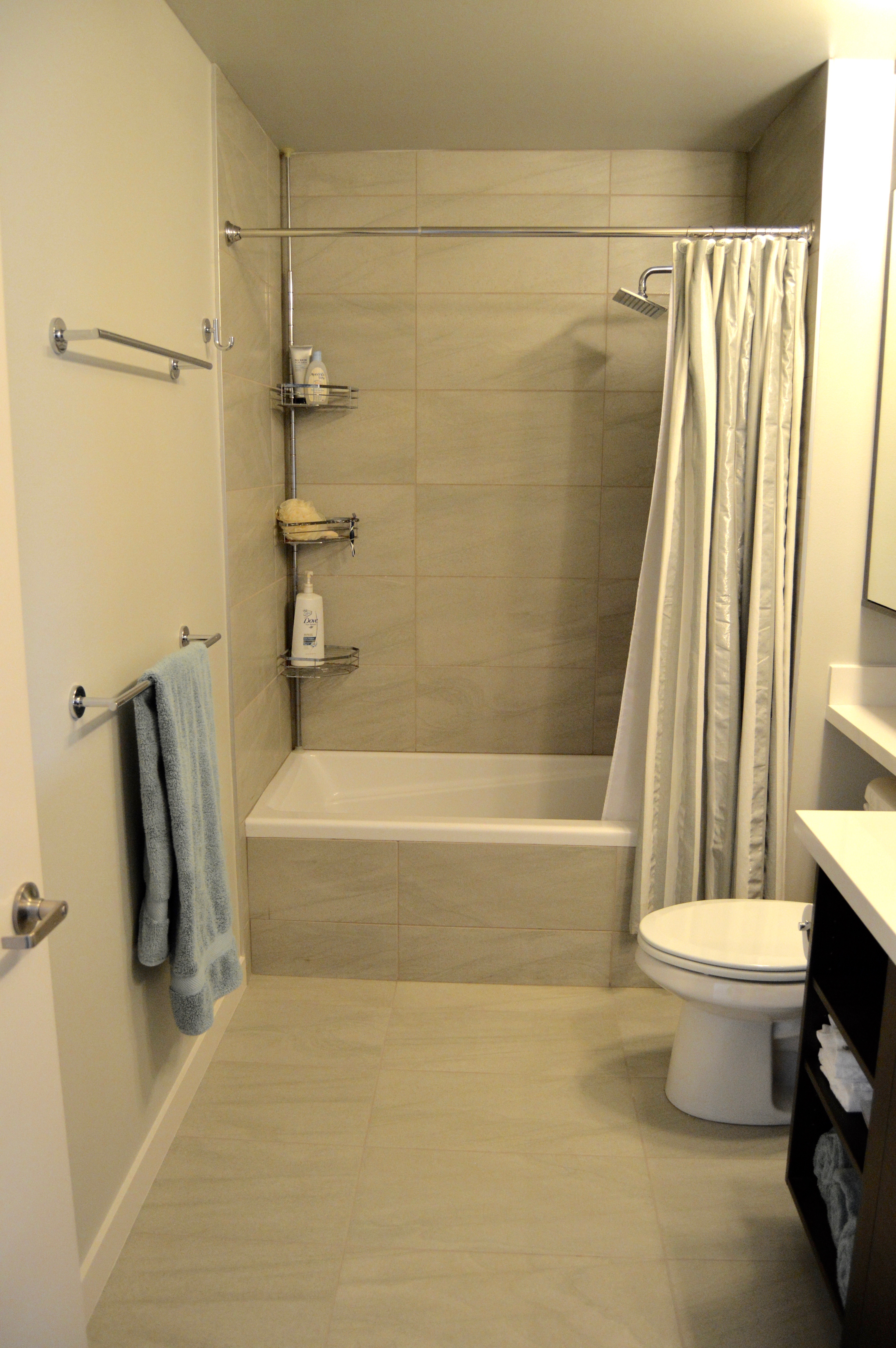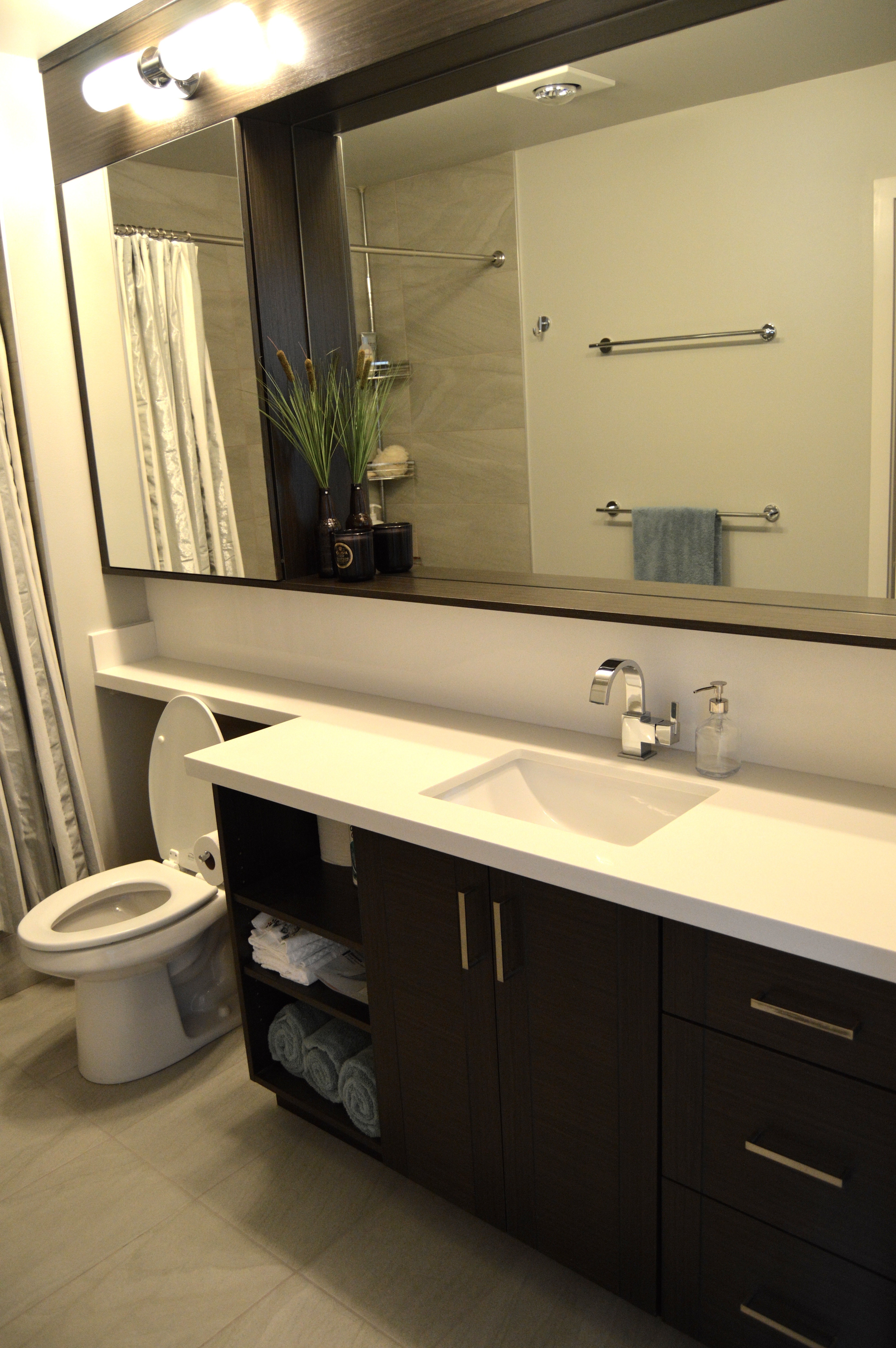 Behind the bathroom door is our hide-away laundry "room" that totally gets the job done. (It's the first time during our marriage we've had in-unit laundry so we are thrilled!)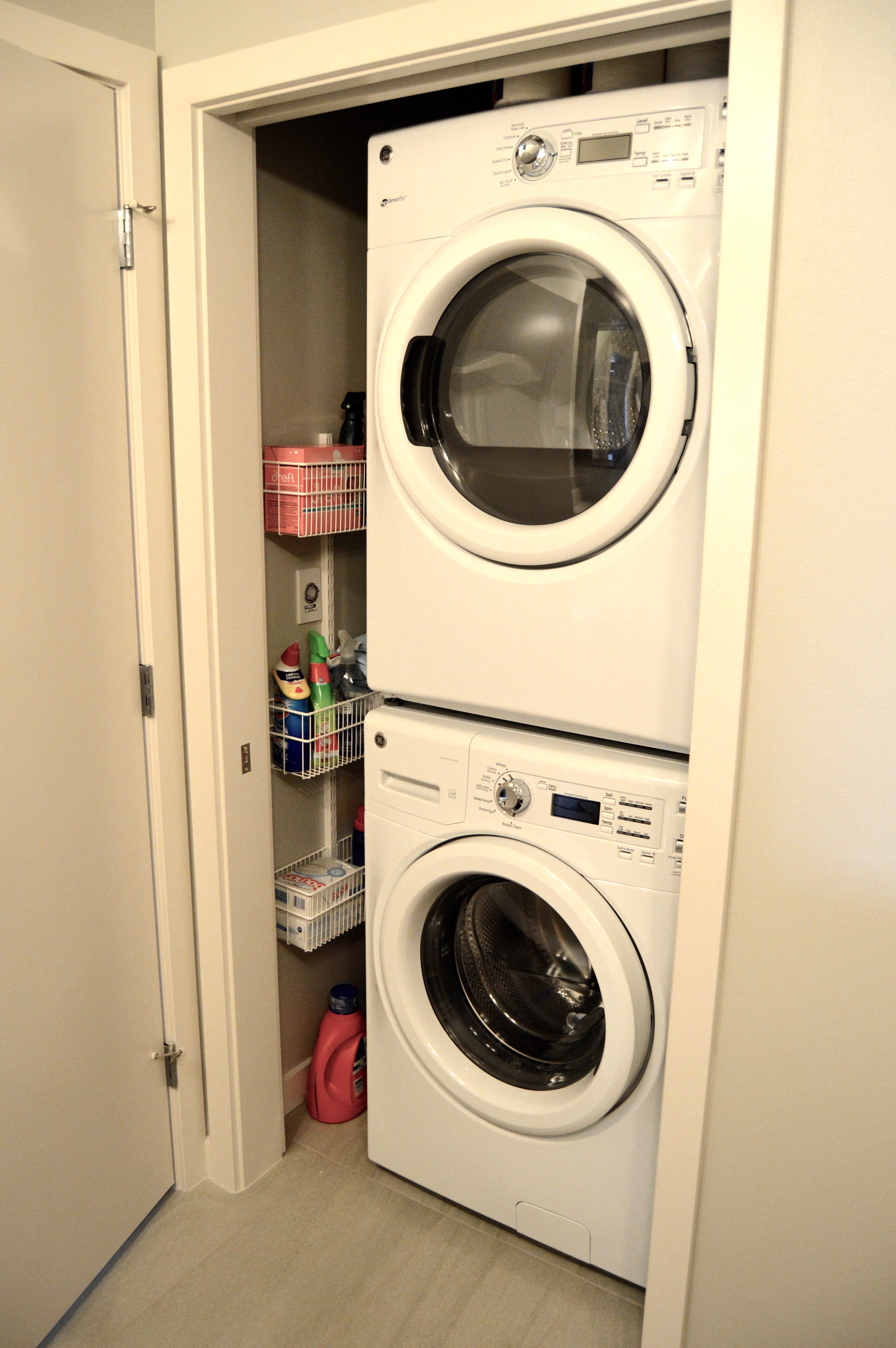 Well. That's our little home… one of my favorite places on earth. We have been in it for over a year now and it is already full of fun memories and special moments. I am deeply grateful and thank God for all of my family's blessings and for a safe, happy home because I recognize that many people (in Seattle and around the world) don't have that.
Condo Home Tour – Pin It For Later

Thank you for reading and virtually taking our condo home tour! Please pin the image above to save our condo home tour for later and share it with friends. Feel free to leave any questions or comments you have in the comments section below.