***This page contains affiliate links. Your clicks and purchases help support The DIY Lighthouse at no extra charge to you.
Even if your toddler is a smarty pants, colors might not come easily to him/her. And that's okay! Teaching kids colors can be tough because colors are super tricky. Think about it! They may have just learned what an apple is. Now apples can be green, yellow, OR red. Say what?! And pears are yellow and green too?! Not to mention all the different shades colors come in. This is confusing stuff!
While learning colors takes time and patience–most children don't learn colors until the age of 3–there are some things you can do to help and get your child used to the concept of colors. Here are 10 ideas for teaching kids colors: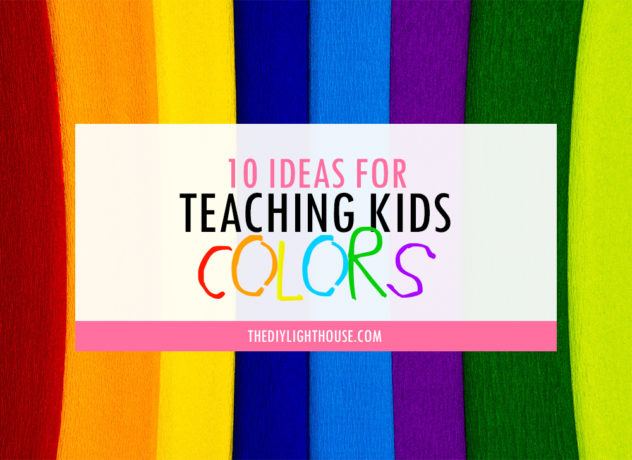 1. Make window paper squares
My almost-2-year-old loves this one. And mommy bonus: it's easy, quick, and cheap. All you need is construction paper (in every color), scissors, Scotch tape, and a marker. (You can buy these 50 pieces of colored construction paper for just over $3!) Simply cut the construction paper to the preferred size, write the corresponding color on the square, and have your kid help you tape them onto the window. The light from outside will shine through the paper and illuminate them. The tape is super fun because your kid can move the square wherever they want on the window. You can test their color knowledge by asking them questions or giving them directions like, "Find the yellow square and hand it to mommy."
2. "Pop the rainbow" balloons
If your child loves balloons, this one's a winner. Buy a balloon in every color and either fill them up with helium or just blow them up with air. (These 144 assorted color balloons are going for only $8.14 right now on Amazon!) Then put all of them on the ground and let your child play with them for a bit. Pick up the different colors and recite the proper color name. When you're ready to test your kid on their colors, ask them to find the right color. For example, "Can you find the blue balloon?" When they find the right balloon, carefully help your child pop the balloons with a pin. (If extra help is needed, feel free to prompt them in the right direction.) Keep playing the game until all the balloons are popped.
3. Play the color sort game
The color sort game can be done with just a few colors or with lots of colors, depending on how well your child knows colors. The purpose is to keep the objects they are sorting the same so that the only distinguishing factor between two objects is color. Then your child can put an object into the corresponding color "bucket." There are lots of ways to play this game, so we picked some of our favorites. Feel free to read these blog posts and see which one you like best:
Or if you don't have time to DIY your color sort game, you can buy these 60 rainbow colored bear and colored sorting cups. Such a cute, educational math toy that includes sorting and counting activities designed to encourage, motivate and stimulate your child's mind!
4. Eat a rainbow of foods
Healthy foods come in a rainbow of colors! Red: apples, strawberries, watermelon, red peppers, tomato soup, and cherries. Orange: oranges (duh!), carrots, pumpkins, papaya, and sweet potatoes. Yellow: apples, bananas, pineapple, spaghetti, lemons, golden potatoes, corn, and Swiss cheese. Green: kiwi, broccoli, asparagus, peas, avocado, green apples, cucumber, and lettuce. Blue: blueberries and blue corn tortilla chips. Purple: plumbs, prunes, eggplant, purple cabbage, and grapes. Have fun nibbling your way through the rainbow!
5. Find colors on a nature walk
Just like with healthy foods, colors can be found in nature too! Going on walks with the purpose to "stop and smell the roses" is a fun way to learn colors. As your pause to look at flowers or pick up rocks, you can identify the colors you see. While teaching kids colors, at the very least, the fresh air and exercise will do your bodies and minds good!
6. Create a color banner with ribbon
Creating a color banner with ribbon is a fun, quick, and easy craft. And it's a great way to add some fun pops of color to an otherwise boring wall at home or use it as decor for a future party. All you need for this project is twine, little clothespins, and ribbon. These ribbons would be perfect for this craft! We teach you how to make a DIY banner in this blog post.
7. Read color books
Chances are, your local library is stocked with books all about color. Teaching kids colors is no small feat, so in the beginning, the simpler the book, the better for your child. "Little Blue and Little Yellow" is a cute beginners book about colors. Once your child begins to have a better grasp of colors, you can move up to board books like "Brown Bear, Brown Bear, What Do You See?" or "A Color of His Own."
8. Make rainbow bottles
Using two everyday ingredients, water and food coloring, you can make rainbow bottles. All you do is get empty water bottles, Tupperware, or cups and fill them with water. Then, pour a few drops of food coloring into each container of water until you get the desired color. You can buy this 12-pack food coloring set, and by mixing and measuring using "drops" of color you can achieve precise, easy-to-repeat colors every time! It's a fun, super inexpensive way to make a rainbow!
9. Play sidewalk chalk color hop
Sidewalk chalk color hop is a great way to get your kid moving with colors. And all you need is colored sidewalk chalk! Simply draw sections of different colors on the pavement and shout out different colors. Your child can practice color recognition by hop onto the color you call out. This toddler-friendly game not only good for teaching kids colors, it also helps with motor skills!
10. Build with colored playdough
Your child will be experiencing colors hands-on with playdough! Squishing, pounding, rolling, sculpting, and modeling…this classic children's activity is a great way to support your child's learning. There are several playdough recipes online where you can DIY it. If you're wanting lots of colors to work with, you can buy the Play-Dough 24 pack and create endless color combinations.
Other posts you might like: