Don't turn green with envy while everyone else celebrates St. Patty's Day. Start your own St. Patrick's Day family traditions! These 6 family traditions are not only fun for everyone…they just might bring a bit o' luck.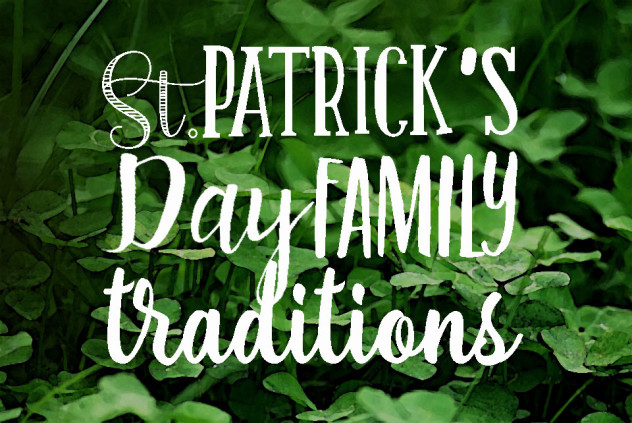 St. Patrick's Day Family Traditions
1. Jump Start Your Luck. Eat a Green Breakfast.
I just loved this colorful tradition while growing up! My mother would bring out the green food coloring and turn everything green! Your green breakfast can include oatmeal, pancakes, waffles, scrambled eggs, milk, a smoothie, green grapes, kiwi, an unripe banana (jokes! dont' do it!), a key lime pie yogurt parfait, smashed avocado on toast, or a green apple.
Hearty Potato & Green Egg Hash Recipe [Pictured Above]:
Chop up 5 red potatoes and 1/2 red onion, and fry them in a skillet with some butter, salt, and pepper. When they are almost done, add 1 chopped up green onion. Continue to cook until potatoes and onions are browned and tender, then set aside. In a bowl, mix 5 eggs with green food coloring until you get a nice green color. Then scramble the eggs in a separate skillet with some salt and pepper. Cook some bacon strips according to the package directions and chop the strips into bite-size pieces. Finally, mix the potato hash, scrambled eggs, and bacon together. If desired, garnish with green onion. Enjoy! The little people will love it (leprechauns and kiddos)!
Green Smoothie Recipe [Pictured Above]:
To get the green in your smoothie, simply blend 1/2 avocado, 1/2 green apple, 2 large handfuls spinach, 1 ripe banana (use a frozen banana to add more chill to your drink), 1 cup cold pineapple juice (or apple juice), and ice in a blender. Feel free to change up the recipe, but remember not to add anything (like berries) that will alter the St. Patrick's Day green color.
2. Follow the Leprechaun Footprints.
This is my husband's favorite when it comes to St. Patrick's Day family traditions. Growing up he thought real leprechauns had broken into the house, and as he got older it was still fun to find the leprechaun's pot o' gold! Here's how it works: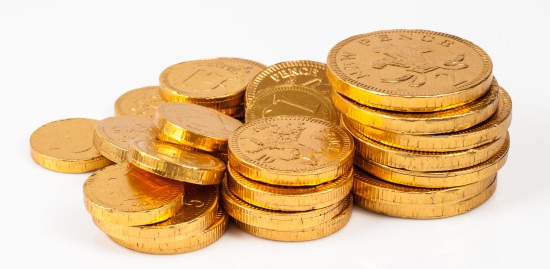 Before the kiddos wake up, make a (controlled) mess of an area in your home, like the family room. Tip over furniture and throw pillows off the couch. Then, place green boot prints or footprints around the room. (We make these out of paper.) The footprints should lead to a stash of leprechaun treasure, aka a pot o' chocolate gold or gold foil rolos. You can even drop a four leaf clover or shamrock by the door, leave a torn piece of green fabric somewhere, and drop some loose change on the floor. The kids (and the adults) will love the hunt for gold!
3. Don't Get Pinched. Wear Green.
Go as subtle or as cray cray as you want. It's quite simple: as long as you're wearing green, you won't get pinched! If everyone plays by the rules that is. I remember being so frustrated in elementary school when someone pinched me even when I was all decked, out head-to-toe, in green. They must have been green with envy to do something like that, right? Remember, just have fun with it! P.S. Bonus points if you dress the family pet up too!
4. Snack on Lucky Charms….They're Magically Delicious!
'Nuff said. Right?!
5. Play Leprechaun Pranks.
If leprechauns can have fun, then you can too! Play leprechaun pranks throughout the day! If it doesn't bring good fortune or luck, then at least everyone will have a magical time. Here are some leprechaun tricks and pranks you can play as part of your St. Patrick's Day family traditions:
turn the toilet bowl water green with green food coloring
swap out your bath towels for green ones
add green food coloring to the milk gallon
replace all soap with Irish Spring soap
put shamrock stickers on each square of toilet paper
put chocolate gold coins in everyone's shoes
draw all over the mirrors with a green dry erase marker
cover all the door knobs with green Play-Doh
hide all the green markers
leave green post-it notes all over the house
fill the car or bathtub with green balloons
make a web of green string across doorways
6. Feast How the Irish Do.
The perfect way to end St. Patty's day is with an Irish feast! An Irish spread includes corned beef and cabbage, lamb stew, colcannon, boiled ham, and shepherd's pie. For good luck, you can have mint icecream with green-food-colored chocolate chip cookies for dessert.
Hope you found some traditions from this list that your family will love! What are some of your favorite St. Patrick's Day family traditions? Let us know by commenting below!
Other posts you may like: