Just saying, "thank you," sometimes doesn't cut it. If you've got the oppor-tuna-ty to send a fintastic thank you message then hang around. We've got a thank you gift idea that you're reel-y going to like! Gottcha hooked? Below is a step-by-step guide to your own "You are o-FISH-ally the best!" thank you gift. It's so cute that you won't even need to fish for compliments! Okay, let minnow if these fish puns are overkill and I'll try to scale back 🙂
(This page contains affiliate links that we may be compensated for. Your clicks and purchases help support The DIY Lighthouse at no extra charge to you. We only put links to products we love and would recommend anyway.)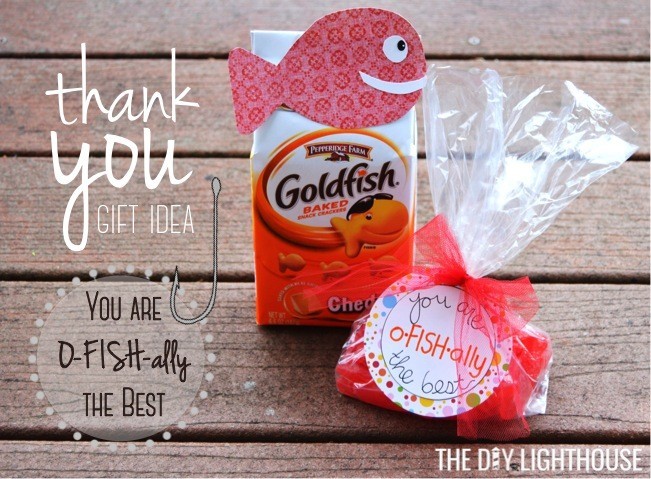 At the grocery store, grab some Goldfish crackers and/or Swedish Fish. I think it goes without saying that we are playing off of the theme "fish" with this thank you gift idea. If you can't go to the store, Amazon sells Swedish Fish and Goldfish Crackers that they will deliver to your door.
Next, you'll want to make your little sign.
How to make a "You are o-FISH-ally the best!" sign
The image below shows you the basic steps, but I'll spell it out for you here.
1. Write your note
Cut a circle out of paper. (Tip: You can trace a cup to get a nice circle.) Write, "You are o-FISH-ally the best!" I always do it in pencil first and then trace over it in marker or pen. Erasers are my best friend!
2. Matte your note
I picked some fun bubbly looking paper for my matting but go with whatever float your boat. (Click here for some really cute and colorful paper you can buy on Amazon.) Cut out a larger circle so that at least a half an inch shows on the edges. Tape your note onto the matte with double-sided tape. FYI, I traced my original circle with black pen to make it stand out more.
3. Thread some ribbon through
Make two holes for your ribbon to go through. (I used tulle because I like how much body it has. Click here for some classic white tulle available on Amazon.) If you've got a hole punch then great! I don't, so I just poked two holes (about an inch apart) in my matting with a pair of scissors. You will thread the ribbon through the back with each end coming out the front of your sign (so that the ribbon makes a loop in the back). Reference #3 in the image below. Put your loop around a bag of Swedish Fish.
4. Tie a bow
For the finishing touch, tie a nice big bow. You can also pair this gift with a bag of Goldfish Crackers and a cute handmade fish like I did.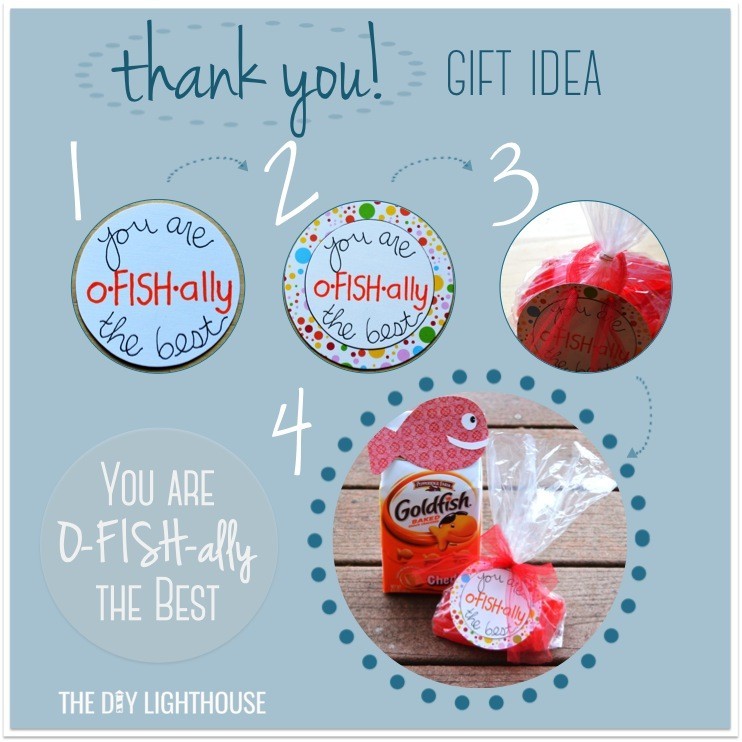 Here are some other fun ways to say "thank you!". . . .
Click here for our post on "How to Say Thank You with Donuts."
Click here for "41 Ways to Say Thank You with Candy."