Wood you like some inspiration for a woodland themed baby shower? Want to leaf the expecting mommy feeling like a million bucks? Then keep reading!
When a friend of mine finally got pregnant after years of trying, I jumped at the chance to celebrate her and her baby boy. She requested a fun and so "in" theme for her shower: a woodland themed baby shower. With the dark orange and light blue colors, it was perfect for a baby boy on the way!
(This page contains affiliate links that we may be compensated for. Your clicks and purchases help support The DIY Lighthouse at no extra charge to you. We only put links to products we love and would recommend anyway.)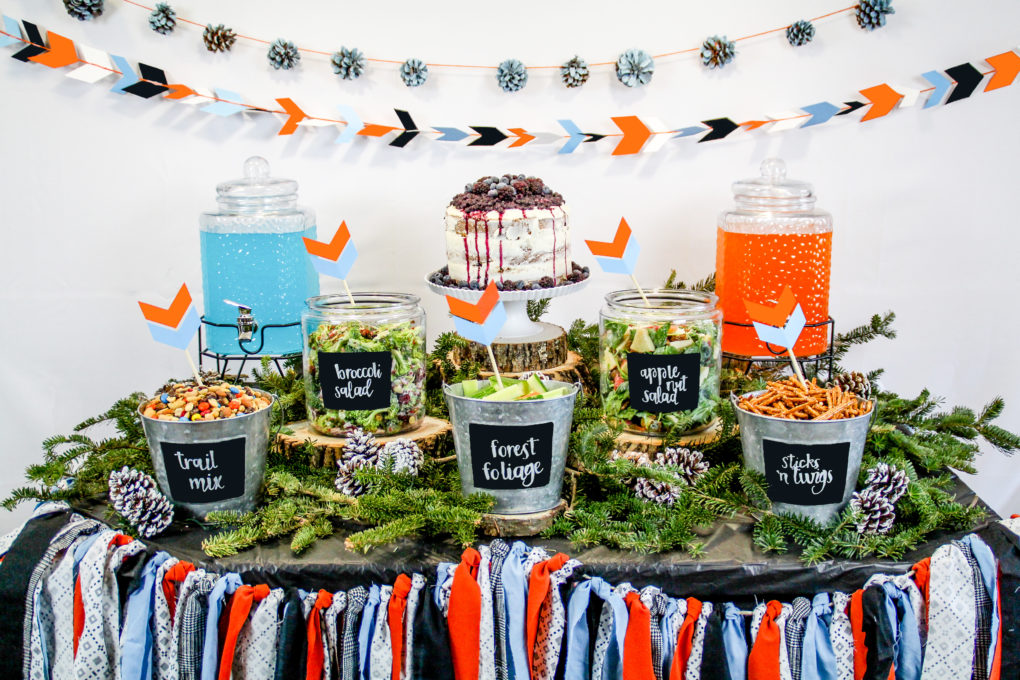 Woodland Themed Baby Shower Menu
Rustic Naked Cake with Berry Compote
This cake looks just like birch tree bark! Forgoing the ornate and intricate frosting that you find on other cakes, a naked cake uses a minimalist frosting technique that doesn't detract from the overall organic, beautiful presentation of the cake. And I kind of stumbled upon my own simple and delicious white cake recipe while preparing for this woodland themed baby shower. Luckily for you, I spill all the juicy ingredients, directions, and details of my Naked Cake with Berry Compote recipe in THIS post!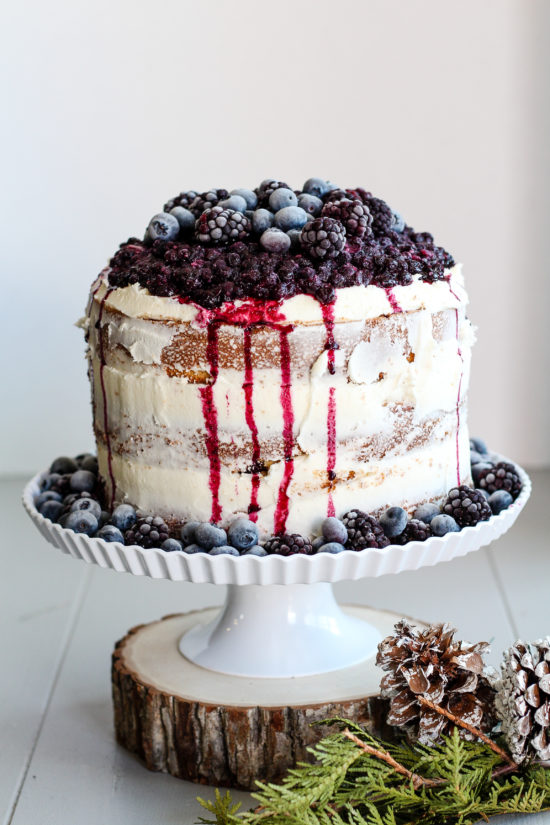 Twigs 'N Sticks
Aren't these perfect for a woodsy theme?! Twigs 'n sticks (aka pretzel sticks) are a quick, easy, and inexpensive snack. In fact, they're what I like to call "bulk food," or food that you can serve in large amounts yet are easy on the budget. I served them in a metal bucket that I found at Walmart for $4. Twigs 'n sticks would also make a super cute, rustic party favor on the cheap with these mini metal buckets on Amazon.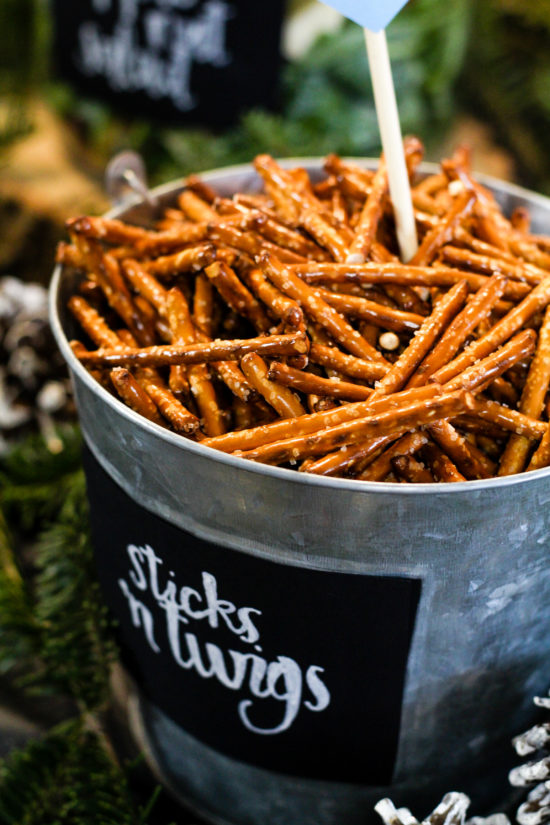 Forest Foliage
Forest foliage is all about the greens…and veggies. This can be adapted to whatever vegetables you have available. I chose cucumbers, for their green, forest-like color, and carrots, for the orange color that matched the shower colors. Cut up your forest foliage into logs so they are easy to handle.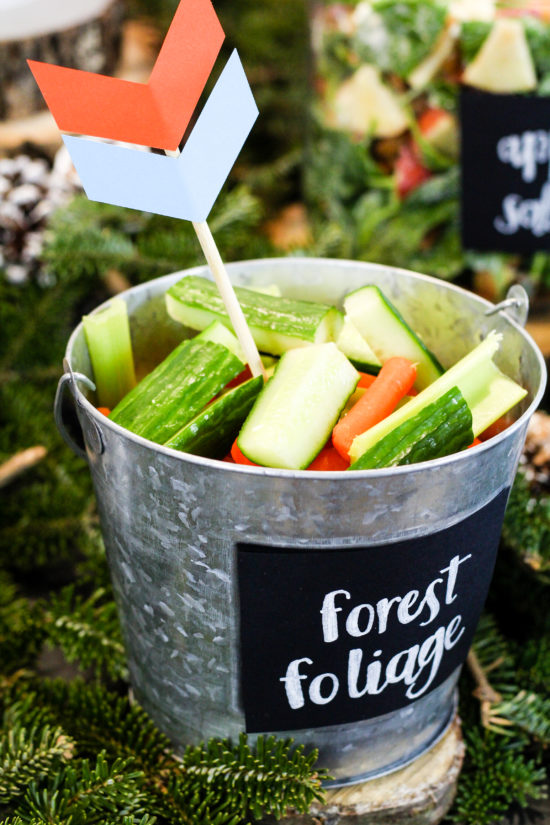 Trail Mix
A hiker wouldn't want to be caught dead in the forest without trail mix! It's a staple snack. And that is exactly why I served it at the woodland themed baby shower! The shower colors, blue and orange, really pop out and add to the fun! You can buy a whoppin' 4 lbs. of this stuff on Amazon for only $20.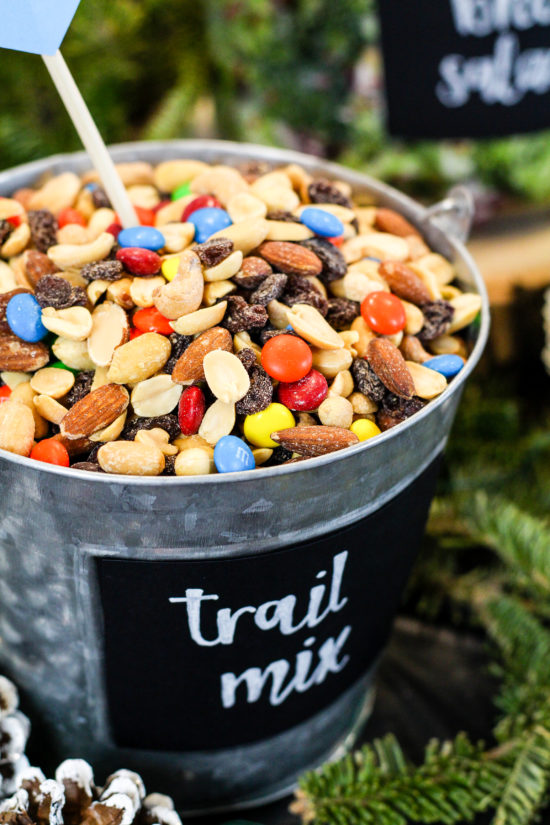 Broccoli Salad & Apple Nut Salad
To add to the greenery and forest feel, I prepared and served two salads: (1) a broccoli salad that had a nice crunch and creamy texture and (2) an apple nut salad with feta cheese and a sweet, creamy dressing. Salads are another way to get quantity without the price tag.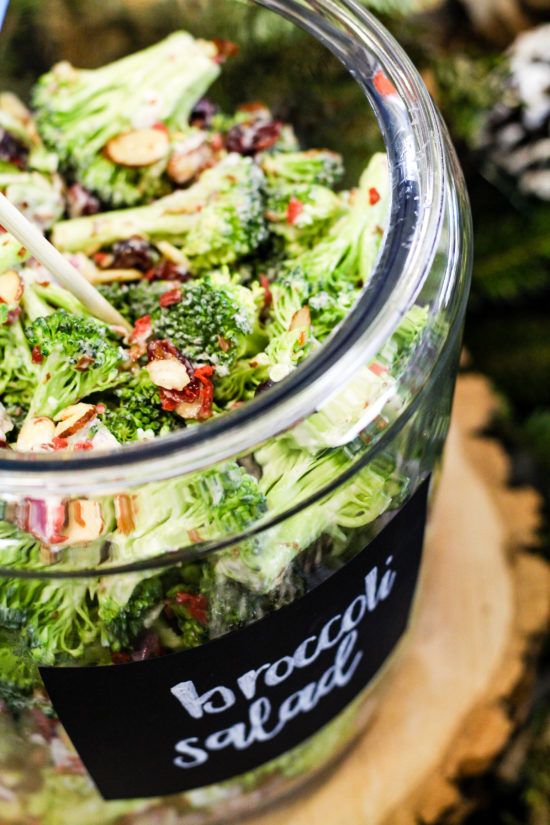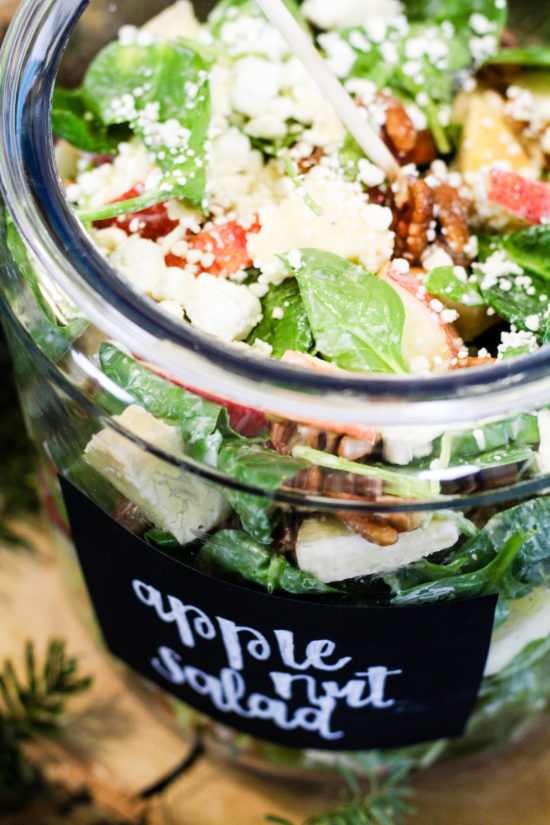 Blue & Orange Powerade
Can you blame me? The colors were just perfect for this woodland themed baby shower! You could flank the drinks on either end of the food table, like I did, or put them side-by-side.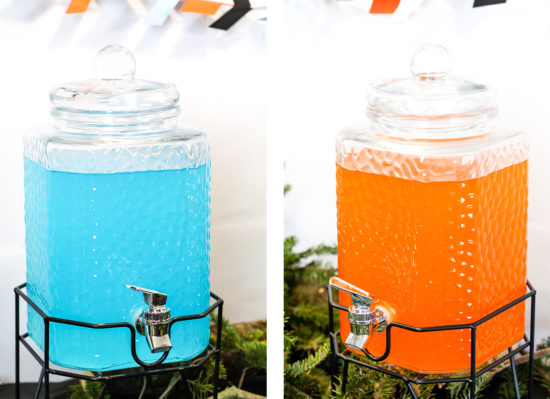 The Food & Menu Gallery
Woodland Themed Baby Shower Decorations
Birch Paper Straws
Combining form and function, these birch paper straws were the most simple decoration, yet they were a definitely "wow" factor at the baby shower. I felt like I won the lottery when I found them on Amazon (here). They're sold in a box of 100 for only $10!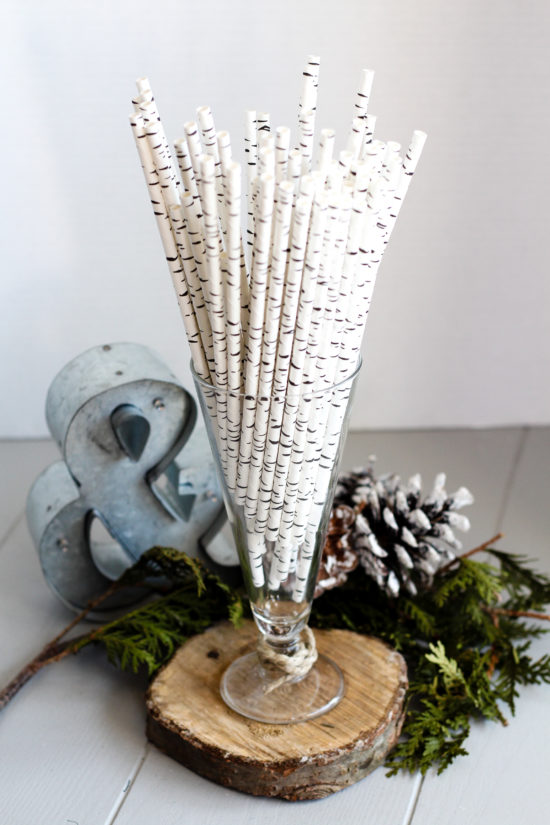 Tree Ring Stands & Tree Branches
Not even joking, I looked for weeks on Craigslist and Facebook Marketplace for a deal on anyone selling wood or tree branches. Then one day I happened to drive past a local tree and garden center and asked them if they had any scrap tree trunks or branches I could take for free. I struck gold! They had a massive pile out back with piles of old Christmas trees buried in a thin blanket of snow. (The snow actually helped to preserve the natural coloring of the trees!) It didn't take long to find already-sliced tree rings, pine cones, and the perfect size of tree branches for the shower. I definitely recommend calling around to local businesses to see if you can take some scraps away at no charge!
The tree rings acted as beautiful stands for the food. The tree branches and pine cones were spread across the table between the serving dishes. *Tip: cover your table first in a cheap plastic tablecloth for easy cleanup.

Pine Cone Garland & Chevron Paper Banner
I used the extra pine cones and some light blue yarn to create a really quick and easy DIY banner. If you plan to make your own, simply tie a knot around each pine cone and leave several inches of yarn between. For the chevron paper banner, I used my Silhouette machine. What would have taken me a couple hours only took minutes! (I bought this Silhouette Cameo Starter Bundle and have loved using it for several DIY projects.) You can make your own by attaching alternating colors of card stock paper to yarn. Easy peasy!

Blue & Orange Colored Fabric Banner
This party decoration took the longest by far (it was over 12 feet long!) but I used it to wrap the food table. It helped to nail the blue and orange colors of the woodland themed baby shower while softening up the rustic decor. I found the fabric at Goodwill (you can get loads of fabric at a fraction of the cost by shopping at thrift stores) and cut them into long strips before typing them to a piece of thick twine. (If you don't have twine on hand, I recommend buying some because they can be used in a plethora of DIY craft projects.)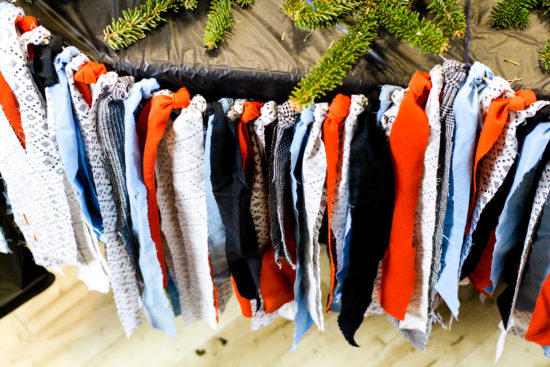 Faux Chalkboards
The "chalkboards" added a rustic element to the table. All I did was cut out rectangles from black card stock (another great item to have on hand for DIY craft projects) and use this white chalk marker to write the text. Using scotch tape will secure the faux chalkboard on without causing harm to the surface.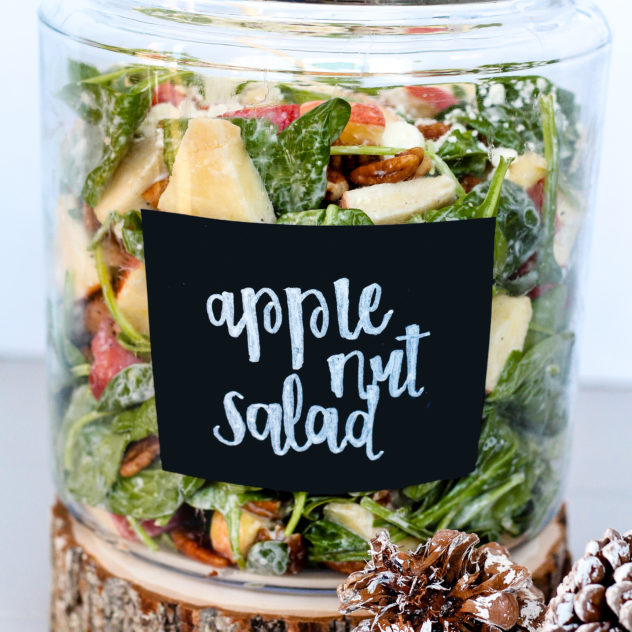 The Decoration Gallery
I hope you enjoy your woodland themed baby shower as much as my friend did! Please let us know how your event goes by commenting below!
Pin it!

Other posts you might like: