This wooden crate spice organizer is the perfect way to spice up your kitchen home decor while freeing precious shelf space. Whether your main motivation is to organize your herbs & spices or to create a beautiful focal point, this DIY home decor certainly does the job. If you haven't noticed, rustic is back "in", especially when coupled with a vintage feel. That automatically makes a wooden crate spice organizer a great way to get some of that vintage rustic look into your home in a simple, practical way. The process is really quite easy:
Make or buy your wooden crate
One great thing about this project: it can be as DIY as you want. You could easy make your own with minimal materials (i.e., wood and short nails), or you could go the slightly less DIY route and buy a wooden crate that already fits your space. If you do decide to make it, leave the crate wood raw for a more rustic look, or paint it white and slightly distress it using sandpaper for a more vintage look. I chose to buy. I got mine on sale at a local Jo-Ann's Fabric and Craft store. If you don't see what you're looking for on sale, often craft stores, like Hobby Lobby and Michaels, will have a coupon that is 40% off one regularly-priced item. Those coupons can be found on the store's website. Look into different options to see whether making your own wooden crate or buying one is best for you and your DIY budget.
Purchase spice jars
Feel free to use whatever size jar you'd like to hold your various spices in. I went with the 4 oz size of jar. It seemed big enough to not have to refill them every day, yet small enough to be able to fit up to 45 different spices inside my crate. 45?! Well, folks, this family uses quite the spice variety. We are "seasoned" spice users after all (lame pun definitely intended). You'll find once you have your spices organized and easily accessible, you'll be using more spices too in your cooking! While buying jars, remember to get a few extras so that when you add new spices to your crate, you already have the jars ready and waiting.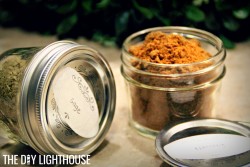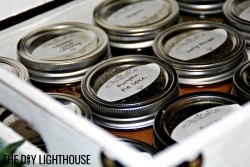 Label your spices
When it comes to labeling your spice jars, there are loads of different methods you can use. I bought Ball Dissolvable Labels and used a black pen to write the spice name on each label. You could use a sharpie and write directly on the lid, use a numbering system with a corresponding spice chart, or use whatever other labeling system floats your boat.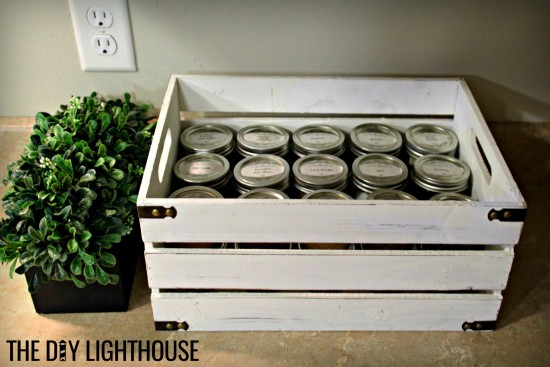 Organizing and storing your spices can not only be easy, it can be waaay cute and take your kitchen home decor up a notch! This wooden crate spice organizer has gotten many compliments already, and no doubt yours will too. So have fun spicing up your kitchen and be sure to let us know how your wooden crate spice organizer turns out by commenting below.
Other posts you might like: