The holidays pass by and it feels as if spring is still months away…because it is. That's why we ladies need to stick together. Aaaand, that's why we need Winter Survival Night. Picture it: a ladies night where you and your friends can share comfort food, book & movie recommendations, and each other's company. What could be more perfect?! I recently hosted a Winter Survival Night with my friend Rita, and it was a huge hit! See our steps to throwing the perfect Winter Survival Night below.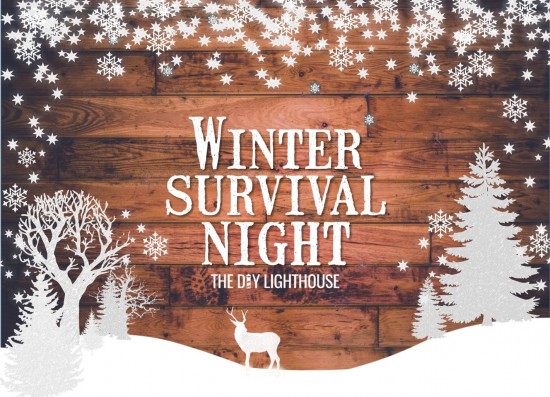 Winter Survival Night Invitation
This adorable invitation only took 15 minutes to make. I used the fonts Love Sani, Mailart Rubberstamp, and Yu Gothic Medium. LOVE these fonts! The wood background and snowflake I found online. (Side note: to avoid copyright issues, be sure to filter the usage rights and find one that is labeled for reuse.) And finally, I made the arrows out of shapes. Super simple, super quick, super cute!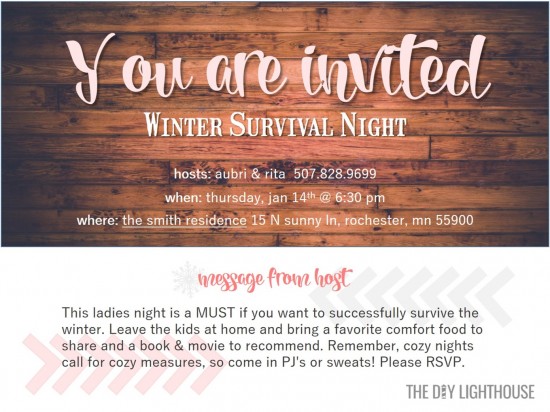 Comfort Food
As you can see in the Winter Survival Night invitation above, we asked everyone to bring a favorite comfort food to share. You pretty much can't go wrong with comfort food. We ended up with a delicious spread that included creamy tomato soup, homemade rolls, chicken wings, cheese dip, ranch flavored pretzels, hot chocolate, a soul-warming drink called Hot Vanilla, chicken noodle soup, chips & dip, ice cream, peppermint chocolate, cupcakes, and popcorn. For your Winter Survival Night, feel free to give your food more of a theme (i.e., baked goods), or keep it generic so the ladies can use their creativity.

Book & Movie Recommendations 
This part of Winter Survival Night stole the show! We went around the circle and all 20 ladies recommended at least one book and movie that would help everyone survive the winter. We got a great variety of recommendations, and everyone walked away excited to read and watch their way through winter! Below is the Winter Survival Night printable that we handed out to everyone so they could write down the recommendations others gave. And below that I included our recommendation lists (in no particular order).
[FREE Printable!]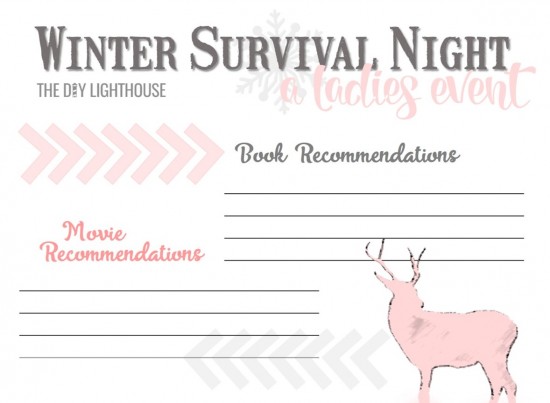 Book Recommendations:
Cinder by Marissa Meyer
Unbroken by Laura Hillenbrand
The Help by Kathryn Stockett
Divine Signatures by Gerald N. Lund
The Ladies Auxiliary by Tova Mirvis
Edenbrooke by Julianne Donaldson
The Mysterious Benedict Society by Trenton Lee Stewart
Between Husband & Wife by Stephen Lamb & Douglas Brinley
To Kill A Mockingbird by Harper Lee
Deja Dead by Kathy Reichs
Fishers of Men by Gerald N. Lund
All the Light We Cannot See by Anthony Doerr
Goose Girl by Shannon Hale
The Princess Academy by Shannon Hale
Cutting For Stone by Abraham Verghese
The Hunger Games by Suzanne Collins
Inferno by Dan Brown
A Dog's Purpose by W. Bruce Cameron
Mistborn by Brandon Sanderson
Way of Kings by Brandon Sanderson
Complications: A Surgeon's Notes on an Imperfect Science by Atul Gawande
The Selection by Kiera Cass
The Maze Runner by James Dashner
These Is My Words by Nancy E. Turner
The Cuckoo's Calling by J. K. Rowling
The Murder of Roger Ackroyd by Agatha Christie
Ender's Game by Orson Scott Card
The Immortal Life of Hennrietta Lacks by Rebecca Skloot
Vienna Prelude by Bodie and Brock Thoene
To Say Nothing of the Dog by Connie Willis
My Grandmother Asked Me to Tell You She's Sorry by Fredrik Backman
Redwall by Brian Jacques
Movie or Show Recommendations:
Agent Carter
Brooklyn
The Letters
Emma
Austenland
Pitch Perfect 1
The Pirate Movie
While You Were Sleeping
White Collar
The Count of Monte Cristo
Inside Out
The Hunger Games
Home Fires
The Paradise
Turn
Stardust
A Night's Tale
The Time In Between
Continuum
The Martian
The King's Speech
Jiro Dreams of Sushi
Chef's Table
Jurassic World
The Bourne
Just Like Heaven
Last Holiday
Get Smart (with Steve Carell)
Interstellar
The Edge of Tomorrow
Firefly and Serenity
Little Women
The Little Princess
Galaxy Guest
When Harry Met Sally
You and your friends will LOVE the coziness of a Winter Survival Night. Comment below and tell us how your ladies night goes! Also, feel free to let us know what some of your favorite comfort foods, books, or movies that help you get through the winter. Most of all, stay cozy!
Other posts you might like: