Valentine's Day floats are fun, sweet treats you can make for your Valentine's Day party, your kids, your family, or your Valentine crush. Because making this for one or for many is very inexpensive, this treat is an easy way to say, "I love you!" And these pink, yummy Valentine's Day floats will have everyone asking for more.
Valentine's Day Floats
Recipe:
Vanilla ice cream
Cherry 7-Up
Whipped cream
Cherries
Straws (optional)
Directions:
Put 2-4 scoops of vanilla ice cream into a cup.* (You can also use a punch bowl if it's being served at a party.) Pour Cherry 7-Up over the ice cream, allowing the bubbles to settle a bit before adding more. Top with whipped cream and a cherry. Serve immediately with a straw or it will melt. (You can get 100 straws for only $5.99 here!)
*If you're having a party and will serving a large group of people, you can also put also make this in a punch bowl. Just be sure to set aside extra ice cream and Cherry 7-Up so that when the drink starts to look flat, you can add extra ice cream and Cherry 7-Up to bring it to life again. I would also recommend having people their own whipped cream and cherries on. Don't forget a ladle so people can pour their Valentine's Day floats into their individual cups.
Enjoy! And have a "lovely" Valentine's Day!
Pin Me!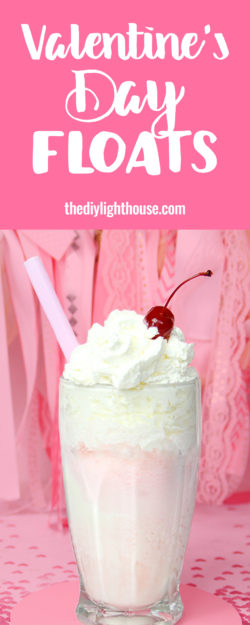 Other posts you might like: