When my friend mentioned that she was using a star theme to decorate her baby-to-be's room, I just fell in love with the idea of throwing her a Twinkle Twinkle Little Star baby shower. Dreamy, right?!  Twinkle Twinkle Little Star is a nursery rhyme and lullaby, so it seemed like the perfect platform to celebrate a beautiful mommy and her baby.
P.S. Don't you love the cute wall decor I made for the baby's room?! Such an inspirational star-themed quote for mommy to look at during those hard newborn days.

Baby Shower Invitation
When it comes to invitations for an event, I definitely think that something tangible is best. But when you are strapped for time and money, an electronic invitation is an excellent alternative. While there are free electronic invitation websites that help with the process, I always like to take the hands-on approach and make my own. This allows much more personalizing and creativity.
Making your own invitation is actually easier than it sounds. I definitely recommend Adobe Photoshop. That is my go-to tool for designs involving images and text. However, Photoshop can be expensive, so if you don't think you can afford it or haven't yet mastered Photoshop, there is a fairly good alternative: PowerPoint. While the image quality and design manipulation isn't quite like Photoshop, PowerPoint can be used for creating and manipulating text, images, and a fun design (click here to see my "A Very Hungry Caterpillar Invitation" created exclusively on PowerPoint). And please don't hesitate to contact us here with any Photoshop or PowerPoint questions.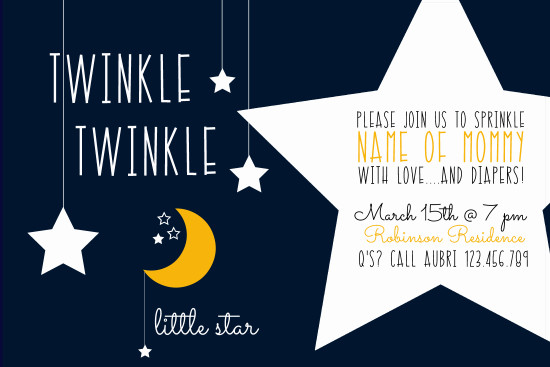 It only took me about 30 mins to create this super cute and totally free invitation for my friend's baby shower to send out via email and Facebook. The baby's room decor will be navy blue, mustard yellow, & gray, so I used those colors as the basis for this Twinkle Twinkle Little Star baby shower invitation. Don't you love the fonts I used for this design?! The main font is "ScotchTap Medium" and the accent font is "Sacramento Regular." With patience and the initiative to master a small learning curve, you will be cropping, creating, and colorizing your own DIY invitation!
Baby Shower Food
Maybe it's because I love to eat, but I feel like the food really makes or breaks a party! The kind of food and how it is displayed is very important, because it helps nail the event theme and tie everything together. With stars, the sky, and the baby's room color scheme in mind, I decided on shades of blue, yellow, white, and silver. I feel like it's pretty easy to come up with fun party foods that fit a color scheme once you get your noggin' juices flowing.
The food I ended up preparing and serving was blueberry vanilla trifle, blueberry banana parfaits, white cheddar puffs, white chocolate drizzled rice krispie treats, white chocolate drizzled oreos, silver & gold Hershey kisses, potato chips, peanuts, white chocolate chips, and lemon infused water.
Baby Shower Decorations
Decorations are important to nail the theme, but they can be expensive. I like to DIY parties and events on a budget. Tip: One of the best ways to create an inexpensive event is to incorporate something you already have around the house into your party décor. Everything I used to turn this small venue into a Twinkle Twinkle Little Star baby shower were things I already had! It's amazing what you can find around your own home that can totally work within your theme.
One of my favorite parts of the room was the guest book table. When a guest would enter they would read a framed sign that said, "Please write your name in the little board book & write your name & address on an envelope for mommy." The board book was "I Love You to the Moon and Back." I also provided the thank you cards and envelopes so it made it that much easier for a tired mommy to thank everyone who came to her baby shower.
We'd love to know how your Twinkle Twinkle Little Star baby shower goes! Please comment below to share your cute DIY baby shower.
Other posts you might like: