Find out what trending summer DIY crafts are covering Pinterest feeds! FYI, The DIY Lighthouse is on Pinterest! Follow us to stay in the loop. (Click here to find our boards.)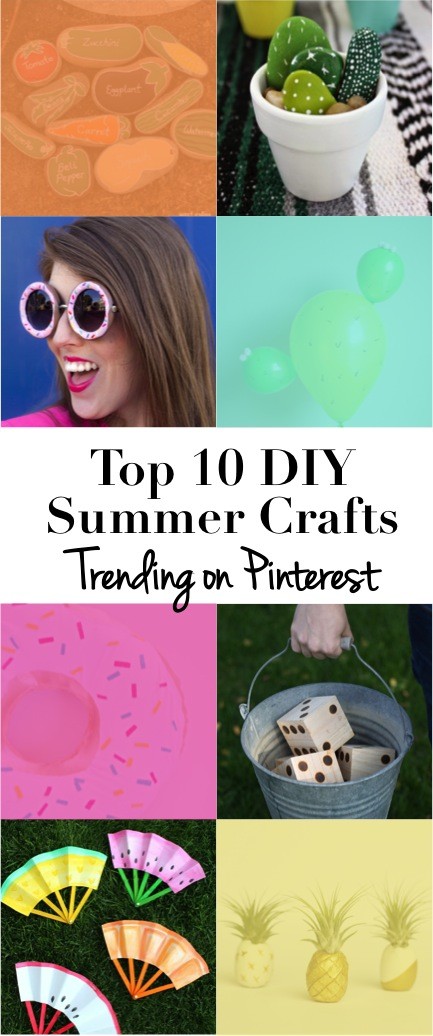 Pinterest Trend 1. Cactus Crafts
You can't hop on Pinterest without seeing pins about real + faux cactus projects and ideas. Cactus themed mugs are saying, "Don't be a prick," "free hugs," and "can't touch this." Everything is cactus from balloons to wall art… this plant is taking over the DIY crafting world!
Pinterest Trend 2. Pineapple Crafts
We're talking about that spikey yellow fruit, right? Sure thang! Pineapples are majorly trending right now in DIY crafts, home decor, and apparel. Prints to plant holders, pineapples are Pinterest perfect!
Pinterest Trend 3. Travel Themed Crafts
Travel-themed crafts are trending right about… now! With summer around the corner, people are thinking about adventuring and exploring. Mini map magnets and travel-themed quotes are just examples of the traveler's treasure trove exploding on Pinterest.
Pinterest Trend 4. Marbled Mugs Crafts
Mugs are for sure getting some attention in the crafty Pinterest world, but marbled mugs are getting some repin love.
Pinterest Trend 5. Painted Rock Crafts
This may rock your boat, but rocks are in. Painted rocks to be specific. From garden markers to story stones, crafty rocks are totally rocking it on Pinterest!
Pinterest Trend 6. Tic Tac Toe Painted Rocks Crafts
If painted rocks weren't specific enough, we'll do you one better. That's right… tic-tac-toe painted rocks are trending. We're not even playing games with you.
Pinterest Trend 7. Book Crafts
Yep, you're reading this right. From book safes, to book-lover's necklaces, to repurposed book art, book crafts are covering Pinterest DIY craft feeds.
Pinterest Trend 8. Doughnut Crafts
Donut get me started about how donuts are so in! Get in the loop and check out all the doughnut crafts sprinkling Pinterest feeds. (Check out our post on how to make a donut thank you basket by clicking here.)
Pinterest Trend 9. Giant Backyard Games Crafts
Yep. With summer weather coming, giant backyard games are hot right now. Giant Yahtzee and giant Jenga are two I keep seeing, but there's a whole bunch of backyard lawn games that are winning the top summer craft spots.
Pinterest Trend 10. Fruit Themed Crafts
You're going to eat up this juicy trend… fruit themed crafts. Watermelon, lemon, orange, strawberry, you name it. Fruits are king for summer crafting on Pinterest these days.
So there you have it. Ten trending summer DIY crafts on Pinterest. What did I miss? What summer crafts do you see trending on your Pinterest feeds? Leave a comment below.
The DIY Lighthouse is on Pinterest! Click here and follow us!