Throwing a ski themed party? We got some decent traffic to our Ski Themed Party post, so we're adding to it to give you guys more ideas. (You can see our original post here.) My husband loves to ski and I love to throw parties, so we throw an annual ski themed party sometime around his birthday. Our original post was of our very first ski party (when my picture-taking skills were subpar). This year we've changed some things up while leaving our favs the same. So keep scrolling and check out our Ski Themed Party — Part II.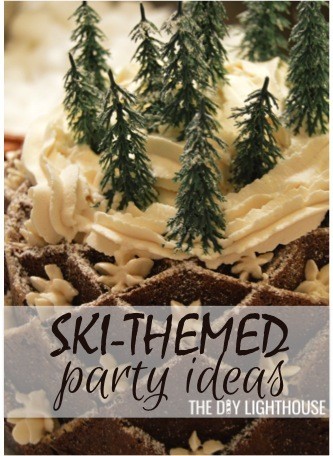 Ski Themed Party Invitation
So we could leave our party budget for the best part (the food of course), we went with email invitations. Tip: When throwing a ski themed party, never waste the opportunity to throw in a good ski pun. Below is the email (packed with ski lingo) that we sent to our friends along with an adult night "ski pass" that I whipped up.
Hey Ski Buddies,
Are you ready for a gnar gnar party?! It's going to dump on Friday so meet up for apres-ski at The Corkin Resort in your gear (not mandatory but encouraged). Come ready to shred some sick food.
The deets are on your night pass. Be steezy and RSVP!

See you on the slopes. Be there or be blue square!

Jake & Amber
If you're feeling extra awesome then make a personalized invitation where everyone gets a custom ski pass with their own name and picture on it. Print them out, put them in plastic sleeves, and attach them to lanyards. Also, if you want you can ask guests to come dressed up in their ski gear.
Ski Themed Party Food
Below is ski themed food that we served at our party. Feel free to copy this menu, or get creative and come up with your own ski themed food! If you come up with some other ideas please share in the comments section below! We're always looking for ideas for next year's annual ski party 😉
Ski Poles: chocolate covered pretzels
So easy! Just microwave a bag of white chocolate chips in the microwave for 1 minute. Take it out and stir the chocolate and it should melt as you stir. (If not, microwave for 15 second increments until it starts melting.) Once the chocolate is smooth, dip a pretzel rod into the chocolate and use a spoon to run it farther up the rod. Give it a twirl over the bowl to get off the dripping chocolate. Over a paper plate, sprinkle white sugar crystals on the chocolate part of your pretzel rod. Lay your rod on a sheet of wax paper. (I put my wax paper on a baking sheet for easy transferring.) Once you've got all of your rods done then let them harden. Ideally allow 24 hours for them to harden at room temperature. If you're short on time, you can pop them in the fridge for a bit.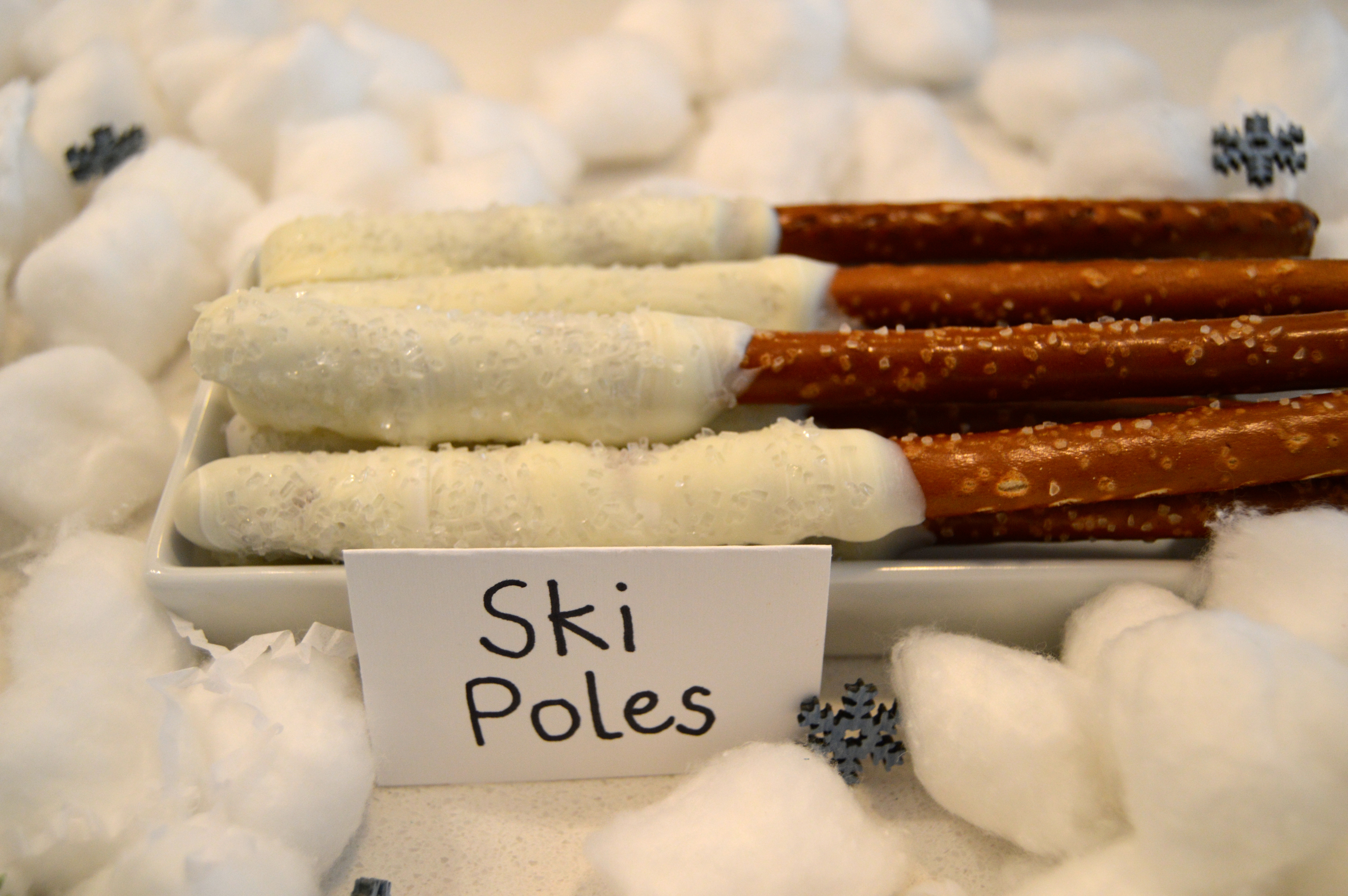 Backcountry: chocolate bundt cake with whipped cream
My awesome friends, Andrew and Tessa, made this adorable cake! Doesn't it look like a mountain? They made a chocolate bundt cake with whipped cream pipping and sprinkled it with powdered sugar. To top it off, they added little plastic trees. If you are not quite as skilled in the baking world as they are (yeah… like this girl right here), then you can make a simple chocolate bundt cake with drizzled white frosting.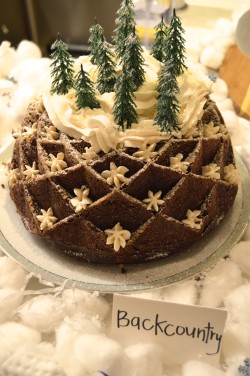 Corn Snow: white cheddar popcorn
Cheap and easy. Just throw some popcorn in a bowl. And did you catch the pun? Corn and popcorn!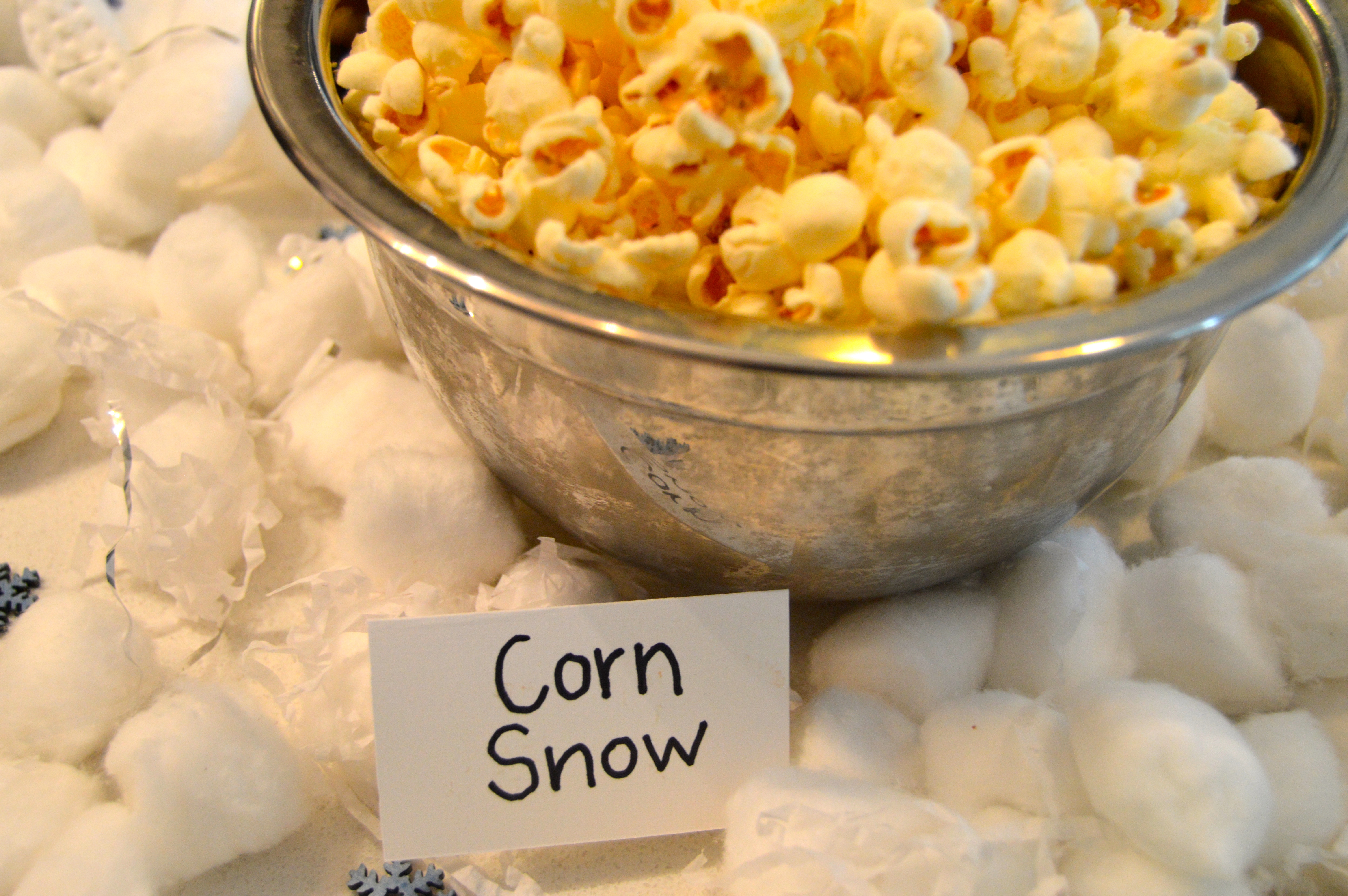 Pow Pow: powdered donuts
I totally blew this one. . . I should have served donut holes! Either way these are really cheap at the grocery store and it's zero prep. So do it.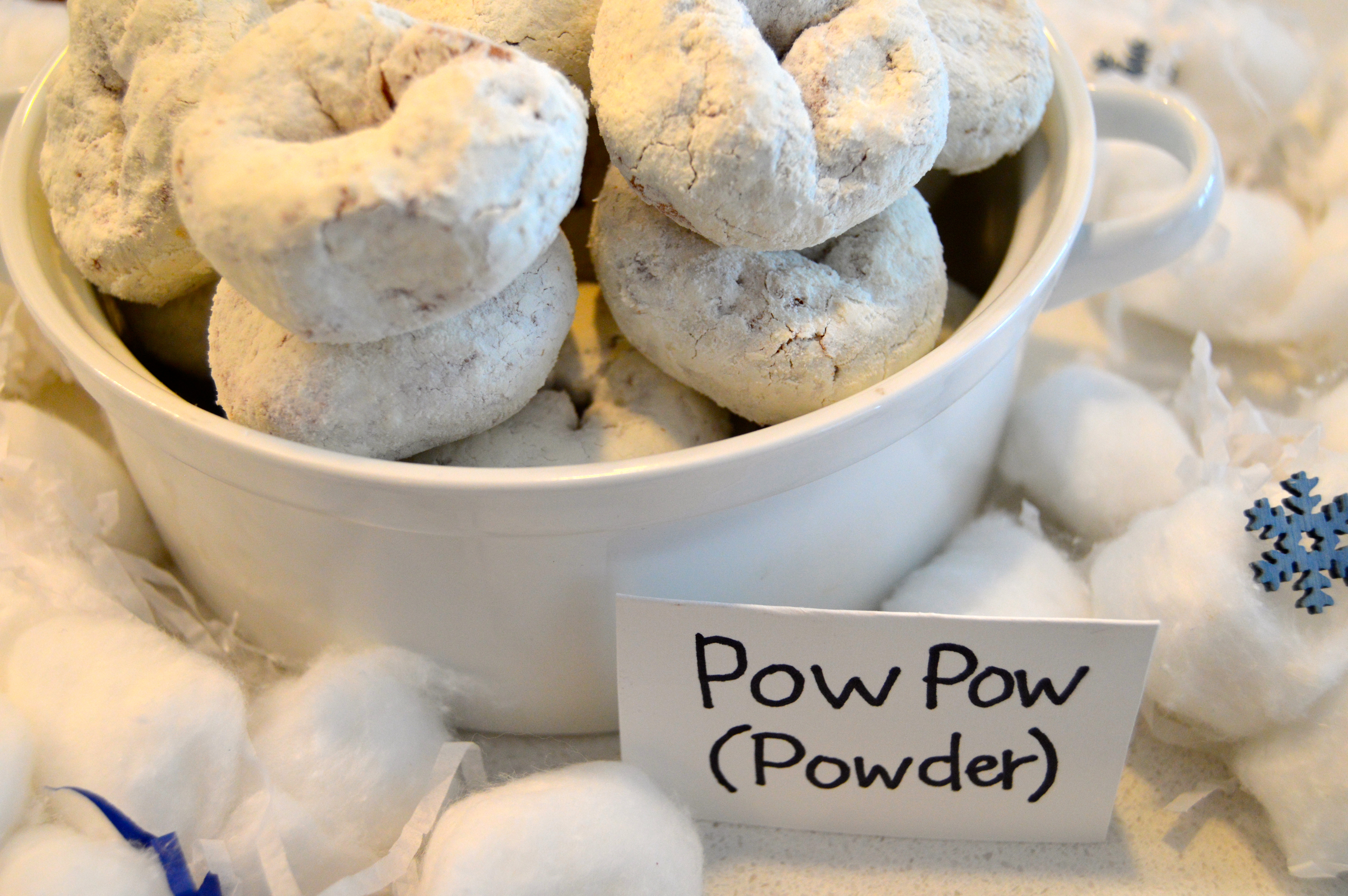 Pizza (Snowplow): pizza
This will be a huge hit! We cooked a frozen pizza, but if you're tight on time then get it delivered. Tip: if you have a lot of guests, cut the pizza into thinner pieces than usual so it goes further.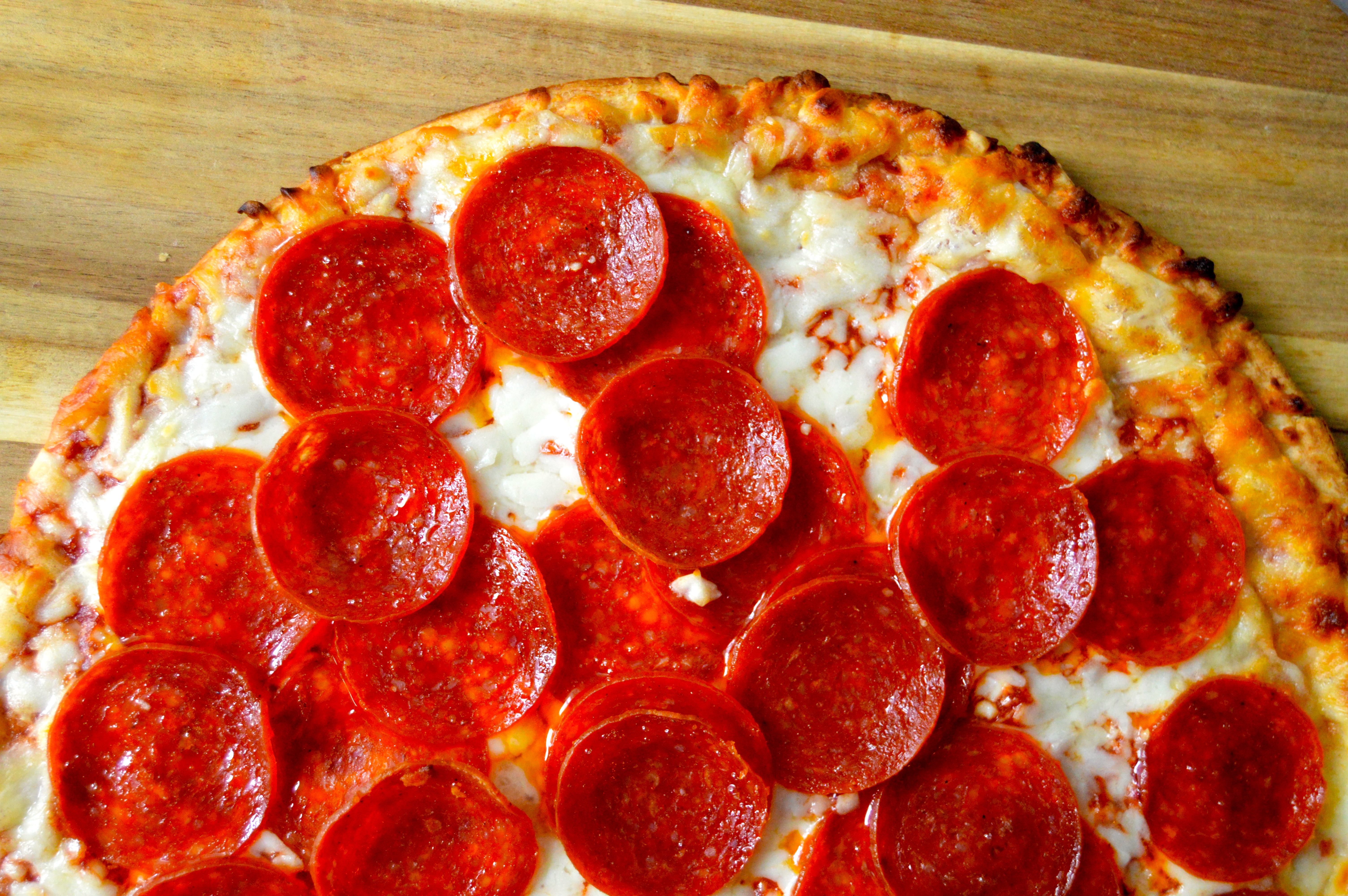 French Fries (Parallel Skis): french fries
In skiing, french fries are the opposite of pizza. Both they're both delicious so cook up some fries. (They're cheap in the frozen foods section of your grocery store.)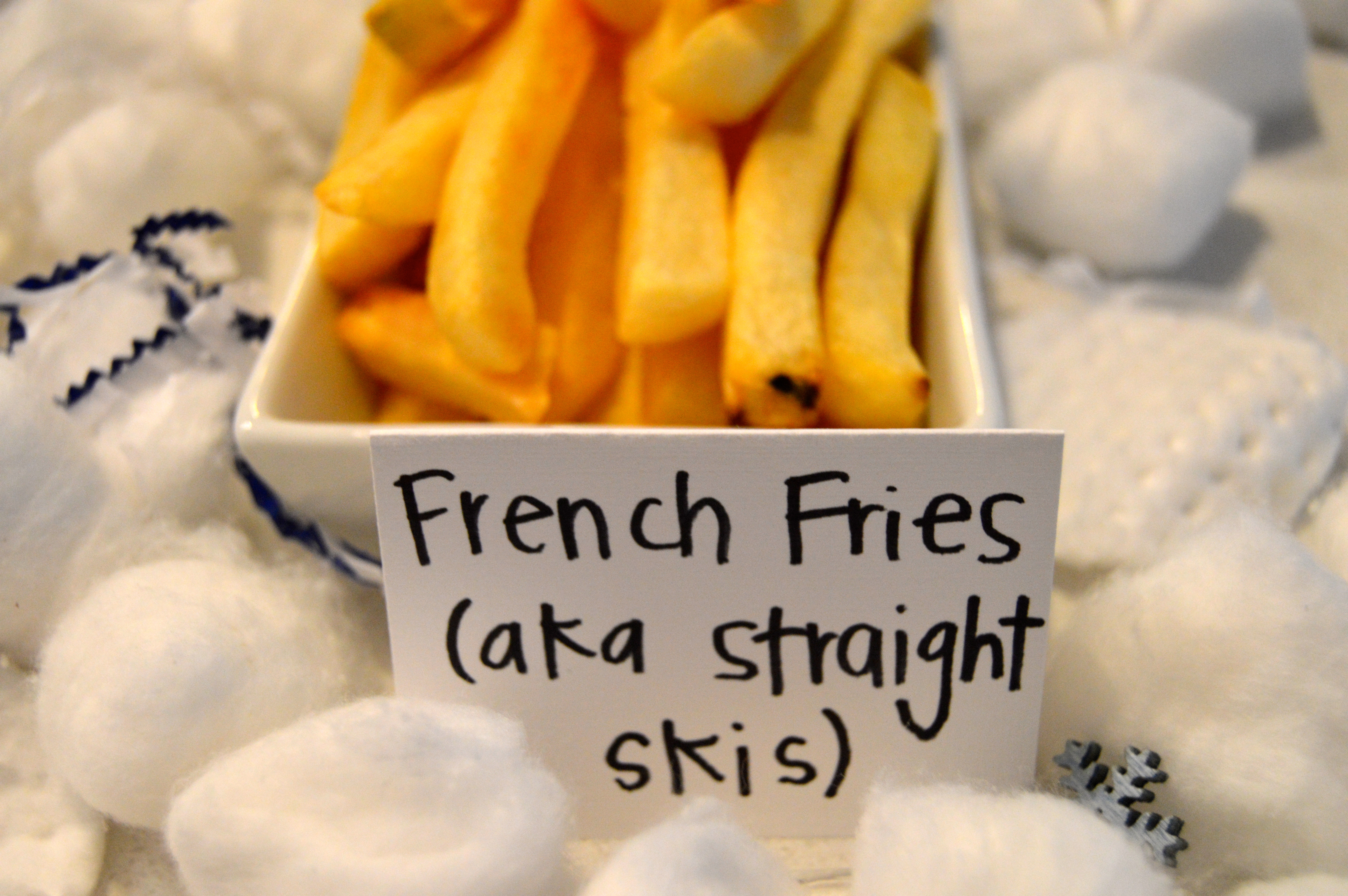 Beginner Slope (Green Circle): green cupcake with mint oreo
Use a white cake mix and white frosting to make it easy on yourself and add food coloring. In the past I used green gummy rings on top of these cupcakes but I couldn't find any this time around. But I did find some mint oreos that did the trick!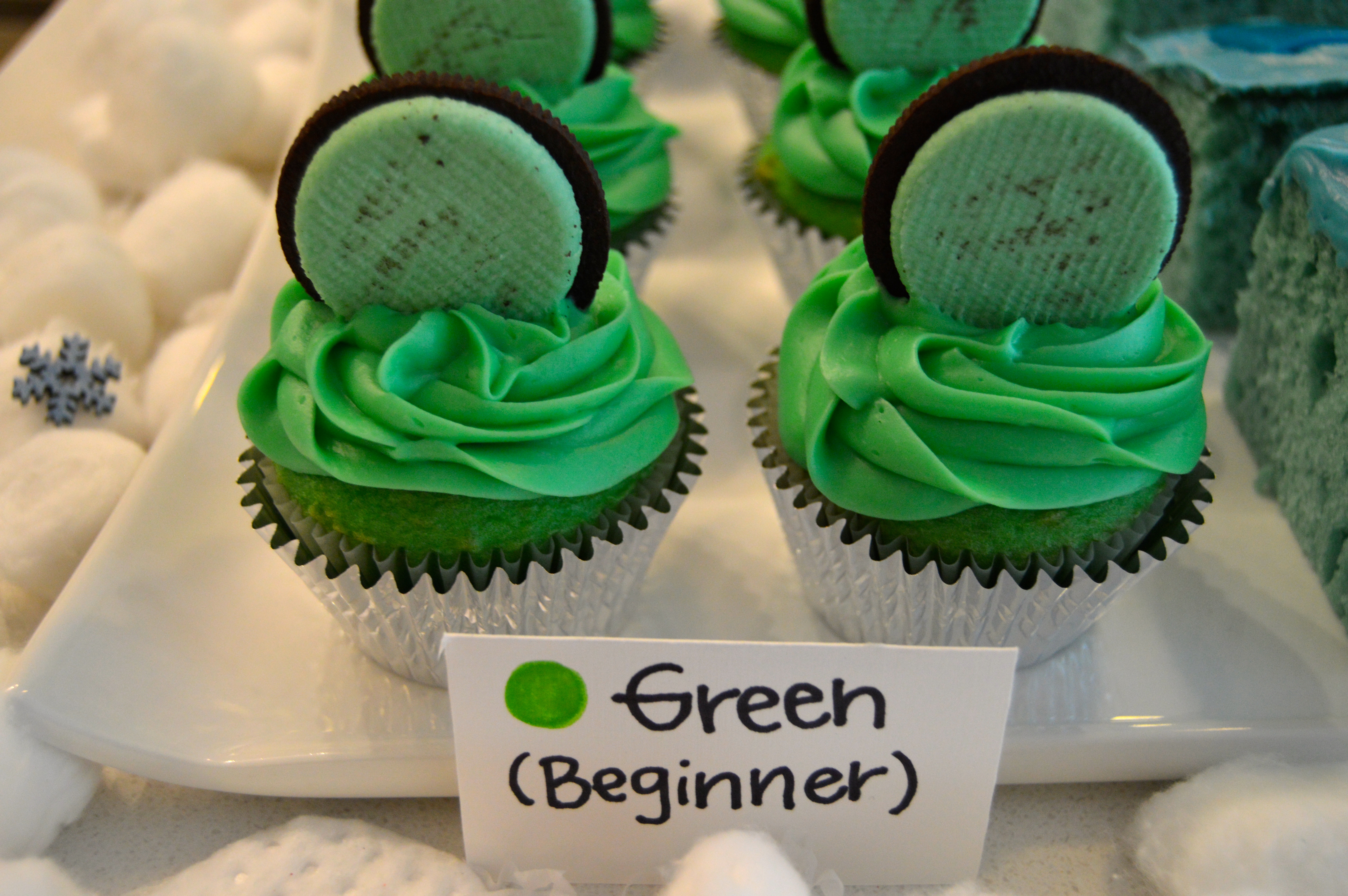 Intermediate Slope (Blue Square): blue cake with airhead
Just used straight up white cake and put some blue food coloring in it. (Same with the frosting.) I found mini blue airheads at the store (in a big pack of many colors and hoped that there were enough blue ones to get the job done. . . there were!) and cut them into squares.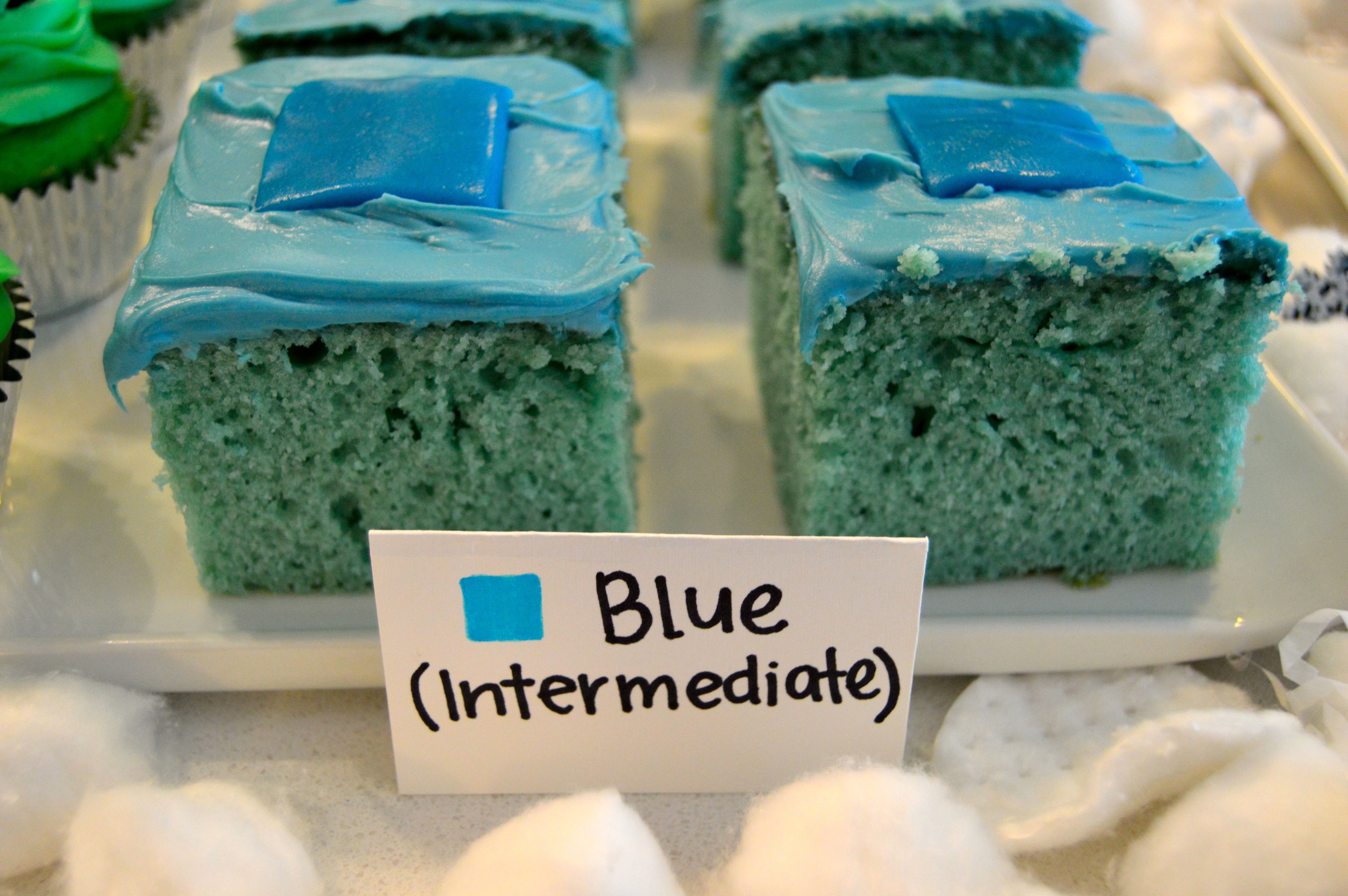 Advanced Slope (Black Diamond): dark chocolate brownies
Using dark chocolate brownies (as opposed to regular brownies) makes these more black looking. Cut them into square and tilt them on your serving platter so they look like diamonds.
Apres-ski: drinks
Apres-ski is a term meaning the nightlife following a day of skiing. For our apres-ski, we filled our wine cooler with some bottles of root beer and cans of coke. But serve whatever drinks your guests will enjoy.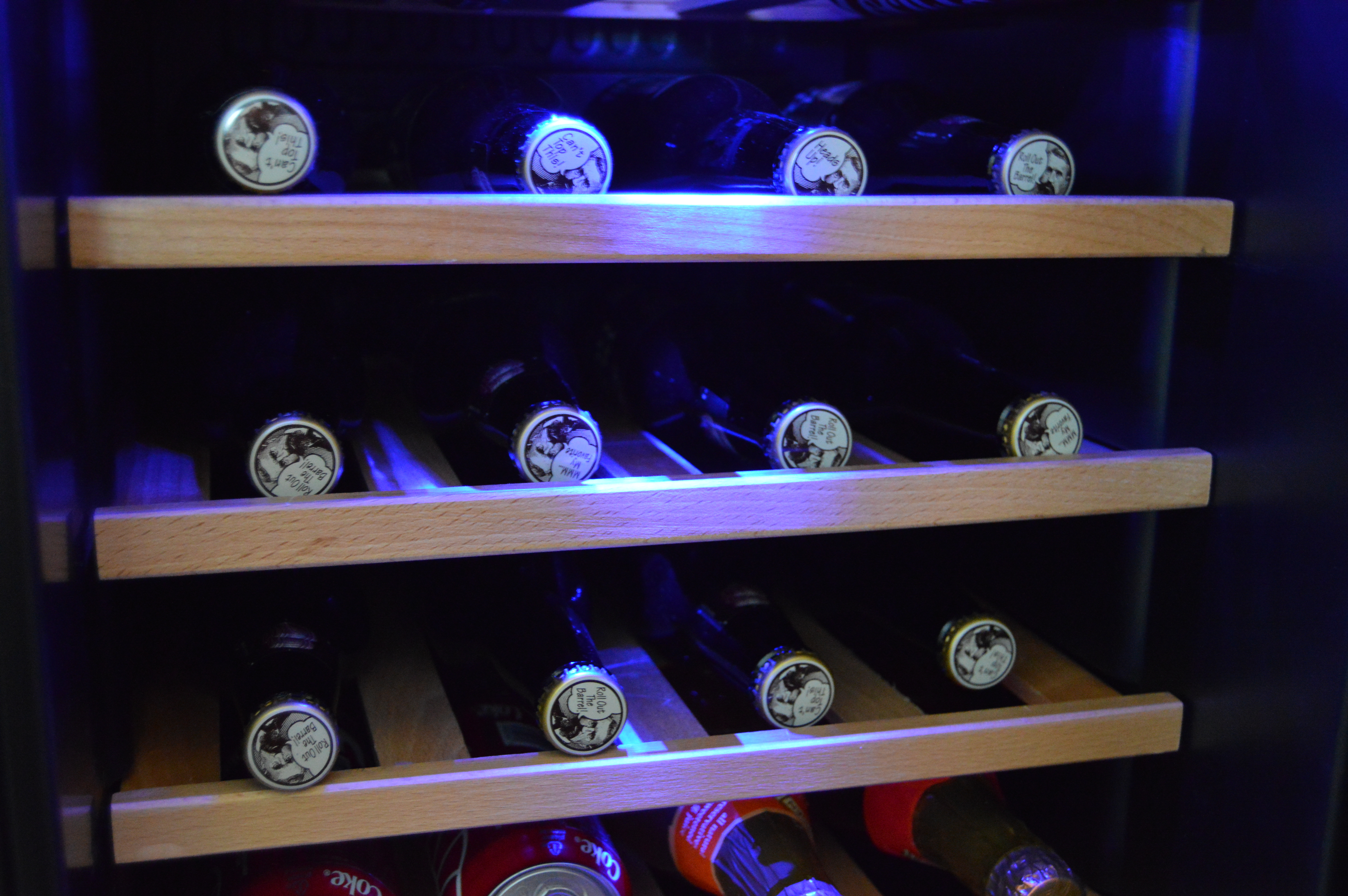 Ski Themed Party Game
We mostly like to hang out and eat food at parties, but the occasional game can be fun too, so here is a game idea for your ski themed party.
Ski Lingo Matching Game
As you can see from the invitation above, there is definitely ski lingo used on the slopes. If you're looking for a fun game, the ski lingo matching game may be just the one. Feel free to trade some of these out for lingo that you especially like. (Thanks to Skiing Secrets Revealed for supplying the ski lingo and definitions. Check out their full list of ski lingo by clicking here.)
Below is a picture of what our matching game looked like. Click on the button below to download a free printable of this game.
Download: Ski Lingo Matching Game Printable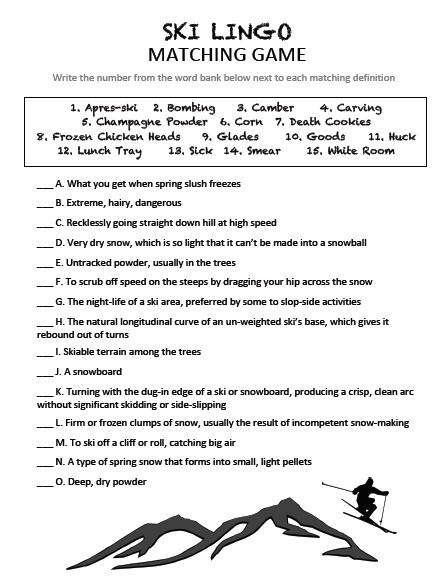 And here is the answer key:
Apres-ski: G
Bombing: C
Camber: H
Carving: K
Champagne Powder: D
Corn: N
Death Cookies: L
Frozen Chicken Heads: A
Glades: I
Goods: E
Huck: M
Lunch Tray: J
Sick: B
Smear: F
White Room: O
Prizes
Winner: Park Rat
The winner (whoever matches the most ski lingo terms to their correct definitions) gets the "Park Rat" prize: a tube of Cheddar Cheese Pringles. (Get it? Rats like cheese.) A park rat is a ski park junkie.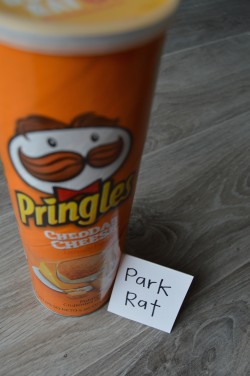 Loser: Snow Bunny
And the loser gets the "Snow Bunny" prize: a Reese's Pieces carrot bag. (Bunnies like carrots.) A snow bunny is a woman who is more interested in looking pretty and posing than in skiing.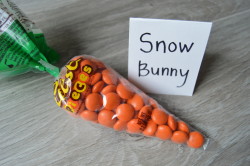 Ski Themed Party Decorations (on a budget)
If you're looking for some inexpensive party decor inspiration then you've come to the right place. Of course utilize your ski gear throughout your decor. (This could include: skis, ski poles, ski boots, helmet, ski goggles, etc.) Here are some additional cheap decoration ideas:
Snow Snacks: the food table
Cotton balls! On our food table we covered it with cotton balls, little snowflakes, and white crinkle paper. We did this to try and make it look like snow.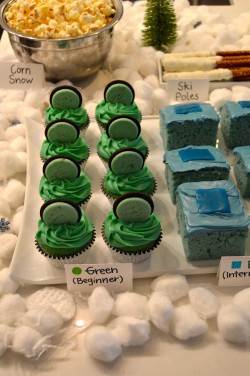 Ski Slopes: ski footage on your t.v.
If you can access the internet from your t.v. (with an HDMI cord to your computer or a smart t.v.), then start some ski videos. I recommend looking up Matchstick or Warren Miller videos. You can also make a YouTube playlist with a bunch of ski movies.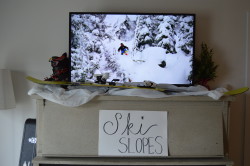 The Ski Lodge: fireplace and comfy seating
Turn one of the corners of your room into the "ski lodge" by making it feel cozy and warm. We started a (fake) fire going in our "fireplace" (our computer), hung some white Christmas lights, tossed a sheepskin rug and throw blankets on the chair, etc.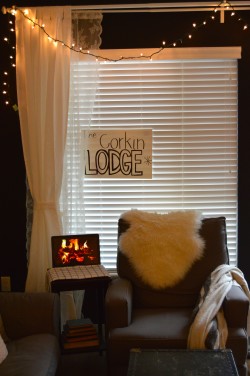 The Chair Lift: couch or other seating
Turn your couch into the chair lift! It was be as simple as hanging up a sign.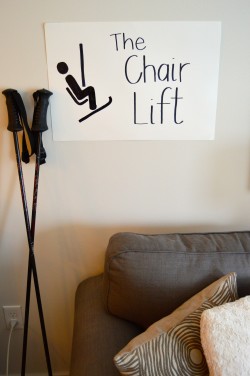 Ski Sign: on your front door
You can see that we've used signs all throughout our room to help label areas and tie together ski puns with our decorations. We wanted to have something fun on our front door too to welcome the guests, so we made a ski sign.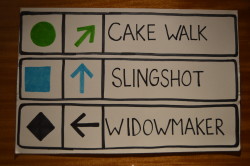 Hope you have a blast throwing your own ski party! We want to hear your ski themed party ideas so comment below!