All I want for Christmas are these Santa hat cupcakes! They satisfy the inner child with whimsical fun, and they satisfy the sweet tooth that always seems to intensify during this time of the year. Have a holly, jolly Christmas with this quick, easy, and fun holiday treat!
Santa Hat Cupcakes
Recipe:
1 white cakemix box
1/2 c. oil
1 1/4 c. water
4 egg whites
cupcake liners (baking cups)
ice cream cones
2 – 16 oz. Classic White frosting
red food coloring
red sprinkles
mini marshmallows
Directions:
Preheat oven to 350 degrees. Insert cupcake liners into cupcake pan.
Beat cake mix, water, oil, and egg whites in bowl with mixer on medium speed for 2 minutes. Pour batter into cupcake liners until each liner is 1/2 full. (Should make 24 cupcakes.)
Bake cupcakes at 350 degrees for 19-23 minutes. When toothpick inserted in the center comes out clean, cupcakes are done baking. Cool in the pan for 10 minutes before removing to a cooling rack. Cool cupcakes completely before frosting.
Once cupcakes are completely cool, frost with Classic White frosting (only use one 16 oz. container).
Mix red food coloring into remaining Classic White frosting container until the desired color is achieved. More food coloring will deepen the red color. Coat ice cream cones in red frosting. Before ice cream cone frosting hardens, cover in red sprinkles.
Place decorated ice cream cone on top of the cupcake. Adorn ice cream cone with one mini marshmallow on the point of the cone. (If the frosting has already hardened and the marshmallow doesn't stick well, put a dab of frosting on the point before placing the marshmallow.)
Enjoy! And have a very, merry Christmas and happy holidays!
Pin Me!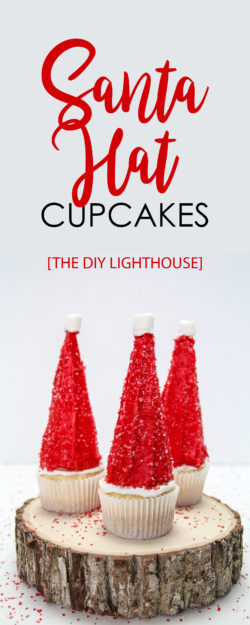 Other posts you might like: