Rustic can be so romantic. Sooo, why not leverage that and create the perfect rustic Valentines Day decor for your home? We took a common Valentines Day quote and made it special by hand painting it onto a natural wood background. The wooden blocks paired well with our cute sign to make a love-ly display of rustic Valentines Day decor. Be on the lookout for our post on how to make the wooden LOVE blocks.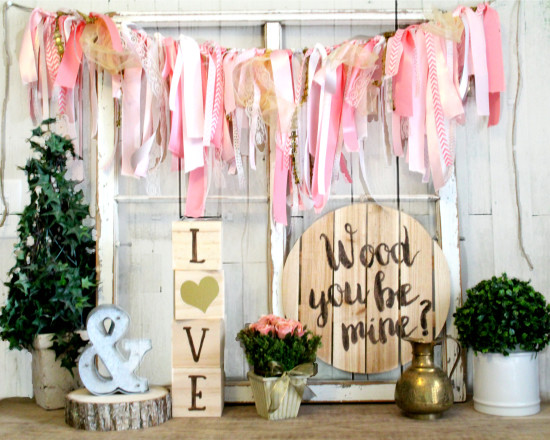 Wood you be mine?
I am crazy in love with this play on words. Isn't it cute?! Years ago, my brother actually used this idea to ask a girl to a high school dance. She said yes, so it must have either been how amazing he is, or it was the cute saying. For the purpose of this post, let's conclude it was the latter.
This project is really quite simple and quick. Here is the play-by-play:
1. Gather the supplies
All you will need for this romantic and rustic Valentines Day decor is an already assembled wooden pallet plaque. (I got mine at Michael's for $4.20 with their 40% off coupon.) Or your could make your own if you have a jigsaw or something that will aid you in cutting curved lined. Side note: another option is to use a simple, rectangle-shaped piece of wood…especially if you have one already sitting around the house. Besides your wooden background, all you need is a pencil and either wood stain or paint to create the text. I used a wood stain that I found for free. You can most likely get paint for free near you (click here to find out how)!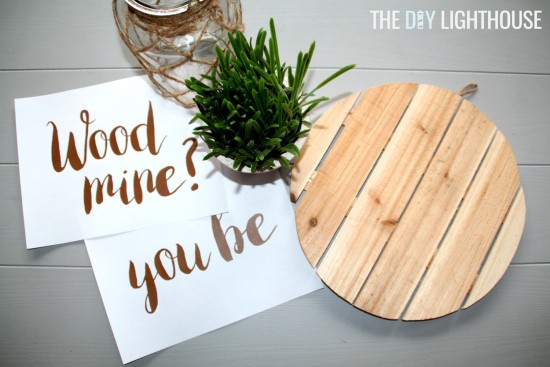 2. Design your board
I always like to do a rough draft on PowerPoint before I commit to doing the real deal. By all means, if you want to just go for it, then do! If you want to play it safe, like me, then keep reading. Simply create a shape on PowerPoint that represents the background of your decor (in this case I used a circle) that is directly proportional to the actual surface you'll be painting on. My circle is 13″ in diameter, so once I had a circle that same size on PowerPoint, I added my text and adjusted the size and placement until I achieved the look I was going for. Then I printed out my text (it took two pieces of paper because the text was too bit to fit on one). That text, once cut out, allowed me to trace the words with a pencil and get a perfect font on the wood.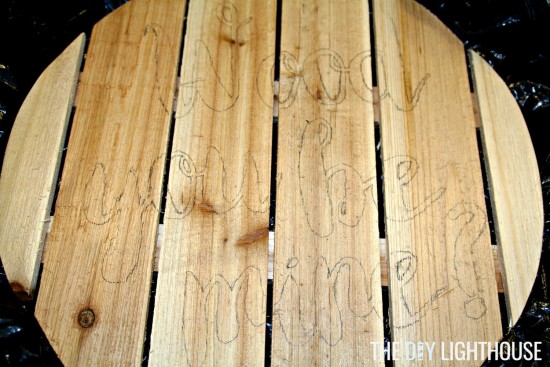 3. Stain or paint the text
Once you have the text outlined on the wood, the filling in is pretty easy. Again, I used wood stain, but paint would totally work too. (Here is our DIY Hack: Get Paint for Free post to help you cut costs). Allow enough time for the stain or paint to fully dry. (For adequate dry times, reference the product instructions.) Since I stained mine right before going to bed, I just let mine sit overnight before handling it. I love love love how it turned out and am excited to add it to our rustic Valentines Day decor around the house!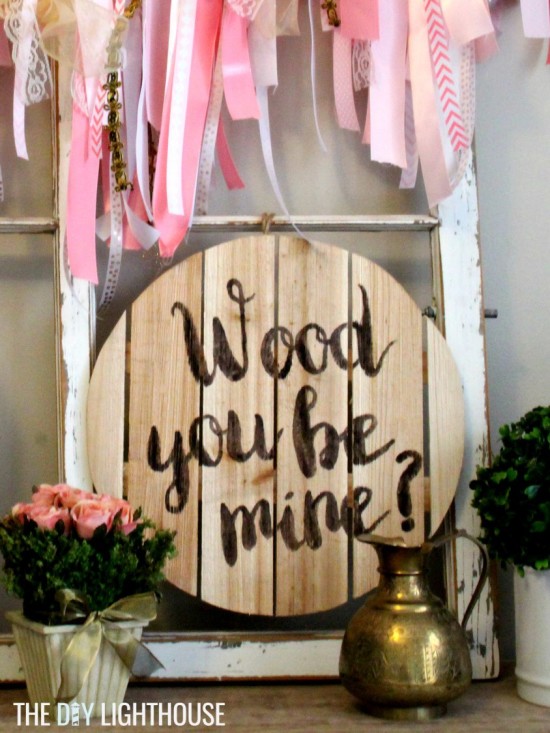 Hope this adorable, rustic decor added a bit of love to your day. Comment below to let us know how yours turns out. Also, let us know what other cute Valentines Day sayings would look great on a wall hanging. Love ya!
Other posts you might like: