Rustic is back. And one way to get an old, rustic feel into your living space is to heavily distress a piece of furniture. Distressed furniture doesn't just look amazing, it creates a warm, homey feeling because the furniture piece looks loved and used.
What went into my project:
Entry/sofa Table
Sandpaper
Drawer knobs
Spray paint
You might ask, "Why in the world should buy new furniture just to take a piece of sandpaper to it?"  Well, you shouldn't. Instead, buy a ridiculously inexpensive piece or hunt for a free one. Craigslist or a local garage sale Facebook page are great places to look.
My rustic entry/sofa table started out as a cherry coated, modern table. I bought it for $5!  (Side note: I could have turned around and sold it as is, and I would have more than tripled my money.) I found a package of sandpaper at Goodwill for $2 with a coarse grit size (see lifesaver tip on sandpaper grit size here). Next were the drawer knobs. The old ones just looked too small and modern for the feel I wanted. But the right drawer knob can be super duper expensive…like $4 each. No way on the face of the earth was I going to fork over that much money for a piece of metal the size of the grape I just ate. So, I found a package of drawer knobs on clearance that were the completely wrong color and bought spray paint to give the them a whole new look.
Warning: the sanding process takes forever if you do it by hand. Because I'm bootstrapping this whole DIY thing, I was willing to put in more time rather than buy a power sander. The benefit of doing that: you become much more attached to your furniture piece and love it all the more.  I spent roughly 6 hours sanding this baby, but she turned out amazing! Then I quickly sanded and cleaned the knobs and gave them a spray of paint. It's the details on furniture that really takes it up a notch, and the new knobs definitely did the trick!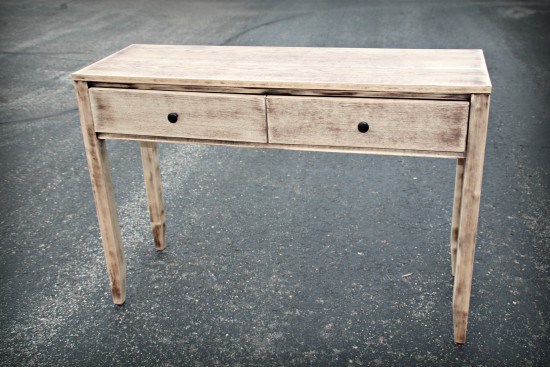 Now I have a super in, sofa table gone rustic that I could incorporate into my nautical themed living room. With a little elbow grease, some time, and a few bucks, you can have the perfect rustic "wow factor" too!