Ho, ho, ho! Merry Christmas everyone! This is a season for giving and gathering, so it's a perfect opportunity to make some fun, tasty treats. And why not invite Rudolph the Red-Nosed Reindeer to the Christmas party? Below is a quick ingredients list and recipe for how to make reindeer christmas treats.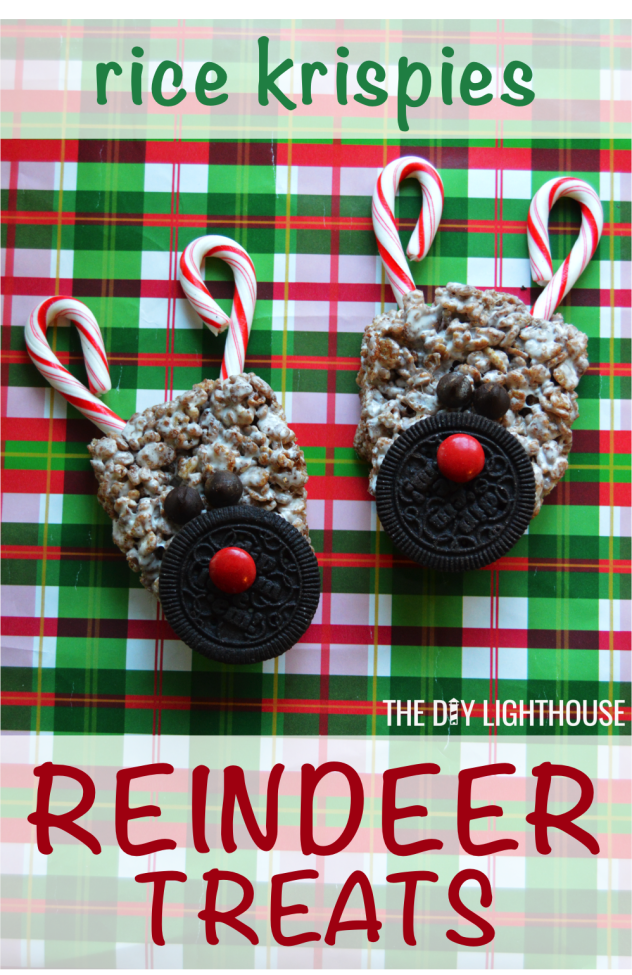 Ingredients
Rice Krispies Treats: 6 cups Cocoa Krispies (Rice Krispies cereal), 1 bag mini marshmallows, 3 tablespoons butter
Decorations: Oreos, red M&Ms, chocolate chips, mini candy canes, frosting
Recipe
Step 1– Make Rice Krispies Treats
Melt butter in a large pot over low heat. Add marshmallows and stir until completely melted. Turn off the heat and add the Cocoa Krispies. Stir until mixed together. Using a buttered spatula or buttered piece of wax paper, spread the mixture onto a buttered cookie sheet or pan.  Allow Rice Krispies Treats to cool. (Tip: For easy clean up, cover pan with wax paper first, then butter the paper.)
Step 2 — Cut Out the Reindeer Head
Use a knife to cut out the reindeer heads. (Tip: Using scissors, cut an outline from wax paper that you can use to trace around so all of your heads are the same size.)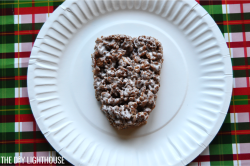 Step 3 — Add the Oreo Muzzle
Pull your Oreos apart and put the side with cream still on it were the muzzle (mouth and nose) of the reindeer should go. Eat the other side. (Tip: Grocery stores usually sell a generic brand of Oreo cookies that are cheaper.)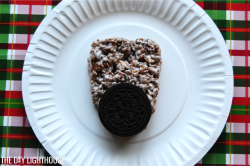 Step 4 — Decorate Your Reindeer with Candy
Add the antlers (mini candy canes), eyes (chocolate chips), and red nose (M&M) to your reindeer. Get them to stick with some frosting. You can poke the antlers into the head or use frosting for them too. Allow the frosting to dry. (Tip: To make a harder frosting that will stick better, mix in some powdered sugar.)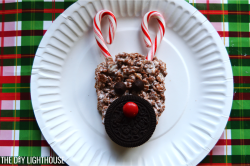 Merry Christmas and enjoy! Feel free to have fun making other Christmas-themed treats like the Christmas tree in the picture below. If you're looking for a beautiful holiday decoration, click here for a tutorial on making a DIY Christmas Star mantle piece or wreath for FREE.