This shop has been compensated by Collective Bias, Inc. and its advertiser. All opinions for this romantic dinner menu are mine alone. #MangiaTonight #CollectiveBias
I wanted to make a romantic dinner for me and my husband to enjoy, but we've got a little boy and babysitters in Seattle are as expensive as a dinner out to a fancy restaurant. So, I decided to make a romantic date-night-in dinner. Spoiler alert: the dinner was a huge hit and definitely one we will be repeating!
If you're like me and need some romantic date-night-in menu ideas in your back pocket, then I'll let you in on my super romantic dinner menu that will make you feel like you are eating out. The best part? You can make it all in 15 minutes!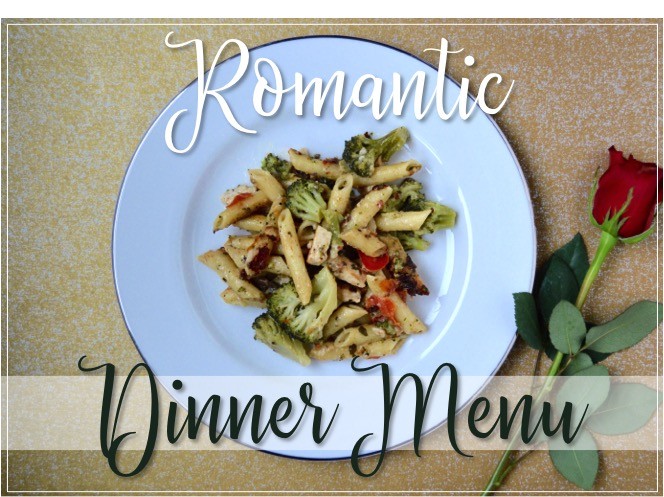 Romantic Dinner Menu for 2
Main Dish:  Chicken Alfredo Penne Pasta
Salad:  Deconstructed Caesar Salad
Side Dish:  Sliced Baguette with a Balsamic Vinegar Dip
Menu Ingredients
Chicken Alfredo Penne Pasta
Bertolli® Chicken Alfredo & Penne Frozen Meal (24 oz)
Deconstructed Caesar Salad
2 romaine lettuce leafs
2 tomato slices
8 croutons
grated parmesan cheese shavings
Caesar dressing drizzle
Sliced Baguette & Dip
1 ciabatta baguette
1/4 c. olive oil
1/8 c. balsamic vinegar
1/2 teaspoon minced garlic
a few grinds of freshly ground black pepper
Romantic Dinner Menu Directions
Step 1) Get the ingredients
I went to my local Kroger store, QFC, in Seattle. The neighborhood I live in is Ballard–a historically Scandinavian fisherman village turned urban. Although it has a lot of shops, cafes, and restaurants to pick from, I still walk to QFC a couple blocks away for my grocery needs.
If you're going to a QFC, you can expect to find the Bertolli Chicken Alfredo & Penne (24 oz) in the frozen isle. Even though the 24 oz is meant for 2, it is located in the family meals section of this isle. An added bonus is that this month (February) at all Kroger brand stores this frozen meal is at its lowest price of the year! Probably for Valentine's Day date-nights-in like this one. Whatever the reason, I don't mind taking advantage of a deal!
I found the baguette in the bakery section. The artisan bread looked tasty, but I'm not swimming in cash so I opted for the $2.99, pretty-looking ciabatta baguette and it was perfect.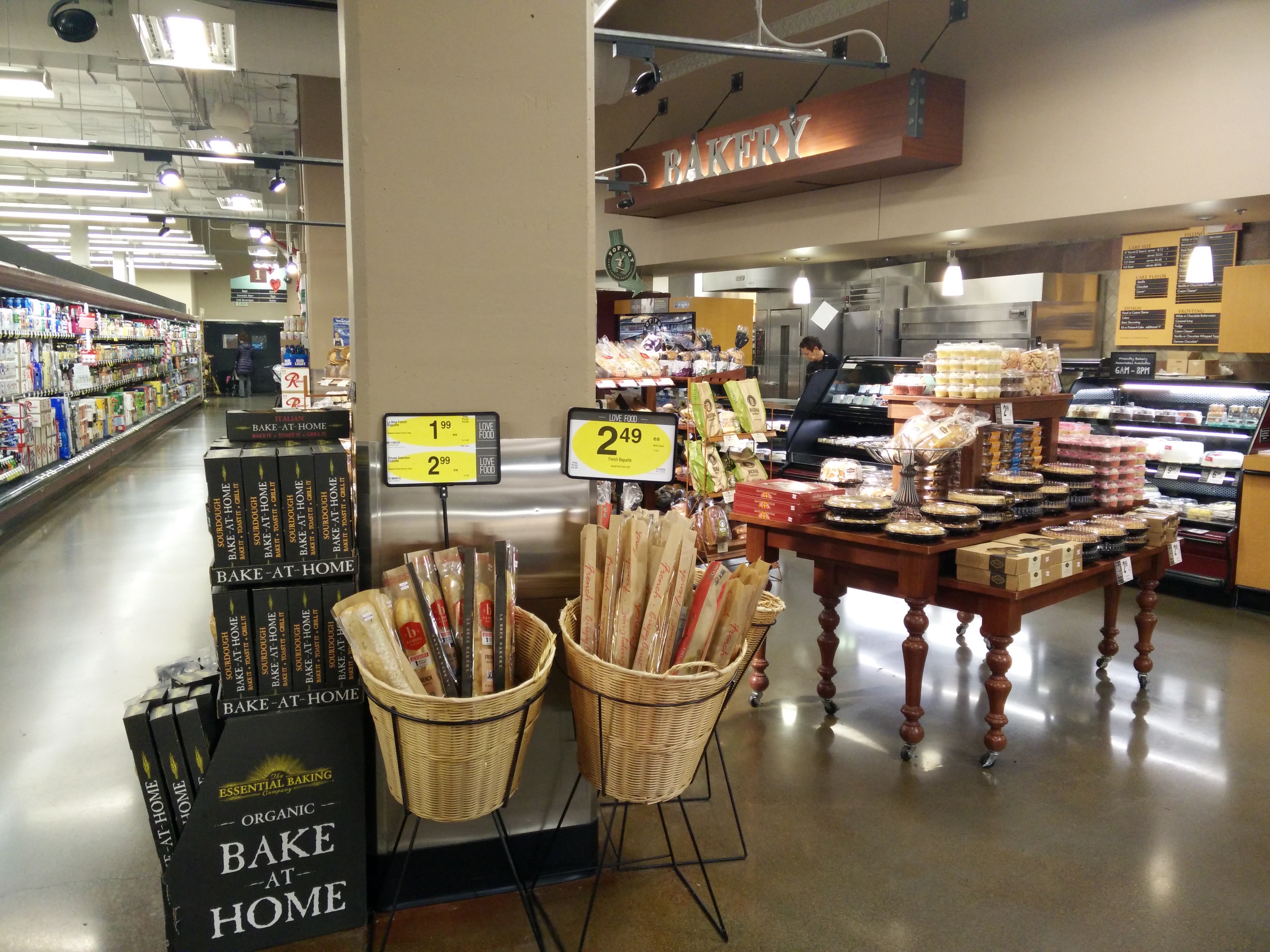 I grabbed the romaine lettuce and red tomato needed for my deconstructed Caesar salad from the produce section.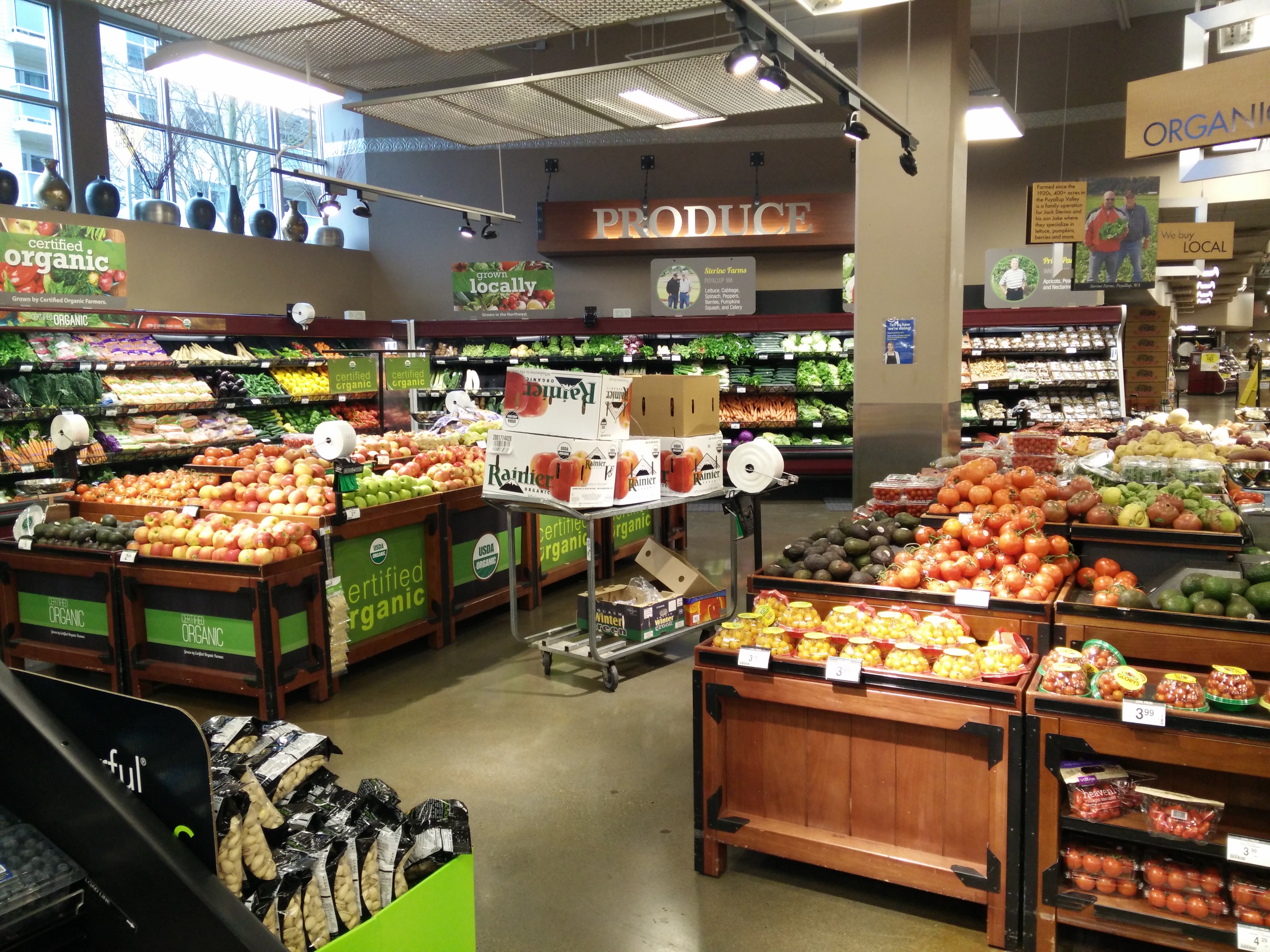 All of the other ingredients can also be found at QFC or another general grocery store. Now that you have all the ingredients for this romantic dinner menu, we can get cooking!
Step 2) Cook the pasta
This main dish is the star of the show and the easiest out of the three dishes to make. I loved using Bertolli's frozen Chicken Alfredo & Penne because everything was ready to go except for cooking it. To cook this pasta dish, follow the directions on the package. (They're so easy I'll also give them to you here: Put the contents into a large frying pan over medium-high heat and cook covered for 10-12 minutes stirring occasionally. Yep, that's it.)
While your pasta dish is cooking you can start working on your other dishes, but don't forget to come back and stir it from time to time. When it's done, pre-serve it on 2 nice plates. Tip: Leave it in the pan with the lid on until you're just about ready to eat so it can stay nice and warm.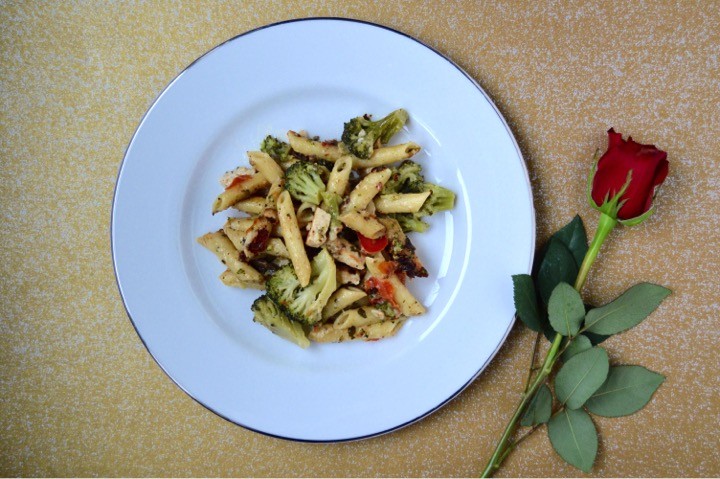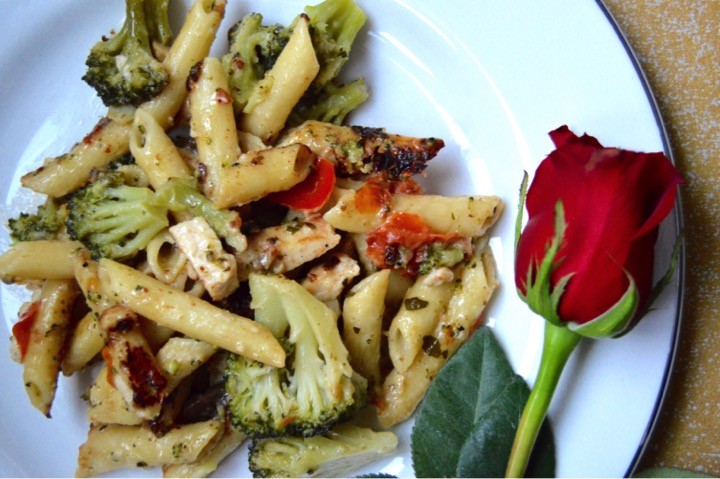 Step 3) Prepare the deconstructed Caesar salads
Begin by picking out pretty leaves that have some structure to them. (The picture below shows the lettuce head on the left, then an outside leaf, a medium-large leaf, and a small leaf. I suggest digging into the lettuce head a bit to find a medium-large leaf as the outer leaves are too big and floppy for this salad and the small leaves aren't big enough.) Wash your leaves and pat them dry with a paper towel. Place each of your leaves on one of their outer sides across a plate so that half of the leaf is resting on the plate and the other half is scooping up into the air.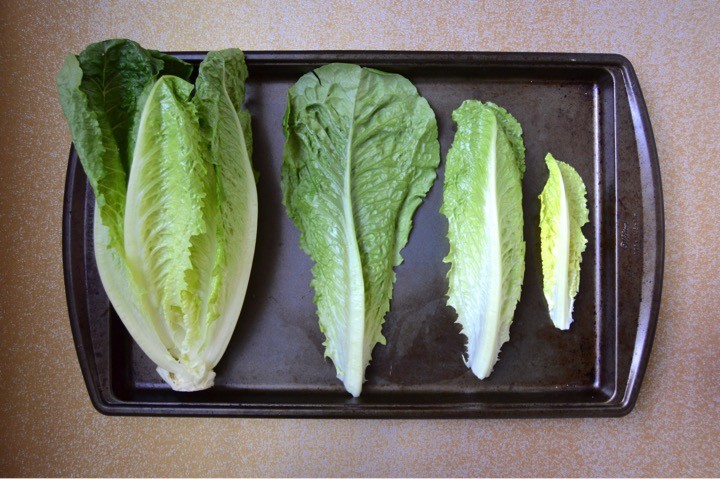 Next, slice a tomato. Pull out a couple of the nice-looking, center slices to use for your salads and lay one of them onto each of your two lettuce leafs. Tip: I like putting the tomato top down (shown below) on a cutting board for added stability while I'm slicing.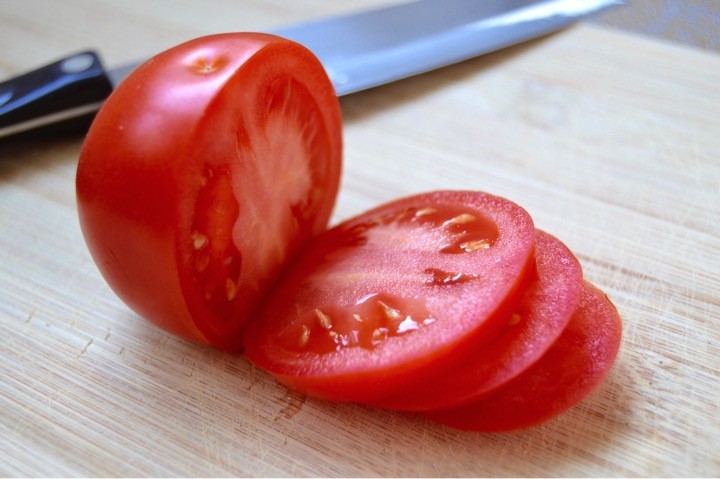 Then, place 4 croutons in a neat pile onto each of the tomato slices. Add a Caesar dressing drizzle and grate some parmesan cheese over the top of each plate. Voila! You have fancy deconstructed salads.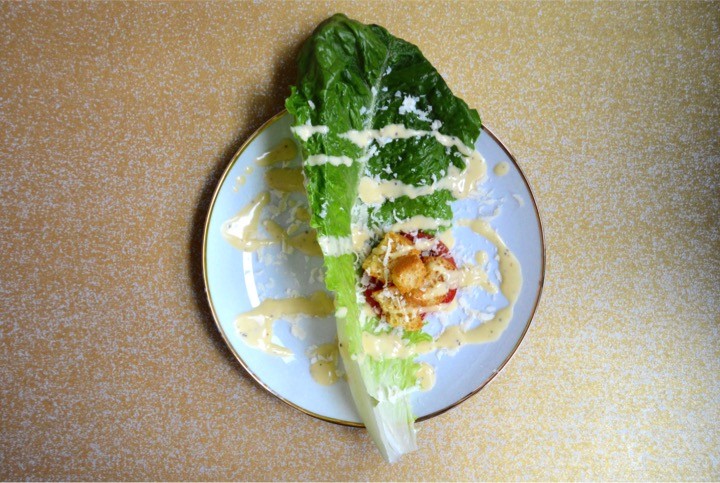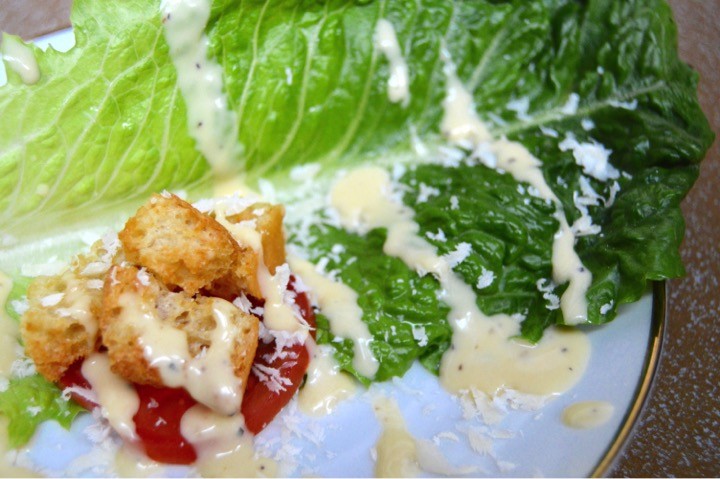 Step 4) Prepare the bread and dip
Slice up your ciabatta baguette into your desired width and set aside. In a small bowl, mix together the bread dip ingredients. I recommend putting the oil in first because it will naturally want to rise to the top.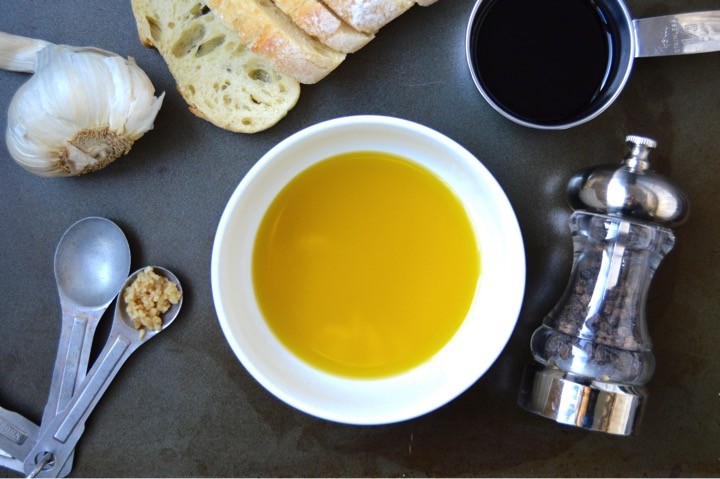 Arrange bread slices in a ring around the dipping bowl, or place them in a basket or on a nice plate to share between the two of you. A perfect, simple dish for a romantic dinner.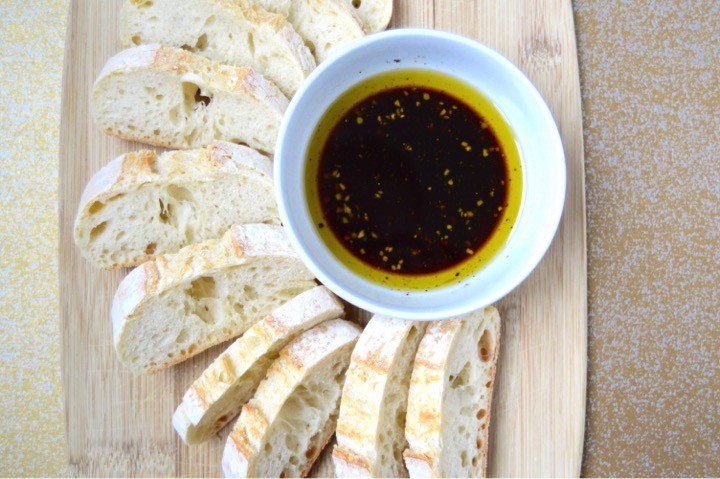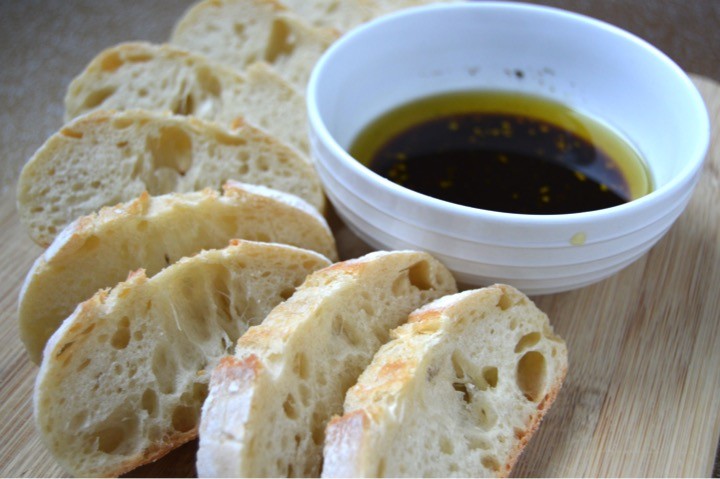 Step 5) Mangia!
If you would like, dim the lights, light a candle, and give a toast to begin this romantic dinner date-night-in. Then, mangia! ("Mangia" is Italian for "eat.")
My husband totally thought the Chicken Alfredo Penne Pasta was homemade because it tasted absolutely creamy, fresh, and delicious! And of course the deconstructed Caesar salads and sliced baguette with balsamic vinegar dip were a perfect addition to make this romantic dinner menu feel fancy like we were eating out.
Bertolli's motto, "Don't just eat, Mangia!" summed up our night perfectly. My dreamy husband and I didn't just savor every bite of the meal, we had a very fun, romantic evening together without the cost of going out.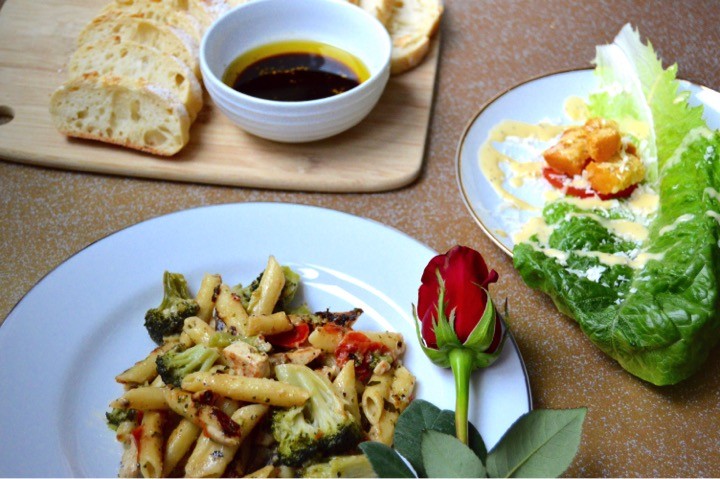 What Do You Think?
Can you think of the perfect occasion to make this romantic dinner menu for you and your special someone? Comment below along with any other suggestions you have to make this date-night-in even more romantic! And click here for more romantic dinner inspiration by Bertolli.
Pin It For Later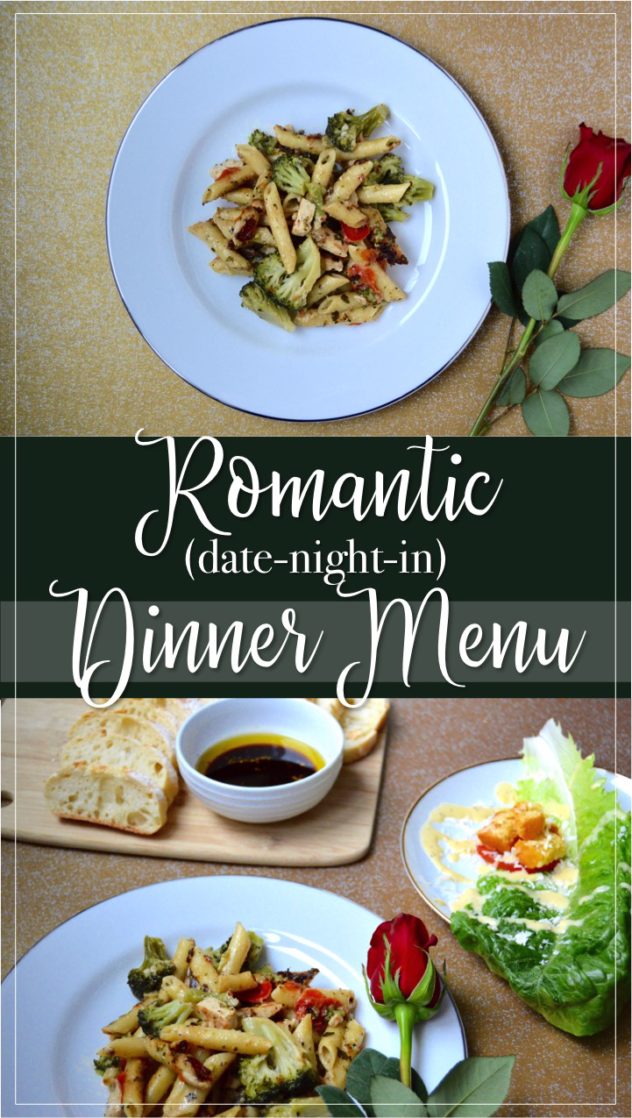 Bertolli® is a registered trademark of R&B Foods, Inc., used under license.
Other Posts You Might Like