Have you herd? Whether you're looking for the perfect man cave Christmas decoration or an easy way to dress up your couch for the holidays, this DIY Christmas elk pillow is a great i-deer. My good friend Lindsey taught me how to turn a double-lined placemat into an adorable stuffed pillow. (Thanks a million, Lindsey!) It's cheap and quick!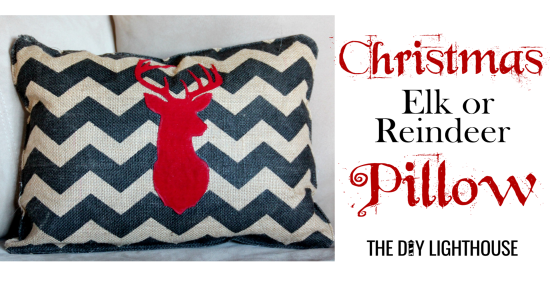 How to repurpose a placemat into a Christmas elk pillow
Prepare the placemat
Lindsey found these cute chevron placemats in the clearance section for about $2. Search local stores or online to find a deal, especially if you're planning to make more than one. Take your double-sided placemat and, using a seam ripper (I've found these as low as $0.89), undo part of the stitching along one of the sides. You are going to need just a big enough hole to push your pillow stuffing through. Three inches should do the trick.
Hunt for elk
Deer and elk heads are definitely "in" right now. And the perfect thing about this project is that elk look an awful lot like reindeer, right? Right. Find an elk silhouette online or draw one up yourself and, using a Silhouette Cameo or scissors, cut out the shape on colored fabric of your choice.
Mount the elk head
You can either apply transfer paper to the back of your elk silhouette and iron it onto the placemat, or do what I did and hot glue it. (Just make sure the fabric is thick enough that the hot glue won't leak through). Optional step: apply Modge Podge around the perimeter of the elk silhouette to increase the pillow's lifespan.
Stuff the pillow
Once the elk is secured onto the placemat and any liquid adhesives have hardened, stuff your Christmas elk pillow. Pillow stuffing can be found online or at local craft stores. The stuffing is the most expensive part of making the pillow. (I sure crammed it in, so mine was about $5 worth of stuffing.) If you have an old t-shirt, you can cut it up into pieces and randomly add some along with the stuffing to give the pillow extra volume on the cheap. Add however much pillow stuffing feels and looks best.
Sew 'er up
Note: You do NOT need a sewing machine to do this. The only things I've ever made with a sewing machine are a pillowcase in junior high school and a make-shift apron for my mother's Christmas present later that year. Because the hole in the placemat is small, simply use a needle and thread to close it up. If you have a secret fear of needles, you can also hot glue it shut. Just make sure to hold it closed with clothespins as it dries to prevent burning yourself.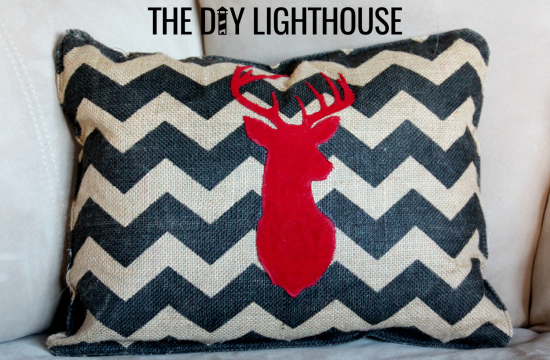 Not only does this DIY Christmas elk pillow look adorable on our couch, my husband still feels manly snuggled up next to it. Feel free to use other designs on your placemat turned pillow, and let us know how it turns out by commenting below!