Pink lemonade virgin margaritas are a go-to for me because I don't drink alcohol. And guess what?!… Cinco de Mayo is coming up so I will definitely be making a batch of this delicious drink! It will be the perfect thing for you too if you have kids, pregnant women, or others who can't have alcohol coming over for a party. Follow the super simple recipe below!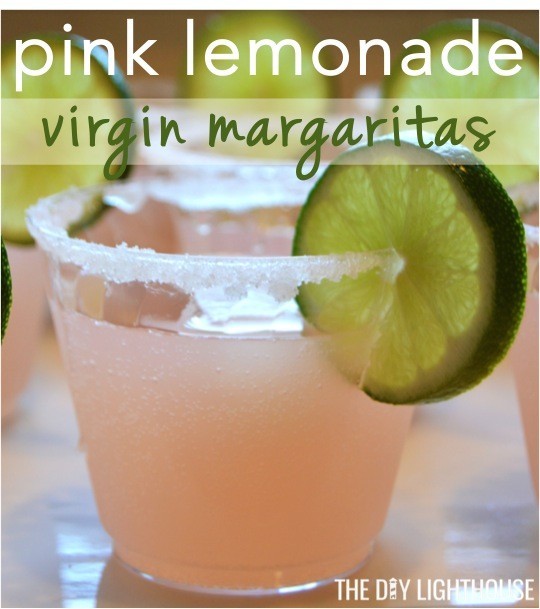 Pink Lemonade Virgin Margaritas: Ingredients
Drink
pink lemonade powder mix
Sprite (chilled)
Rim
limes
lime juice
course sugar
Pink Lemonade Virgin Margaritas: Directions
In a pitcher, mix the pink lemonade powder mix according to the package directions but substitute the water with chilled Sprite instead.
Next you will want to prepare your margarita cup rims. Put some lime juice in a small bowl so it covers the bottom of the bowl. In another small bowl, pour some course sugar. (If you're unable to get course sugar, you can just use regular granulated sugar… that's what I did!) Dip the rim of your cup into the bowl of lime juice, and then give it a little shake so the excess lime juice drips off. Then dip the rim into the sugar bowl. While you're waiting for the lime juice and sugar to set, slice some limes. Cut through the lime peel and along one of the natural divides to the center of the lime (so you are only cutting halfway through the lime). Then hang a lime slice from each cup rim as shown in the picture above.
Once you have done this to all of your cups, pour the pink Sprite lemonade into the cups being careful not to spill on the rims. Enjoy!
Click here for a recipe for churro cupcakes, and click here for Cinco de Mayo party ideas!
And for your convenience, below is a picture of this pink lemonade lime virgin margarita recipe with the needed ingredients and the directions so that you can share it with family and friends.