Personal Progress is a program designed to help young women cultivate feminine attributes, strengthen their testimonies, and reach their divine potential. It's a beautiful process of discovering talents, knowledge, and life skills that will help them in the roles now and in the future as mothers. Personal Progress is broken down into 8 values: faith, divine nature, individual worth, knowledge, choice & accountability, good work, integrity, and virtue. In order to complete the Personal Progress program, young women must complete a certain number of value experiences and a 10-hour value project in each of the value areas. This program takes dedication and persistent effort. This post gives Young Women's leaders Personal Progress motivational handout ideas to help their young women stay motivated and focused.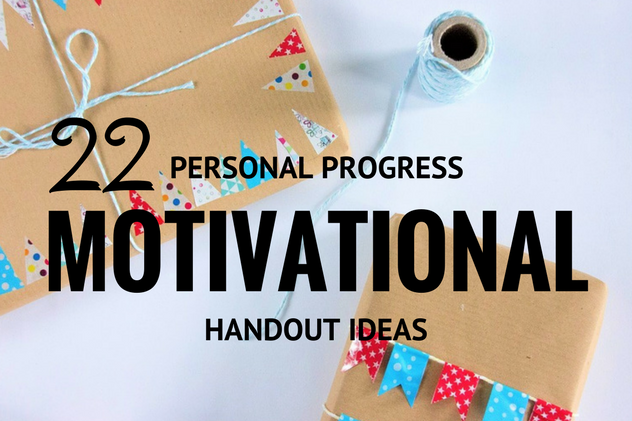 (Within this post we use affiliate links that we may be compensated for. Your clicks and purchases help support The DIY Lighthouse at no extra charge to you. We only put links to products we love and would recommend anyway!)
22 Personal Progress Motivational Handout Ideas
Get POPPIN' on your Personal Progress!
Personal progress requires PUDDING forth effort.

Attach a silver spoon (you can get 100 spoons for just $10.00 here) and the cute saying to a pudding package. Either buy pudding snack packs from the refrigerated section or a Jello instant pudding package from the baking isle at your local grocery store.

It's time to work on S'MORE Personal Progress!

This is a fun one because you can make it many different ways! You could either make little s'more kits in gift bags using the traditional s'mores components (marshmallows, graham crackers, and chocolate) or you could do something like Pop-Tarts Frosted S'mores (like these here).

POLISH up your Personal Progress.

Most Young Women love a cute color of nail polish. Buy in bulk from E-bay or Amazon or find some on-sale at a local beauty shop.

I MUSTACHE you a question. Have you worked on Personal Progress?
Hey HONEY, BEE anxiously engaged in Personal Progress!
I've got an IDEA! Work on Personal Progress!
DONUT give up! Personal Progress is worth it.

You can't go wrong with mini donuts, donut holes, or something more exotic like these plush donuts (here)!

CHEWS to work on Personal Progress!

Attach a stick of gum or a whole pack of gum, depending on your budget, to the cute saying. You can buy gum in bulk here.

ORANGE you glad you've got Personal Progress?!

Go healthy with oranges or clementines or go sugary with orange flavored candy (like this 36 pack of orange Air Heads here)!

POWER through Personal Progress this month. JUST DO IT!

Attach the cute saying to a bottle of Powerade, Gatorade, or other sports drink (like this here).

GOT PERSONAL PROGRESS?

You could either give your Young Women individual chocolate milk containers or chocolate milk duds (like these here) along with the cute Got Milk? saying.

Personal Progress is a PIECE OF CAKE! (or) Personal Progress is as EASY AS PIE!

Who doesn't love cake? And, while we're at it, who doesn't love pie? This 5-piece non-stick baking set will set you up whether you choose to serve cake, cupcakes, or pie along with the cute saying.

Hey CHICK, LET'S do Personal Progress this month!
Don't STOP doing Personal Progress!
Put your HEART into Personal Progress.

You can go so many fun ways with this idea! For example, make your own heart necklaces to remind your Young Women to do Personal Progress with these 50 heart charms for only $4.85! Or you could make heart-shaped cookies or conversation heart candies (like these here).

Time to CHIP away at your Personal Progress
You're on a ROLL keep up the good work!

Tootsie rolls or Tootsie roll pops would totally work for this fun handout idea. Like this bulk bag here!

Go for the GOLD! Work on Personal Progress.

For this one I bought small Amber-scented lotions from Bath & Body Works when they were on sale. You could also give them a gold necklace chain to go along with their Young Women's torch pendant.

STRETCH yourself. Work on Personal Progress!

Along with this cute saying, hand out saltwater taffy, like this one here.

Personal Progress with enRICH your life.

Cash in and hand out gold chocolate coins like these ones

here

!

Always Work on your Personal Progress! & remember, we are ROOT-ing for you!

Along with a can of A&W root beer, give them one of these fun straws and attach the cute saying.
Hope you love our Personal Progress Motivational Handout Ideas post! Let us know which you end up using with your Young Women and let us know what other Personal Progress motivational handout ideas you have by commenting below!
PIN IT!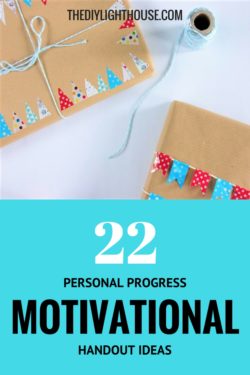 Also…
P.S. Check out our post that helps young women track their progress through the value experiences that take more time (2 weeks to 3 months) to complete: Personal Progress Value Experiences Calendars for Young Women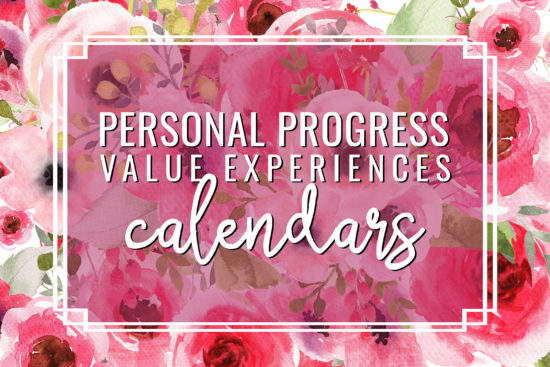 Other posts you might like: