This shop has been compensated by Collective Bias, Inc. and its advertiser. All opinions are mine alone. #SamsungTargetTech #CollectiveBias
'Tis the season for parties! While "it's the most wonderful time of the year," it can also be one of the busiest. Luckily, our party planning hacks for the holidays and the Samsung Galaxy Note 8 found at Target help you navigate the planning and organizing stage with ease so you can focus on what matters most.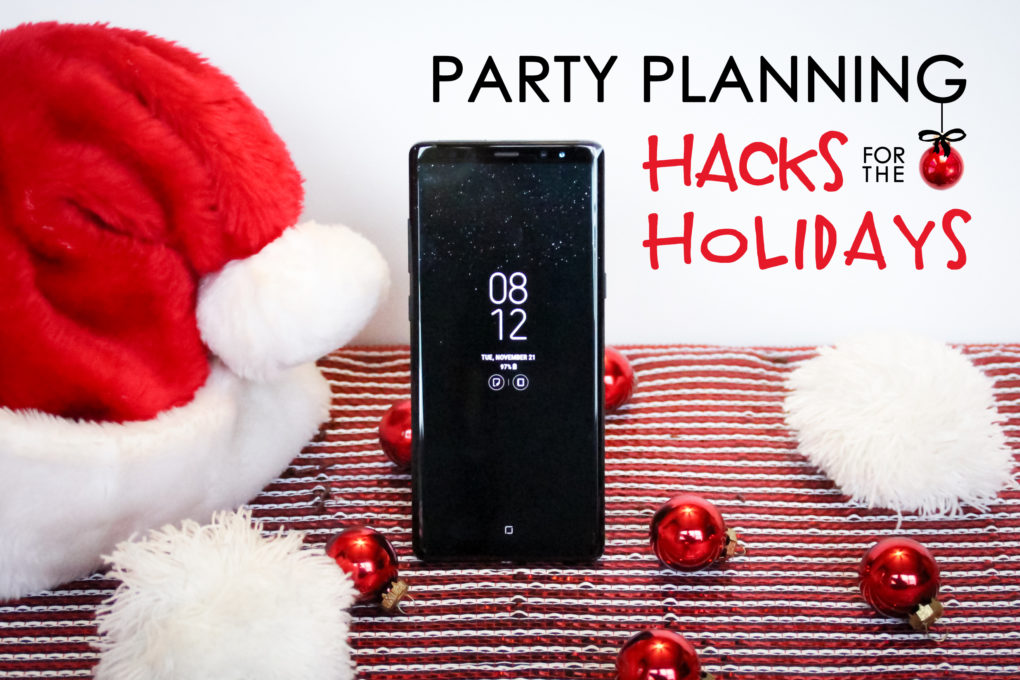 Our Party Planning Hacks for the Holidays
Choose a Party Theme Idea
Nailing a theme not only helps you as you plan the party, it makes the event more fun for your guests. Here are some holiday party theme ideas:
Winter Wonderland – inspired by snow, frost, and all things white
Ugly Sweater Party – the uglier the sweater, the better
Heart Warming Party – lanterns, cozy blankets, apple cider and hot chocolate, and good friends
White Elephant – an event filled with laughter and the most random of objects
Pie Party – pumpkin, pecan, apple, key lime, chocolate, lemon meringue…'nuff said
Hopefully, these holiday party theme ideas got your creative juices flowing. As you choose your theme, keep in mind that the party theme can influence and inspire not only the party decor, but also the food, dress code, music, and guest list.
Create an Event Budget
Once you have your theme decided, you can begin making your budget. When creating your budget spreadsheet, be sure to add a row, or line, for every single item you plan to purchase. That way there are no surprises! Columns can be organized into item name, item description, expected cost, quantity needed, and actual cost. The only column you might not be able to fill in beforehand is the actual cost column, which you can complete as you make purchases. After all your rows have been created, your last row should be a "Total" row where you add up all the expected and actual expenses.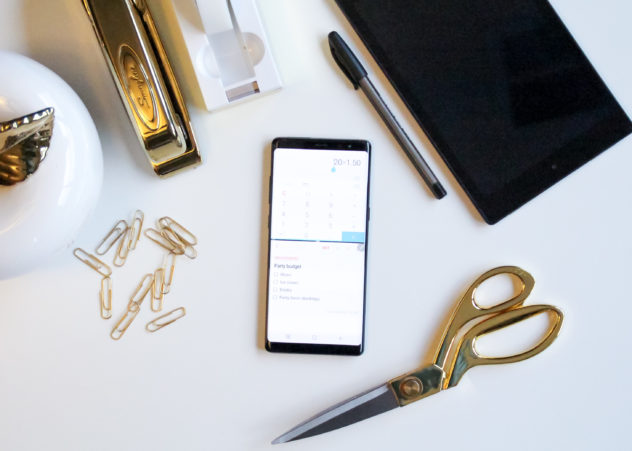 If spreadsheet functions aren't your forte, the Samsung Galaxy Note 8 really gives you the confidence you need with its split screen multi-window mode. Have your spreadsheet pulled up at the same time your calculator is! You can also use the multi-window mode when creating a shopping list, adding items to your shopping list while updating your items, item descriptions, and quantities. The Infinity Display on the Samsung Galaxy Note 8 is the largest screen ever on a Note device, so there is plenty of room to do two things at once. More screen means more space to do great things.
Send Invitations
While sending party invitations in the mail is definitely still an option, creating and sending invitations electronically is cheaper (actually, it's free!) and is much easier. E-vites can be sent over email, text, or social media. Whatever method of delivery you choose, here are some things you might want to include on your invitation:
Title of the party, indicating the party theme
Address (and directions, if needed)
Beginning and end time of the event
Event dress code, if any
If families/children are invited
If the event is an open house
What to bring, if anything
A schedule (if it's a more formal event)
RSVP information
Create a Shopping & To-Do List
The busy holidays only get busier when planning a party. Every aspect of the party will require different amounts of your attention at different times, which can be overwhelming without a way to stay organized. Simply creating a shopping and to-do list will be loads of help! Having a list not only simplifies the planning process by putting all your ideas in one place, it also ensures that you don't forget anything because it's written down and on hand.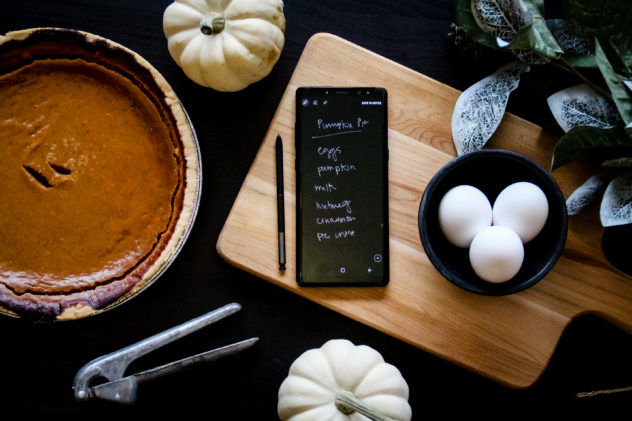 The Samsung Galaxy Note 8 found at Target is perfect for generating easy-access lists with it's improved Screen Off Memo feature. It allows up to 100 pages of notes without even unlocking your phone. Not only does the tall 18.5:9 display ratio allow you to see more and do more with less scrolling, the S Pen and screen off memo lets you write notes straight from standby — and can keep them handy by pinning them to the Always On Display. When you're out and about and a perfect side dish or party song comes to mind, scribble notes, make lists and capture brilliant ideas while they come to you.
Diffuse Homemade Potpourri
If your party looks like the holidays, shouldn't it smell it too? Homemade simmering potpourri is one my favorite party planning hacks for the holidays because makes your home smell warm and inviting with just a few ingredients. Vanilla, cinnamon sticks, apple peels, orange rinds, cloves, pine needles, and lavender are common holiday aromas. Recipes can easily be searched online using your Samsung Galaxy Note 8.
Capture Moments on Camera
The holidays are all about coming together, and it's important to document family and friends celebrating what matters most. Here are some ideas that can inspire you and your guests behind the camera:
DIY photo booth with props or frames
Photo scavenger hunt
Candid photos only
Group photo or couples/family photos
Video party highlights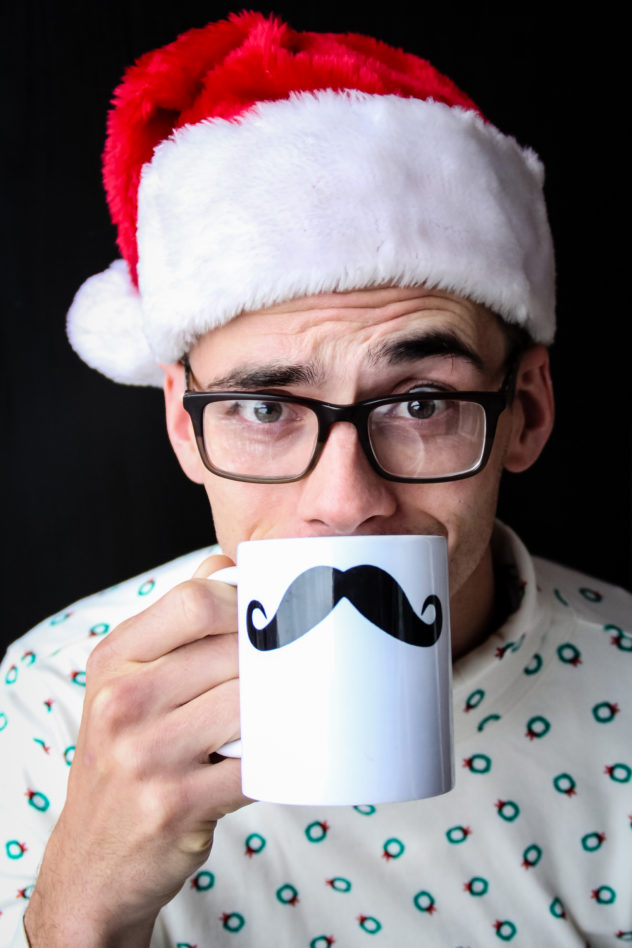 No matter how you capture the wonder and beauty that is alive during the holidays, the Samsung Galaxy Note 8 camera can help you take crisp and clear shots. My favorite camera feature is the live focus setting. Live focus lets you take beautiful bokeh shots where you make your subject stand out. And if you're not entirely satisfied, you always have the option to adjust the level of background blur afterward. Even in poorly lit places, the Galaxy Note8's wide-angle camera captures more light with its large 1.4µm pixels and bright F1.7 lens, while focusing fast and accurately thanks to the Dual Pixel Sensor.
Share Memories
Even when the party is over and the guests have gone home, our party planning hacks for the holidays don't stop. Your party gave you an opportunity to reconnect with friends and family and share memories, so why not keep sharing? Send out a quick message to all your guests to share all their photos and/or favorite moments from the party. On your Samsung Galaxy Note 8 you can draw your own emojis, make animated GIFs or write handwritten messages on photos. Live messaging with the S Pen makes every message a more personal one. Compile what others share with you and be sure to send it out to all your guests!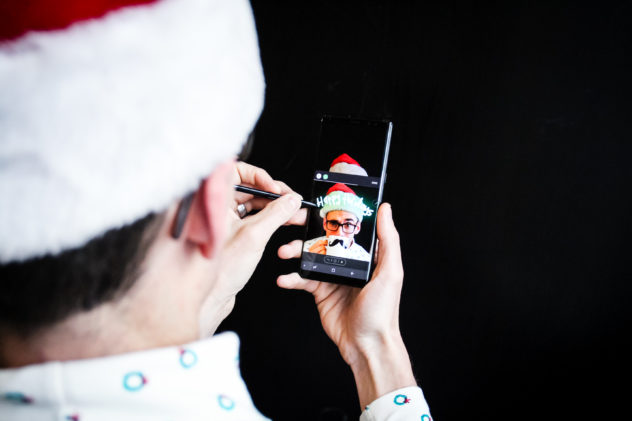 Enjoy reminiscing the holidays!
Hopefully you found our party planning hacks for the holidays helpful! If you have other ideas for staying organized and having a great holiday season, please comment below! Also, be sure to…
Take Advantage of Target In-Store Promotion!
If you haven't gotten your hands on a Samsung Galaxy Note 8, take advantage of Target's limited time in-store promotion: For a limited time only, receive a $300 Target GiftCard™ with Purchase and Activation of the Samsung Galaxy Note8, Galaxy S8 or Galaxy S8+ in-store at Target! Valid 11/19/17-11/27/17 and 12/3/17-12/9/17 only. 
#samsungtargettech #Sweepstakes (11/21 to 1/2)
I easily found my Samsung Galaxy Note 8 in the Tech section of my nearest Target store.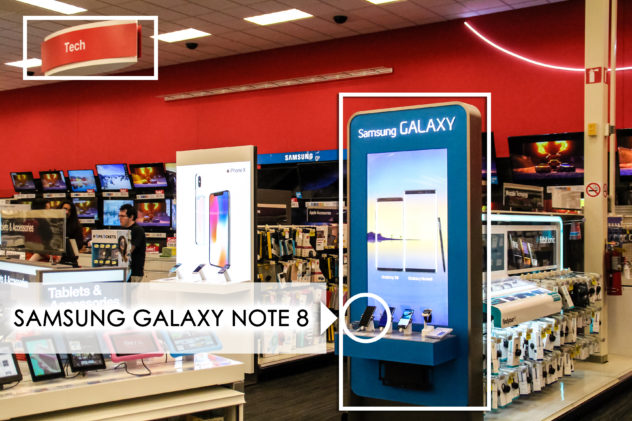 Snag your Samsung Galaxy Note 8 now and do bigger things this holiday season.
Pit it for later!

Other posts you might like: