Whooo is looking for some owl themed baby shower or party inspiration? Read on and owl give you some great ideas!
*This post contains affiliate links which means we may be compensated for purchases made. However, it does not influence our opinion in what we recommend for cute owl themed baby shower ideas and inspiration.
Color Scheme
My good friend had a beautiful baby girl so of course a baby shower was in order! Her nursery has an owl theme with mainly pink, purple, and green colors so we decided to incorporate those themes into the baby shower.
Pro Tip: Ask the mom-to-be what her nursery colors are. You know she picked her nursery feel, so if you use the same colors she's bound to like the color combo! Having colors to work with will direct your focus and create a cohesive-looking shower.
Invitation
Everyone loves a mailed invitation (like this cute owl invitation on Amazon), but if you're on a budget like I was and you'd rather spend the money on food or something else for the shower, then consider doing an email invitation. Here is the email and invitation that I sent out (name and information changed):
Hi ______,
Guess WHOOO is almost due! Let's

shower

Jane Smith

, the mommy to be, so she can feather her nest. (Please see the attached picture for the formal invitation and RSVP details.) It'll be a HOOT!
Thank you,
Amber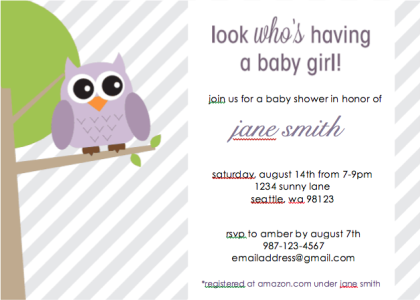 Tip: Whatever form of invitation you choose, try to play off of owl words, associations, puns, and sayings.
Evite.com is a great website to use for free email invitations. If you're wanting something a little more customized, click here for suggestions on how to make your own invitations.
Food
As always, I had to coordinate the food with the color scheme. I had some wonderful friends help me out with the green veggies and the purple owl cookies over milk.
Below is a little owl cake that I made for her. It was a 3 layer cake (the layers are bright pink, purple, and green). I made the owl out of leftover cake (after cutting off the bump of the layers to make them flat) and the purple frosting makes a little tree coming up the side.
And here are some cute, matching owl-themed plates and napkins you can get. (They usually don't have owl-themed ones at the store so I have to go online to get them.)
Decorations
I focused the decorations on the food table and then hung some banners from above. One of the banners had paper triangles and tied fabric while the other banner had little washcloths, onesies, and socks clothes-pined on. Check out these cute pink wooden owl cutouts you can use for your decorations.
Pro Tip: When you're working with a large room or space, focus your decorations on just a couple of focal points like the food table and then perhaps the entrance or gift table. Your guests eyes will be drawn to those areas and they'll most likely not even notice the undecorated areas.
Activity
If you're looking for a little activity to do at the baby shower, try passing out baby prediction cards where people write down their guesses for the baby's measurements. Click here for a cute pink owl themed baby prediction and mommy advice card.
Party Favor
And to top it off, a good friend made some cute party favors for the guests… little chocolate owl nests in these cute boxes. (Look here for the recipe: http://partiescraftsandholidays.blogspot.com/2013/03/diy-easter-bird-nests.html)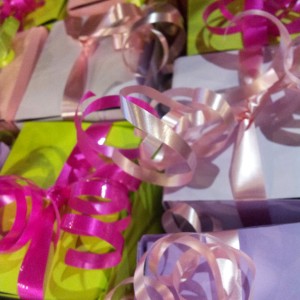 It was a very fun evening with friends and a chance to celebrate a happy occasion and the cute mom-to-be!