As city people, we have a tiny den that our little boy sleeps in. This was the last room in the house to remain untouched. Originally I wanted to do a lamb themed nursery (for reasons close to my heart), but my son's little spirit seemed to need a theme that was a little more adventurous.
Ever since we moved to Seattle, Washington, we have fallen in love with the PNW (Pacific Northwest). Our family enjoys camping, hiking, and escaping into the beautiful mountains and nature that is a quick car ride away. And our boy loves animals and being outside, so settling on a PNW outdoor theme with mountains and animals seemed like the perfect match.
(This page contains affiliate links that we may be compensated for. Your clicks and purchases help support The DIY Lighthouse at no extra charge to you. We only put links to products we love and would recommend anyway.)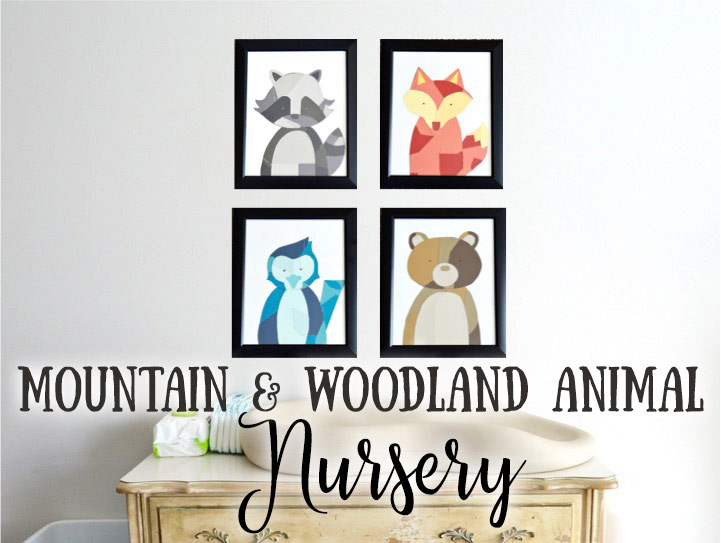 PNW Themed Nursery
I definitely wanted to do this nursery on a budget. Money wasn't our only constraint when doing this… we also had a tiny space to work with. His nursery isn't even a real bedroom… it's a 9′ x 7′ den without a door. We use blackout curtains (these curtains and this curtain rod) instead of a door to try and help keep out the light and sound for when he's sleeping. (Our sound machine is essential too in helping to block out noise from the rest of our house–I would totally recommend using one.) There's no windows and no closet. It's just a little nook in the corner of our 757 square foot condo.
His nursery isn't picture perfect (or Pinterest perfect), but we love it! It looks cooler in real life and really gives his tiny space some character.
DIY Mountain Wall Mural
There are a plethora of gorgeous mountains around us in Seattle. Our personal favorites are the North Cascades, the Olympic Mountains, and Mount Rainier. Maybe our family's love for mountains is deep-seeded. I'm from Utah and had a mountain for my backyard. (Our backyard literally backed to forestry so no one was between us and the mountain.) And my husband is from Colorado which has the Rockies.
We always get compliments on this mural, so if you're looking for a statement piece that you can make on a budget then this is the perfect thing. For step-by-step instructions and tips for painting your own DIY mountain wall mural, click HERE.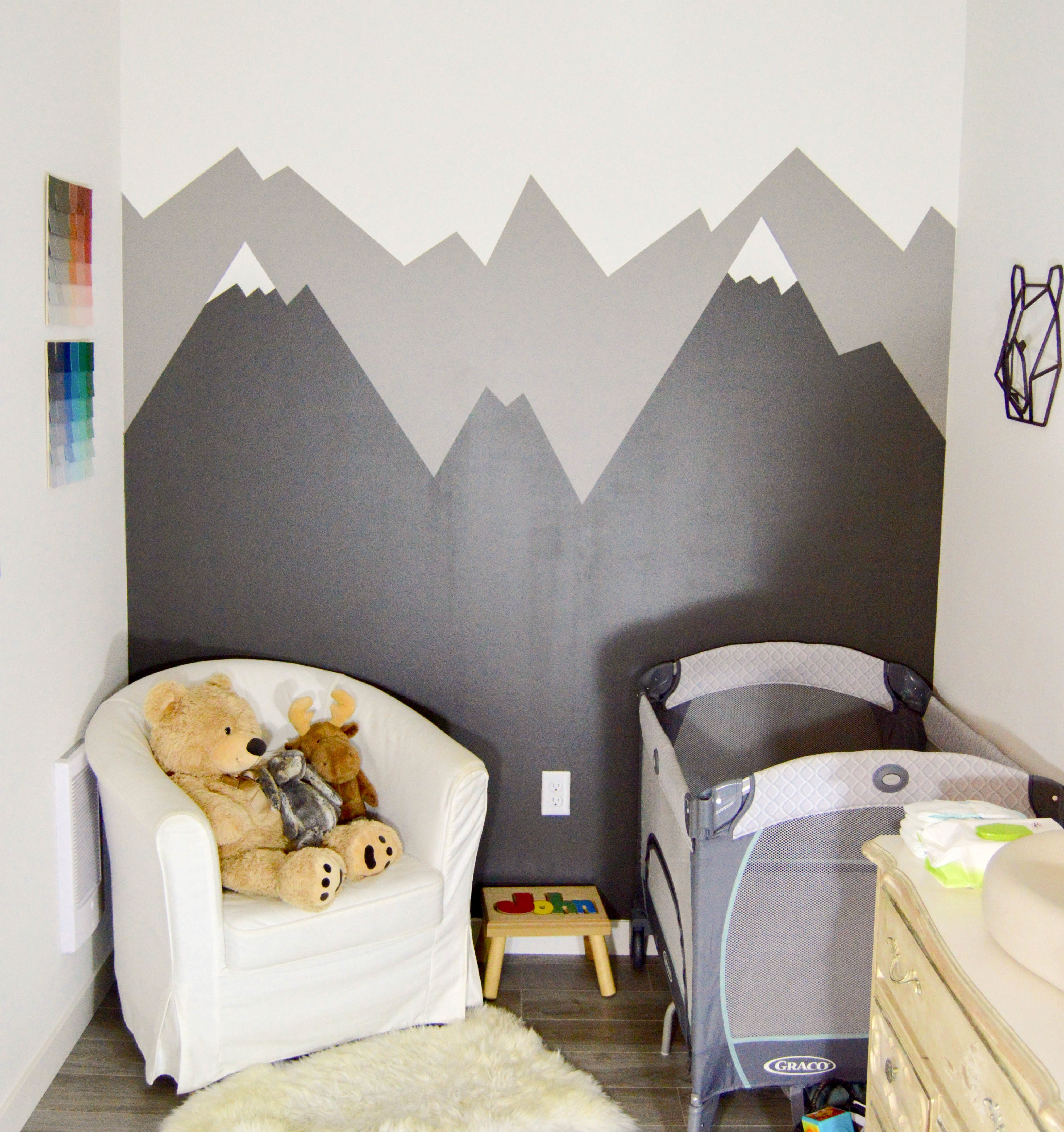 In the picture above, you can see our pack 'n play setup. for small nursery spaces like ours, I recommend using a pack 'n play instead of a crib. It's not the cutest thing in the world, but it is extremely practical and that's what matters in small space living. We have loved this one by Graco along with this mattress and a couple of mattress pads and sheets.
(Extra Tip: We had someone tell us to get a mattress for the pack 'n play in case our baby spit up or peed all over the sheet in the middle of the night. Then, all we had to do was pull out the mattress with soiled sheets, and there was our second set of mattress pad with sheets ready to go on the pack 'n play bottom underneath. It worked beautifully and was wonderful not having to remake his bed in the middle of the night!)
DIY Animal Paint Chip Art
One of my favorite parts of his nursery are picture frames of four Pacific Northwest woodland animals that I made: a raccoon, a fox, a bluejay (Stellar's Jay), and a bear. These hang above a dresser that we've converted into our changing table.
(FYI, we absolutely love our Keekaroo Peanut changer and our Diaper Genie pail for diaper changes. We get wipes in bulk from Costco and our diapers from Amazon's subscribe and save so they come delivered every month–both I would highly recommend.)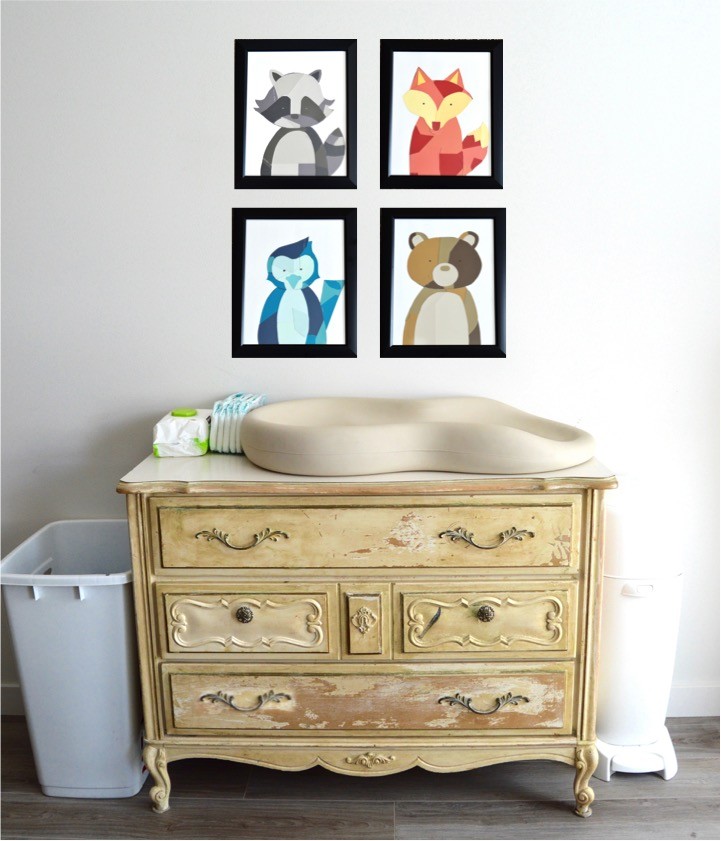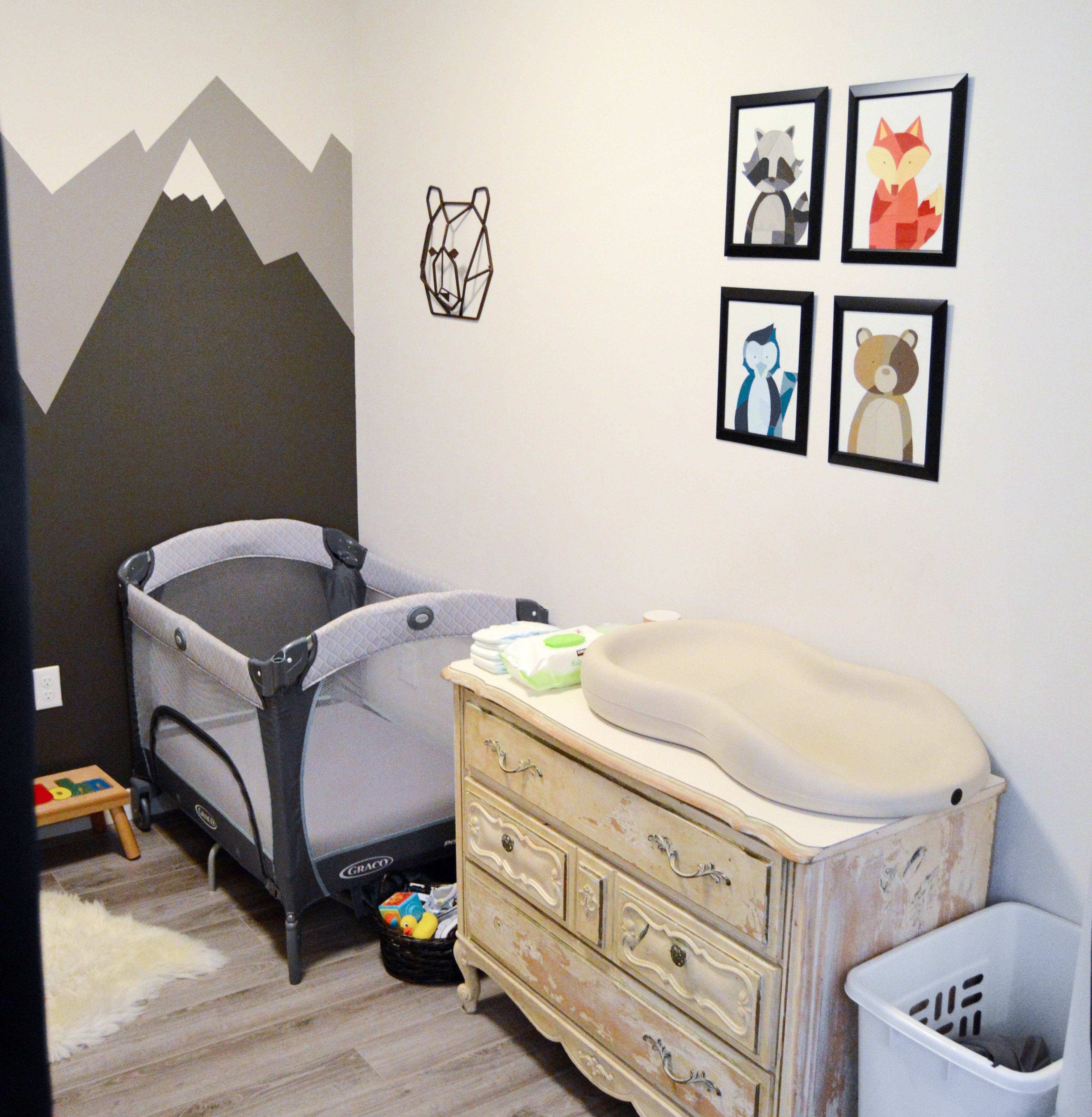 The animal paint chip art was very easy to make. After picking up some paint chips from a local paint store, I was ready to get started. I took white pieces of paper and, referencing some images from online, I sketched a cartoony animal on each one. Then I traced over my pencil marks with a black marker to make my lines stand out more.
Using the paint chips, I started covering my animals with color. I made sure to stagger and separate my different colors on each animal. The result made for geometric-looking color block animals that were simple but interesting. Lastly, I picked up some black picture frames (something like this but less nice) from the dollar store to frame and hang them.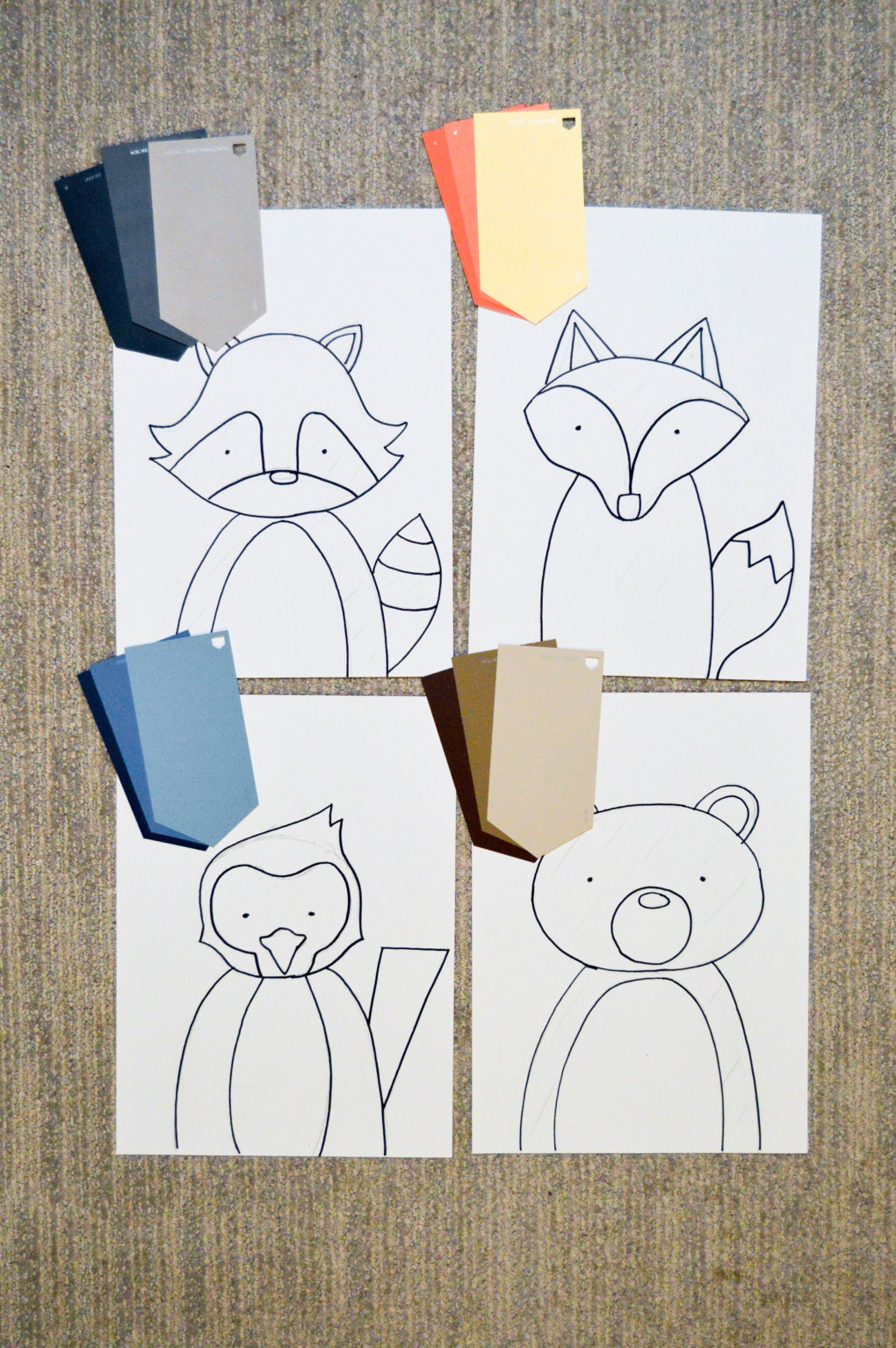 With the leftover paint chips, I assembled these two art pieces. To make these, I hot glued the paint chips to square plywood boards. (I bought these boards and used these D-ring picture hangers to hang them up on the wall.) The colors on these art pieces coordinate with the colors in the animal paint chip art pieces so they complement each other nicely.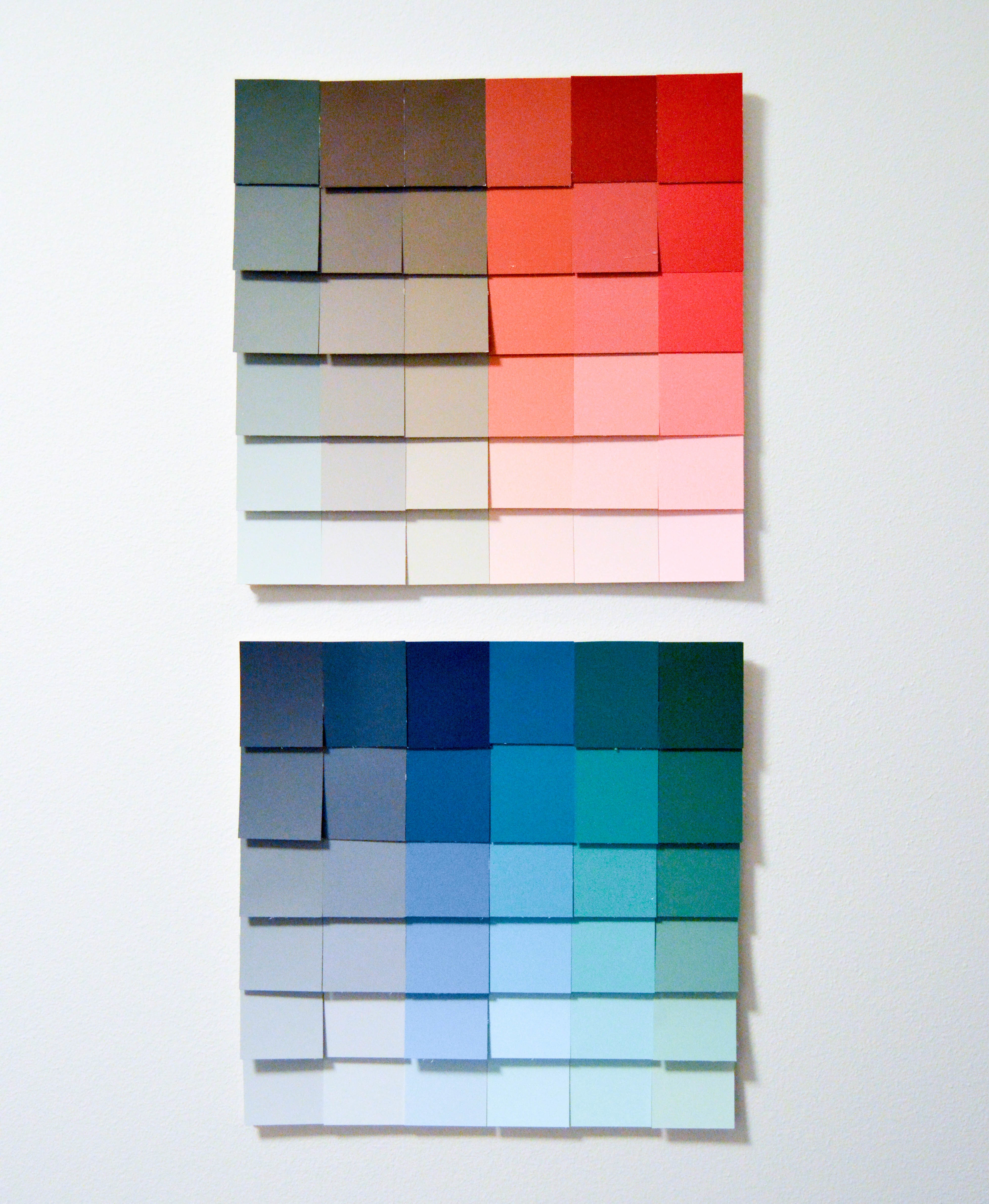 DIY Washington State Outline Art
I also made this big statement art piece for his nursery. This was super easy! I bought a foam poster board from a craft store and used white paint that I had on hand to trace my penciled outline of Washington state. All I had to do after that was add some trees along the bottom line and glue on a D-ring picture hanger (like this) to the back.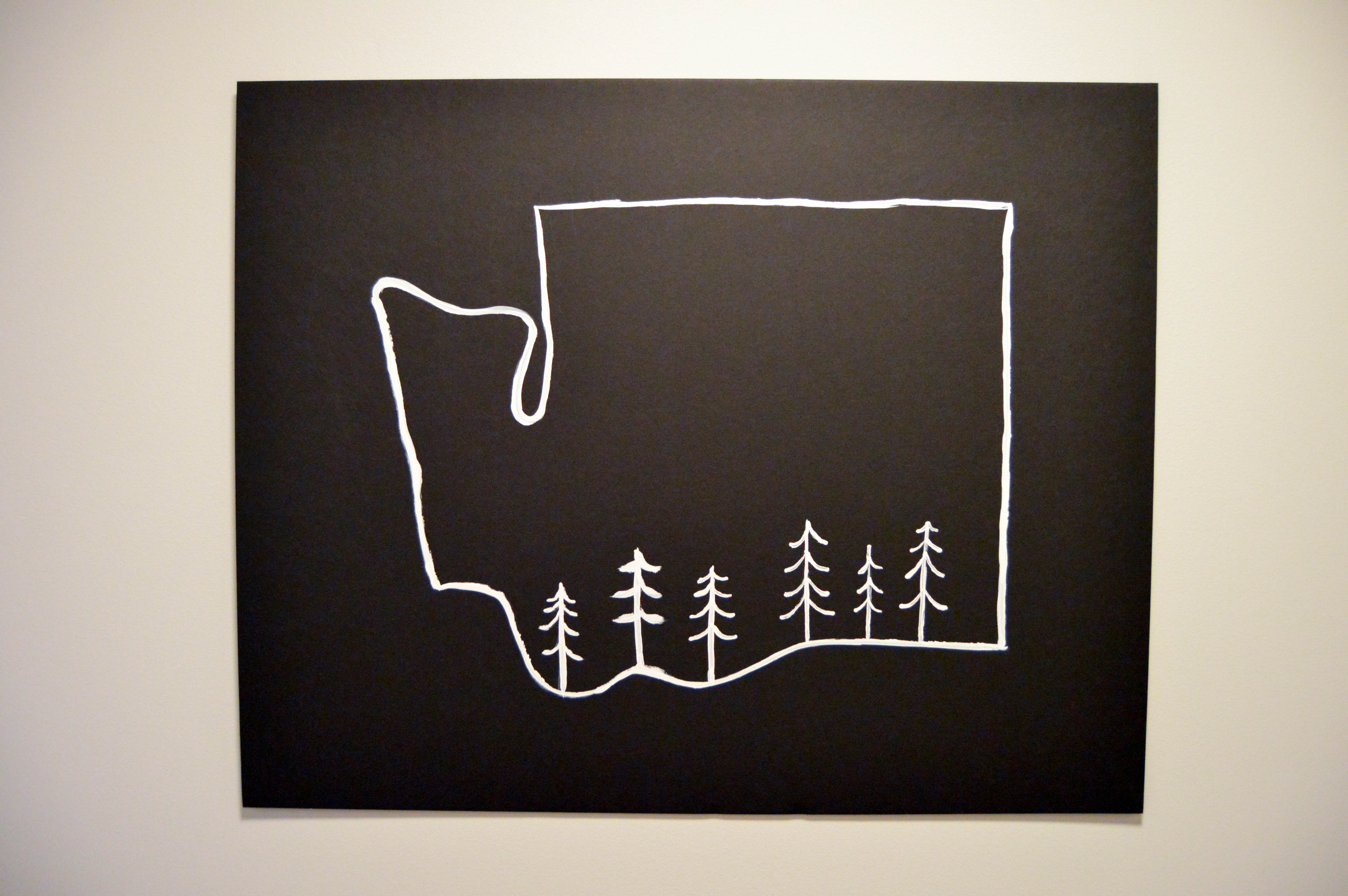 Pacific Northwest Animals
There are Pacific Northwest animals scattered throughout the nursery. Of course the paint chip animals shown above are all animals found in the PNW. We also got a geometric bear wall decor piece from Hobby Lobby that goes above my son's bed.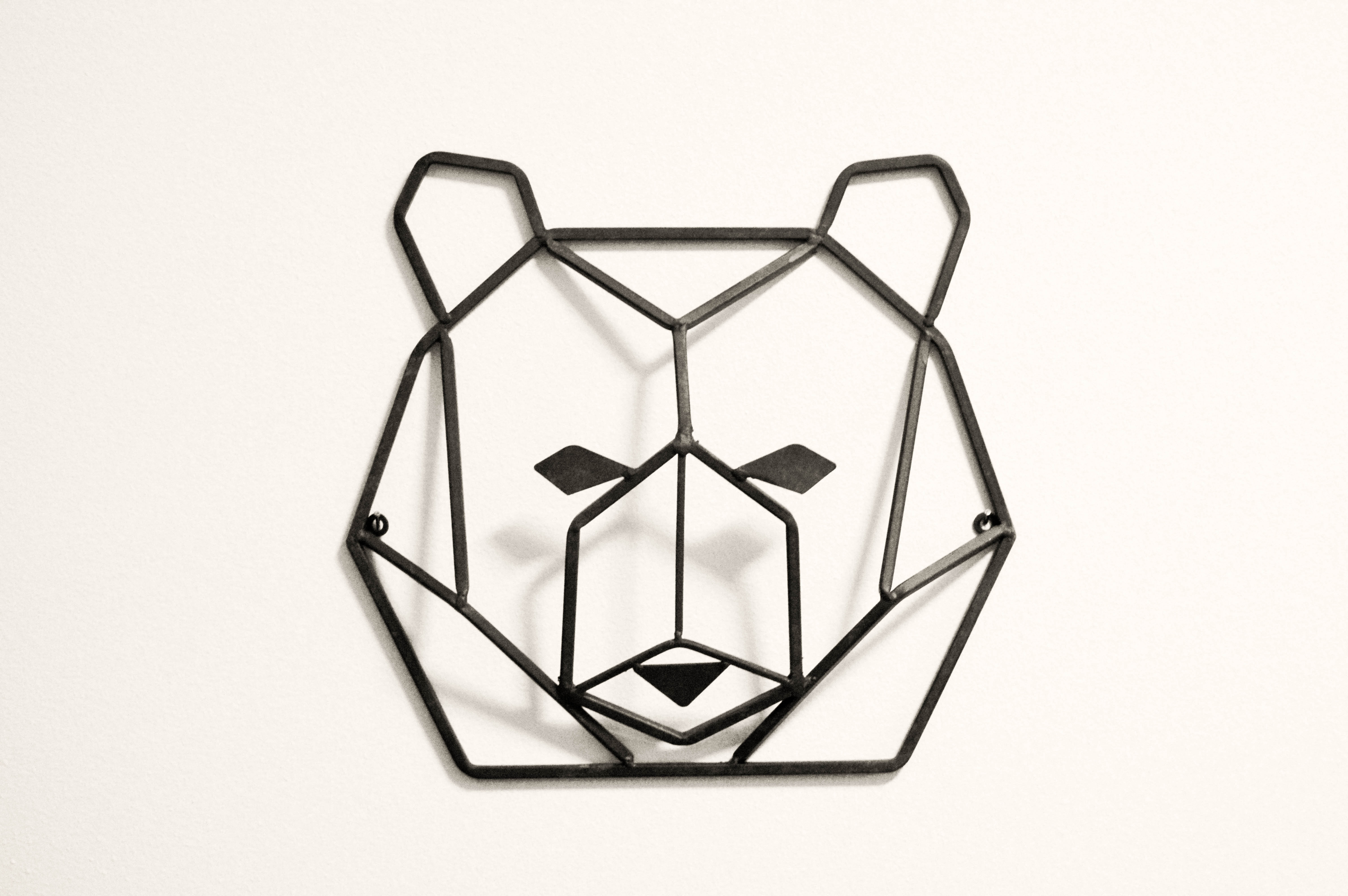 And in his chair lives a bear, moose, rabbit (this Jellycat one), and owl (not pictured). A faux sheepskin rug (like this one from IKEA) at the foot of the chair helps give the room even more of an animal vibe.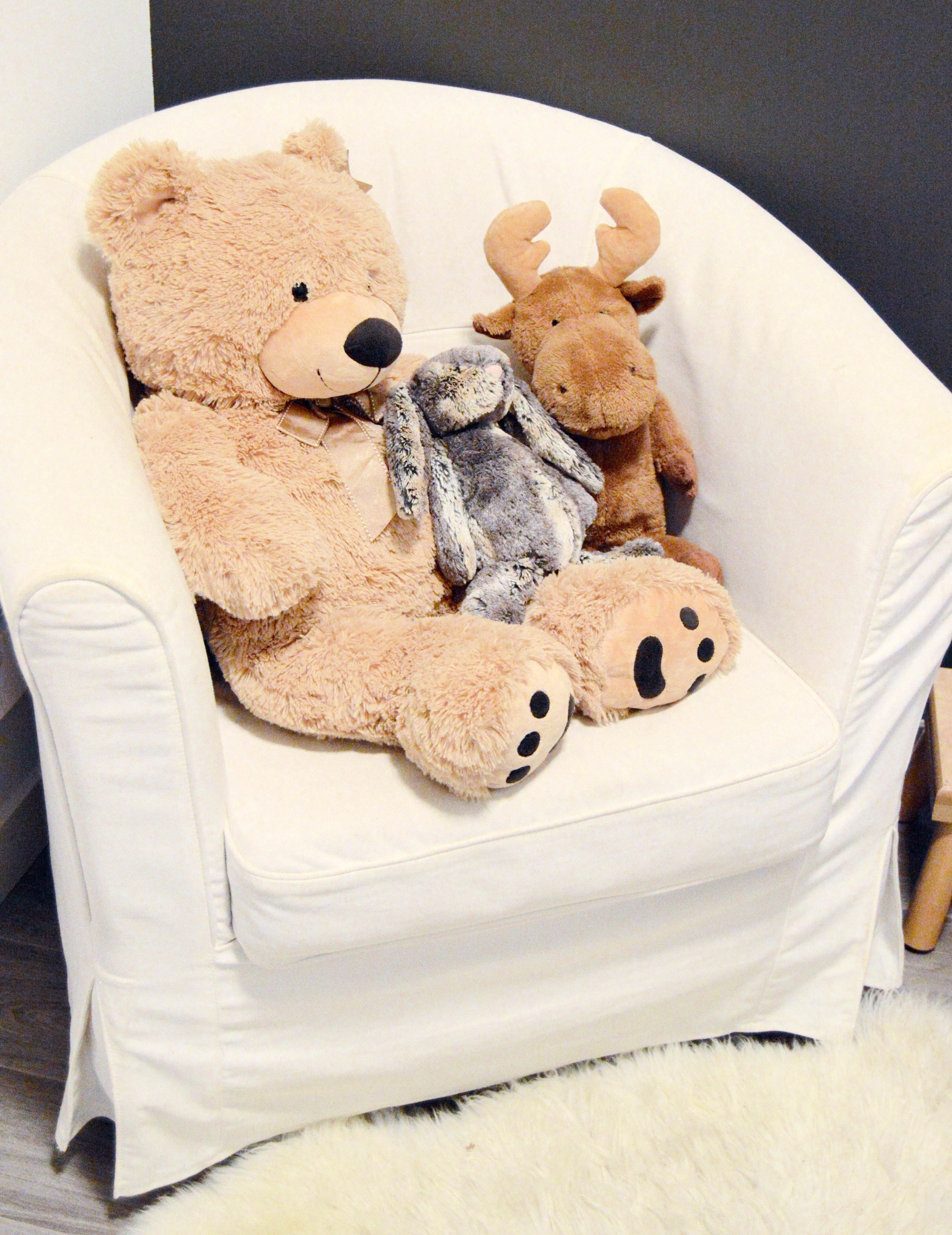 Pin It For Later
If you liked this post, please pin it to save for later and share with your friends!

Other Posts You Might Like