Naked cakes are all the rage…still. And it's no surprise why! Forgoing the ornate and intricate frosting that you find on other cakes, a naked cake uses a minimalist frosting technique that doesn't detract from the overall organic, beautiful presentation of the cake. And I kind of stumbled upon my own simple and delicious white cake recipe while preparing for a friend's baby shower. Luckily for you, I spill all the juicy ingredients, directions, and details of my Naked Cake with Berry Compote recipe below!
(This page contains affiliate links that we may be compensated for. Your clicks and purchases help support The DIY Lighthouse at no extra charge to you. We only put links to products we love and would recommend anyway.)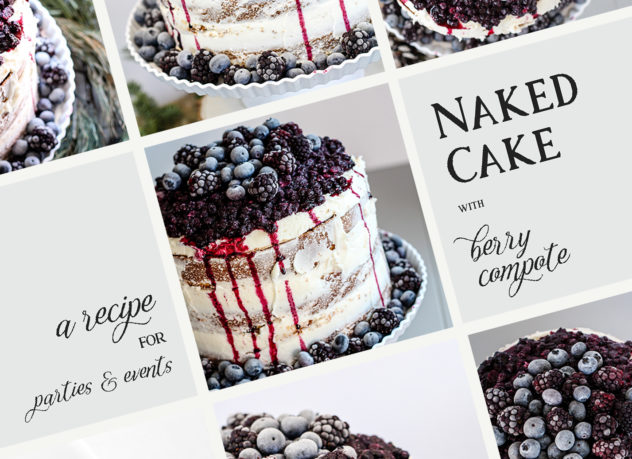 Aubri's Naked Cake with Berry Compote Recipe
The following ingredients for my Naked Cake with Berry Compote Recipe will yield enough batter and compote to make a 3-layered cake.
Naked Cake Ingredients:
2.5 cups white sugar
20 tablespoons (or 2.5 sticks) unsalted butter
5 eggs
5 teaspoons vanilla extract
3 2/3 cups flour
4 1/4 teaspoons baking powder
1.5 cups milk
Naked Cake Directions:
Preheat oven to 350 degrees F.

Grease and flour three 8″ round cake pans. (I bought Wilton's Cake Release, which lets you grease and flour pans in one easy step, and 3 of these Wilton cake pans.)

In a large bowl, cream together the sugar and butter. Beat in the eggs, one at a time, then stir in the vanilla.

In a separate medium bowl, combine flour and baking powder.

Add the flour mixture to the sugar mixture and mix until well combined. Then stir in the milk until cake batter is smooth.

Pour batter evenly into the prepared cake pans.

Bake for 30 to 40 minutes in the preheated oven. Cake is done when it springs back to the touch or when a toothpick inserted into the center of the cake comes out clean.

Let cool in pans for 10 minutes. Carefully remove from pan (having a Wilton 13″ angled icing spactula helps release the cakes and can be used for frosting later on) and transfer to a wire rack to finish cooling. Let cool completely before assembling and frosting.
Berry Compote Ingredients:
1/3 cup water
3/4 cup granulated sugar
6 cups fresh/frozen blueberries and blackberries
3 teaspoons lemon juice
a pinch of salt
2 tablespoons cornstarch
2 tablespoons warm water
2/3 cup unsalted butter (at room temperature)
Berry Compote Directions:
In a large saucepan over medium heat, combine 1/3 cup water and sugar and bring to a boil, stirring to dissolve sugar.

After a couple of minutes, add berries, lemon juice, and salt.

Stir together cornstarch and 2 tablespoons warm water in a cup until fully dissolved. Add to berry mixture. Cover it and simmer for about 10 minutes until thickened, stirring occasionally.

Add butter, cubed, and stir slowly until butter melts.

Remove from heat and cool to room temperature.
Medium-Stiff Buttercream Frosting Ingredients:
2.5 cups unsalted butter (at room temperature)
7-10 cups powdered sugar
3/4 teaspoon salt
2 tablespoons vanilla extract
1/4-1/2 cup milk
Medium-Stiff Buttercream Frosting Directions:
Once cake and compote are cooled, you can make the frosting. (Frosting will harden if not spread ideally if made too early.)

Using a mixer or hand mixer (KitchenAid has several fun colors of Ultra Power Hand Mixers to choose from at an extremely affordable price), beat softened butter on medium speed until smooth and fluffy.

Carefully add 7 cups of powdered sugar, mixing on low speed, until fully incorporated.

On medium speed, add salt, vanilla, and 1/4 cup milk and beat for 3-4 minutes.

To achieve a medium-stiff buttercream consistency, add extra powdered sugar or milk in small increments to achieve the desired result. (Medium-stiff buttercream will allow you to quickly frost while still giving the support and structure needed for the filling and layering.)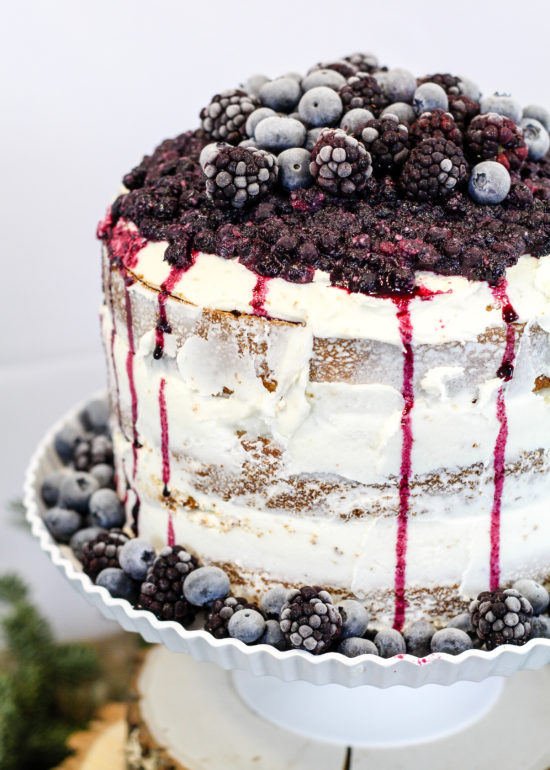 Assembling and Frosting the Naked Cake
I always decorate cakes on single-use cake circles (like these) that can be recycled or composted. It makes for easy transportation once the cake is frosted and easy clean-up when every last bite has been eaten! Also, a beautiful cake stand will accent any cake you make. The Now Designs Cake Stand pictured below would be so cute! I also love this high metal decorative cake stand if you're wanting a more elegant look.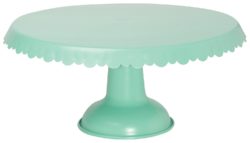 Assembling a layered cake requires structure. The last thing you want is for your cake to fall over on you. I got Wilton's 3-Piece Center Core Cake Rods to help give me a sturdy cake. Conveniently, the cake rods fit perfectly through the center of their single-use cake circles. Once you have the structure assembled, slide the bottom cake layer onto the rod. (A bit of frosting on the bottom of that layer will help it stick to the cake circle for extra stability.)
Between the layers of cake, apply a thick ring of your medium-stiff buttercream frosting around the edge of the layer. In the middle of the ring of frosting at the center of the layer, spoon on your berry compote. (You can adjust the width of frosting depending on how much compote you want to preserve for the top of the cake.) Firmly place the next layer of cake on top and repeat until the third layer is on. (It's okay to have some frosting ooze out the sides because you will be fixing it when you frost the outside of the cake.)
Using a large frosting tip and a piping bag (like this what you'd find in this Wilton Cake Decorating Set), fill in any holes on the outside of the cake with frosting as well as cover the top of the cake with rings of your frosting. Then, taking a long spatula, spread the frosting until it is smooth. (Make sure the top is pretty flat so the berry compote doesn't just run off the top of the cake.) If you're wanting more of the naked look, apply more pressure and remove any unwanted frosting.
Top the cake with berry compote and add any extra berries around the bottom of the cake. Optional: top with extra fresh berries and sprinkle lightly with powdered sugar.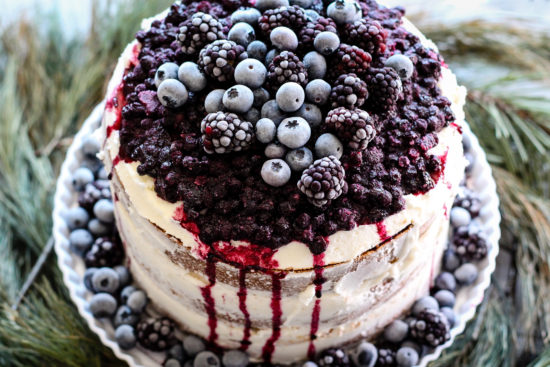 And there you have it! You took a Naked Cake with Berry Compote Recipe and turned it into a beautiful, and crazy delicious, centerpiece for any party or event. My Naked Cake was a smashing hit at a woodland-themed baby shower. (Read my Woodland Themed Baby Shower post here.) Comment below and let us know what you think of the presentation and flavor!
Pin it!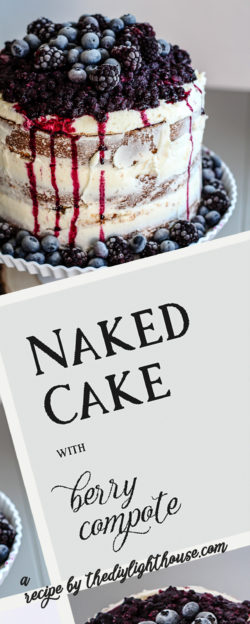 Other posts you might like: