Moms are like ninjas. I mean, think about it. They can be a chauffeur, personal chef, nurse, referee, house maid, comedian, shrink, banker, professional organizer, teacher, aaaand the Tooth Fairy and Easter Bunny all in the same day. Like I said, ninjas.
And while they have one of the most demanding and never-ending jobs around, moms do what they do for a $0 pay check. They willingly sacrifice sleeping in on the weekends, being able to go out with friends, having plants that don't get eaten, and a spotless home for a constant "third wheel" buddy, sticky couches/clothes/cupboards/car, and a date night that consists of Netflix (again) because she spent the entire babysitting/date budget on a coloring book and crayons. So scratch the ninja simile. Rather, if a ninja and an angel had a baby, that would be "mom."
Because of all they do for us, these ninja/angel mothers of ours should feel loved, appreciated, and recognized this Mother's Day. One super cute Mother's Day gift idea we came up, that you can totally make for your mother, is this inexpensive and easy-to-do rustic DIY home decor piece.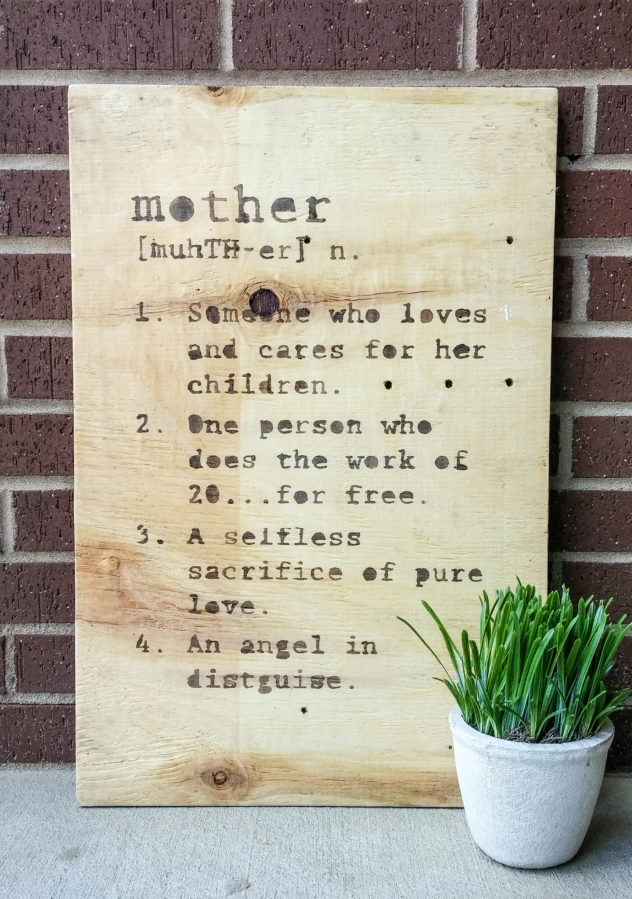 Mother's Day gift idea how-to
1. Gather the Supplies
For this Mother's Day gift idea, all you will need is a piece of wood, a small paint brush, paint/wood stain, Scotch tape, and either a printer + scissors or a Cameo Silhouette.
I found my piece of wood for $1 at a local building materials thrift store. Hopefully you can find your wood for just as cheap or for free! And the wood doesn't have to be in perfect condition. In fact, my favorite part about this gift are the impurities found on the wood. There is a large knot, there are several screw holes, and there are scratches and bangs on my piece of wood. Love it! It makes it all the more interesting.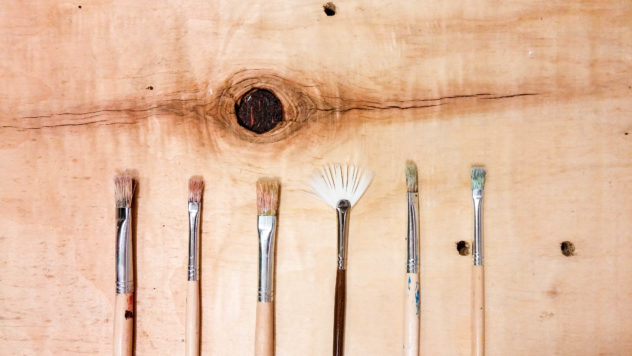 The paint brush and Scotch tape I already had. I used wood stain for this project to give it a more rustic look. If you're going for a more clean, modern look, I would definitely recommend using acrylic paint. And a super cool fact: I find my wood stain and paint for free and you can too! (Click here to read our post DIY Hack: Get Paint for Free.)
I invested in a Cameo Silhouette a few months ago. This made the process much more automated. But you know what?! I still would have done this project without one using just a bit more elbow grease (aka a printer + scissors). Don't feel like you have to have a Silhouette to make this project and make it look amazing.
2. Design Your Text
Defining the word "mother" in your own terms is a fun way to recognize how amazing your mom is. Be sure you design something she would want to put on display in her home. It can be personalized, but don't make it too personal or she wouldn't want her neighbor seeing it. The design and text portion is where your creativity comes in. Use an inside joke or simply a sentimental phrase. As you design, keep your mother in mind and plan accordingly.
I created my design in Adobe Photoshop before transferring it to Silhouette Studio for cutting. If you do not have Photoshop, Powerpoint is another great option and it doesn't have too steep of a learning curve. (Photoshop is much more difficult to take on.) I would recommend Powerpoint over Word because it is much easier to manipulate text and design.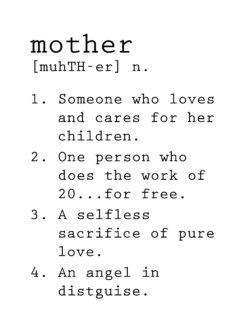 Note: Before you design, be sure to measure your board and scale the text and design in relation to the measurements. Because I used Photoshop, I simply made my canvas size to match the size of my board (a whoppin' 16″ x 24″). Zooming out to fit the canvas size to the computer screen is a piece of cake. When it comes time to print, if your board is larger than 8.5″ X 11″, you will need to print/cut more than one piece of paper in order to fit the design. My design fit on two 12″ square pieces of paper. Don't let the puzzle piecing of it all overwhelm you! Once it's printed out, you can always cut off excess paper and tape the pieces together into one design.
3. Paint/Stain Your Board
The last step to create your Mother's Day gift is positioning the design onto your board and painting or staining it. Notice that I decided to leave out the centers of the letters. I wanted to create a rustic, typewriter effect. I achieved that by leaving out the centers of the letters, by using wood stain instead of paint, and by using paper as opposed to vinyl for my stencil. (Vinyl has a sticky backside that would have adhered to the wood and made a more smooth, crisp, modern finish. The paper allowed some of the stain to leak through and gave it a splotchy, ink-like effect.)
Make sure to tape your paper stencil to the board so it doesn't move on you. Then, carefully fill in the letters with a small brush. Give it enough paint or stain that you don't have to redo your work, but not too much that it will leak under the stencil or become blotchy. (If you have to step away mid-project, be sure to reference our post here about How to Keep Your Paintbrush from Drying Out.)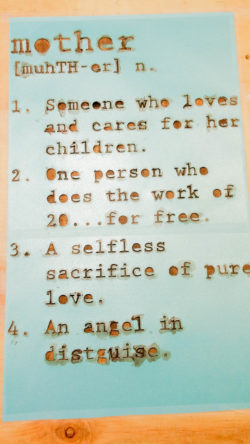 Note: If you do not have a Silhouette, rather than using a stencil, you can cut out the letters by hand and trace them instead. Once the letters are traced, you can remove your trace and fill them in using a permanent marker or paint brush. A totally quicker option is to just free-hand it! I would still recommend having a printed version of the text right next to you so you can reference the design. This will help achieve more precise spacing.
When the paint or stain has been applied, remove your stencil or trace and allow it to fully dry.
Boom! Mother's Day gift idea became a DIY home decor piece she will treasure.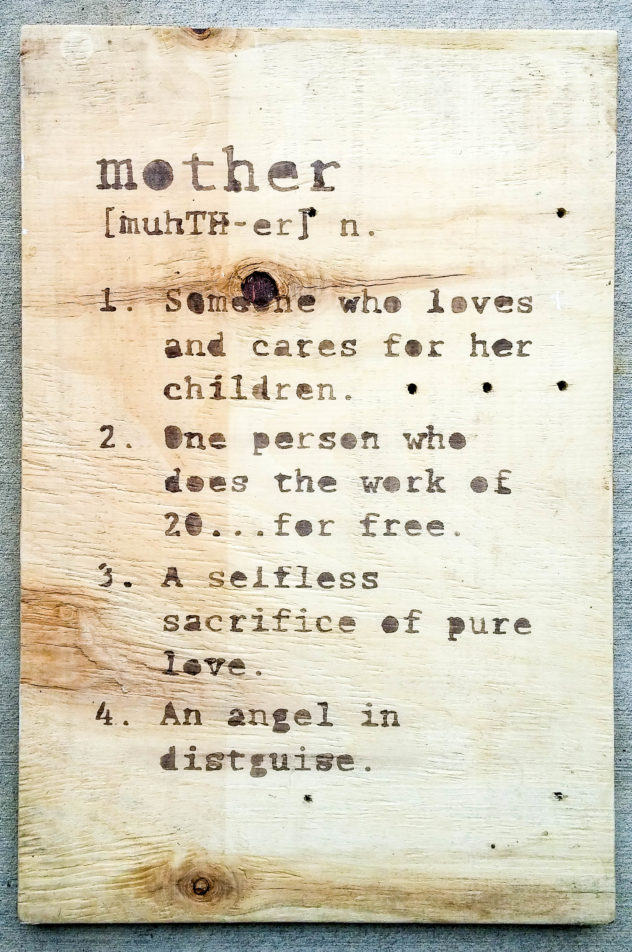 Wasn't this a fun DIY?! Please comment below and let us know how your rustic Mother's Day home decor piece turned out. Or just tell us what you love about your ninja/angel mom.
Other posts you might like: