If you're wanting to stress less about coming up with ideas and spending a ton of money on a baby shower, you've come to the right girl. I threw a baby shower for my beautiful friend, Jane, and I'll tell you everything you need to know about throwing a banana and monkey themed baby shower on a budget.
(This page contains affiliate links that we may be compensated for. Your clicks and purchases help support The DIY Lighthouse at no extra charge to you. We only put links to products we love and would help you throw a super cute monkey themed baby shower.)

First of all, if you want to go easy for your baby shower colors, just do Brown + Yellow. That's what I did! These are great gender neutral colors so they would work for either a girl baby shower or a boy baby shower. Brown was of course inspired by the monkeys and yellow inspired by bananas.
Monkey Themed Baby Shower Invitations
The invitation is your first chance to incorporate some cute and clever puns. Here's the baby shower invitation I sent out to the invited guests.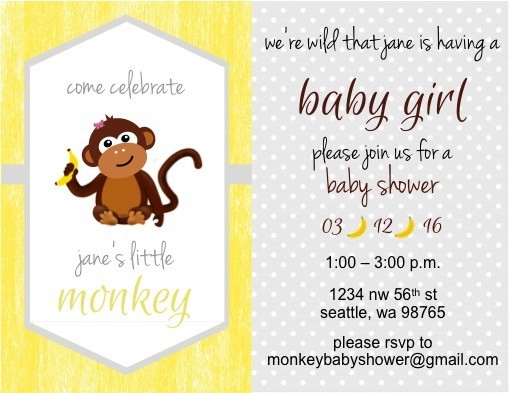 It goes without saying that the "We're wild that Jane is having a baby girl…" is a monkey play on words.
Here are some other cute monkey and banana invitation saying/pun ideas:
"Stop monkeying around and come celebrate the mother-to-be."
"Let's go bananas and celebrate Jane's little monkey."
"Come hang out at a baby shower for Jane."
"A little monkey is on the way."
"Come swing on by the baby shower for Jane."
"We're wild with excitement for Jane's new baby girl/boy."
"Monkey see, monkey do… a baby girl/boy is almost due."
I made my invitation through PowerPoint (get some DIY invitation tips here). Or, if you're strapped on time and want to buy some, Amazon has a set of 24 monkey baby shower invitations you can get for a boy (click here) or a girl (click here) baby shower.
Monkey Themed Baby Shower Food
This is my favorite part! In my opinion, this is the most important way to tie in the monkey/banana theme and colors of your baby shower.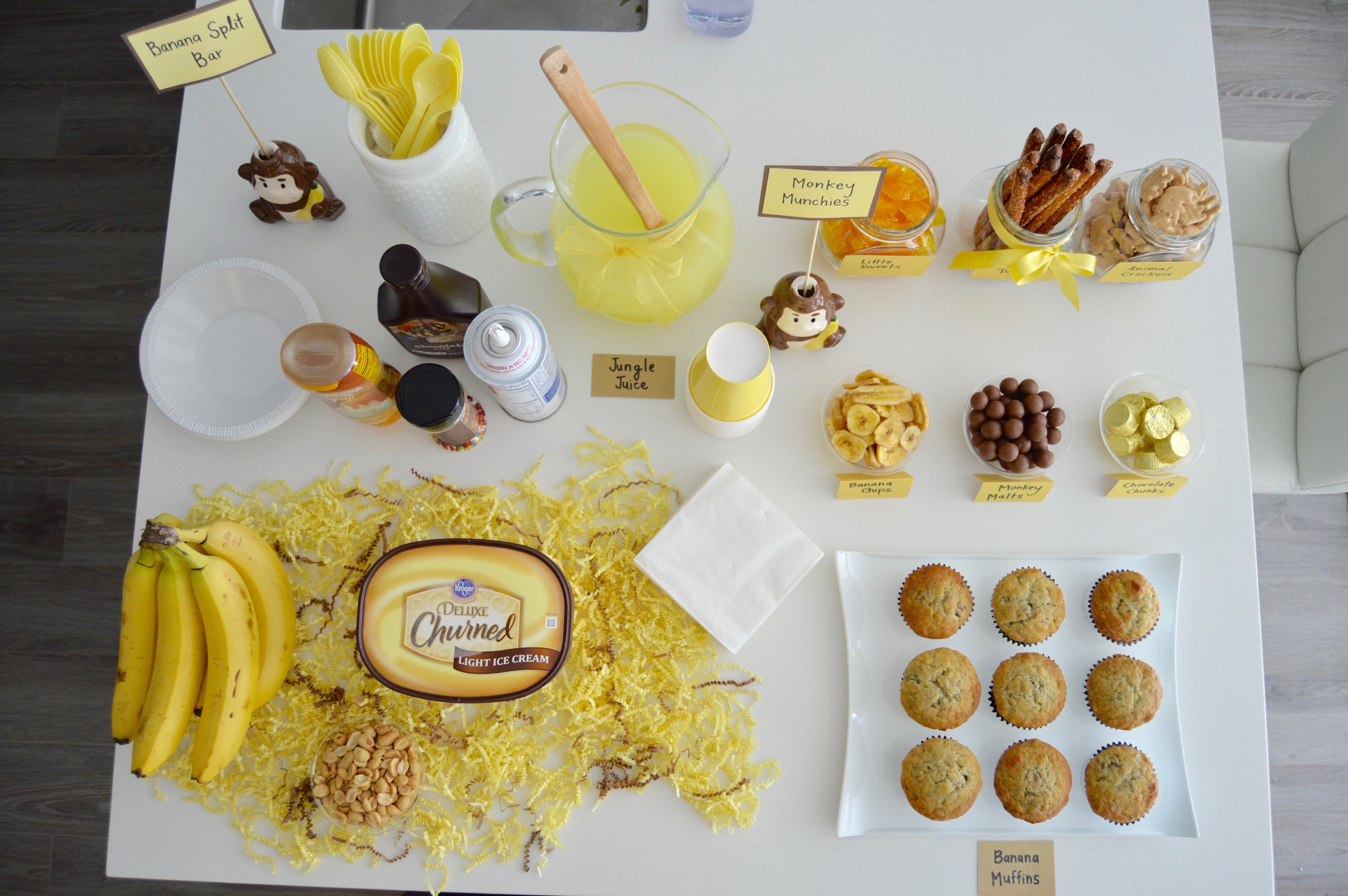 Banana Split Bar
What is cuter than a banana split bar at a monkey themed baby shower? Nothing. At the dollar store, pick up some plastic bowls, plastic spoons, napkins (bonus points if any of those three items are yellow or brown), peanuts, and sprinkles. The rest you will likely need to pick up from a regular grocery store: bananas, vanilla ice cream, whipped cream, chocolate syrup, and butterscotch syrup.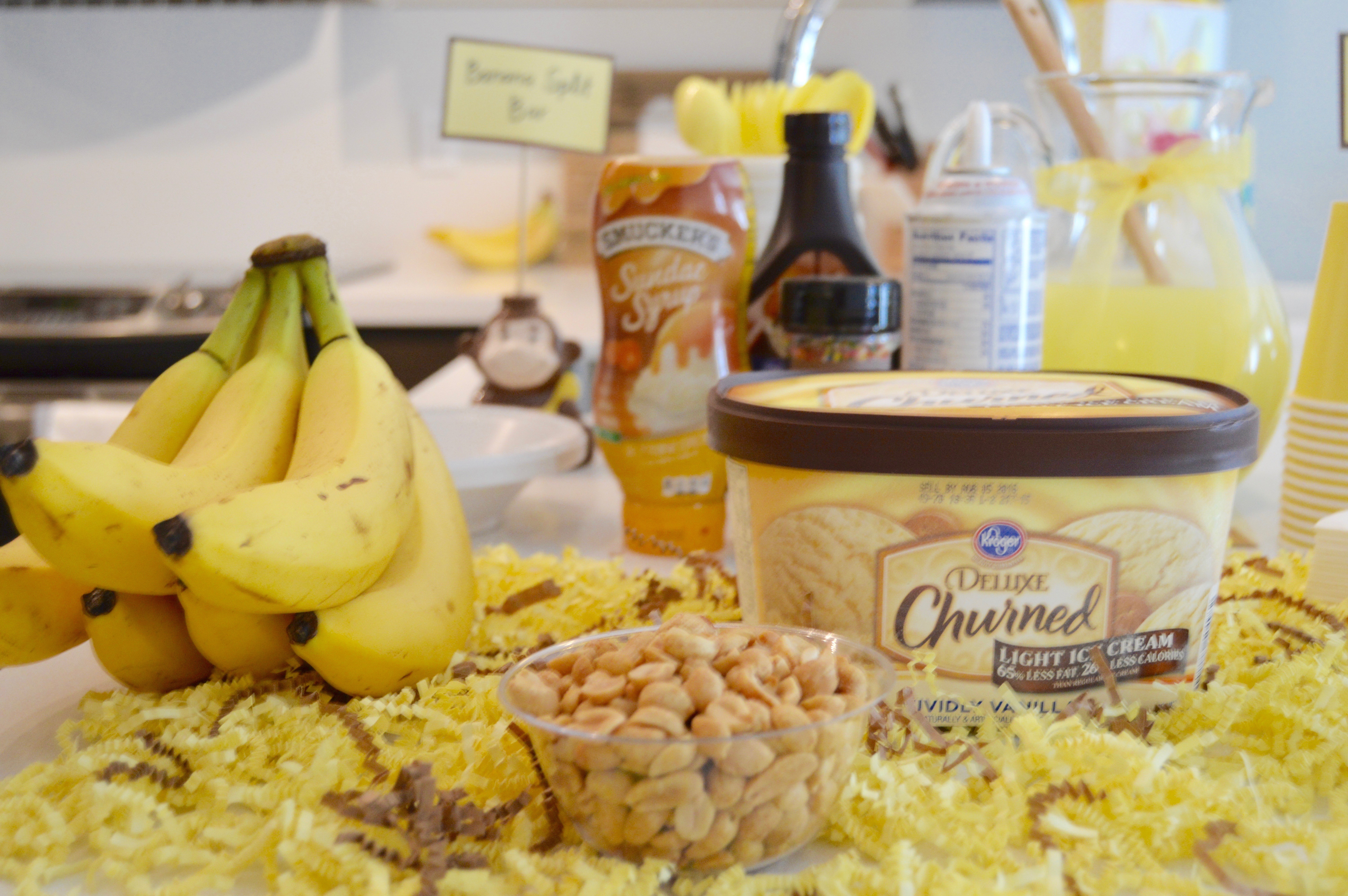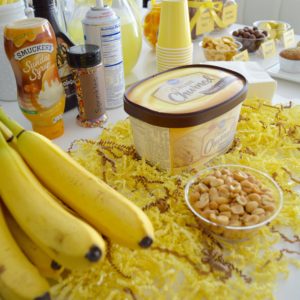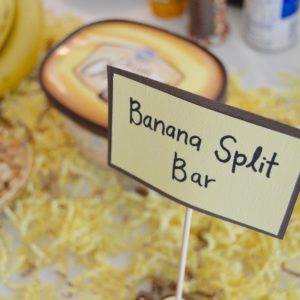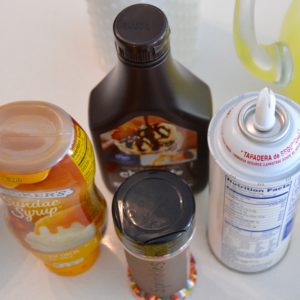 Monkey Munchies
For the guests who don't want a full-blown dessert bowl (crazy people), you can offer some cute monkey munchies for snacking on. Again–to do this baby shower on a budget–head to the dollar store to pick up most of your things. I was able to find the following at the dollar store: monkey tails (pretzel rods), animal crackers, little sweets (butterscotch candy), banana chips, monkey malts (malt balls), chocolate chimp chunks (mini peanut butter cups), the bowls, and the jars. The banana muffins I made at home. (Click here for our super easy, moist banana muffin recipe.)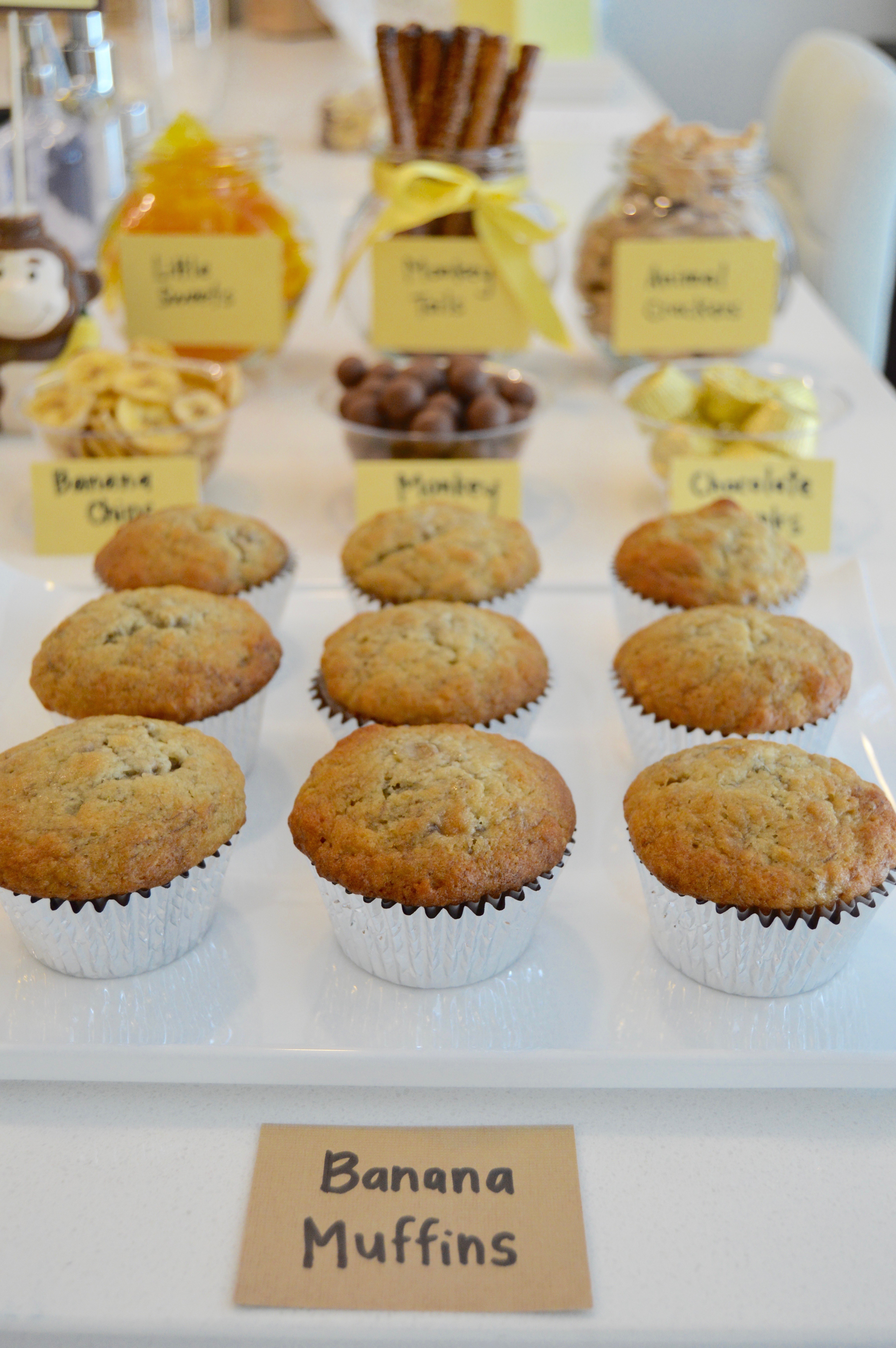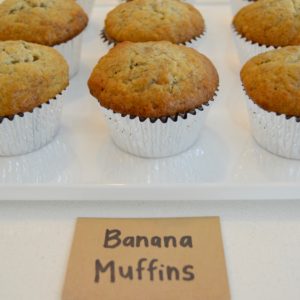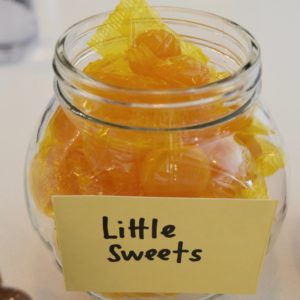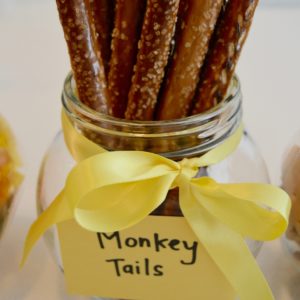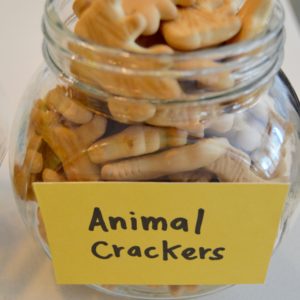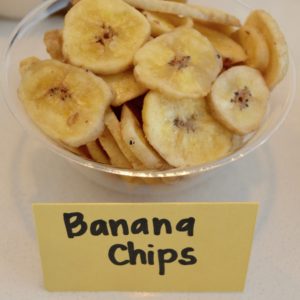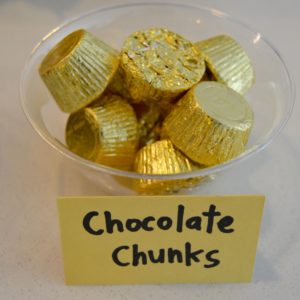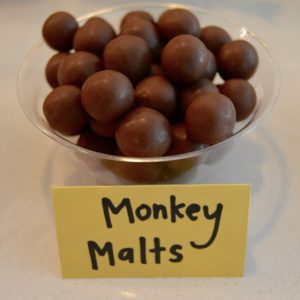 Drink
As a drink you can serve lemonade which matches the yellow color scheme. And–because you can–call it "Jungle Juice."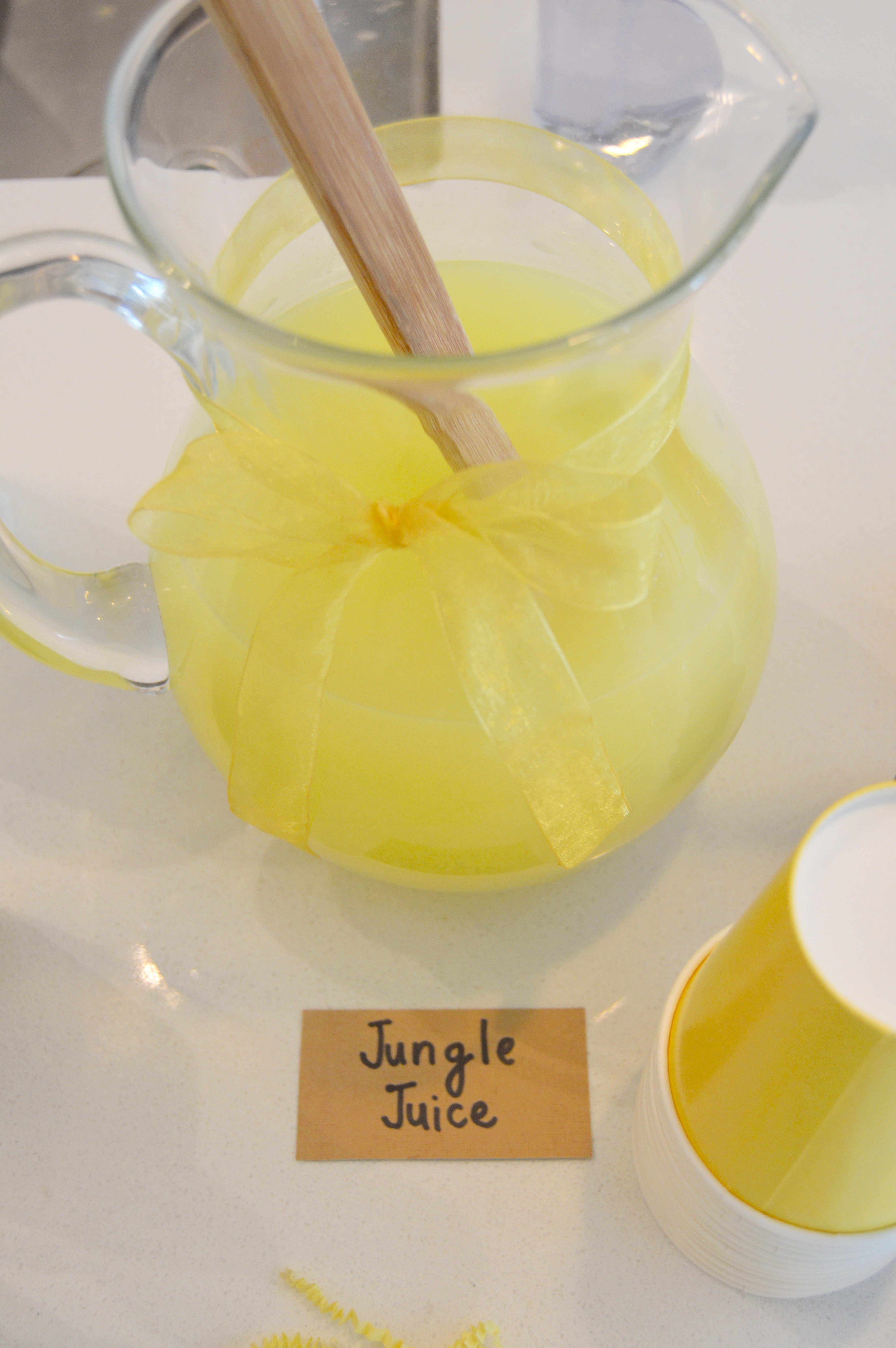 Monkey Themed Baby Shower Decorations
Again, check out the dollar store! I got my decorations from there. I found those little monkey sign holders (they were actually liquid soap dispensers and I just took the tops off) and the yellow + brown crinkle paper confetti. Aside from that the only other decorations I did were making the food and signing book labels with crafting paper. In my opinion there's no need to go over the top with decorations when you're on a tight budget. If you do have a bit of money to spend, check out these fun ideas…
Monkey Themed Baby Shower Game/Activities
Here is a fun (and funny!) monkey themed baby shower game idea that will be enjoyable for guests and the mother-to-be: "Mama Monkey, That's Bananas!"
"Mama Monkey, That's Bananas!" Game
Game Preparation
Before the baby shower ask the expecting mom and dad a set of questions. Make sure to ask them separately because you don't want them to hear each other's answers. Write their responses down. Then, randomly put a dot or star next to either the mom's response or the dad's response. (This will come in handy later.) Here are question ideas:
What are you most excited for when your baby girl/boy arrives?
What will you miss the most about life without a baby?

What characteristic/quality do you hope your baby gets from your spouse?

How long do you think labor will take?

How much will your baby weigh at birth?

What will your baby be when she/he grows up?

What will be your biggest challenge as a parent?

In one word, describe this pregnancy?

How much money do you think you'll spend on the baby in the first year?

How many diapers do you think you'll change a day?

What baby milestone are you most looking forward to?

How will you discipline your baby girl/boy?

What do you think her/his favorite food will be?

What physical feature do you hope baby gets from mom?

What physical feature do you hope baby gets from dad?
You will also need to prepare popsicle sticks for the guests. They each need a monkey and a banana. I found a monkey head online, copied a bunch of them onto a page, printed it out, cut out each monkey head, and glued them to popsicle sticks. I did the same for the bananas and colored them in with a yellow marker.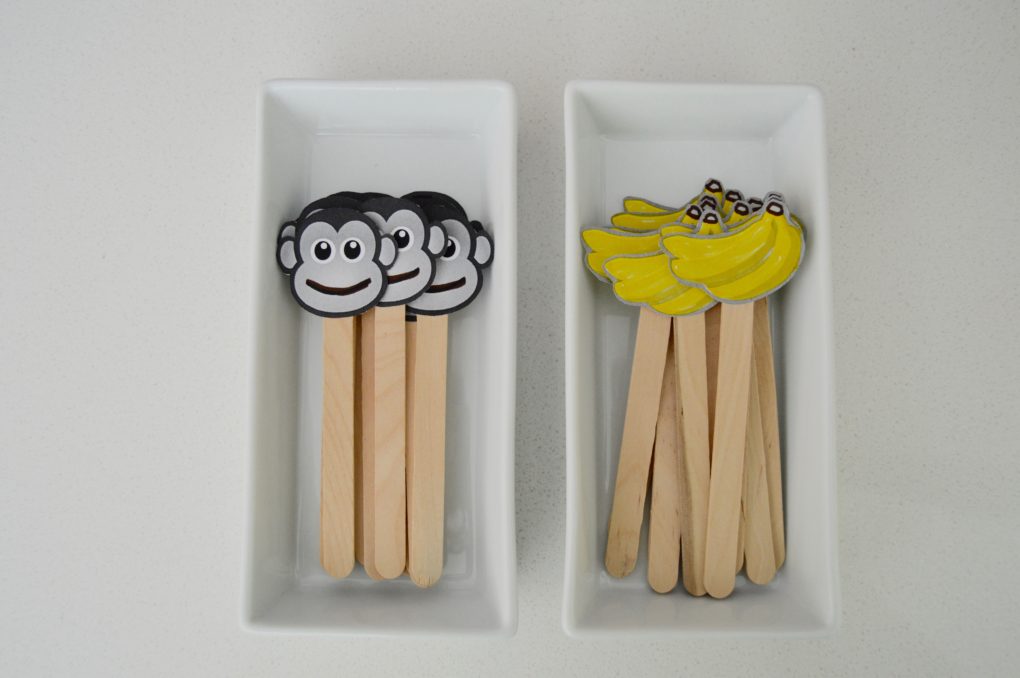 Game Instructions
Give each person a monkey stick and a banana stick. Read off a question and the 2 answers (read the response with the dot or star next to it first so that you say the mom vs. dad responses in a random pattern.) Then say, "If you think (mom's name) said the first answer, hold up Mama Monkey. If you think she did NOT say the first response, as in you think (dad's name) said it instead, hold up That's Bananas!" When all the guests have guessed, have the mother-to-be hold up the correct answer. Have each guest keep track of how many they get right. Whoever gets the most right wins. You can give the winner a bag of monkey munchies mix or another monkey themed prize.
Monkey Signing Book
As a fun gift to the mother-to-be, have each guest sign a baby monkey book when they come in. (You can order the one I used by clicking here. Or click here for another cute option.) I highly recommend doing a board book so that the baby can't rip the pages.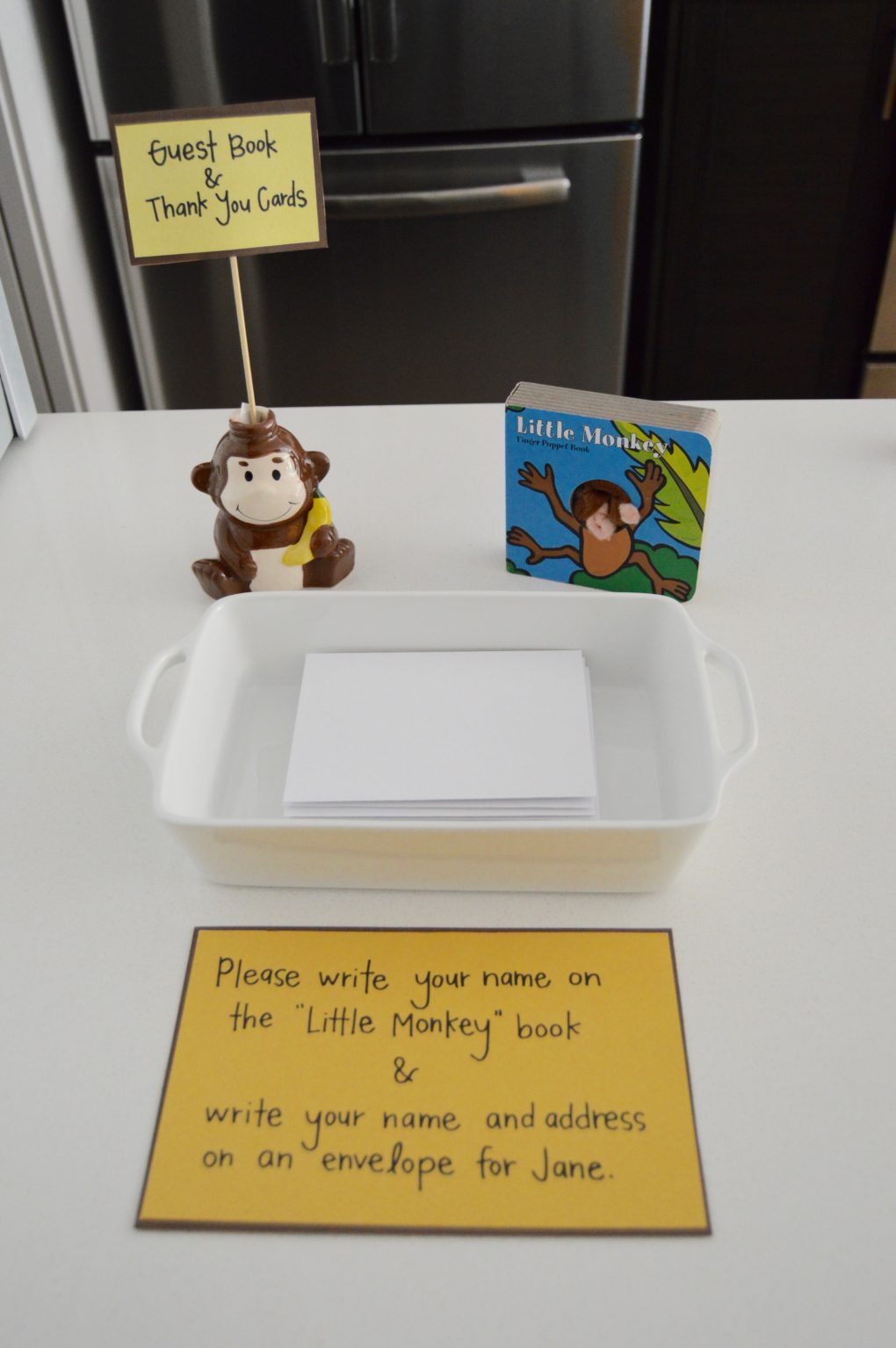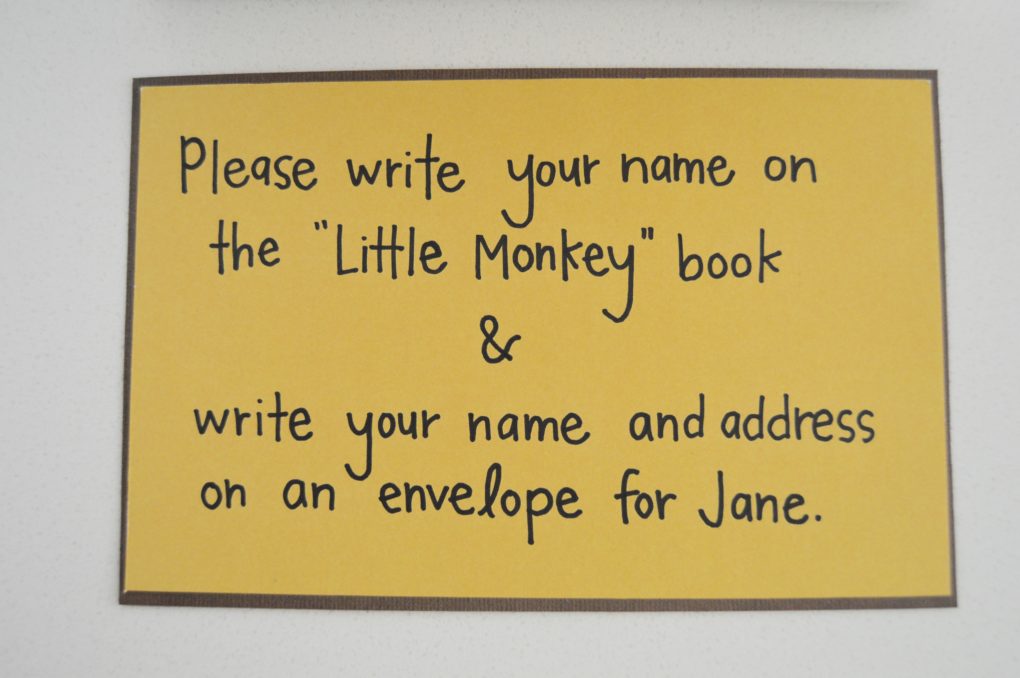 Thank You Cards
As an idea for thank you cards to guests, draw a bunch of bananas on them and say, "Thanks a bunch!" If you don't trust your artistic skills, click here for some that you can buy. To make it easy on the mother-to-be, have each guest write their name and address on the envelope so that she doesn't have to do it later on. (Like I did in the picture above.)
Hopefully you have a wildly fun time! 😉 Let me know if you thought of any fun ideas for your monkey themed baby shower by commenting below.