Football season is here which means Super Bowl party food is on my mind! If you are looking for a huge hit, the recipe I've got for you will definitely take the cake! I'm sharing a Football Cake recipe that is so easy you can make it from a box cake mix.
(This page contains affiliate links that we may be compensated for. Your clicks and purchases help support The DIY Lighthouse at no extra charge to you. We only put links to products we love and would recommend anyway.)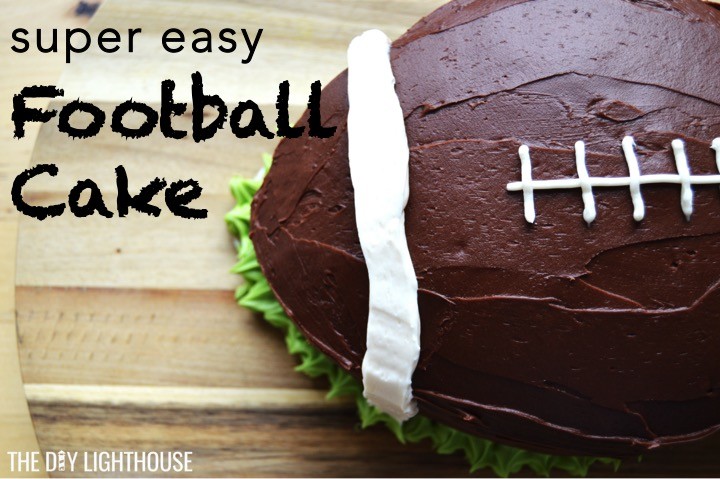 Football Cake Recipe
Below are ingredients and step-by-step directions so you can make your very own football cake to enjoy at this year's Super Bowl party.
Football Cake Ingredients
1 box chocolate cake mix + ingredients on box
1 tub white frosting
1 tub chocolate frosting
Green food coloring
Football Cake Directions
Step 1) Bake cake in round pans
Bake your chocolate cake in two round cake pans according to package directions. Let your cakes cool completely.
Step 2) Cut cakes into football shape
Looking down at one of your cakes, mark the very top and bottom points (you can do something simple like put spoons on the table where the points are or put a dot of frosting at the points). Then using a knife cut a little indent line on your cake to make a football shape. (See the image below for help.) Once you are satisfied with your shape, then you can cut all the way through. My football ended up a bit fatter then the drawing shows, but I liked it that way because that meant less cake was being taken away.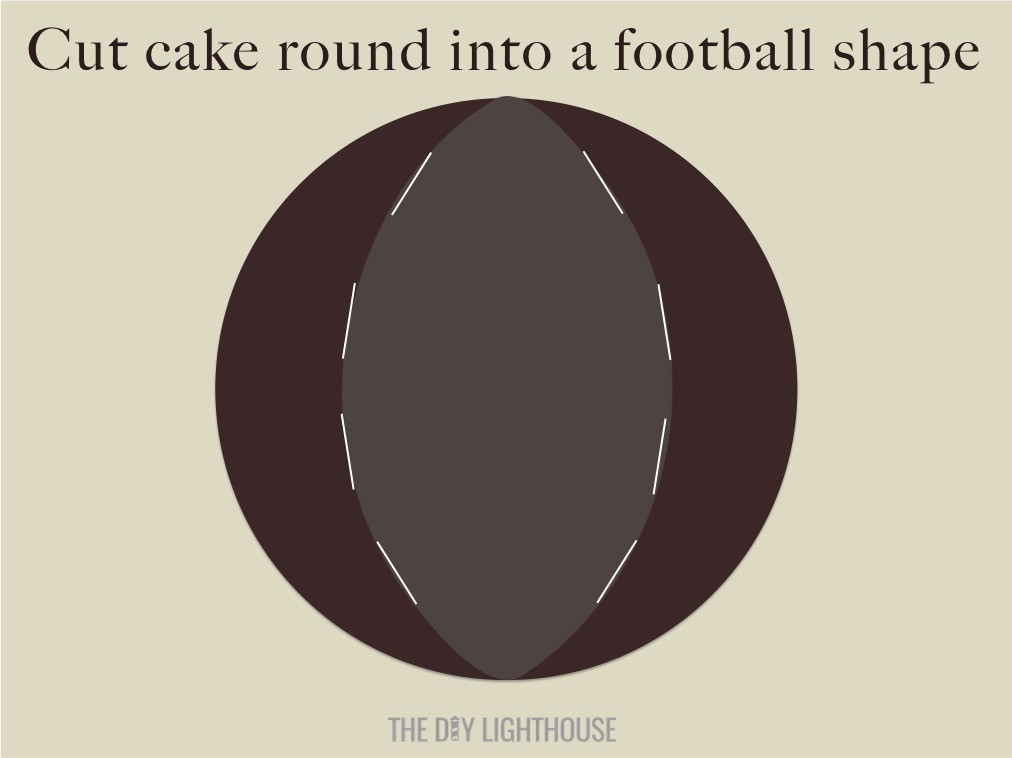 Pro Tip: You can use your cake pan that you baked with to help you trace a smooth rounded line near the belly of the football, but then be sure to angle up to meet your top center point and angle down to meet your bottom center point.
Repeat these steps for the other cake round so that now both of your cake rounds are in a football shape.
Step 3) Frost the cakes with chocolate icing
Place one of your cakes on whatever plate or platter you are serving your cake on. (I put mine of a Wilton cardboard cake circle–that I also cut into a football shape–so that I could easily move the football around.) Then frost the top of your cake with a thick layer of frosting. (You can use your white frosting instead here if you'd like.) Put the other cake on top and cover the entire thing (sides included) with chocolate frosting. (P.S… if you don't have one of these you should consider getting one. It helps the frosting experience go a lot smoother–pun totally intended.)
Step 4) Frost on the football details
You can now add the classic football details using your white icing. Using a small hole icing tip, make the lace marks on the top. Then, using a large hold icing tip, make the white lines near the ends (see picture below) and carefully flatten the lines out against the cake using a knife.
I recommend investing in icing tips and a frosting bag–they are not very expensive but make frosting WAY easier and cleaner. Here is a nice, simple set of icing tips to have that will include the small and large icing tips I mentioned above (and don't forget to get this coupler attachment piece). And then here is the frosting bag I use and love!

If you really don't want to buy icing tips and a bag, and is a one-time-thing and you'll never make a cake again… then you may be able to pull off cutting a very small hole in the corner of a Ziploc bag for the football cake threads, and then using a new bag with a slightly wider hole to make the white lines. I recommend practicing your lines first on a paper towel before you try it on your cake.
Step 5) Add the grass
Take some of your white frosting and add some drops of green food coloring to it. Stir it thoroughly, and if you feel like it needs more color then add a few more drops until it's your desired green. Using a star frosting tip (also included in the icing tip package I recommended above), add little squirts all around your football cake to make it look like the football cake is sitting on grass.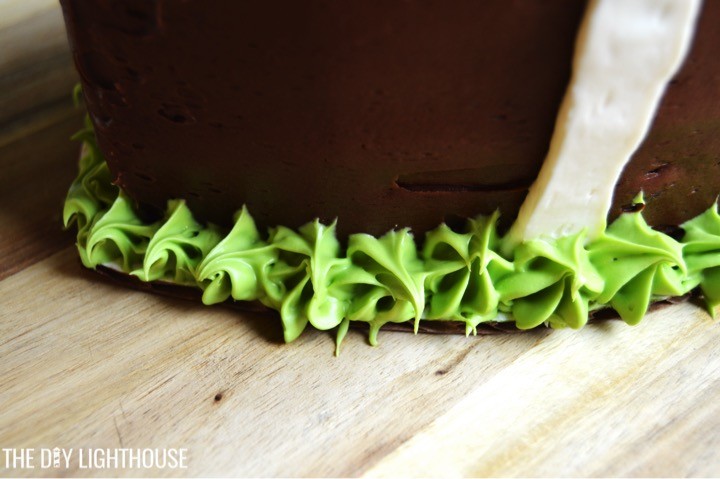 *Optional* Step 6) Make cake balls with extras
Use your excess cake and frosting to make party food cake balls. Take the cake that you cut off (to make your round cakes into football shapes) and mash it up in a bowl until it is crumbly. Then add just enough excess frosting to the mix so that the crumbles hold together. Using clean hands, pick up a small amount of the mix and roll it into a round ball. You can set them inside individual, mini serving cups (like in the picture below), or space them out on a tray. Add any additional frosting decorations you like to the cake balls. Frosting options include: frost on the letter of the football team you are cheering for (B for Broncos, etc.) or frost on stripes of your football team's colors.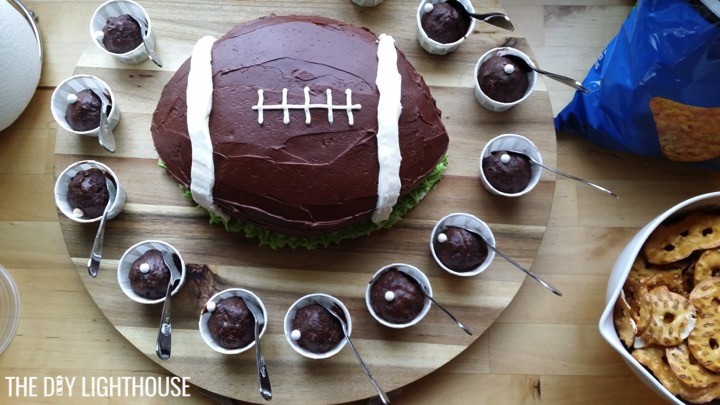 Here are some fun super bowl food table party decorations you might like:
Leave any other football super bowl party ideas in the comments section below!