If you are looking for adorable inspiration for a lamb themed baby shower, then you've dropped by the right place. Below is some decoration, food, and invitation ideas for your lamb themed baby shower.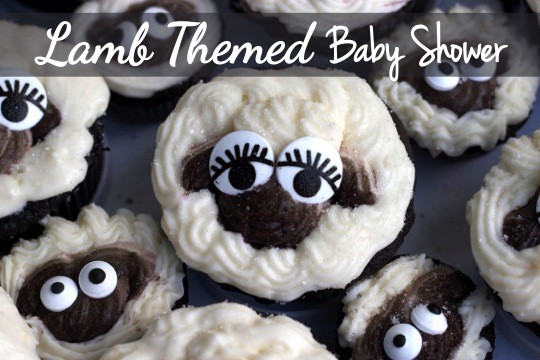 Let me share a little something that's close to my heart: I had someone dear to me years ago refer to my future children as my "little lambs." That phrase really struck me. . . I love the symbolism behind sheep, lambs, and The Shepherd (Christ). If you're Christian then you may also especially appreciate the symbolism. Anyway, because of that experience, I wanted to have a lamb themed baby shower and nursery for my little one. (Coincidentally, it turns out that my little one was born the year of the sheep. How perfect is that?!)
My good friends (Kristen, Rachel, and Tessa) were sweet enough to entertain that wish, and they threw me an absolutely beautiful lamb themed baby shower for my little baby boy. Full disclosure: I wish that I could take credit for this baby shower, but all I did was show up. All of the beautiful food, decorations, games, etc. was thoughtfully done by my sweet friends.
Lamb Themed Baby Shower Food Table & Decorations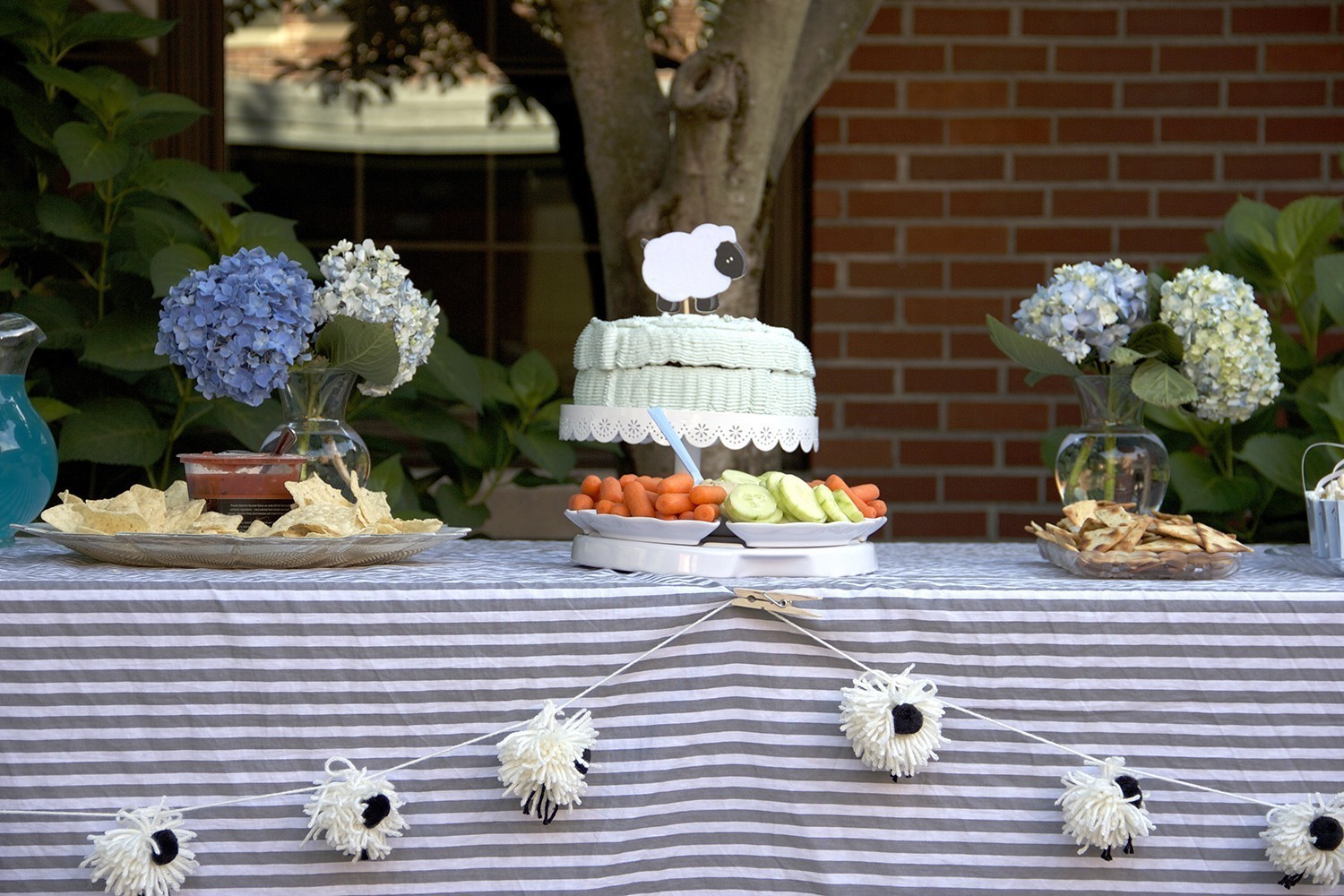 Don't you just LOVE this?! So classically beautiful and cute at the same time. Because I was having a baby boy, they went with the blue color scheme. The mix of soft blues, grays, and whites is perfect for a lamb themed shower for a boy. The table decorations were simple but on point.
Lamb Pom Pom Garland
Skirting the food table was a cute lamb garland. Tessa made this DIY project. For each lamb, she made a white yarn pom pom ball which she tied with black yarn for the lamb's legs, and then hot glued on a black pom pom ball for the head. Click here for a tutorial on how to make this lamb pom pom garland. She simply strung the lambs on a strand of yarn and used clothespins to attach the garland to the cute, striped table cloth.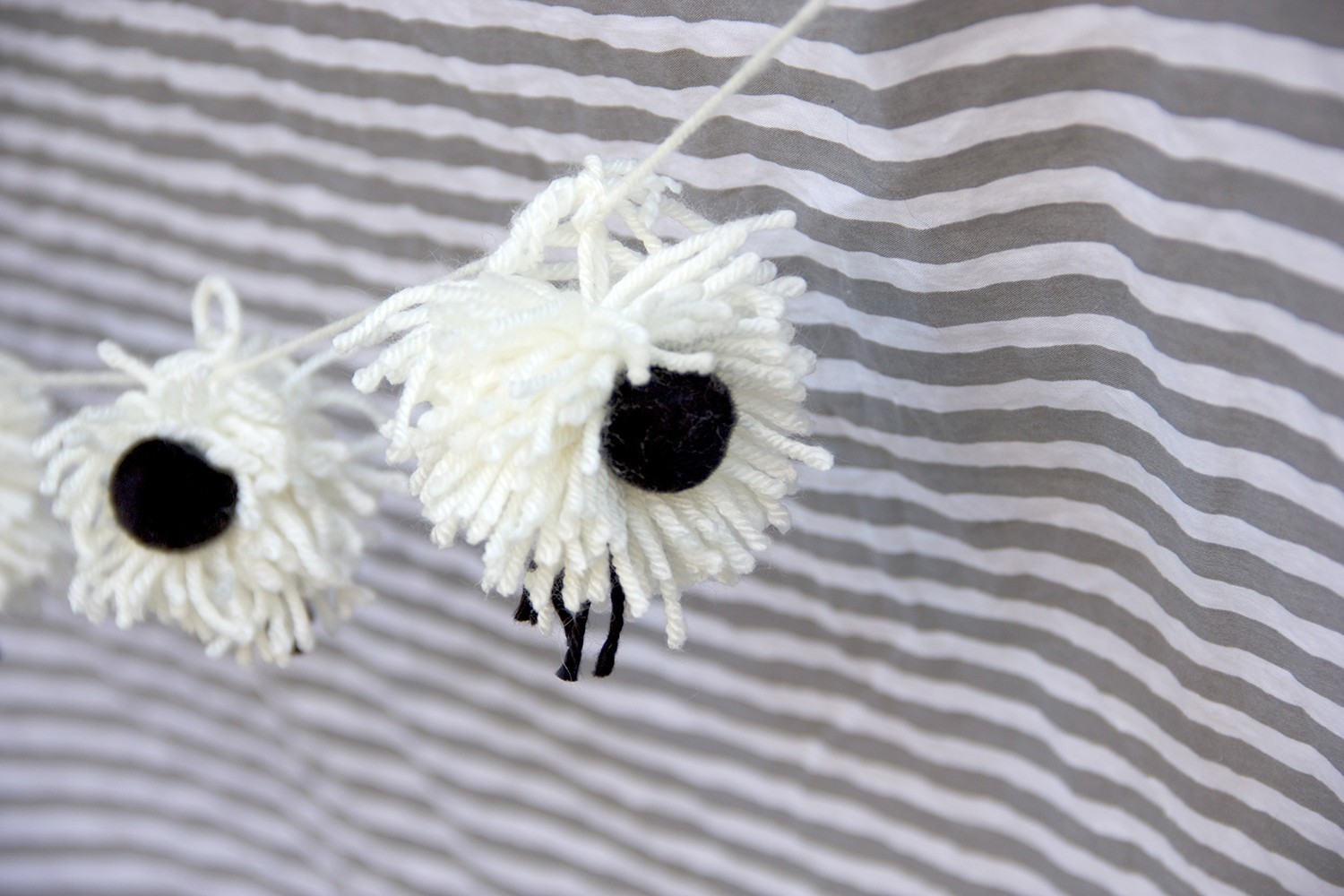 Blue & White Hydrangea Flowers
To stick with the color scheme but to add a touch of freshness, Tessa arranged two vases with blue and white hydrangeas. These flowers cleverly mimicked the puff-ball appearance of the lamb wool found in the other decorations, and they would make the perfect touch to your lamb themed baby shower.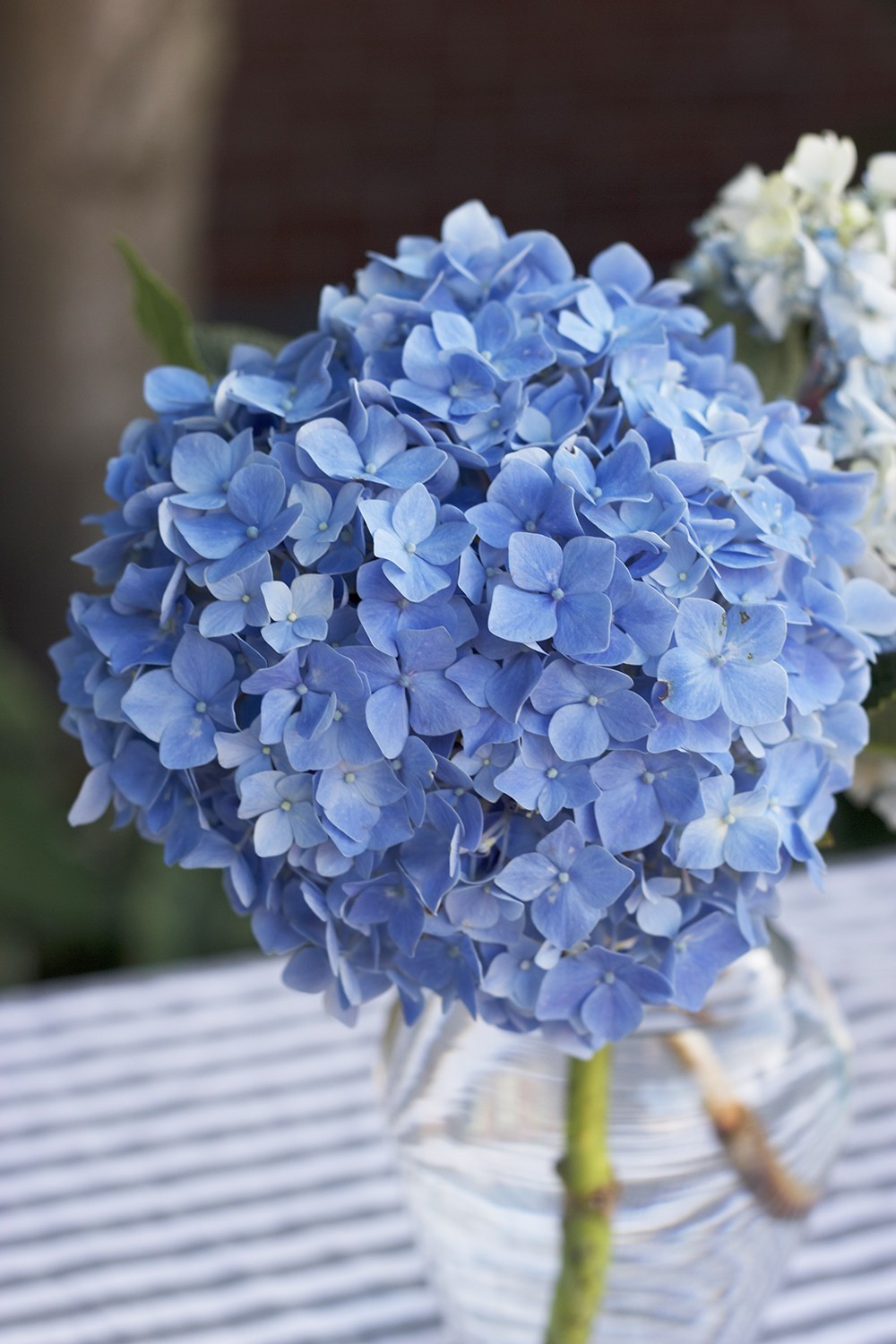 Lamb Cake Topper
On the lovely cake Rachel made, she added a statement piece lamb cake topper. By doing this, the guests at the shower clearly understood that the theme of the baby shower was lambs. For this DIY cake topper, Rachel taped a wooden lamb that she got from Hobby Lobby onto a wooden skewer. Tip: You can also print out a lamb on sturdy paper in place of the wooden lamb that Rachel used.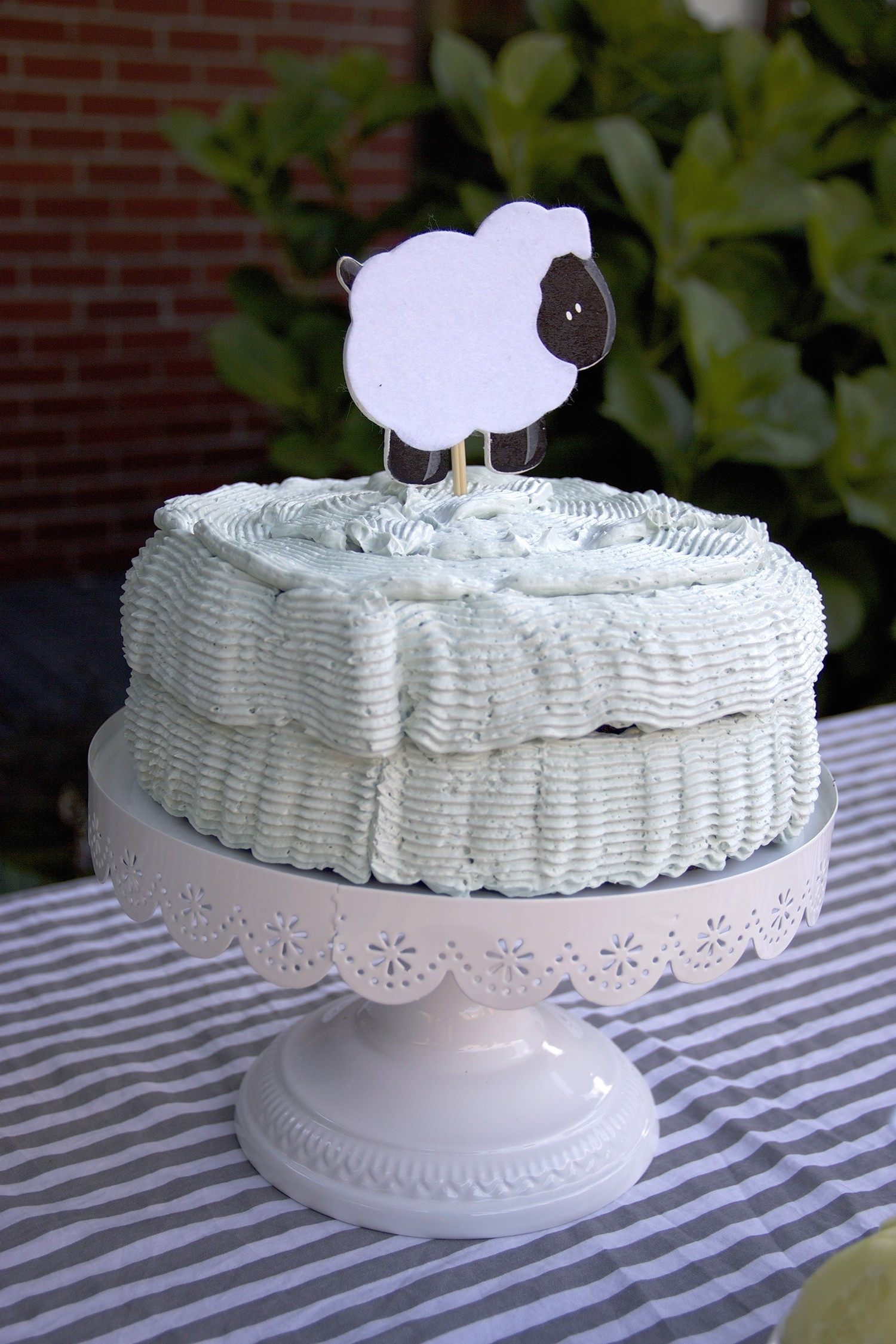 Colored Cutlery & Serving Dishes
The baby shower blue, gray, and white colors were again seen in the serving utensils and dishes that they provided. Tip: Utensils, plates, cups, bowls, and napkins are almost always found at the dollar store in a handful of different colors so be sure to check there and see if they have some in your baby shower's colors.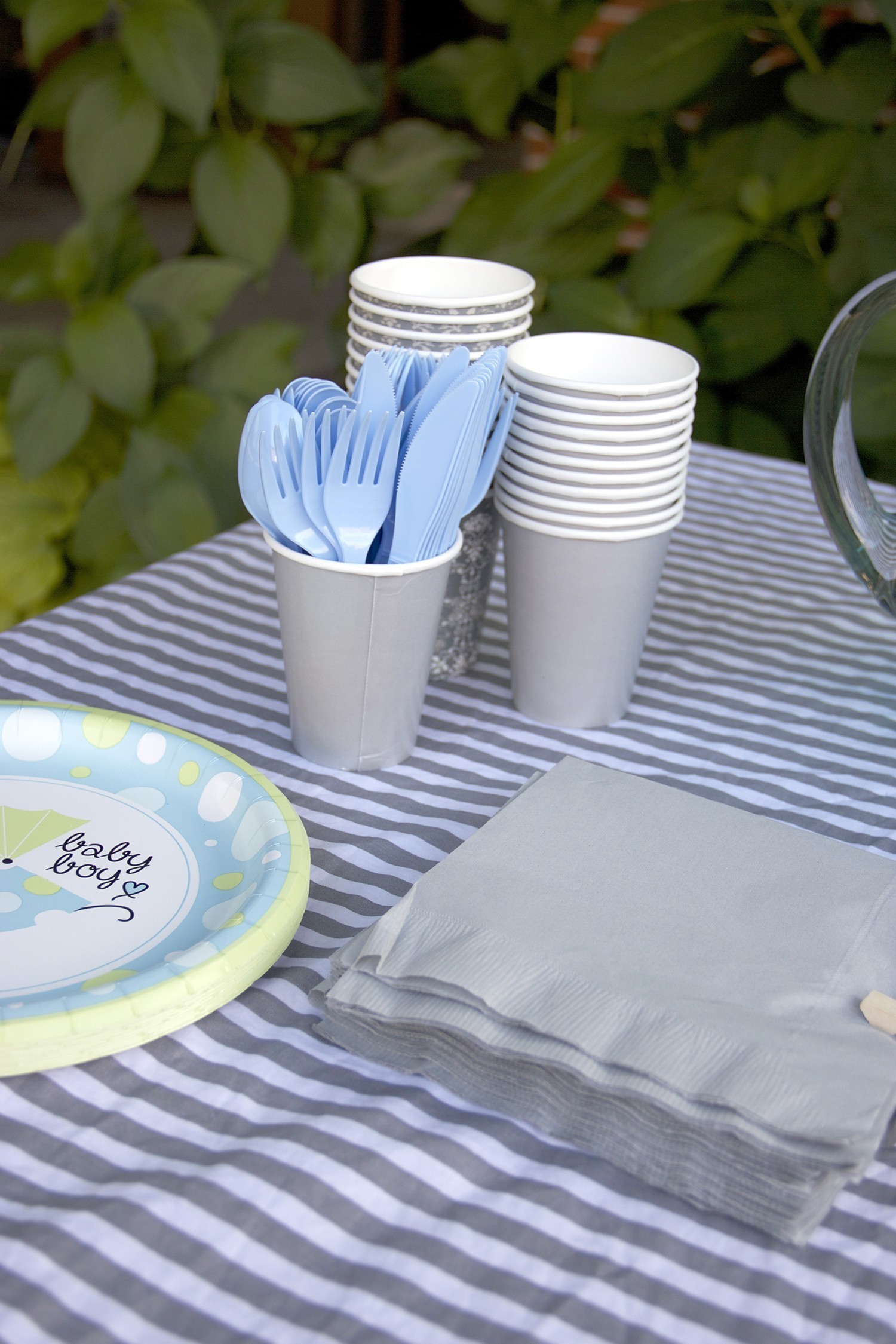 Lamb Themed Baby Shower Menu
Sheep & Baby Lamb Cupcakes
My good friend Katie made these adorable sheep and baby lamb cupcakes. To make the cupcakes, she used a red velvet cupcake recipe but added blue dye instead of red. Click here for a recipe. (Tip: Katie advises you use regular Hershey's cocoa, not Hershey's special dark cocoa, to help them appear more blue.) She then made a cream cheese frosting and got some black cake decorating spray and eye candies to decorate the cupcakes with. To create the fun look, she first piped on the head of the lamb (basically a circle with ears), and then sprayed that black with her cake decorating spray. Next, she piped more white icing around the head for the fluffy wool. Finally, she added the eye candies for the finishing touch.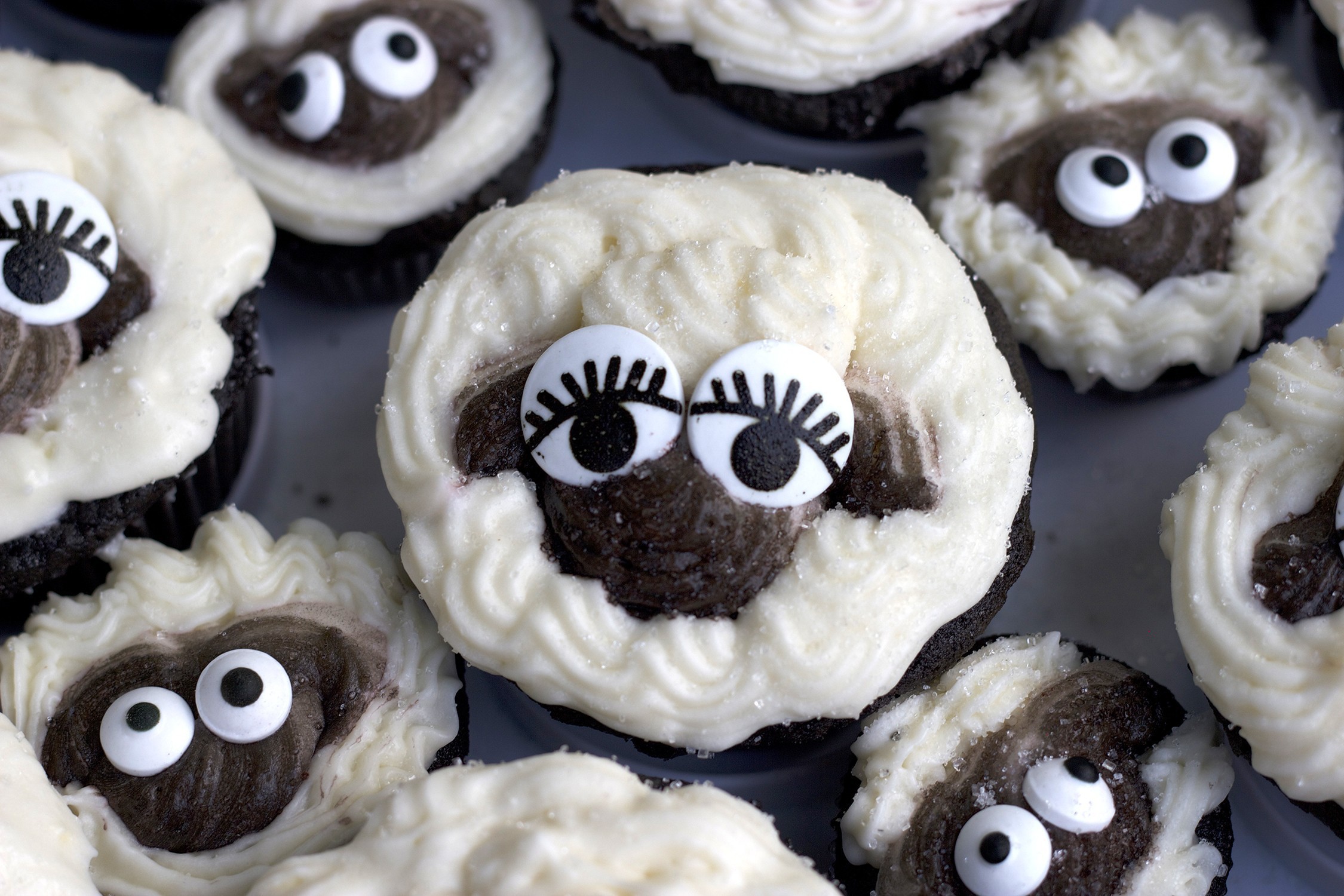 "Ready To Pop!" Popcorn Buckets
Kristen made these fun party favor "Ready to Pop!" popcorn buckets. This classic food is great to serve at a baby shower because it's easy to grab and eat. And who doesn't love a cute play on words? She got the buckets at the dollar store, and then Rachel wrote the "Ready to Pop!" saying on them.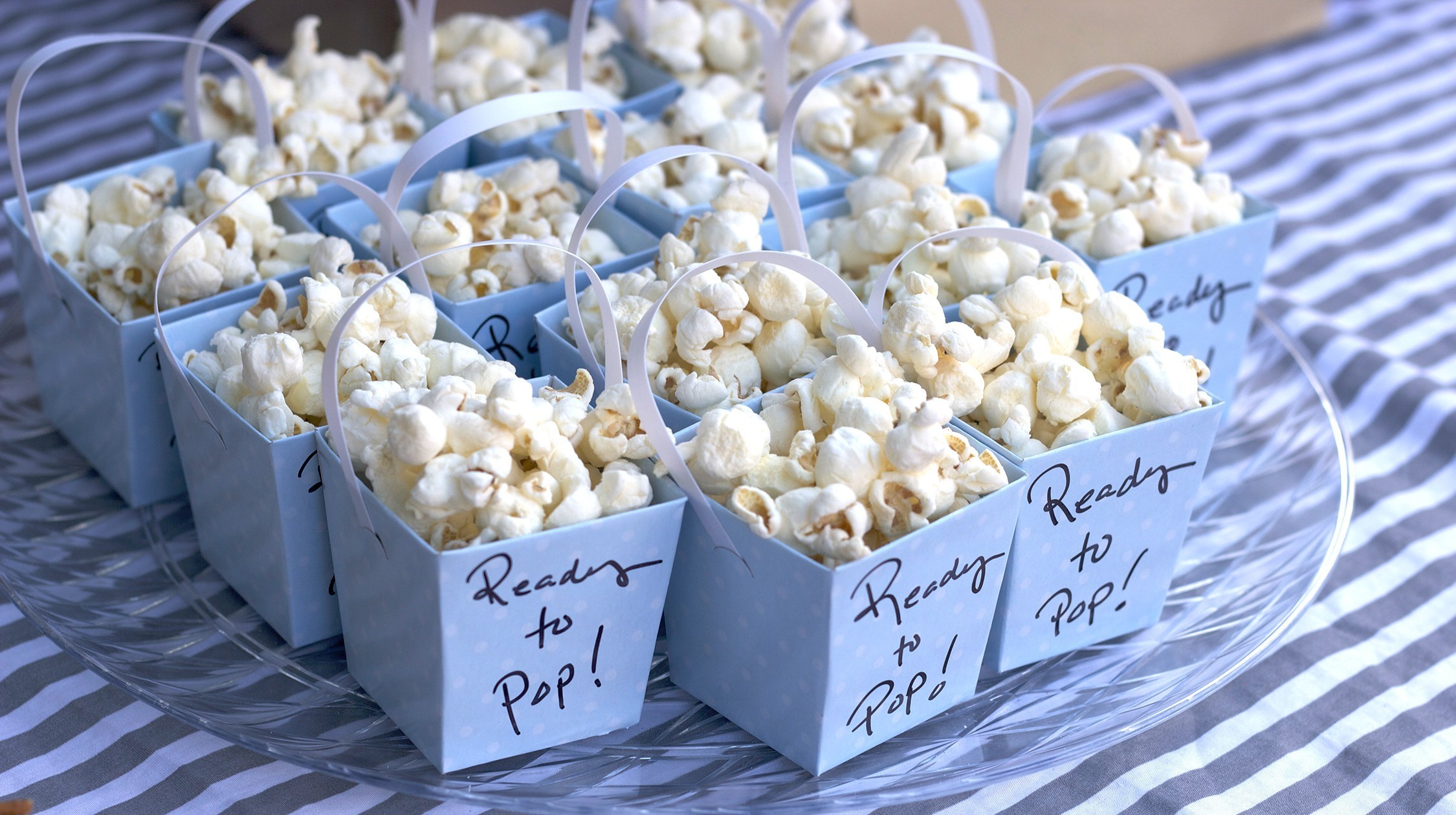 Chocolate Lamb Cake
Rachel's chocolate lamb cake was a huge hit! The chocolate cake was a-maz-ing and she was gracious enough to share her go-to recipe with us. Click here for the recipe to the best chocolate cake ever. She used the frosting recipe also on that link, but so that she could get the beautiful light blue color, she didn't add the cocoa powder but added food coloring instead. (And she only uses 4 cups of powdered sugar instead of 5 cups like the recipe calls for.) To frost the cake, Rachel used this piping tip from Hobby Lobby. (Tip: She recommends using a large pastry bag so that you don't have to refill the bag very often.) Then she just did a push/pull action to get the wavy ribboning effect.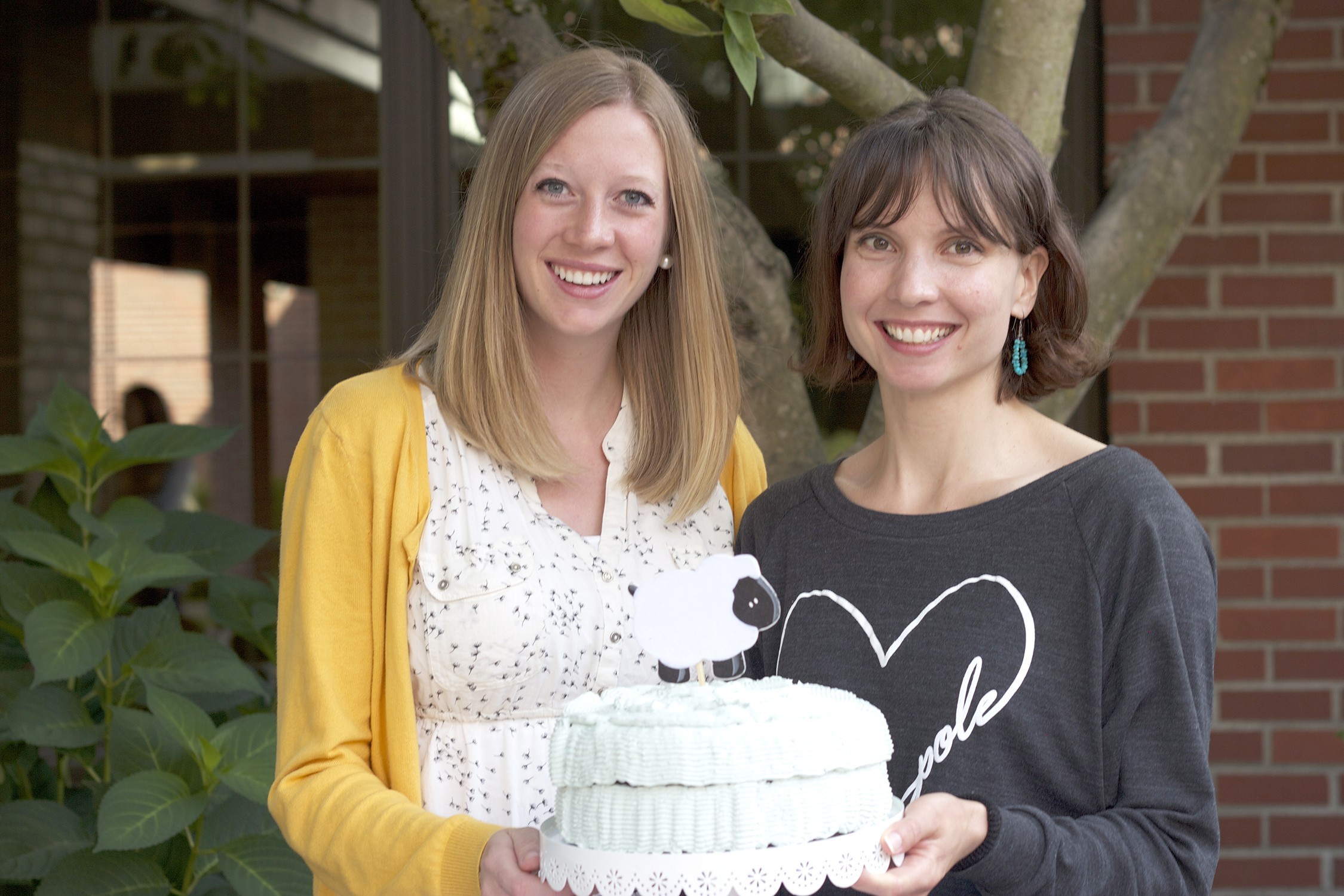 The Drink: Blue Sparkling Punch
If you're going to serve a drink anyway, why not serve one that matches the colors? The drink was a fun burst of blue on the table and looked nice in the glass pitcher. To make this blue drink, simply mix blue Hawaiian Punch with Sprite. Tessa suggests another tasty drink idea: make a blue pina colada (click here for the recipe).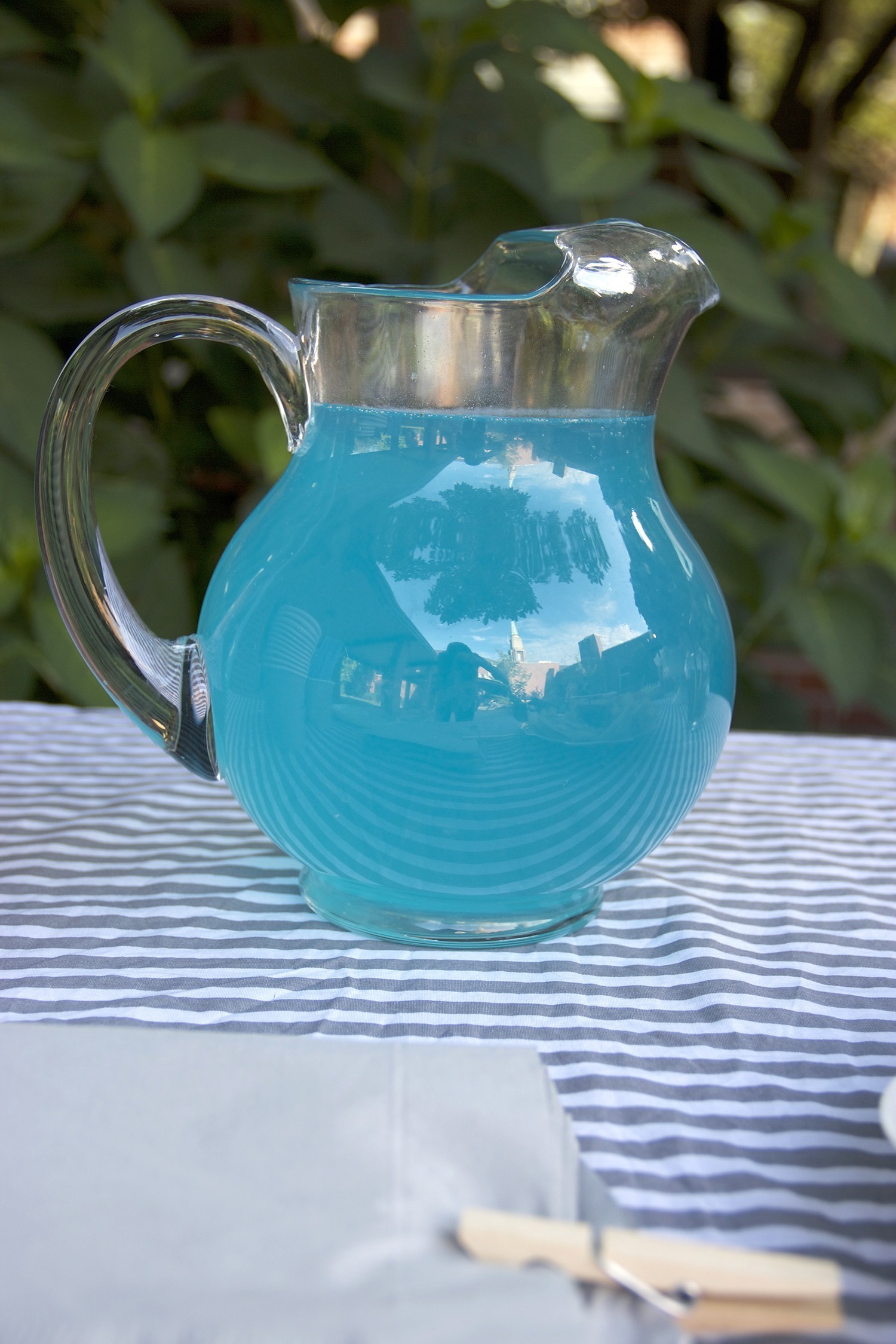 Other Baby Shower Food Ideas
Kristen was kind enough to ask me (as the mommy-to-be) what my favorite snacks were, and she brought those to the baby shower. She made the veggie tray and a pita bread & hummus tray. And then Tessa brought another favorite: a chips & salsa dish. These were a nice balance to the sugary sweets at the shower, and it provided a wider variety of food so that everyone could find something to nibble on.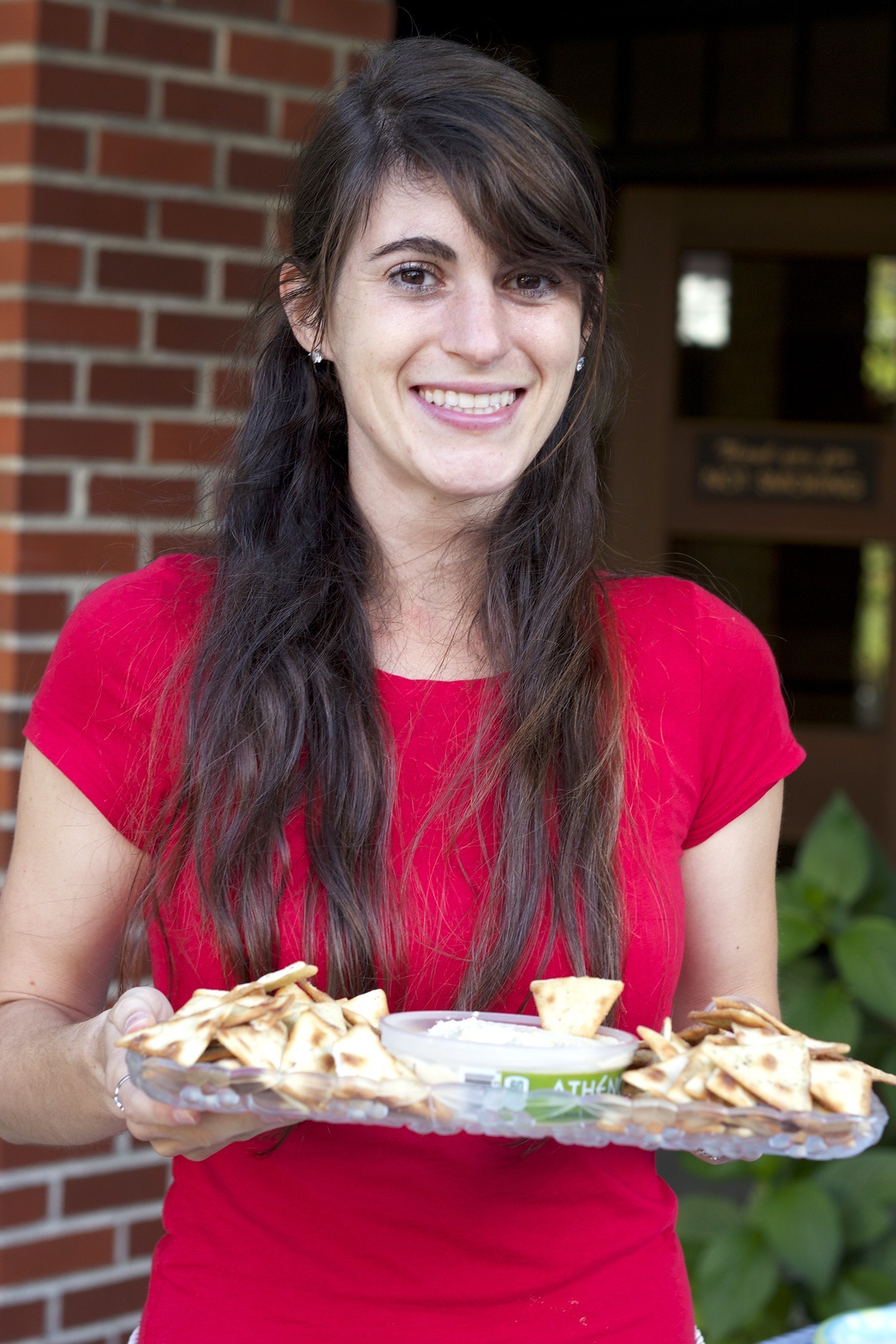 Lamb Themed Baby Shower Invitation
Tessa is responsible for this adorable baby shower invitation. She's an artist and used some of her graphic design know-how to made this lamb themed invitation. I love how simple yet elegant it is. And I love the cute saying she used, "A sweet little lamb is on his way."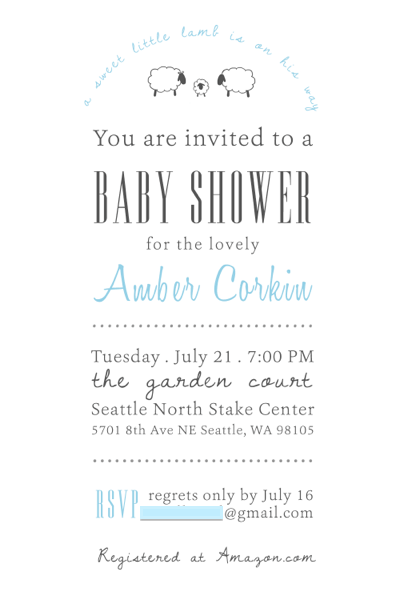 I was touched by all of the thought that went into this lamb themed baby shower. Thanks to Kristen, Rachel, and Tessa for all of their work and planning, and thanks to those who came to celebrate me and my little one. Here are some more fun pictures from the shower:
If you have any other lamb themed baby shower ideas, please share by commenting below!