Amidst the hustle and bustle of the busy holiday season, an ugly Christmas sweater party is the perfect event to keep things lighthearted. I mean, how cool is it that you can take a dozen or so miserably ugly pieces of knitting and turn it into an unforgettable night that is bound to become a tradition?! By nature, an ugly Christmas sweat party is supposed to be laid-back, fun, and casual. So let's keep it that way! In this post we give you our ugly Christmas sweater party ideas so that you can get everyone together without the stress.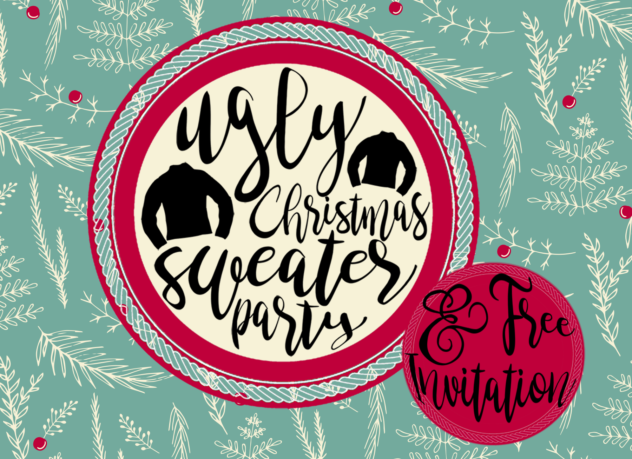 (This page contains affiliate links that we may be compensated for. Your clicks and purchases help support The DIY Lighthouse at no extra charge to you. We only put links to products we would recommend anyway.)
An Ugly Christmas Sweater Party Made Easy
The Invitations
Let's keep things easy and save some trees in the process. Do away with the gold foil, hand-delivered invitations! Rather, text or email your invite to your friends and family. Remember to include the when, where, how (dress up in an ugly Christmas sweater), and what (ugly Christmas sweater party). Or, simply use one of our FREE Ugly Christmas Sweater Party Invitation templates below. All you have to do once you download it is open it in Photoshop or a free editing software (e.g., Canva or PicMonkey) and input your event information details. Then save it and send it!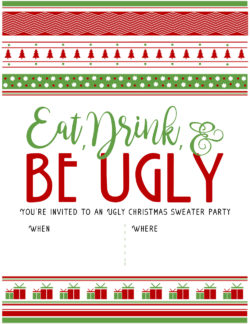 Download Invitation 2
The Food
It's an ugly Christmas sweater party. The food doesn't have to be pretty, and it doesn't have to be expensive. Read our post about how to feed a large group on a budget HERE. And click the links below to read easy, quick, and cheap party recipes!
The Ambiance
When it comes to ambiance, please apply the "K.I.S.S. principle": keep it simple stupid. Fun holiday Christmas music will be the perfect background music for your ugly Christmas sweater party. Either turn on a Christmas Pandora music station (e.g., Christmas radio), or, so you know what you'll be hearing hits the spot, buy some of your favorite holiday songs:
As far as decor goes, feel free to go as sparse or elaborate as you'd like. The sweaters themselves will be decorative and festive. If you're looking for some extra umph to your holiday ambiance, consider adding something to the party:
Activities & Awards
Here are some whimsical, and perhaps "ugly", activities and awards you can play at your ugly Christmas sweater party:
The Ugly Christmas Sweaters
And last, but certainly not least, the ugly Christmas sweaters themselves. I have been to an ugly Christmas sweater party or two in my day, and I have seen a variety of sweater garb. In fact, there are typically 5 sweater categories:
People buy their sweaters new from Amazon or Etsy (like THESE sweaters).
People buy them from the thrift store, like Goodwill, Salvation Army, or Desert Industries.
People find them at the back of their mother or grandmother's closet.
People print out ugly pictures, like a photo of the world's ugliest dog, and tape them to a fairly normal sweater.
People upcycle any sweater (e.g., stringing Christmas lights through their sweater or hanging ornaments from it).
Whichever category you feel is most "you", have fun decking out and enjoying a night with those you love. Family and friends are sure to love it as much as you!
Thrown an ugly Christmas sweater party? We'd love to hear about ugliest sweater in the lot! Comment below!
Other posts you might like: