Being a mommy is such an important, beautiful thing, so celebrating Amber and her little hungry caterpillar on the way was a must-do.  Turns out, Eric Carle's "The Very Hungry Caterpillar" provides amazing inspiration and acts as the perfect shower theme to honor both mom and baby.
Style
Baby showers are a chance to celebrate baby but, most importantly, for family and friends to honor the mommy-to-be. With this in mind, we wanted to go with a clean and classy/rustic style to balance the whimsical, colorful children's book. For The Very Hungry Caterpillar theme, a good balance between maturity and imagination is important. We achieved this by using fun, bright colors found throughout the book while, at the same time, being careful not to clutter the space and by implementing elegant décor.
Invitation
A successful invitation communicates the theme and reflects the style of the party or event in a visually pleasing way. For the specific theme The Very Hungry Caterpillar is, making your own invitation might be best (as opposed to getting a generic invitation). It's really easier than it sounds and allows much more personalizing and creativity. (Click here to see our post on Creating Your Own Party Invitation – Made Simple.)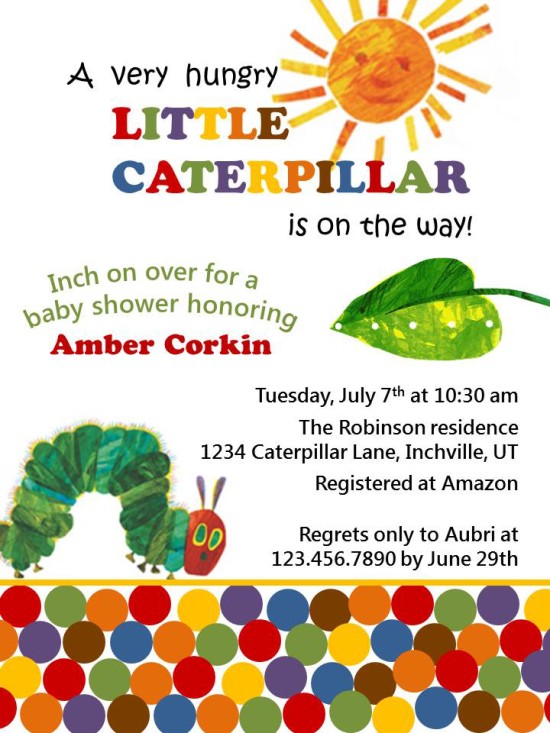 Food
Once the invitation has been sent out, the menu planning can begin! The kind of food and how it is displayed is very important, because it really helps tie everything together. Lucky for us, The Very Hungry Caterpillar practically planned our menu for us! All we had to do was pull pieces from the book we wanted to use. In the book, the caterpillar eats through different foods on each day of the week. Arranging your food in chronological order makes it fun for your guests to sample food alongside the very hungry caterpillar starting on Monday and ending on Sunday.
Here is what we used for the first five days of the week:
Now, Saturday can get a little crazy. I've seen some people try to incorporate every food item the book lists, and it ends up looking overcrowded and overdone. It's better to execute a few things well than cram everything in. We ended up using cupcakes, m&m's, lollipops, and watermelon to present Saturday. We picked those foods because of their fun, bright colors and they taste amazing too… I probably wouldn't recommend pickles and salami. Eww! Here's how Saturday turned out:
The next day was Sunday. He ate through one nice green leaf. This is the perfect opportunity to make your favorite green salad. We went with our classic Caesar Salad, and it was the perfect balance of crunchy and creamy!
Feel free to adapt your Very Hungry Caterpillar baby shower menu to what you like. We'd love to see your ideas (please comment below)!
Décor
Now, we love parties and events on the cheap. One of the best ways to create an inexpensive event is to incorporate something you already have around the house into your party décor. For example, we used a wooden barrel a plant was originally sitting in and some elegant serving dishes to achieve the classic/rustic style we were going for. Whatever you can't find around your house, either make yourself or buy. Our party banner was also made from paper plates, yarn, and cutout letters. DIY is where it's at! In addition to food, we ended up buying a few things, like the fun straws that took our drinks up a notch. And our table backdrop was simply a plastic tablecloth taped to the wall. When it comes to party décor, our advice is to keep it simple. Overdoing it on the backdrop or the table really takes away from the overall look. The Very Hungry Caterpillar is such a likeable theme, and decor is where much of the creativity comes in, so have fun with it!
Let us know how your Very Hungry Caterpillar baby shower goes by commenting below!