Girl bonding time is great whether you're married or not. So, before my friend Emily got married, we had a great excuse to get together and celebrate with a bridal shower. Emily is a witty, easygoing, adventurous gal from Washington who married a handsome guy from India, so when she said she wanted a travel themed bridal shower it seemed very fitting.
If you're looking for some ideas for your own travel themed bridal shower, below I will share what we used for the invitations, food, decor, and game. Also, I did this bridal shower on a budget so you'll find some tips on how to keep your shower inexpensive.
(This page contains affiliate links that we may be compensated for. Your clicks and purchases help support The DIY Lighthouse at no extra charge to you. We only put links to products we love and would recommend anyway for cute travel themed bridal shower ideas.)
Invitation
Whatever route you decide to go with your invitation, try to have it play off of the travel theme. There are really cute travel themed invitations you can get online like the one here. Or if you have the time, you can DIY your invitation and make it look like a postcard (like I did), a plane ticket, a passport, or any other travel-related idea you have.
When you're on a budget and have a tight time constraint like I did, doing an email invitation is a great way to go. The website www.evite.com has some cute and FREE premade invitations that you can use. If you have two seconds and you can use PowerPoint on a computer, then you can create your own free personalized invitation. Click here to learn more about creating your own invitation.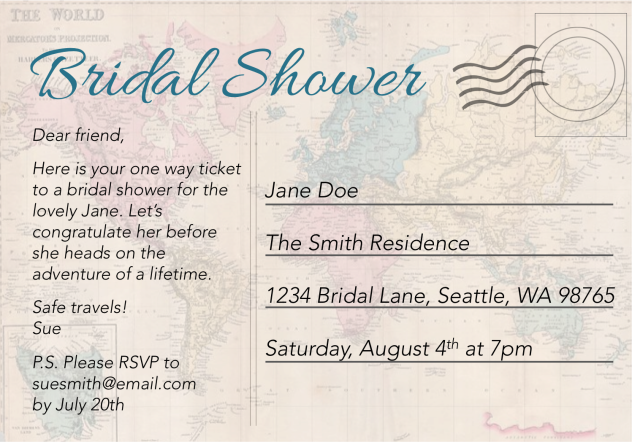 I made my invitation look like a postcard to play off of the travel theme. (In the picture above, I've changed the information to protect the innocent.) If you want to know my process for making this invitation, here were my basic steps:
Opened a white, blank PowerPoint slide

Inserted a picture of a world map that I found online (I also made the picture more transparent so the text would show up better)

Inserted 3 text boxes (1st box–on the left with my message to the guests, 2nd box–on the right with the name, address, etc., and 3rd box–at the top with the bridal shower title) and changed some of the text coloring

Inserted the lines and stamp design by using shapes

Grouped the image, text boxes, and shapes together

Saved it as an image
Feel free to email us with questions about how to go about making your own invitation.
Food
Some people immediately turn to the decor to portray the theme and forget that the food can be such a fun way to incorporate any party theme. For our travel themed bridal shower, I chose five cities from around the world and served food from that city. I tried to have a variety of foods (a fruit, a couple of savory options, and a couple of desserts). To label my food, I used little gift tags. (Here is a cute option for labeling your food.)
My cities and foods were as follows…
Sao Paulo, Brazil: Pineapple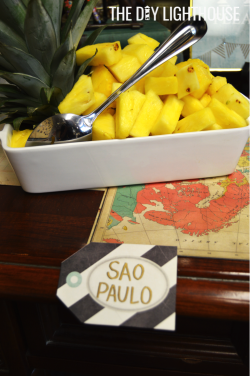 I cut a fresh pineapple from Costco into bite-sized chunks. Another option would be to serve coconut water.
Paris, France: Palmiers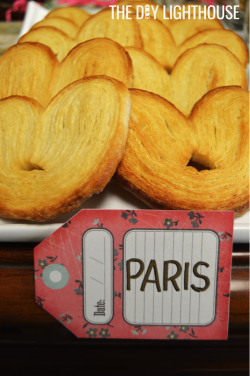 My amazing friend Brittany brought these cute, heart-shaped palmiers from Trader Joe's. Other ideas include macaroons or croissants.
Bangkok, Thailand: Fried Rice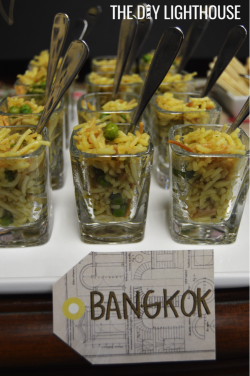 To keep things on budget and for easy prep, I made a couple boxes of Rice-A-Roni Fried Rice that I picked up at Safeway. Not the highest quality food and obviously not from Thailand, but no one seemed to care that it wasn't Bangkok-style fried rice. I served mine in mini individual sized dishes, but this would also work served in a large bowl.
Dubai, United Arab Emirates: Hummus with Pita Bread
This was one of the favorites at the shower, and it was easy to prep and serve. I picked up hummus and pita bread from Costco and cut the pitas into triangles. It makes great finger food.
New York, United States: Cheesecake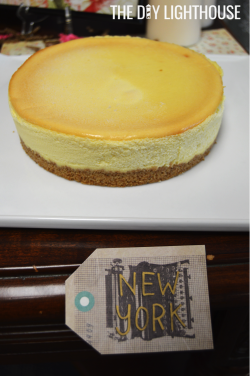 I needed another dessert, so I went with a New York style cheesecake. Other food options for New York include small cups of clam chowder, pizza bites, or mini hot dogs.
I tried to pick cities that were spread out across the world and that would allow me to serve food that was inexpensive, easy to find and make, easy to eat, tasty, and offered a good variety. Feel free to use my cities and food ideas, or come up with some of your own cities and foods.
Decor
You can see from the picture below that I focused almost all of my decor efforts on the food table. (Pro tip: I think focusing decor on one or two key areas is a great way to make a statement but not spend a bunch of time and money trying to decorate an entire room.)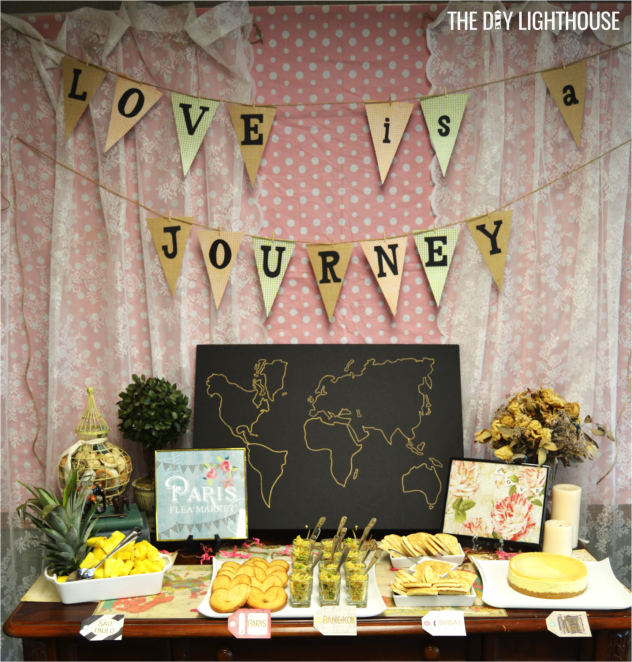 If you have a little bit of money to spend on the bridal shower, then here are some really cute options for things you can get to incorporate the travel themed into the decor: travel themed map banner, travel party table confetti, travel cupcake wrappers and toppers, airplane travel favor boxes, and travel themed water bottle labels.
If you're on a tight budget, stick to things you can find at the dollar store and things from around the house. For my backdrop, I used a light pink polka-dot tablecloth and some thin lace curtains that I had at home, and I hung them behind the food table using thumbtacks. On the table, I staggered some cute sheets of printed paper and some pink and brown crinkle paper. The two pictures (you can see on the table above) I found at the dollar store, and most of the rest of the decor came from around my house. Basically the only other travel-themed decor I had, besides the decor by the food table, was the place for people to put their gifts. For that I used my "coffee table," a black trunk, and hung a "GIFTS" sign from it. I won't go into everything I did because you can get the main idea from the pictures, but below I'll highlight a few tips for decorating.
5 Decorating Tips
1. Make a theme word list
When I found out that the theme of the bridal shower was "travel," I immediately made a list of things that came to mind when I heard that word. My list included: globe, trunk, world map, passport, suitcases, stamps, train, plane. I then made a list of travel phrases that I could use in my invitation and decor: bon voyage, trip of a lifetime, in the whole wide world, land and sea, safe travels, passport to happiness. I recommend going through that exercise with any party you're throwing as those lists got my wheels turning.
2. Pick a color scheme
For this bridal shower, I picked pinks and light blues as the main colors and then threw in accents of black to contrast my use of whites and creams. By picking these main colors, it narrowed my efforts and helped create more cohesive-looking decor.
3. Make your own DIY world map
Click here for a step-by-step tutorial on how to make the DIY world map you see in these pictures.
I would have loved to have a vintage globe and vintage suitcases because I think that looks adorable. (Check out these two cute websites that use globes and suitcases for their bridal shower and wedding: http://ultimatebridesmaid.com/2014/06/18/an-adventure-awaits-travel-bridal-shower/ and http://www.southboundbride.com/fresh-ideas-for-travel-themed-weddings/) If you have those items, perfect! Sadly, I didn't have any and couldn't find cheap ones off of craigslist so I decided to go the inexpensive route and make a world map instead. I bought a black poster at Target and a gold Sharpie and drew my own map. If you're in the same boat, then check out our post on how to make your own world map on a budget by clicking here. Making your own decor instead of buying it can make a bridal shower much cheaper.
4. Make your own travel-themed banner
Having a banner that says, "LOVE is a JOURNEY" ties the bridal aspect and the travel aspect together nicely. Whether you use that saying or another travel-themed saying, making a banner can be an easy way to help get the theme across to guests. Click here for a quick guide on how to make your own DIY party banner.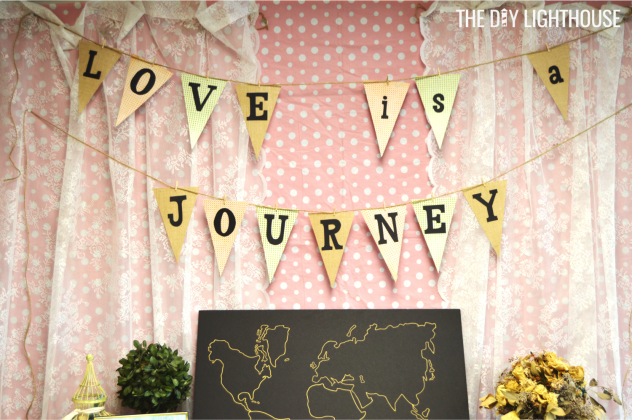 5. Pull decor from around your home
You'll probably be surprised how much decor you can utilize from around your own home. I used my coffee table trunk, old books, dried flowers, seashells, plants, candles, lace curtains, and more for my decor. By using things you already have, you avoid needing to buy decor which will help keep your bridal shower on budget.
Game
Not everyone likes to play games at showers, so sometimes just talking is the best thing to do. But, if you want an idea for a game that you can play, here is a short, fun game: The Bridal Shower Travel Questionnaire.
How to Play: Give each guest a piece of paper with the following ten questions (plus a bonus question) on it and instruct them to fill it out. Have the bride-to-be also fill one out. After everyone has completed the questionnaire, start going through the questions and let the bride-to-be give her answer. If you want, have each guest tell what they wrote down. Whoever has the same answer written down as the bride-to-be gets a point, and whoever has the most points at the end wins.
Feel free to change the questions or come up with some other questions you think are fun, relevant for your bride-to-be, and travel related.
Bridal Shower Travel Questionnaire
What is the bride's hometown?

What is the groom's hometown?

Using 

one

word, where did they first met?

How many countries has the bride been to?

Where are they honeymooning?

What is the bride's preferred method of transportation: airplane, boat, train, or car?

Would the bride rather live in a place that's always very hot or very cold?

Does the bride prefer a window, aisle, or middle seat on an airplane?

If the bride could go to any country in the world which would it be?

What is the bride's idea of a good vacation: sightseeing/museums, outdoor adventure, or relax on the beach?

Bonus: How long until the bride and groom have to buy a third ticket (a.k.a. baby)?
Good luck with your travel themed bridal shower! Hopefully I gave you a good start, but there are so many creative possibilities so please share any ideas you come up with!
If you're looking for another bridal shower theme you can do on a budget, check out our post "Bed & Bath Themed Bridal Shower on a Budget" by clicking here.