This shop has been compensated by Collective Bias, Inc. and its advertiser. All opinions for these effective to-do list tips are mine alone. #PilotYourLife #CollectiveBias
Anyone who knows me knows that I love organizing. In fact, I love organizing so much that I used to work as a professional organizer. The #1 way I stay organized in my own life is by creating daily to-do lists. I started doing this back when I was in high school and haven't stopped since.
Creating an effective daily to-do list helps me stay on track with my long-term goals, gives me a compelling reason to start going in the morning, makes working on tasks more fun, and lets me see all that I've accomplished in a day. (That last one is important to me because as a mom sometimes I feel like I don't get anything done! It's nice looking at a list at the end of the day and seeing everything I've crossed off.)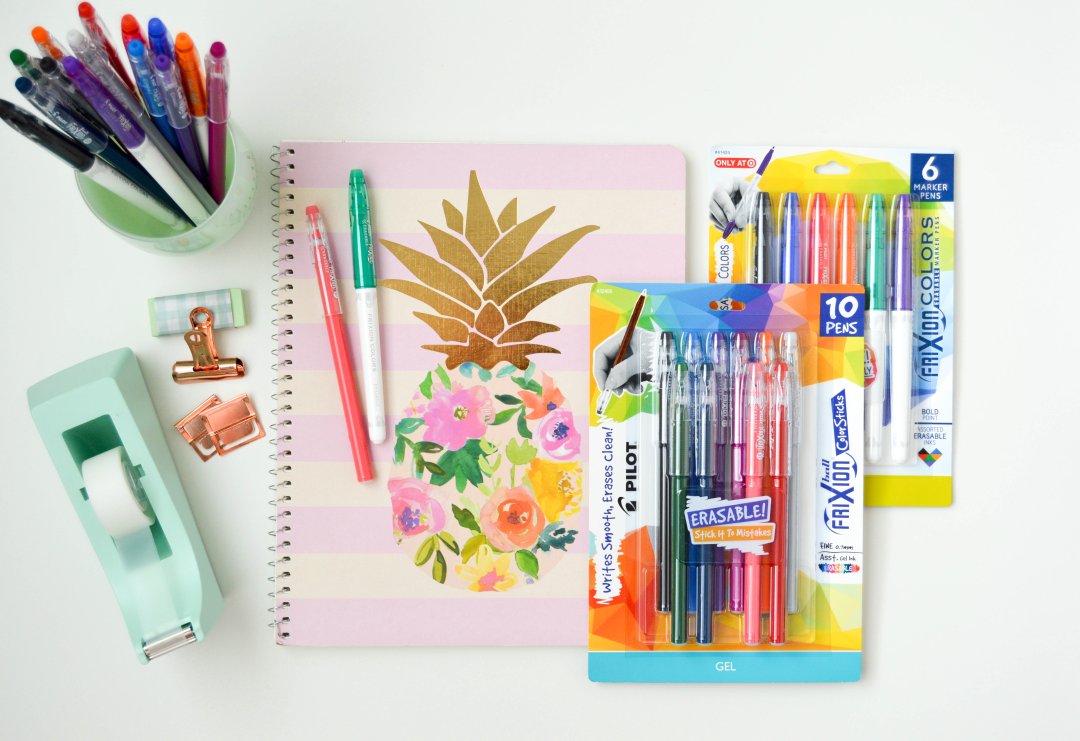 Hover over the image above to purchase products!
In my experience, I have found that a lot of people like physically seeing what they need to do. They also like the action of checking things off a list. Therefore, I'm sharing some tips for how you can best create a daily to-do list so that you can maximize your list's effectiveness.
5 Tips for Your To-Do List
Follow these steps and you will create an effective daily to-do list to help you stay on track and accomplish your goals throughout the day.
1) Keep it Realistic
When goal-setting, you want to make sure a goal is attainable so you aren't discouraged. Your daily to-do list should take the same approach. Let your list push you to accomplish things but not overwhelm you.
If you find that you always have a long list of unaccomplished tasks at the end of the day, take a good look at the list. Are there things you could drop that aren't important? Perhaps consider coming up with a long-term to-do list that has all of these tasks. Then, keep your simplified, daily to-do list more attainable.
2) Use Erasable Pens
Utilizing erasable marker pens will make list writing easier. For the tasks you find yourself adding to your to-do list every single day, write these down with a non-erasable pen. For tasks specific to a given day and for checking things off of your list, you can use an erasable marker pen. This will allow you to erase your checkmarks and day-specific tasks after the day is up, and you won't have to re-write your whole to-do list the next day.
In the picture below you can see that every list item above the pen (the things I do every day) I wrote with a regular pen. Every list item below the pen (day-specific tasks and activities) I wrote with an erasable pen.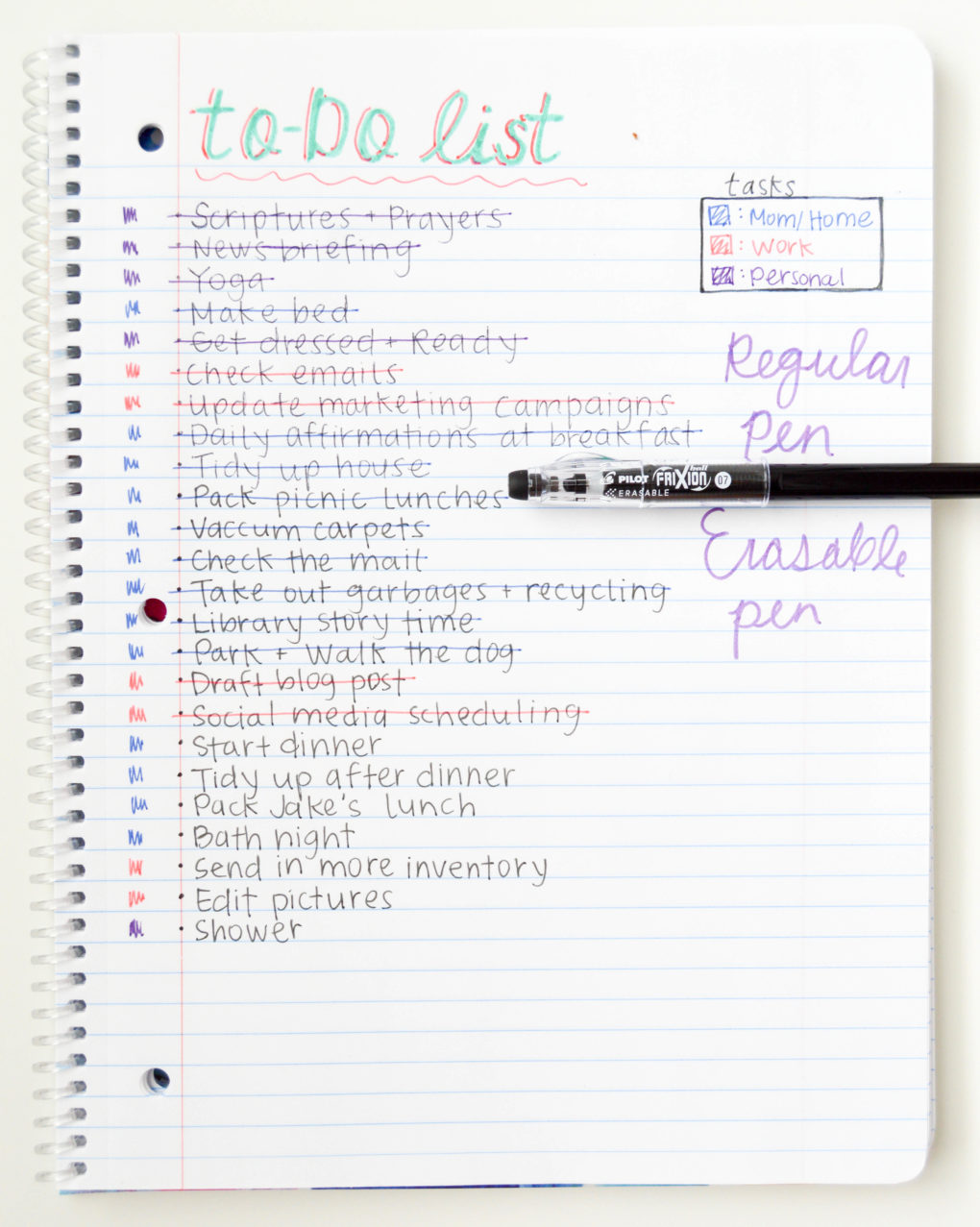 FriXion Erasable ColorSticks and FriXon Erasable Colors Marker Pens erase cleanly without wearing down your paper or making those messy eraser shavings. (If you're wondering how they work, the heat generated from erasing causes FriXion's thermo-sensitive ink to become clear making the writing disappear from the paper.) These are now my go-to replacement for regular pens, pencils, and markers.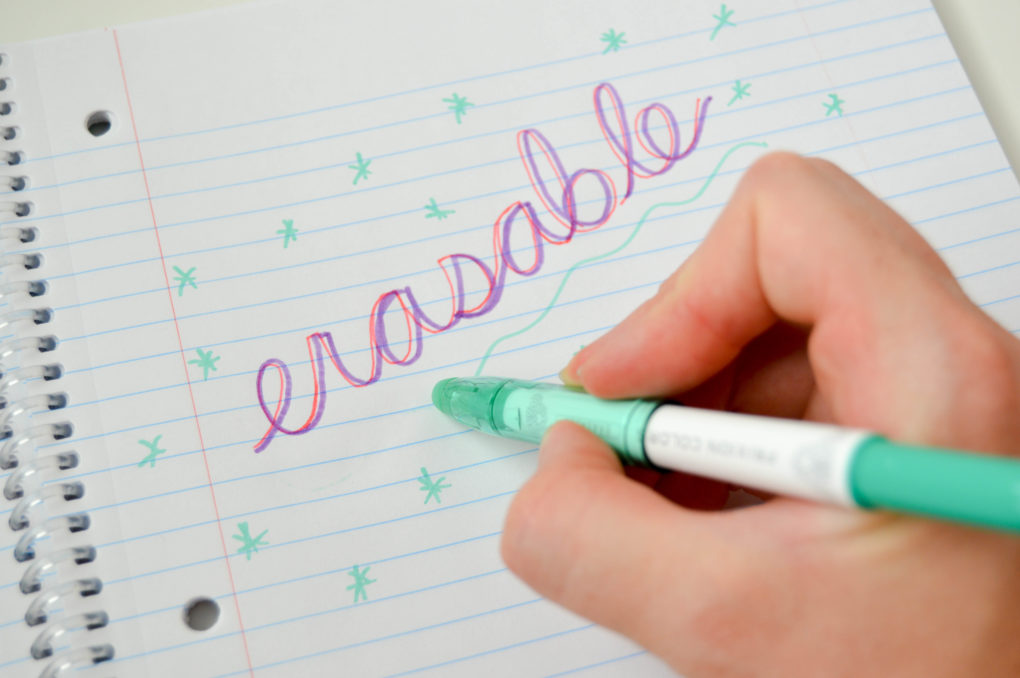 An added bonus is these pens and markers let me color code my to-do list. For me, blue to-do's are mom and home tasks, pink to-do's are work tasks, and green to-do's are personal tasks. Color coding my list has helped me see if I'm dropping the ball in one specific area. If I am, I prioritize differently the next day.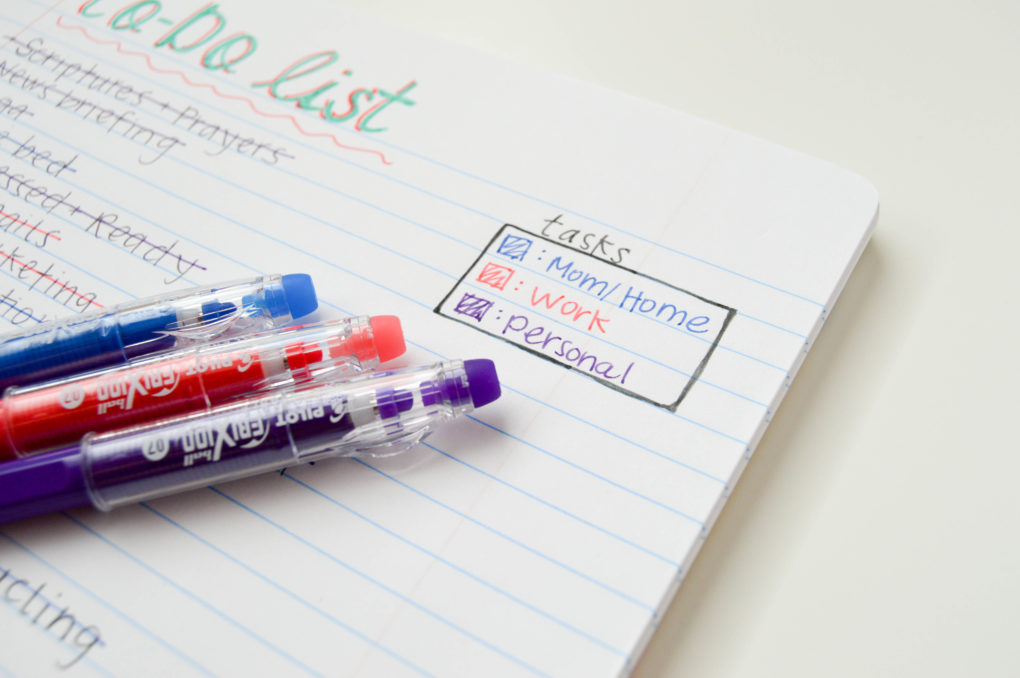 The new FriXion ColorSticks & Erasable Marker Pens are exclusively at Target. They are easy to hold, write smoothly, and the vibrant colors make it more fun. The FriXion ColorSticks large pack comes in 10 colors (small pack in 5 colors). The FriXion Colors Erasable Marker Pens large pack comes in 12 colors (small pack in 6 colors).
I picked mine up in the writing supply aisle, but they are also available in the back to school section at Target.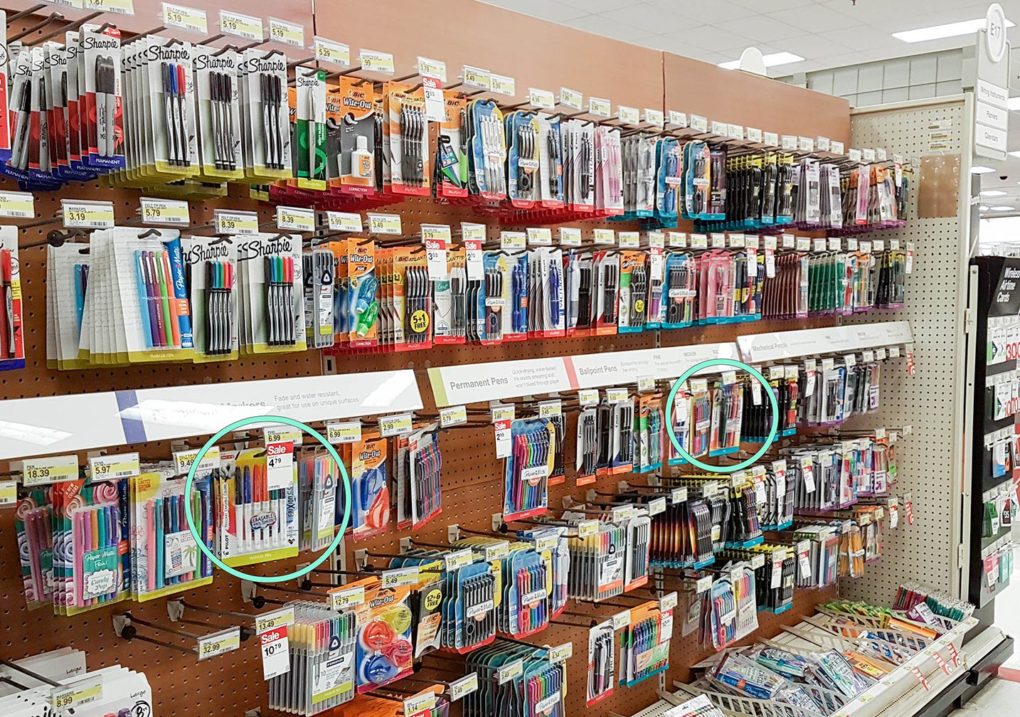 If it's easier, you can purchase products by hovering over the following image. To check out more Pilot FriXion inspiration click here.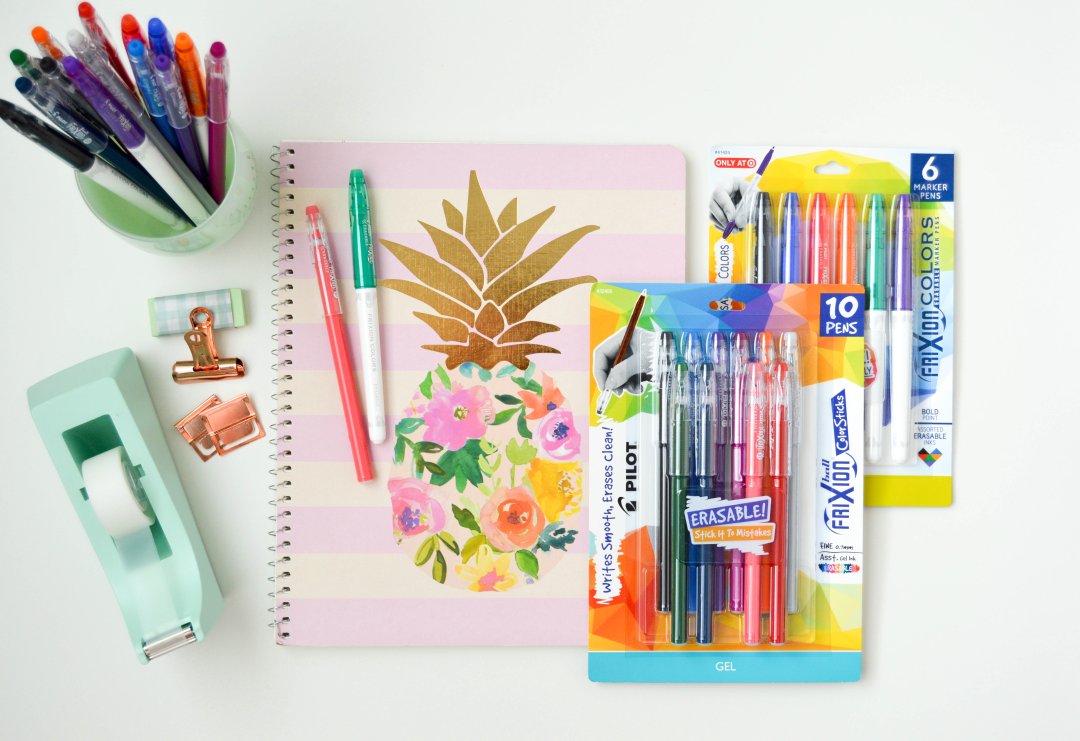 3) Order Helps
Try to put things on your list in the order you think they will be accomplished. For example, put your morning to-do's at the top of your list and things you know you can't get to until later near the bottom. If I've got a long list, then chronologically ordering my list helps me methodically move through my tasks instead of randomly jumping around.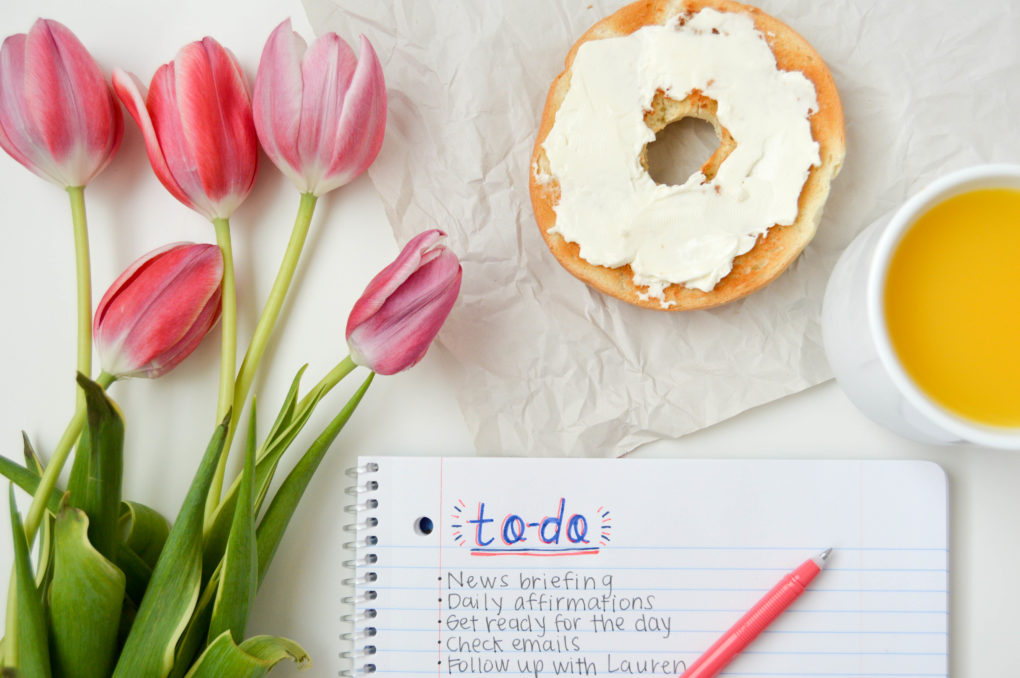 4) Little Tasks are Good Too
It's totally okay to put little things on your to-do list. This is especially true if they are tasks you really dislike doing or have a hard time remembering to do. For example, if the dishes seem to pile up and become overwhelming, you might try putting "breakfast dishes," "lunch dishes," and "dinner dishes" on your to-do list so you have a reminder to stay on top of them throughout the day.
Little tasks are also great for breaking up a daunting, big task into smaller, more manageable goals. For example, avoid writing "clean the kitchen." Instead, write "do dishes," "wash counters," "clean out fridge," and "sweep/mop floor." This will make you less likely to avoid that big chore that you feel like you have to tackle all at once.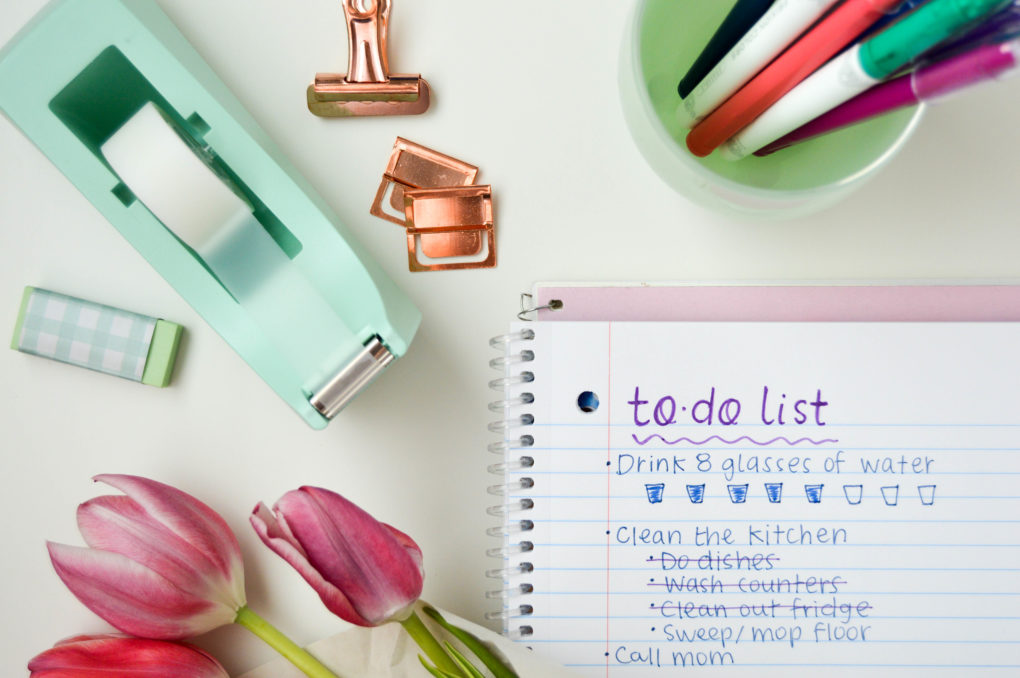 5) Make Your List the Night Before
Morning time can be a very productive time to get things done. By writing your to-do list the night before, you can pop out of bed ready to get going on your daily to-do's without having to first create a list. If you're someone who finds it hard to roll out of bed, then this tip is especially important because your list of already-written tasks can motivate you to get going.
What Do You Think?
Which of these 5 to-do list tips do you like the best? Hopefully these tips will help you stay more organized and productive throughout the day. If you have any of your own to-do list ideas please share in the comments section below!
Pin It For Later

Other Posts You Might Like