This shop has been compensated by Collective Bias, Inc. and its advertiser. All opinions are mine alone. #allessentials #allsulfatefree #CollectiveBias
It's the perfect time of year to go outside and play dirty…with food! It is so fun to get messy every now and then (especially when you're prepared for it), and who better to do that with than family and friends in your own backyard?! I have participated in four organized food fights and have learned some tips along the way: food, activity, and cleanup ideas. Want to know how to host a food fight that's sure to become the event of the year? I hear ya! Just keep reading.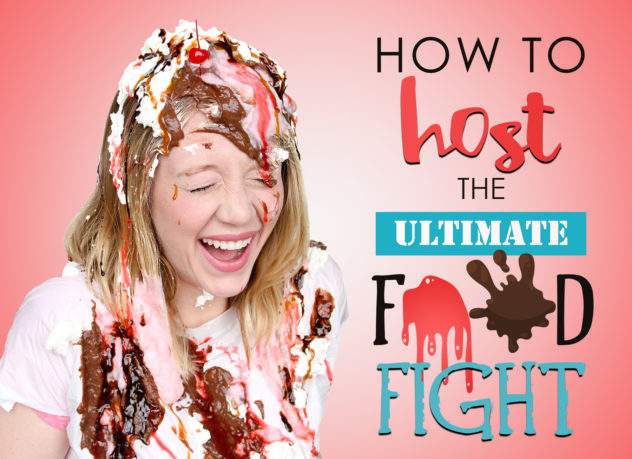 Party & Event Idea: How to Host a Food Fight
Food Ideas
When it comes to food fights, not all food is created equal. Foods that don't really work well for food fights will fall right off people once they make contact. Words like dry and heavy describe foods that won't be great for a food fight (like apple slices or bread). If you've made yourself vulnerable long enough to nail someone with food, you want it to make the biggest impact and continue to do so even after you've run away screaming! Here are some descriptive words of foods you should use: slimy, sticky, and voluminous. Note: If you're going to do a dry food (like crackers or chips) be sure to have a layer of gooey underneath so they stick, or else they'll just slide right off.
Here are some themed food ideas that are perfect to use when hosting a food fight:
A Lunchbox Themed Food Fight
This theme is great for kids if they just finished a year of school or if they're about to head back and need one last hoorah! It is inspired by what you might find in a typical school lunchbox meal.
applesauce
yogurt
shredded cheese
mustard
mayonnaise
ranch
overripe fruit (e.g., banana chunks, raspberries, strawberries)
crumbled chips (if able to stick onto something else)
A Breakfast Themed Food Fight
We've all had breakfast for breakfast. What about breakfast for dinner? Yes?! Just goes to show that breakfast is amazing aaaall day long…even at your food fight. This theme is inspired by foods you'd eat for breakfast.
(wet) scrambled eggs
over easy eggs
softened butter
maple syrup
fruit juice
overripe fruit (e.g., banana chunks, raspberries, strawberries)
jam
powdered sugar
hot cereal
cold cereal (if able to stick onto something else)
A Thanksgiving Dinner Themed Food Fight
An all-you-can-eat dinner should inspire an all-you-can-throw food fight. This theme is for the savory food lovers out there and is inspired by foods you'd eat for Thanksgiving dinner.
runny instant mashed potatoes
green peas
gravy
cranberry sauce
French-fried onions
pumpkin pie filling
whipped cream
wet instant stuffing
creamed corn
cranberries (if able to stick onto something else)
An Ice Cream Sundae Themed Food Fight
If you've got a bit of a sweet tooth, like me and every single other person I know, then this idea just might be the winner. In fact, for this post it was! Seriously though, with an ice cream sundae themed food fight, you can have messy fun and dessert simultaneously. This yummy themed idea is inspired by foods you'd use to make an ice cream sundae.
softened ice cream
chocolate syrup
raspberry syrup
caramel syrup
chocolate pudding
strawberry pudding
whipped cream
overripe fruit (e.g., banana chunks, raspberries, strawberries)
maraschino cherries
chopped nuts (if able to stick to something else)
Keeping Cost In Mind
Depending on the size of your guest list, you may need to take into account the budget a bit more when considering how to host a food fight. Voluminous foods give you more bang for your buck (like bananas instead of raspberries, fruit juice instead of jam, instant mashed potatoes instead of cranberry sauce, and instant chocolate pudding instead of chocolate syrup). Also, buying in bulk is another money-saving tip!
Activity Ideas
There are several different approaches you could take with your food fight. Everybody knows of the free-for-all method where people just go at it and everyone throws whatever they can get their hands on at whoever is the nearest target. While this way of "food fighting" is the most authentic and carefree, it typically doesn't last long and you can end up with a couple people who hog all the food. Depending on how you want your food fight to go, it might be more fun to have a system in place to help the food, and fun, last longer.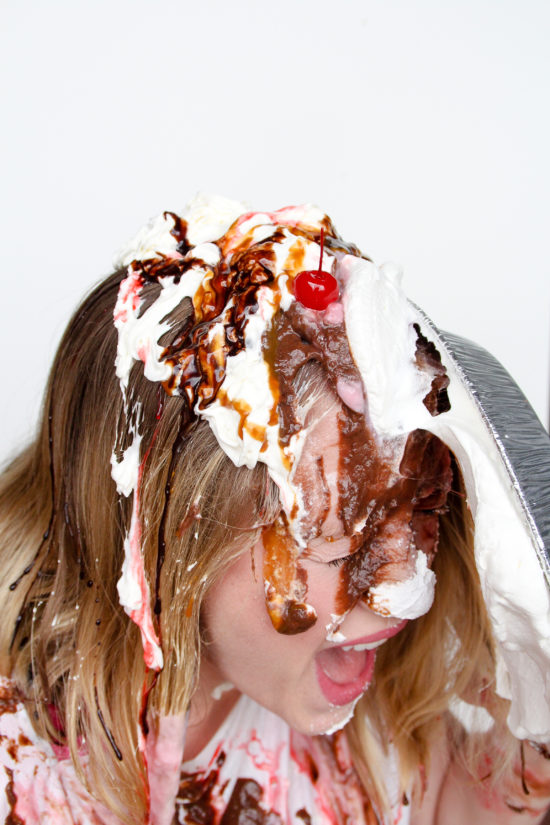 Partnered Games
If you want everyone to "pick on someone their own size" or you're on a group date, this is a great way to go! Divide into pairs and each partnership will throw food only at their partner whenever their partner loses a round or game. Here are some partnered game ideas:
rock-paper-scissors
rolling dice (whoever gets doubles first wins)
hands up, stands up
card games (e.g., spoons)
darts
paper airplane throwing contest
ping pong
Team Games
Team games are better for a large food fight event. It raises the stakes and creates a sense of playful competition. Just make sure the teams are divided up fairly and evenly. Again, the losing team gets food in their face first. Here are some team game ideas:
tug-a-war
Red Rover
Capture the Flag
kickball
sports (e.g., baseball, basketball)
Whatever method you choose, just make sure that every has a chance to throw some food and have food thrown at them. That way everyone will have fun making a mess and getting messy!
Cleanup Ideas
If you're wondering how to host a food fight, you're probably also wondering how to avoid too much of a mess. After all, for the food fight host/hostess, the food fight doesn't just end once all the food has been thrown. That's why preventing, minimizing, and cleaning up from a mess quickly and easily is key! That way you'll be happy to say, "Yes!" when your kids ask you if they can have another food fight.
Garbage Bag Shirts
My favorite way of preventing a food fight mess on clothing is having everyone involved wear a garbage bag shirt. Simply take a garbage bag and cut a small hole in the top for the head and the top of each side for the arms. Repeat for every person.
When the food fight is over, carefully rip the garbage bag down the seam and dispose of it directly into a garbage can. You'll be amazed at how protected your clothes (or swimming suits) are when you're done. Note: The larger the garbage bag, the more mess prevention you'll have.
If you're worried about ruining your hair, shower caps or swimming caps are another way to prevent the mess!
A "War" Zone
A quick and easy way to minimize the mess around the yard is to establish a "war" zone. Set clear boundaries where people are allowed to throw food and what areas are off limits. This contains the mess and provides faster cleanup of the battlegrounds.
Powerful, Safe Laundry Detergent
Know that even with mess prevention, you'll probably end up with some food on your clothes, especially with younger kids. That's why it's so important to prepare for it and have an easy, powerful cleanup product on hand. We ended up with some chocolate syrup on our two-year-olds' tank top. No biggie! Why? I love the NEW sulfate free all® fresh clean ESSENTIALS® product that just became available (at select Walmart stores) at the end of April 2017! It is really easy to find; simply look for it on the top shelf in the laundry aisle at your local Walmart.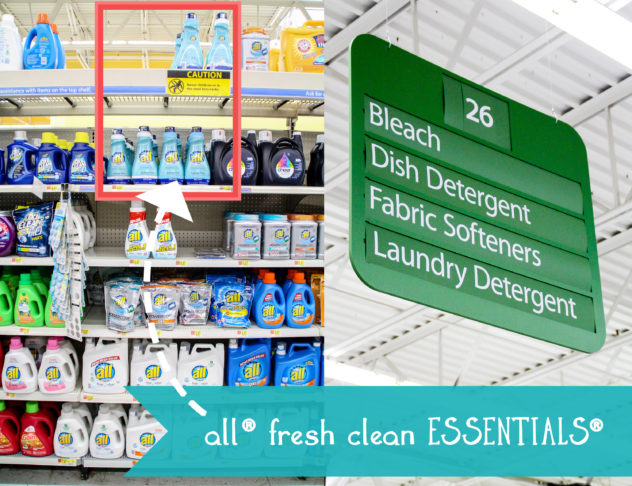 Whether you prefer a fresh scent or are more of the fragrance-free type, you're good to go! Walmart actually carries both fragrance free and fresh scent in 36.4oz/28ld. For me, there is nothing better than the fresh smell of clean clothes, so I prefer all® fresh clean ESSENTIALS® fresh scent.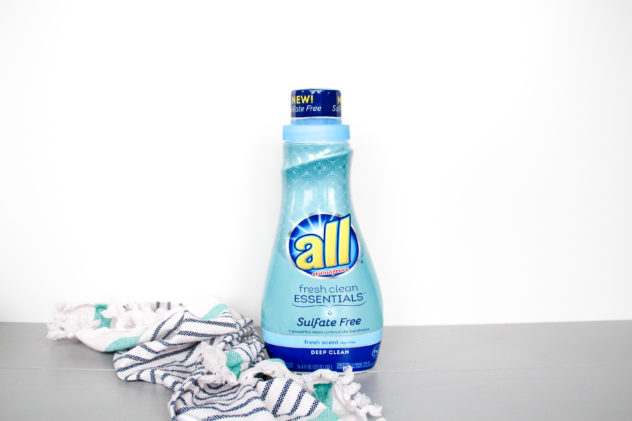 Either all® fresh clean ESSENTIALS® scent includes the ingredients on the back of the bottle. Isn't it so great knowing what ingredients are actually going onto your family's laundry?! I'm a fan. It is one of the first laundry products to (1) put ingredients out there for consumers to know what the ingredients even are and (2) let us why they're essentials. (You can read all about these essential ingredients and see them in action on their website here!) And the detergent is user-friendly in design and instruction.
So we had this chocolate-syrup-stained tank top that I wasn't ready to part ways with. Well, all® fresh clean ESSENTIALS® has a sulfate-free formula that infuses clothes and other fabrics with essential, proven and effective ingredients for deep cleaning and stain lifting even on the toughest stains (aka chocolate syrup). So your food fight may not be mess-free but it can be worry-free! NEW sulfate free all® fresh clean ESSENTIALS® delivers a powerful clean without harshness. What parent doesn't love that?!
Snag $1.50 off one all® fresh clean ESSENTIALS® by clicking here or on the image below! They are available from May 1 – July 31 only while supplies last, so don't wait until your food fight. Grab your coupon now and use it the next time you're shopping at Walmart!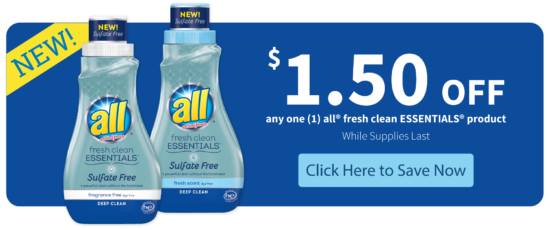 Now that you know how to host a food fight, I hope all of your family and friends have fun being like messy, carefree kids for a day! Let us know if you have food, activity, and cleanup ideas for your ultimate backyard food fight by commenting below!
Pin it!

Other posts you might like: