There is nothing like a tasty homemade pizza for family dinner! My family (the Corkins) love pizza so much that we try to make it a weekly (Friday night) tradition. When we can, we make our own homemade pizza from scratch and it rivals some we've had at restaurants for sure. Out of the goodness of our hearts, we're sharing our Corkin homemade pizza recipe with you–what we might be so bold to call the best homemade pizza recipe around. It doesn't even taste homemade! We'll also let you in on our family's favorite pizza topping combos.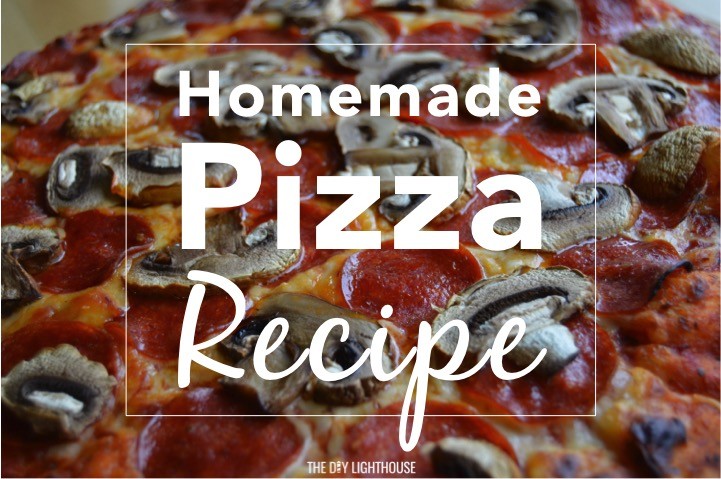 The Corkin's Favorite Pizza Topping Combos
To give you some inspiration before you gather your ingredients, here are some of our favorite pizza combinations. Decide on how you want to make your pizza by picking a combo we mention here or making up your own. If you can't decide, go half-and-half. It's always fun to experiment!
(This page contains affiliate links that we may be compensated for. Your clicks and purchases help support The DIY Lighthouse at no extra charge to you. We only put links to products we love and would recommend anyway.)
Pep & Mush
Pepperoni, mushroom, mozzarella cheese, red pizza sauce
Chicken Barbecue
Shredded chicken, mozzarella cheese, barbecue sauce
Mediterranean
Shredded chicken, asparagus, capers, spinach, artichokes, kalamata olives, feta cheese, mozzarella cheese, white pizza sauce or pesto sauce
Jalapeno Pep
Jalapeno, pepperoni, mozzarella cheese, red pizza sauce
Ranch & Frank's
Pepperoni, mozzarella cheese, mixture of Frank's hot sauce and Ranch dressing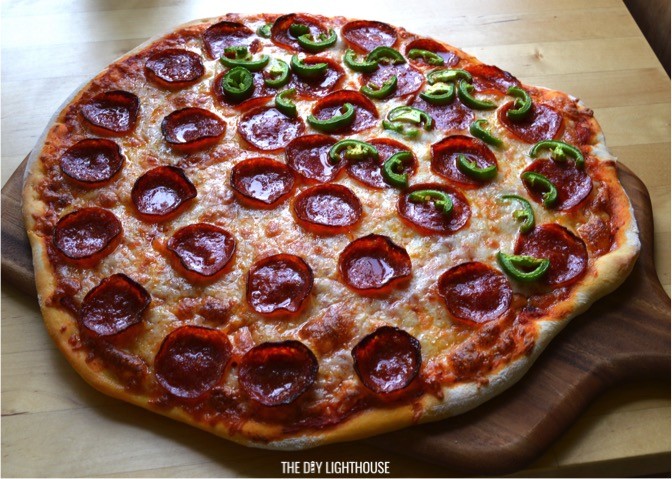 The Corkin's 
Homemade
Pizza Recipe
This homemade pizza recipe makes two large pizzas that will be so good you may not have any leftovers.
Homemade Pizza Ingredients
Pizza Dough
3 1/2 cups bread flour (plus a little more for kneading/rolling out dough)
1 teaspoon sugar
1 envelope instant dry yeast
2 teaspoons kosher salt
1 1/2 cups hot water
2 tablespoons olive oil, plus 2 teaspoons
Pizza Toppings
1 jar pizza sauce (the better quality, the better)
1 bag shredded mozzarella cheese
other toppings
Homemade Pizza Directions
Prep the Pizza Dough
Put the bread flour, sugar, yeast and kosher salt in the bowl and mix with spoon to combine. Then add the water and 2 tablespoons of the oil and mix until the dough forms into kind of a ball. If the dough is super sticky, add additional flour a little bit at a time. If the dough is too dry, add additional water a little bit at a time.
Scrape the dough onto a lightly floured surface and knead into a ball with your hands. The dough should be kind of sticky but not sticking all over your hands. (Add flour as needed to make less sticky.) Knead for 7 minutes.
Grease a large bowl with the remaining 2 teaspoons olive oil, set the dough inside, and cover the bowl with a damp kitchen towel. Now put the bowl in a warm area to let it double in size, about 1 hour. (I put it in my oven and turn the oven on "warm" for the first 5 or so minutes and then turn the oven off so it will stay warm throughout the hour without getting too hot.)
Roll out the Pizza Dough
Preheat your oven to 450°F. Divide the dough into two even portions. Then on a lightly floured surface, roll out each half one at a time to make 2 pizza doughs. (Tip: When I didn't have a rolling pin, I used a sturdy water bottle… it's okay to improvise!)
Add Pizza Toppings
Carefully place one of your pizza doughs on a pizza pan or pizza stone. (I use a pizza pan like this one.) Add your sauce, cheese, and toppings.
Bake the Pizza
Bake at 450°F for 10-15 minutes. Pull the pizza out of the oven and run a spatula along the bottom to make sure there are no parts sticking to the pan. Cut your pizza with a pizza wheel cutter. Serve warm and enjoy!
Pin It For Later

Other Posts You Might Like