School starts soon and for a lot of people that means sack lunches! I often find myself making the same sandwiches over and over again. Sometimes I get stuck on a peanut butter and jelly kick, but then I get sick of them. It's nice to shake things up and make some different sandwiches for a change. If you're looking for sandwiches to put in those back-to-school lunches, hopefully these healthy sandwiches for kids will be easy for you to make and something the kids will love.
Below are five sandwich ideas–one for each day of the school week! The sandwich names start with the letter A and end with E to help your kids learn their ABC's. These sandwiches are quick and easy, so give them a try!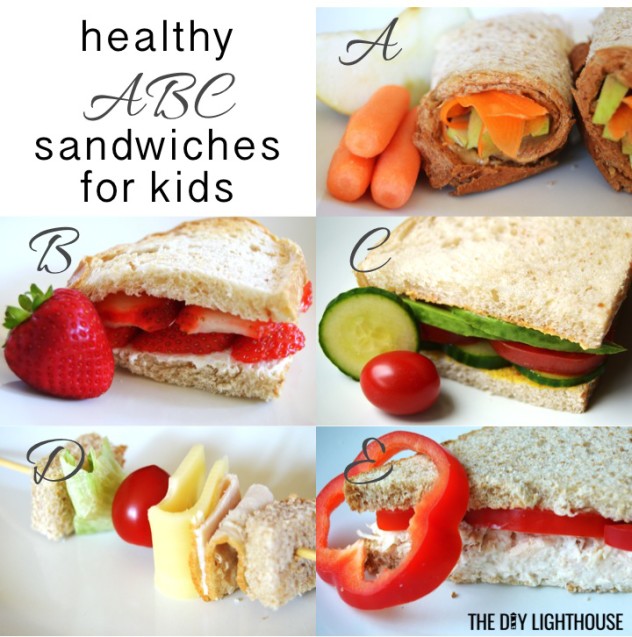 5 Healthy Sandwiches for Kids
A:
A
pple PB Roll Ups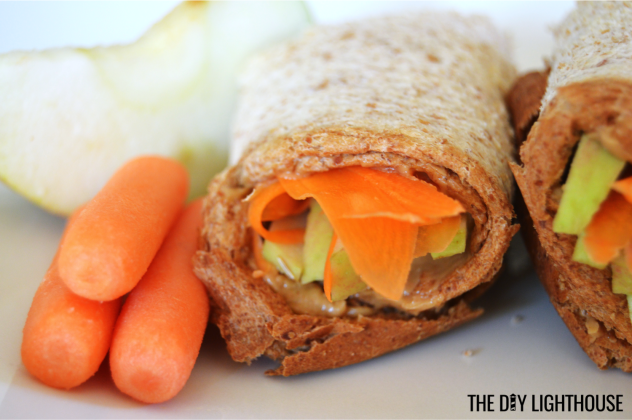 Apple slices and grated carrot on peanut butter
Apples go great paired with carrots and with peanut butter, so all three make a delicious combo. Just cut some thin apple slices, grate a carrot, grab your peanut butter jar, and you're ready to go. Flatten a piece of bread (using a rolling pin), spread on the peanut butter, pile apples and carrots on one end, and roll the whole thing up. If you'd rather, you can make these roll-ups with a tortilla or a thin pita bread. You can make sure the wrap doesn't unravel by sticking a toothpick through it. (Tip: If you're worried about your apples turning brown, then dip them in pineapple juice or lemon juice to slow the oxidation process.)
B:
B
erry Yummy Sandwich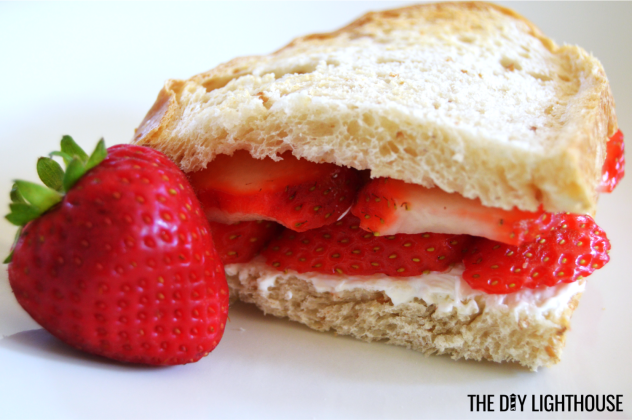 Strawberries (or other berries) and cream cheese
One thing I love about this sandwich is that it's almost as quick as making a PBJ! All you have to do is spread cream cheese on bread and add strawberry slices (or another berry). If your kids love peanut butter, then feel free to substitute peanut butter for the cream cheese. By doing so, you are making a PBJ sandwich without the sugary jam.
C:
C
AT Sandwich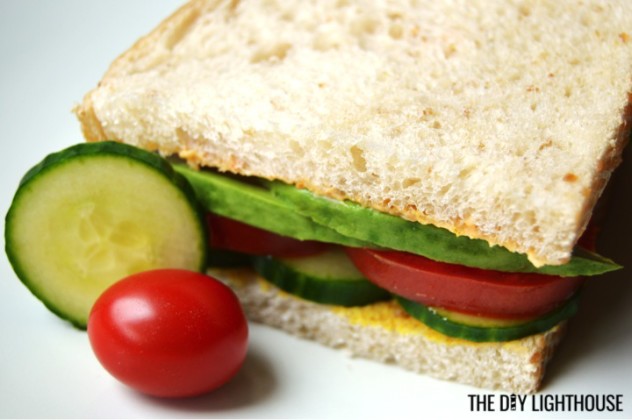 Cucumber, avocado, and tomato
This sandwich is inspired from the classic BLT (bacon, lettuce, tomato) sandwich, but with a healthy twist and a name that is more fun for kids, hence, the CAT (cucumber, avocado, tomato) sandwich. The purpose of this sandwich is to get your kids to eat more veggies. Spread your bread with mustard, mayo, hummus, or a combo. Thinly slice your veggies and stack them on. If you want to try and make your veggies look like a cat, then go for it and have fun!
D:
D
econstructed Sandwich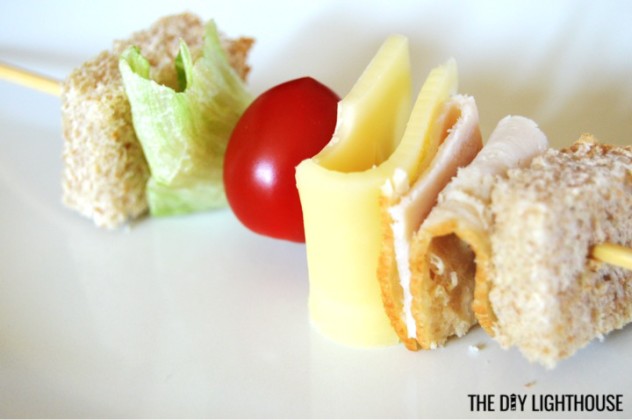 Turkey, cheese, grape tomato, lettuce, and bread on a stick
The deconstructed sandwich really breaks up the sandwich monotony. Collect the different ingredients that you would use to make a sandwich (like bread, turkey, cheese, grape tomatoes, lettuce, etc.), and cut them into bite sized pieces. Get a wooden skewer stick, and slide on the different pieces. If you want, cut off the sharp end of the stick before wrapping the whole thing in plastic.
E:
Eat Me Chicken Salad
 Sandwich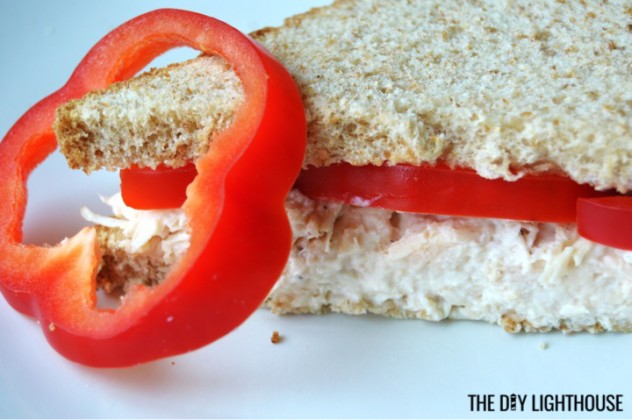 Chicken salad and pepper slices
If your kids love chicken, this sandwich is a great way to sneak in some veggies. For the kids who are prone to picking veggies out of their food, you can cut up the pepper into little pieces and mix it into the chicken salad. For this chicken salad, you can use a can of Costco's Kirkland Signature Premium Chunk Chicken Breast and mix it with a bit of mayo. Spread the chicken salad mix on some wheat bread and top it with some colorful pepper slices. Chicken salad is great paired with most veggies, so if you'd rather use lettuce, tomato, cucumber, avocado, or another vegetable, then feel free.
Hopefully this list gives you some good sandwich ideas! Do you have some other sandwiches you like to make for your children? Please share in the comments below if you have some quick and easy, healthy, and yummy sandwich ideas. We'd also love to hear if you try out any of these ABC sandwiches and how it goes!
Check out our post Healthy Snacks for Kids: 5 ABC Back-to-School Snack Ideas by clicking here.