This shop has been compensated by Collective Bias, Inc. and its advertiser. All opinions for this sandwich recipe are mine alone. #SandwichWithTheBest #CollectiveBias
When you've got a husband who takes a sandwich to work for lunch every day like I do, sometimes you need a new recipe thrown into the sandwich rotation. With spring around the corner, I'm thinking of fresh sandwiches to add to the mix. But let's be real, we don't have a million years to make lunches, so quick and easy sandwiches are definitely good. Well, I have a fun and flavorful sandwich recipe that only has six ingredients. Inspired by spring and the approaching sunny weather, my Hawaiian Barbecue Sandwich might just because a new favorite.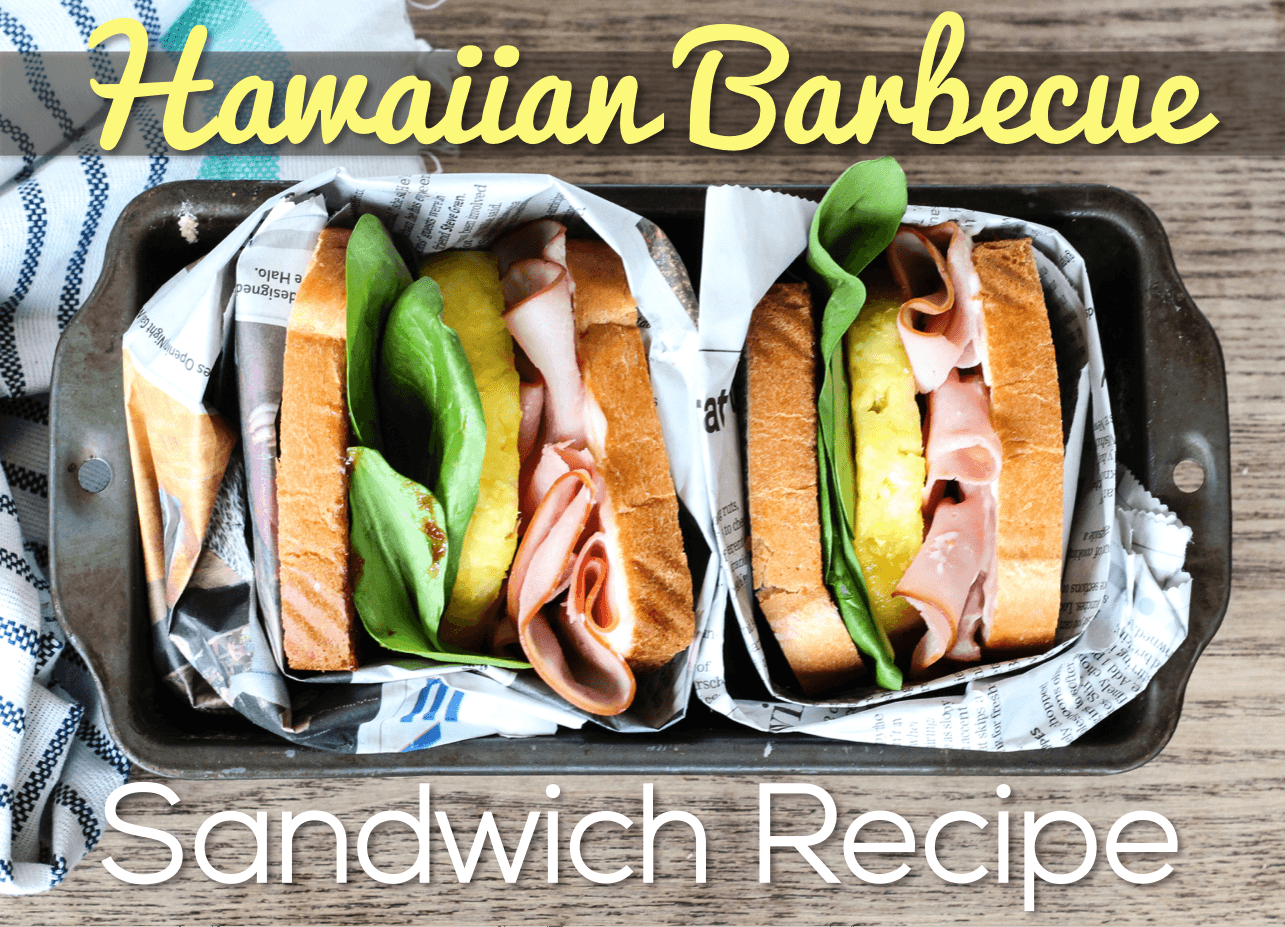 Spring Hawaiian Barbecue Sandwich Recipe
You are only six ingredients and four easy steps away from savoring a delicious Hawaiian Barbecue Sandwich.
Hawaiian Barbecue Sandwich Ingredients
2 slices Pepperidge Farm Farmhouse™ Hearty White bread

1-2 tablespoons Hellmann's® Real Mayonnaise 20oz. Squeeze

1-2 tablespoons barbecue sauce

4 slices Hillshire Farm® Thin Sliced Honey Ham lunch meat (9 oz Resealable Tub)

2 pineapple slices

Spinach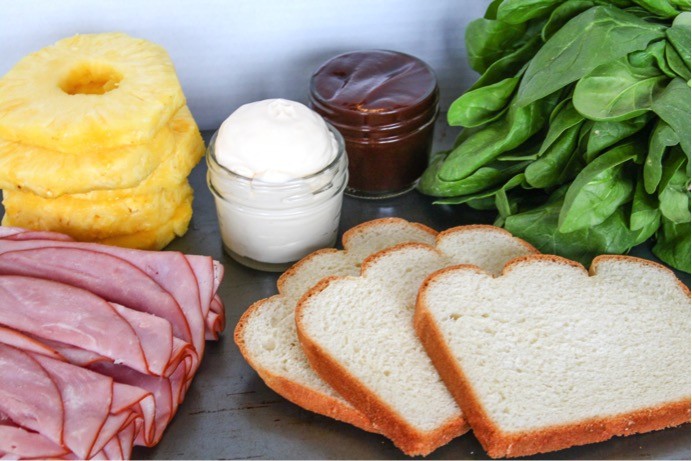 Hawaiian Barbecue Sandwich Directions
Follow these step-by-step directions for a quick, easy, and delicious Hawaiian Barbecue Sandwich.
Step 1) Get your ingredients
Walmart is a great store for grocery needs–it's got everything. If you are going to Walmart, you can expect to find the Pepperidge Farm Farmhouse™ Hearty White bread in the packaged bread aisle. The Hellmann's® Real Mayonnaise 20oz. Squeeze is down the condiments aisle, and the Hillshire Farm® Thin Sliced Honey Ham lunch meat is in the packaged deli section. Walmart will also have barbecue sauce, pineapple, and spinach.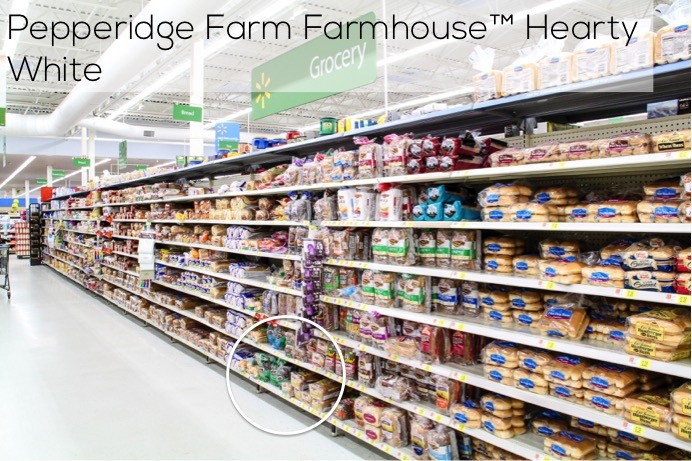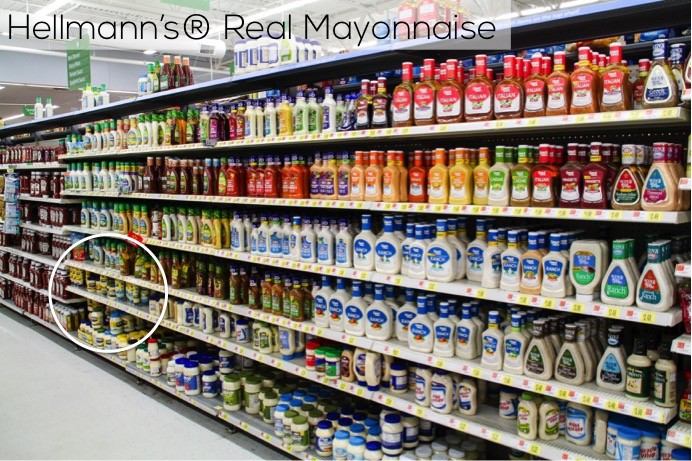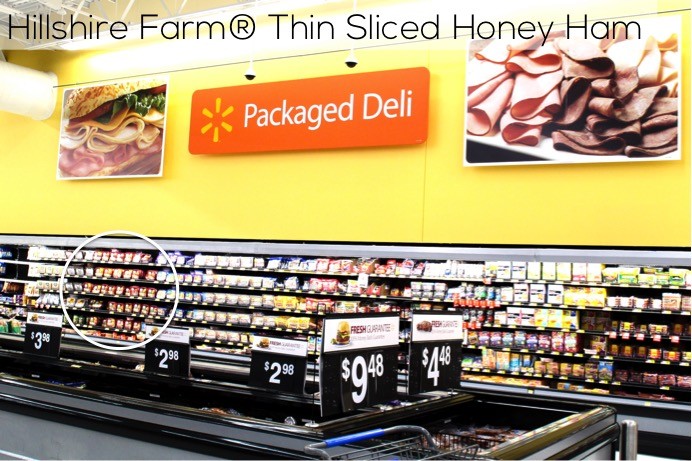 Step 2) Lay out 2 pieces of bread
The bread you use can really make or break a sandwich. Luckily, Farmhouse Hearty White bread is delicious. It's soft but firm enough to hold everything inside without flopping over. The best part is it was slow baked and tastes fresh like it has that baker's touch. (Pro Tip: Notice that double-wrapping? That helps Pepperidge Farm® sandwich bread stay fresh.) Overall, it is a top-notch bread choice for making sandwiches.
The Farmhouse Hearty White bread in particular is a good pairing for this sandwich recipe. To prep for making your sandwich, pull out two pieces of bread and lay them flat.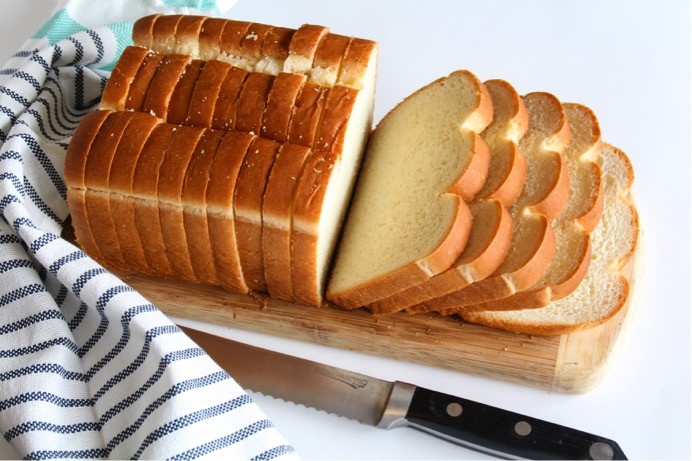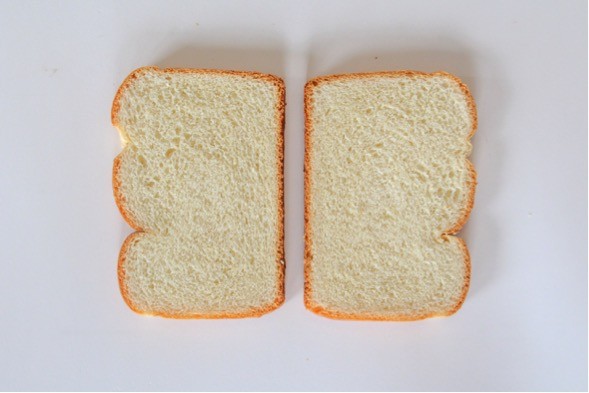 Step 3) Spread on the mayonnaise & barbecue sauce
On one piece of bread spread Hellmann's® Real Mayonnaise. This really takes a sandwich up a notch. It adds a comforting, enhancing aspect that is otherwise missing. If you're easy going like my husband, giving a good squeeze of the bottle will do. Although you can get a precise squeeze, if you're a perfectionist like me, you'll also take a knife and spread the mayonnaise so that every centimeter of the bread surface is covered in a beautiful, even layer of mayonnaise.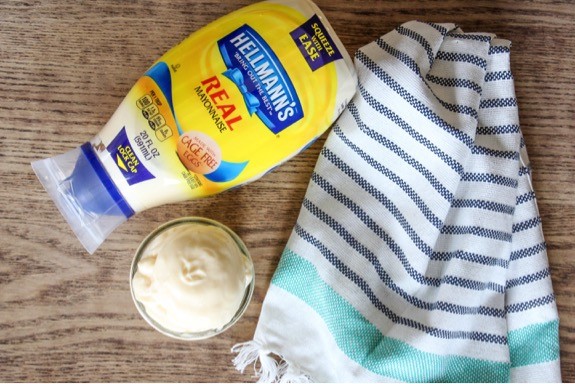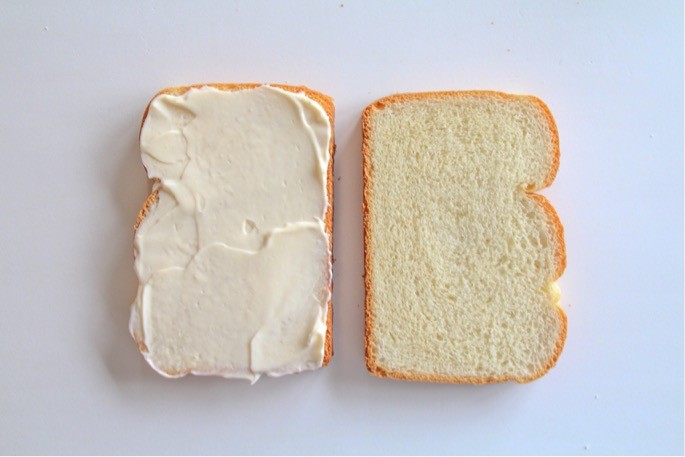 On the other piece of bread, evenly spread barbecue sauce. Because of its fruity, smoky taste, this ingredient will bring in some of that Hawaiian flavor we're looking for.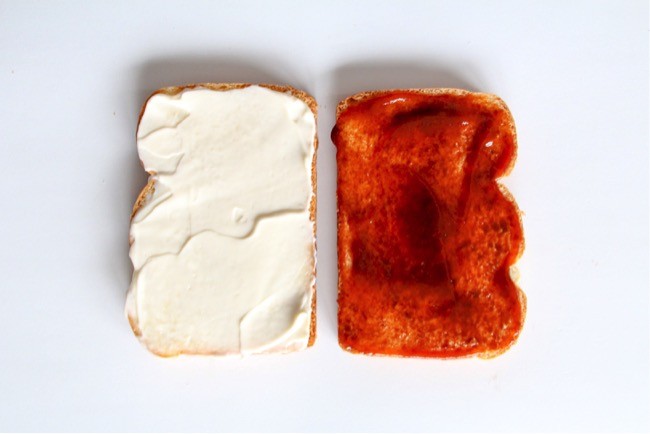 Step 4) Add the ham, pineapple rings, & spinach
On the side with the mayonnaise, layer some Hillshire Farm® Thin Sliced Honey Ham lunch meat. Hillshire Farm® slow roasts their lunch meat for hours and hours so you know it's going to be good. Because of its sweet nature, the honey ham flavor in particular pairs nicely with the other sweet ingredients in this Hawaiian sandwich.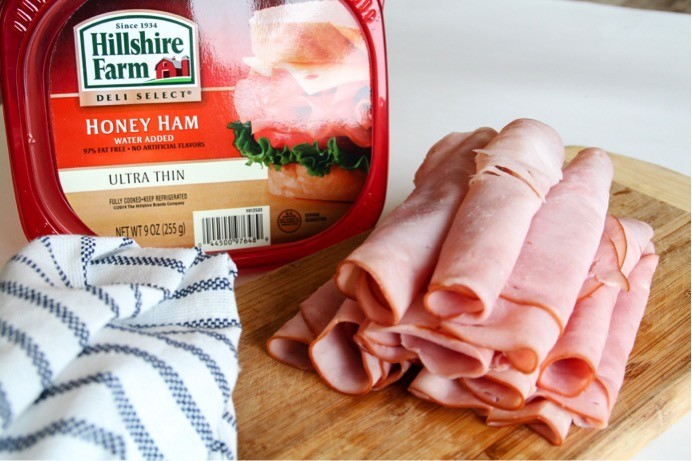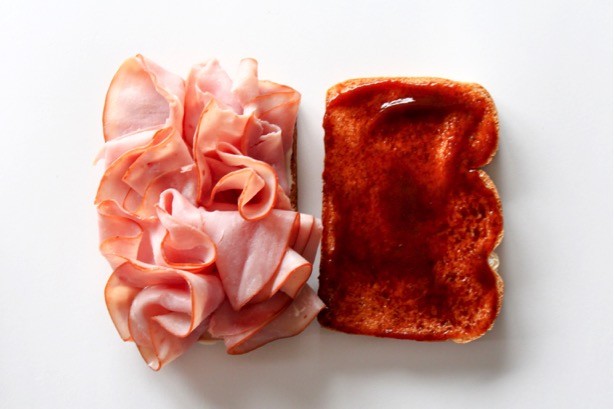 Next, add fresh, thin pineapple slices. Pineapple is grown year-round in Hawaii, and it's a classic ingredient in a lot of Hawaiian-inspired dishes like this one.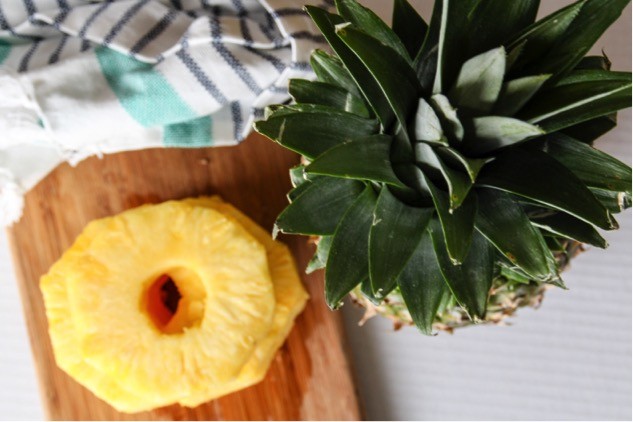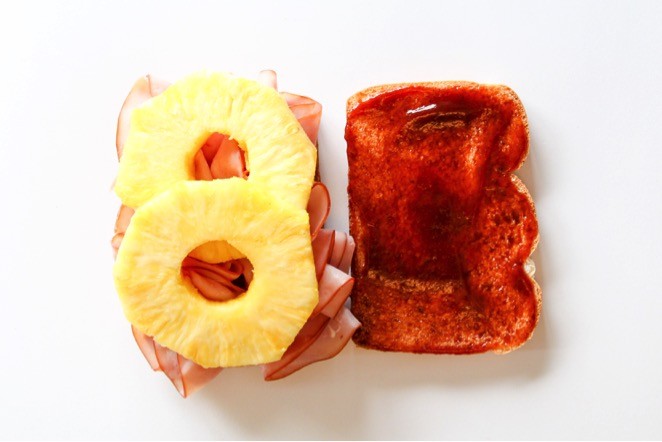 Then, add a layer of spinach for another fresh factor, and top this with the barbecue sauce bread slice.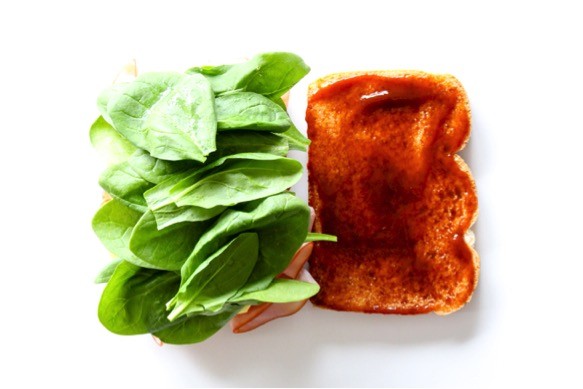 Pro Tip: When layering sandwiches, you want to think about a few things. 1) Put heavier ingredients like meat and cheese near the bottom and lighter ingredients near the top. This helps prevent sandwich slippage from happening. 2) Layer juicier ingredients (e.g., pineapple or tomato) away from the bread so the bread doesn't get soggy. 3) You should also think about which ingredients pair nicely together. In this case, mayonnaise and ham work well together, ham and pineapple pair well, and the spinach and barbecue sauce pair well. Layering your sandwiches methodically can help them taste even better.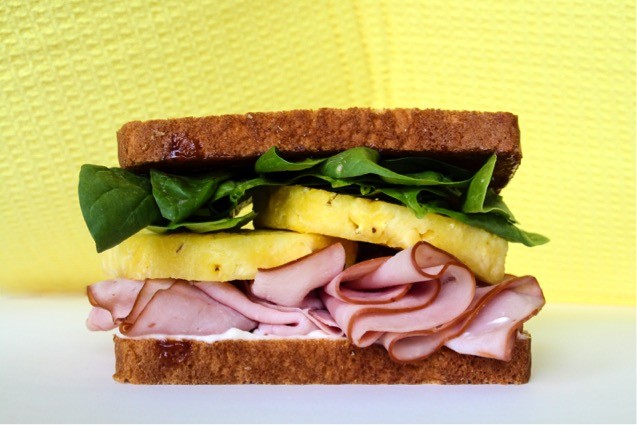 Step 5) Cut & enjoy!
If you're the type to cut your sandwich in half… because this is a full sandwich, a cut right down the middle (not at a diagonal) will help it hold together better.
And finally, devour and enjoy! You can find more sandwich inspiration at Sandwich with the Best.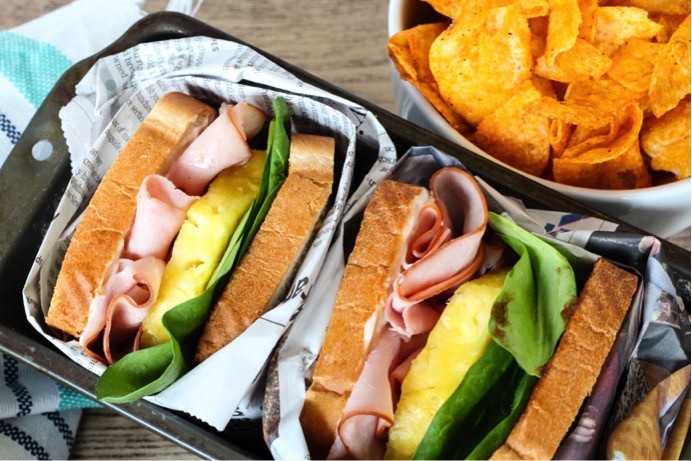 Pro Tip: Have time to grill this sandwich? Use Hellmann's® Real Mayonnaise on the outside of your bread to make a perfectly crispy grilled version of this Hawaiian Barbecue Sandwich. Forget the butter… Hellmann's® Real Mayonnaise spreads better.
What Do You Think?
What do you think of this recipe? Comment below along with any other suggestions you have for making this Hawaiian Barbecue Sandwich. And click here for more sandwich inspiration!
Pin It for Later!

Other Posts You Might Like