Hamburger cake… what?! You heard me correctly! We've got a sweet recipe for you that will totally take the cake! Pun intended 😉 With summer in full swing and in the middle barbecue season, we decided to transfer that tasty hamburger concept into cake form.
(This page contains affiliate links that we may be compensated for. Your clicks and purchases help support The DIY Lighthouse at no extra charge to you. We only put links to products we love and would recommend anyway.)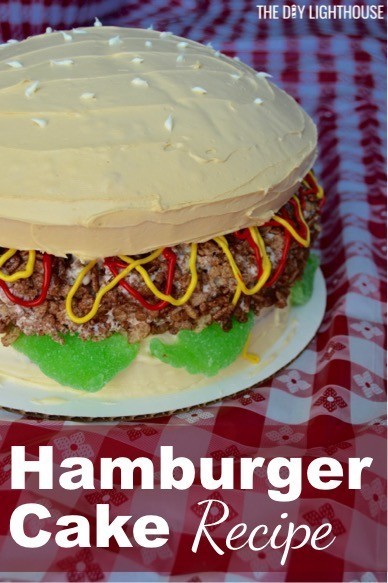 Hamburger Cake Recipe
Hamburger Cake Ingredients
1 white boxed cake mix + ingredients to make it
2 tubs white frosting (you can maybe get away with 1 tub, but I like having excess to work with)
Food coloring
Powdered sugar (for thickening the frosting if desired)
7 cups Cocoa Krispies cereal
10 oz mini marshmallows
1/4 cup butter
1 teaspoon vanilla
Green gummy fruit slices (I used 5 pieces)
You can pick up these ingredients at most regular grocery stores.
Hamburger Cake Directions
Make the hamburger buns
Bake the your boxed mix cake in two round pans according to the package directions. Let the cake cool. Lay one of the cakes on your serving plate. (I recommend using a Wilton Cake Circle. It made decorating and transporting my cake really easy.)
In a small bowl, mix 1 drop of blue, 1 drop of green, 3 drops of red, and 4 drops of yellow food coloring together and then mix in a little bit of your food coloring to make sure it's a brown color. If you like the color then mix in the rest of one of your tubs of frosting. (This should make a tan color.) Frost the cake on your serving plate so that the top and sides are covered in your tan frosting.
Set your top bun (the other cake) aside along with the rest of the frosting. You'll be frosting it near the end.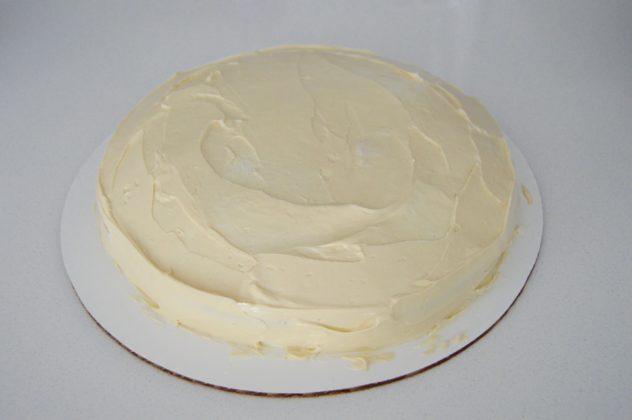 Add the lettuce
Take your green gummy fruit slices and cut them in half so they are not as thick. Then, using a spoon, roll them out a bit to flatten them and make them wider. Place these around the outside of your bottom hamburger bun to look like lettuce leaves.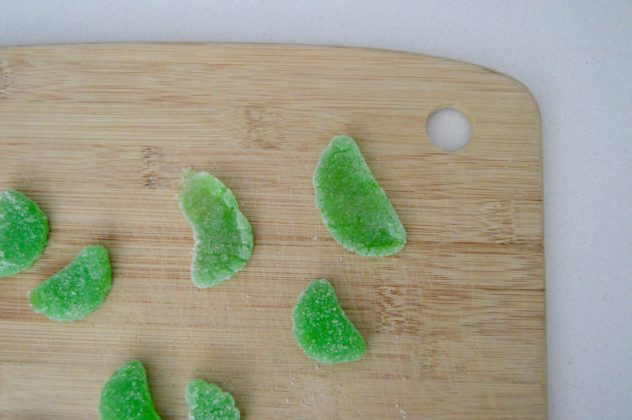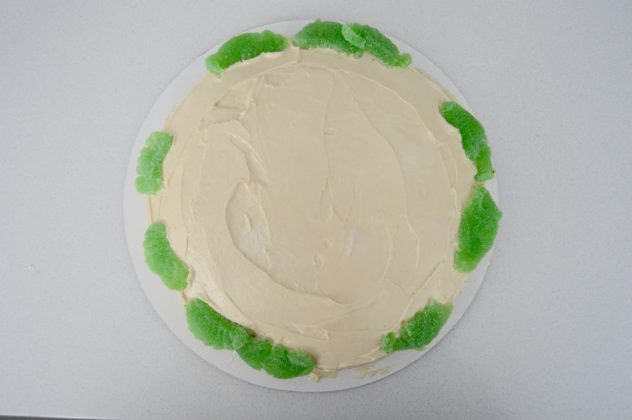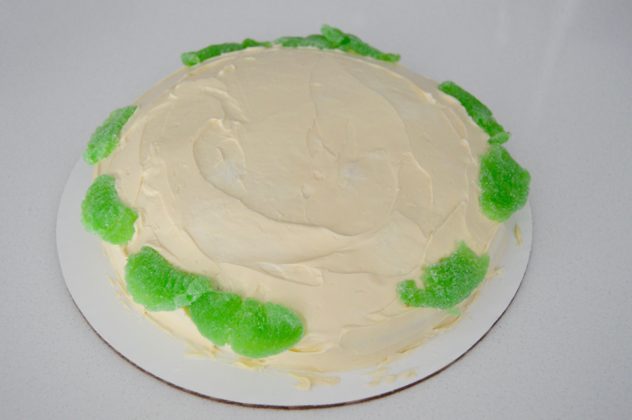 Make the hamburger patty
Make Cocoa Krispies into a rice krispie treats the size of your round cake pan.
To do this, melt the butter in a big sauce pan over low heat. When it's melted, add the marshmallows to the pan and stir occasionally. (Fyi, I added my whole 16 oz bag because I like my rice krispie treats nice and marshmallowy, but you can use only the 10 oz if you like.) In the meantime, add 6 cups of Cocoa Krispies into a big bowl. Once the marshmallows are melted, add 1 teaspoon of vanilla to it and stir until mixed. Pour the marshmallow mixture into your bowl of Cocoa Krispies and mix together.
Take some wax paper and coat it with cooking spray. Then pour your rice krispie treats mixture onto the wax paper. Form a big "patty" the size of your round cake pan. With your remaining 1 cup of Cocoa Krispies, pat on additional Cocoa Krispies onto the outside ring of your patty so that it looks more brown instead of white and marshmallowy. Let it cool and then place it on top of your lettuce leaves.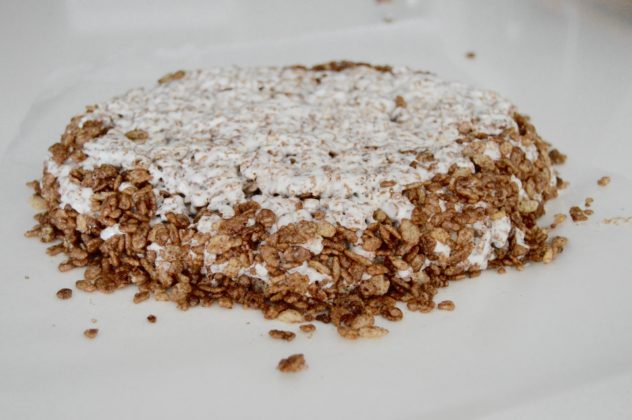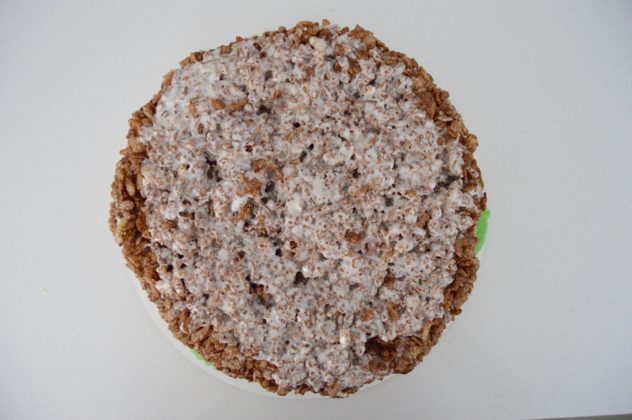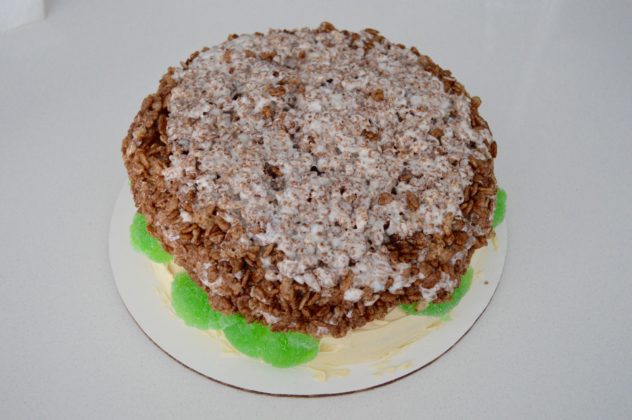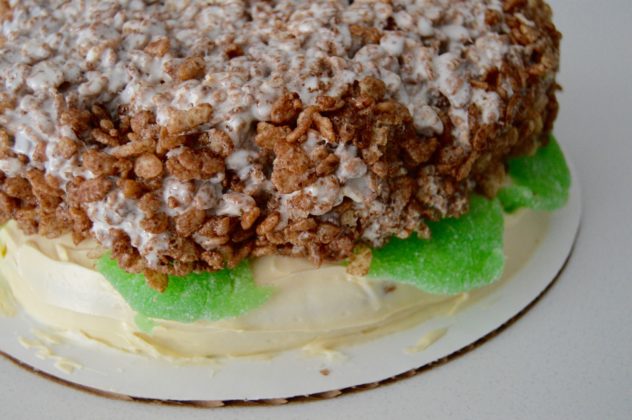 Add the ketchup and mustard
Take your other tub of frosting and divide it into 2 bowls, but leave 1/4 of the frosting in the tub. Add red food coloring in one bowl (your ketchup), yellow food coloring in another bowl (your mustard), and leave the frosting in the tub white (your sesame seeds that you will use later). Using a small tip and frosting bag, make lines of the ketchup and mustard on your hamburger patty like shown in the pictures below.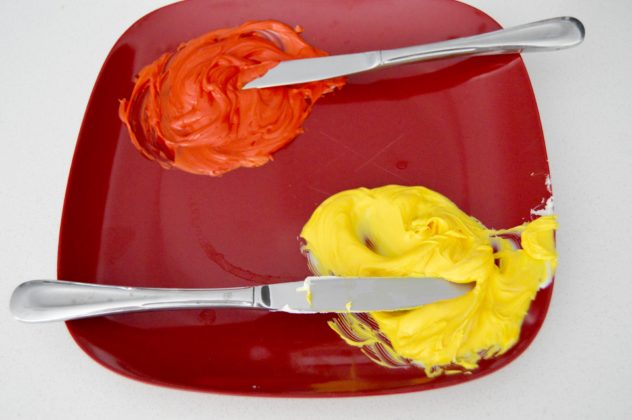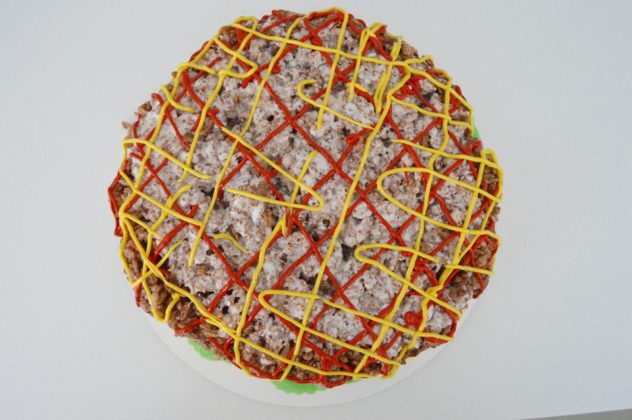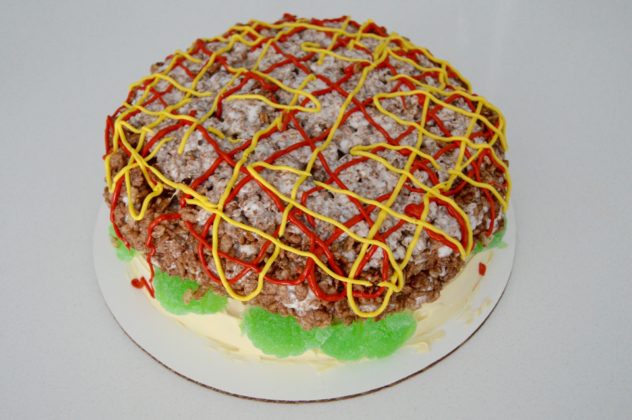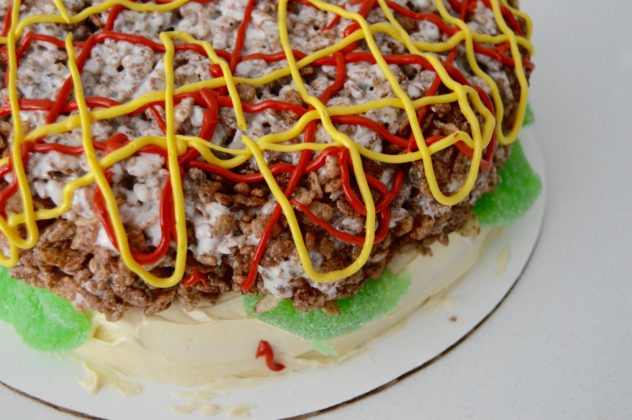 Add the top bun
Take your other cake round and frost the sides with your tan frosting. (Frosting the sides before you put it on your hamburger patty will help you keep the frosting away from the patty.) Using a wide spatula, pick up the cake round and gently place it on top of the hamburger patty. Then gently finish frosting the top bun.
Then, using the white frosting you set aside earlier and a small round frosting tip, make little sesame seeds like shown in the pictures below.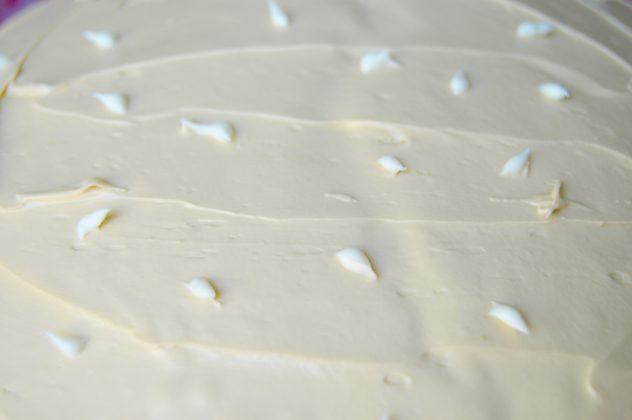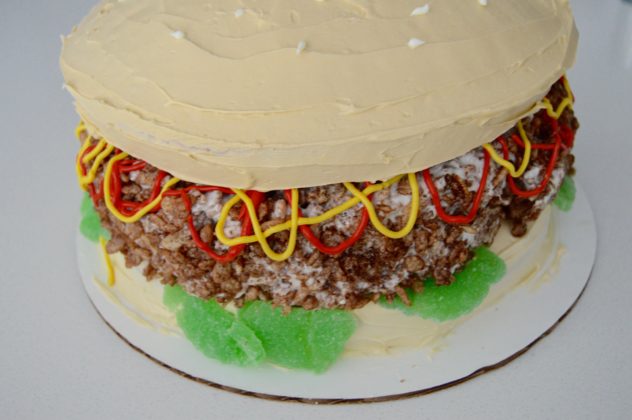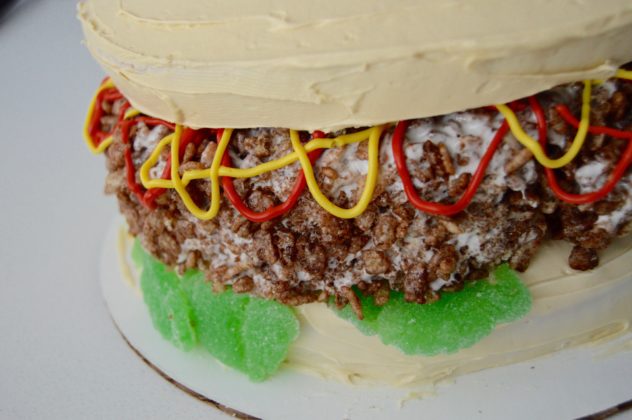 Serve and Enjoy!
You are now finished making your giant hamburger cake! Serve and enjoy. I really recommend getting a cake carrier. I love my Wilton Cake Caddy as it makes storing, transporting, and serving the cake super easy! Total game changer for me.
My friends (and some strangers walking by) loved this cake! It was a fun addition to our rooftop BBQ.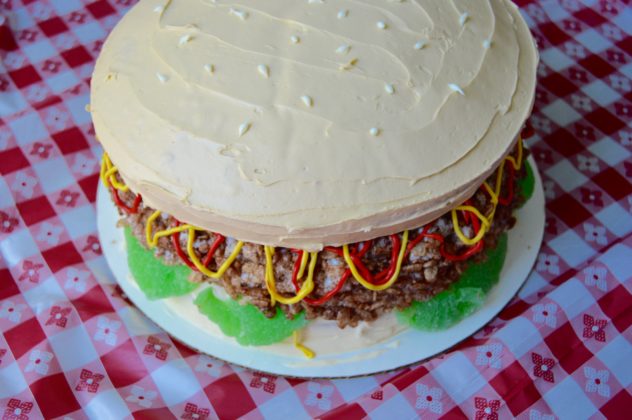 Here are some other posts you may like: