Let's face it. Spiders are nasty, crawly, little things. But once a year (aka Halloween) they can be cute, so we might as well take full advantage of the opportunity. This Halloween spider web wreath is a super duper easy, cheap way to dress up your door during the month of October. Besides, you aren't the only one who needs a costume this year…your door does too!
Making your own Halloween spider web wreath:
1. Prepare the "bones"
What is Halloween without a pile of bones? The "skeleton" of this project, the wreath, is key to achieving a spider web look. Because we want the white web to stand out, the wreath needs to starkly contrast and be dark in color. But hey, wreaths of any color can be expensive…like $20 and up. Easy fix: I found my wreath at Goodwill for $4 (it was completely the wrong color) and spray painted it using a $1 can of black spray paint purchased at Menards. Spray paint is a cheap, easy way to make something your own. (Click here to see our lifesavor video on spray painting in a box.)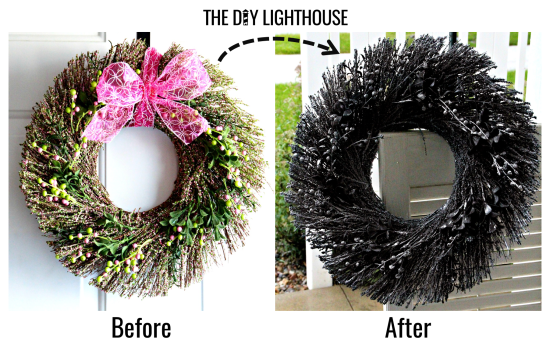 2. Weave the web
Two words for you: white yarn. Simply tie one end of the white yarn (or other kind of string) to the back of the wreath, and randomly wrap the wreath until you've achieved your desired look. It looks more web-like if a few pieces of yarn are draping down below the wreath. Once you've fastened the other end of the yarn to the back of the wreath, cut a few varying lengths of yarn and fasten only one end to the wreath. The loose cobweb pieces definitely help create an abandoned spiderweb look.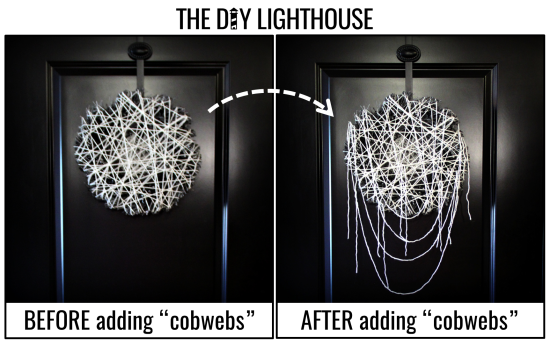 3. Position the spider
Adding a spider to your Halloween spider web wreath is the icing on the cake (a very sticky, creepy cake to be exact). Be sure to match the look of your spider to the theme of your other Halloween decorations. If you are going for a more cute and playful theme, a cartoon looking spider will be best. If your decor is more dark and sinister, a hairy, realistic looking spider is recommended. Using your creativity, either make a spider out of crafting supplies, like black/white pipe cleaner, or do what I did and make a spider out of paper that you can glue or tape on your wreath or door. If you plan to position the spider on the door, I recommend following this serving suggestion: if your door is dark in color, use a white colored spider, but if your door is light, use a black spider. Simple as that!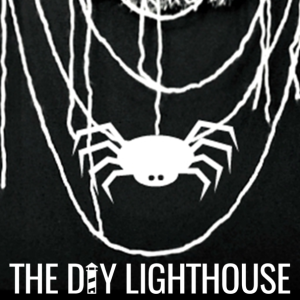 4. Display your wreath!
'Nuff said.
Let us know how this project goes and what your other favorite Halloween decorations are by commenting below! And be sure to check out some of our other Halloween posts. Happy Halloween!