Gifts for Him… Whether it is for Christmas, Father's Day, or another occasion, if you are looking for a great gift for your dad, husband, or other man, then this unique gift list is for you. Stop giving your man a mug or a tie and check out our manly man gift idea list that are sure to be winners.
(This page contains affiliate links that we may be compensated for. Your clicks and purchases help support The DIY Lighthouse at no extra charge to you. We only put links to products we would recommend anyway.)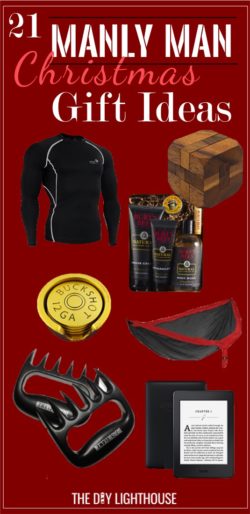 21 Gifts for Him
Manly Man Gift Idea for:

The Problem Solver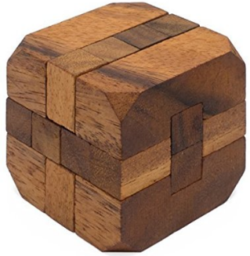 If your man is a good puzzle solver, he will enjoy this 3D Brain Teaser Wooden Puzzle for adults. Handcrafted and premium quality, this is the real deal brand. The puzzle is challenging and will put the sharpest brains to the test.
Manly Man Gift Idea for:

The Handy Man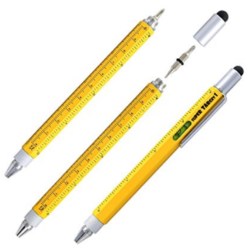 This Multipurpose Tool Pen is a handy man's dream. It's a ruler, a level, a ballpoint pen, a stylus, a flathead screwdriver, and a Phillips screwdriver all rolled into one nifty tool that your manly man will love.
Manly Man Gift Idea for:

The Hunter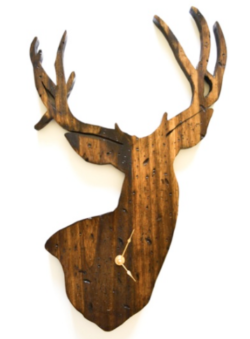 If your man likes hunting then he will love this Distressed Deer Clock. This manly, handmade clock is stained with dark walnut, topped with a semi-gloss finish, and distressed for character. These clocks are handcrafted to be stunning, durable, and high quality.
Manly Man Gift Idea for:

The Outdoorsman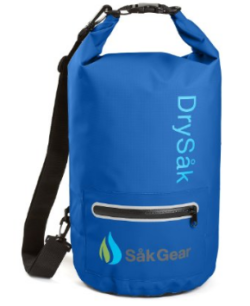 This all-weather protection Sak Gear Premium Waterproof Dry Bag is perfect for the rugged manly man. Equipped with reflective trim, an exterior zip pocket, and a removable/adjustable shoulder strap, this tough bag will protect your man's gear from virtually anything mother nature can dish out. Lightweight but don't be fooled… it's thick, rugged, and watertight.
Manly Man Gift Idea for:

The Minimalist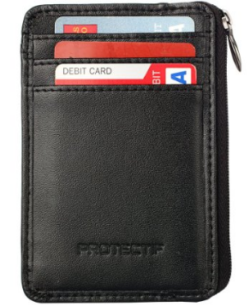 Your minimalist man will love this Slim Wallet. Its lightweight and compact design is perfect for keeping it simple, but its genuine leather makes it durable and manly.
Manly Man Gift Idea for:

The Reader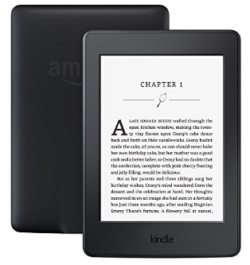 If your man enjoys ready he will love this Kindle Paperwhite E-reader. (My husband loves his!) The built-in adjustable light makes it easy to read during the day or night, the single charge battery lasts weeks, and there is a massive selection of books to pick from. Definitely a winner!
Manly Man Gift Idea for:

The Chef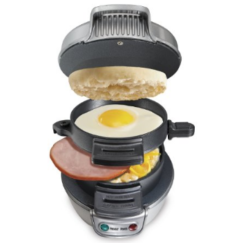 If your man loves food, then this Breakfast Sandwich Maker is just the thing to tease his tastebuds and start him cooking. It promises a hot, homemade breakfast sandwich in under 5 minutes. And if your man truly is a chef in the kitchen, he will love trying the free recipes that come included.
Manly Man Gift Idea for:

The Shooter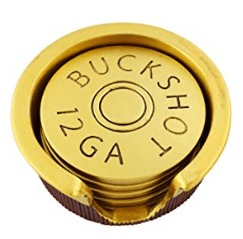 This 12 Gauge Shotgun Shell Coaster Set will complete any man cave or hunting cabin. They are hand-cast and designed like the bottom of an ammo shell. Perfect for the hunting enthusiast.
Manly Man Gift Idea for:

The Shower Hogger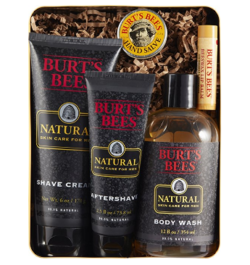 Does your man love the shower? This Burt's Bees Men's Gift Set is the perfect gift. Complete with body wash, shave cream, aftershave, hand salve, and chapstick, this all-in-one kit comes in a sturdy gift tin. Who says men can't be pampered too?
Manly Man Gift Idea for:

The Athlete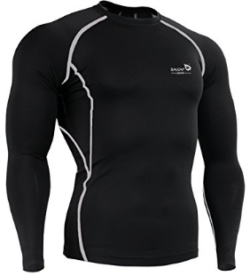 If your man is a lifter, runner, or athlete, this Baleaf Men's Compression Shirt is the perfect gift. The fabric is stretchy, durable, dry-fit, and breathable, and is designed to improve performance and enhance range of motion. It will take your man's training to the next level.
Manly Man Gift Idea for:

The Journalist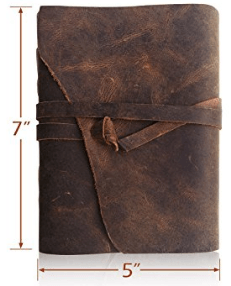 This handmade antique Leather Journal is made with genuine, soft water buffalo leather. It's the perfect gift for a journal-writing, note-taking manly man. It sports an artisan quality and rustic charm.
Manly Man Gift Idea for:

The Cultured
If you've got yourself a cultured man, these Art Patterned Socks will be a winner! The unique patterns are fun, and the sock is high quality. Plus… couldn't everyone use a few pairs of new socks?
Manly Man Gift Idea for:

The Traveler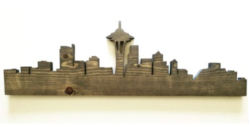 If your man loves to travel then the wooden City Skyline Silhouette is just a nice gesture. This handmade pine wood piece is crafted with love and attention to detail, and it comes in different city options and multiple stain colors so it is personalized to fit your husband's taste.
Manly Man Gift Idea for:

The Prankster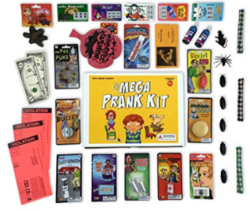 The Mega Prank Kit is totally a thing… and it's the perfect gift to release the inner child in your man. Complete with 35 pranks and jokes inside a gift box, this prankster pack will keep the laughs coming.
Manly Man Gift Idea for:

The Toy Enthusiast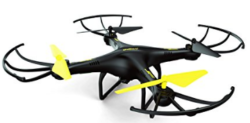 If your man loves toys, then he is going to be all over this U45 Drone Quadcopter with HD Camera. He will have a blast taking it for a spin, and he will love you for enabling his hobbies.
Manly Man Gift Idea for:

 The No-Frills Guy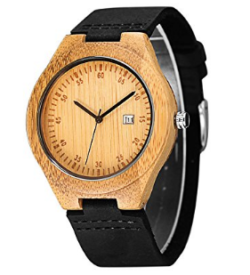 This handsome Cowhide Leather Strap Wooden Watch is a nice gift for a husband, father, or other man in your life who appreciates the bare bone basics. The real wood and authentic, top quality leather is just good ol' natural material.
Manly Man Gift Idea for:

The Father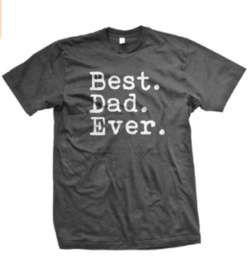 Best. Dad. Ever. T-shirt for a man in your life who really is the best dad ever. Whether it's your husband or your own dad, this is a nice gift that is useful and sentimental.
Manly Man Gift Idea for:

The Adventurer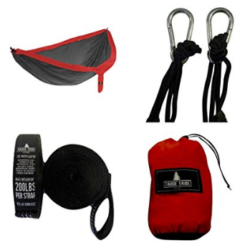 Every manly adventurer needs this Suspension Camping Hammock. From backyard to backcountry, this hammock will have him excited to hit the outdoors. And it fits two adults for when you want to "hang out" too.
Manly Man Gift Idea for:

The Business Man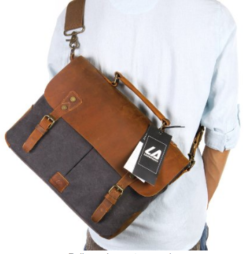 If you want your business man to be the definition of classy then gift him this Langforth Leather Vintage Canvas Laptop Bag. Made with superior, rugged cowhide leather fabric, this messenger bag is built to be durable. Its wide shoulder strap eliminates shoulder fatigue and its various pockets make storing essentials easy.
Manly Man Gift Idea for:

The Humorist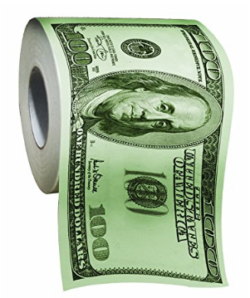 We all know "that guy" who would just love a roll of $100 Toilet Paper. FYI, the description says the imaging will not smudge 🙂 Need I say more?
Manly Man Gift Idea for:

The Griller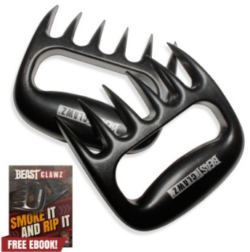 If your man loves grilling then he will love these Pulled Pork Shredder Claws. These meat shredding forks known as "Beast Claws" are about as manly as they get.
Hopefully you found the perfect gift for your manly man! Please share the picture below on Pinterest to spread the joy and to save it for later. Thanks! 🙂