Gender reveal parties are totally a "thing" these days with pregnancy. This is where the expecting parent(s) throw a party to reveal whether they're having a girl or a boy…or both, if they're twins! You've probably seen videos of these events floating around social media. Popping balloons with colored confetti inside, slicing into a colored cake, drink mixes, pinatas, egg shells, confetti cannons, and more! One unique and extra sweet idea I had for a summer reveal party: gender reveal ice cream cone cake pops. It will turn your favorite cake flavor into an ice-cream-inspired, drool-worthy treat! Aaaand it creates the perfect theme for the rest of the party.
(This page contains affiliate links that we may be compensated for. Your clicks and purchases help support The DIY Lighthouse at no extra charge to you. We only put links to products we love and would recommend anyway.)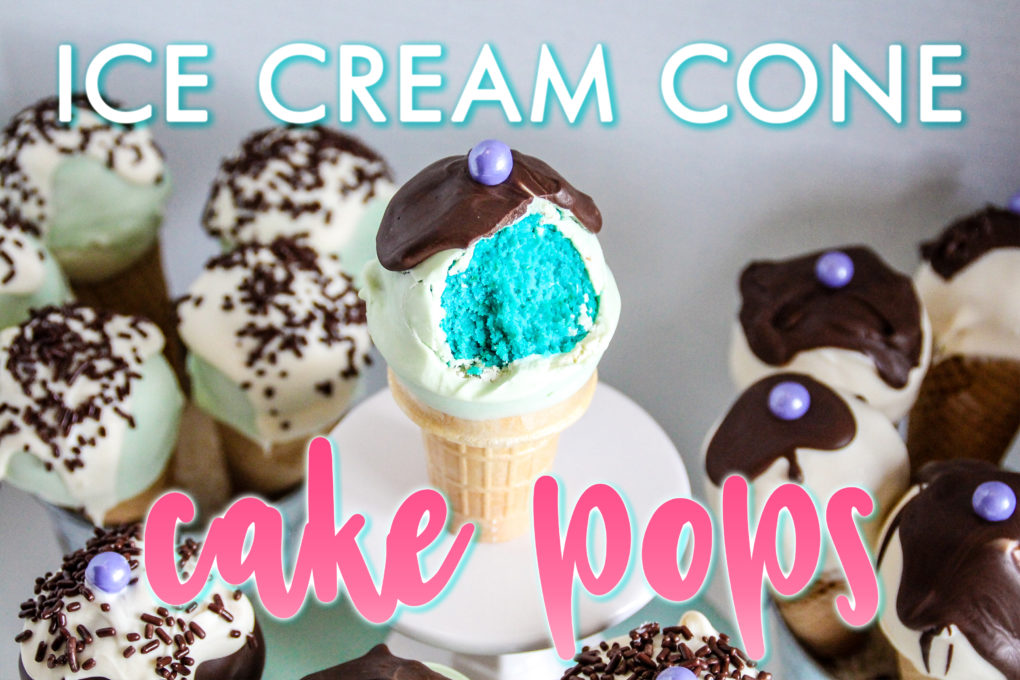 How-To Gender Reveal Ice Cream Cone Cake Pops Recipe
Ingredients
Any additional ingredients needed to make the cake (typically water, eggs, and oil)
16 oz vanilla or cream cheese frosting
12 ice cream cones
24 oz vanilla (white) flavored almond bark
Cake pop decorations (e.g., chocolate flavored almond bark, candy chocolate balls, sprinkles)
*Ingredients will make 12 gender reveal ice cream cone cake pops.
Directions
Bake the cake according to directions. Cool completely. (Cake pops hold their shape better if the cake is a couple days old, but fresh works well too as long as it's cooled.)
Crumble cake into a large bowl.
Mix spoonfuls of frosting in with the cake. The consistently should be crumbly but still hold its shape when formed into a ball. (*Note: The last thing you want is gooey cake balls that have too much frosting. It will taste like someone already chewed it and spit it out. Gross! You can always add more frosting so be conservative at first and add frosting only as needed. Yum!)
Using a 1/4 cup as a guide for size, form 12 equal balls.
Melt vanilla almond bark. (Microwave on high for 90 seconds and stir. Heat for additional 15-second increments as needed, stirring between. Do NOT overheat as it will burn the chocolate. Also, melting the chocolate in the tall, skinny container, like a glass cup, will make dunking the cake pops easier later.)
Dip the very top opening of each cone in melted chocolate and firmly press cake ball onto the cone. Let it completely set. (Putting the cones in the fridge will speed up the setting process. Also, if you are using cones with pointed bottoms instead of flat, you can leave them to set upright by sticking them into a bucket of rice or sugar.)
If the vanilla chocolate needs to be remelted, heat in 15-second intervals, stirring between, until it's fully melted again.
Dip each cone in the chocolate until the cake is completely coated. Use a spoon to help smooth chocolate over any cake that is showing. Let fully set.
Decorate each cone as desired.
Party!
WATCH THE VIDEO BELOW FOR STEP-BY-STEP DIRECTIONS!
Gender Reveal ICE CREAM CONE Cake Pops

Pregnant and needing inspo for your gender reveal party? Try this fun cake pop recipe that's perfect for summer!

Visit www.thediylighthouse.com for baby shower ideas and other DIY projects.

Music cred: http://www.bensound.com/

Posted by The DIY Lighthouse on Thursday, June 22, 2017
---
The Finished Product: Drool-Worthy Gender Reveal Ice Cream Cone Cake Pops
You and all your guests will love these delicious bites! My friend's kid thought that these cake pops were actually ice cream before biting into one. How fun is that?! #winning
Extra Ice Cream Cone Party Ideas
Melting Ice Cream Cone Cake
If you're wanting some extra sweet tooth fulfillment, a melting ice cream cone cake is a great way to get the biggest bang for your buck! Make and decorate a 3-layed cake and top it with melted chocolate until it drips down the sides and a giant waffle cone cake pop. To make the giant cake pop, simply shape it on a piece of parchment paper or a non-stick silicone baking mat (I have this one and use it multiple times a week!) and then pour melted chocolate over it to create the melting ice cream look. Let it set completely before transferring it onto the top of your cake.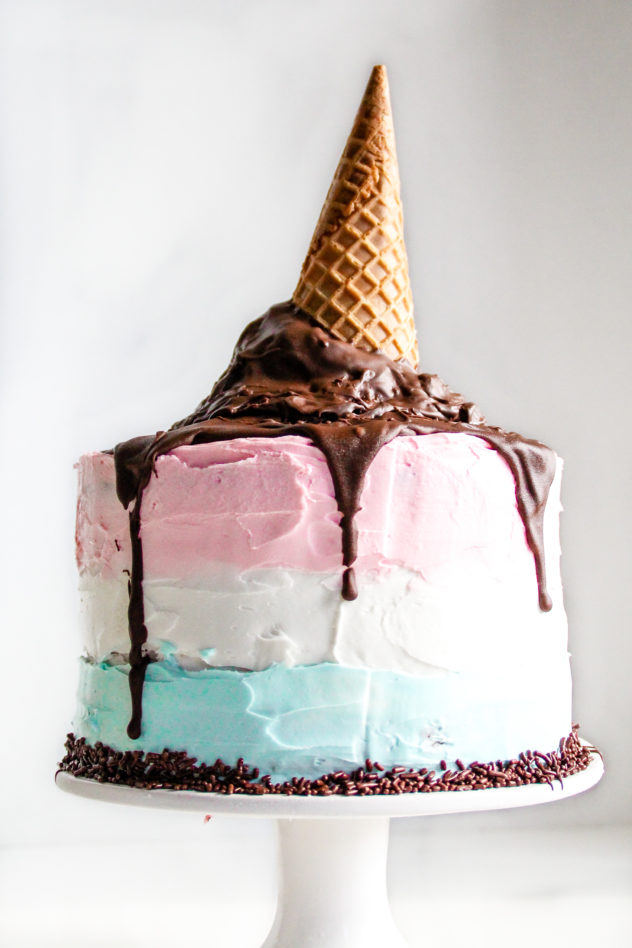 Ice Cream Cone Accessories
When I find a theme I love, I go all out. Another fun idea to go along with your gender reveal ice cream cone cake pops is having ice cream cone accessories. These ceramic ice cream waffle cone cups are perfect to hold utensils, straws, candy, food, or labels! And this pack of 12 ice cream dessert bowls and spoons for only $12 (whaaa?!) is the perfect way to serve your sweet treats! Other ice cream cone accessories include an ice cream decor garland, ice cream cone-shaped lollipops, ice cream cone shooters for kids, and tissue paper ice cream cones. Go all out!
I hope you have a super "cool" gender reveal party of your own! Have so much fun melting, dipping, and decorating your gender reveal ice cream cone cake pops. From there, the inspiration you need to make the rest of your party a smashing success will start pouring (or dripping) in!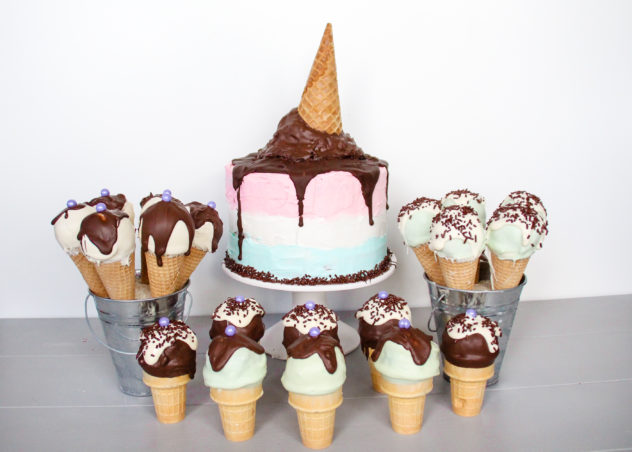 Let us know what you did with your gender reveal party by commenting below! Or tell us what your favorite kind of ice cream is! Mine, most definitely, is any cheesecake flavor. #drooling
Pin it for later!

Other posts you might like: