Whether you need to take a dessert to a holiday event, you want a yummy treat for a cozy night in, or you need something to dunk in your hot chocolate mug, these hot chocolate cupcakes are the perfect go-to.
Hot chocolate is a classic winter drink–it warms you up and has a sweet, cozy taste. That same classic comfort can be found in my hot chocolate cupcakes–a recipe I came up with and want to share with you!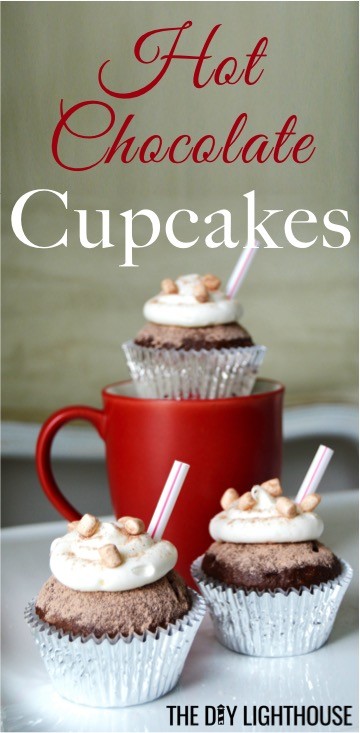 Hot Chocolate Cupcakes Recipe
Below are ingredients and step-by-step directions so you can make your very own hot chocolate cupcakes.
(This page contains affiliate links that we may be compensated for. Your clicks and purchases help support The DIY Lighthouse at no extra charge to you. We only put links to products we love and would recommend anyway.)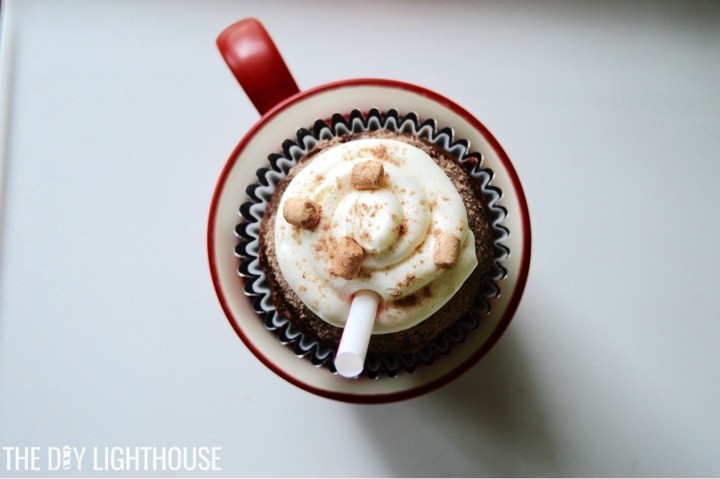 Hot Chocolate Cupcakes Ingredients
1 box chocolate cake mix + ingredients on box

(I used Pillsbury Moist Supreme Devil's Food Cake Mix)

1 tub fluffy white frosting

(I used Betty Crocker Whipped Fluffy White Frosting)

1 box hot chocolate mix with mini marshmallows

(I used Nestle Mini Marshmallow Hot Cocoa Mix)

straws
Hot Chocolate Cupcakes Directions
Step 1) Bake chocolate cupcakes
Bake your chocolate cupcakes in cupcake baking cups according to package directions. (This should make about 24 cupcakes.) Let your cupcakes cool.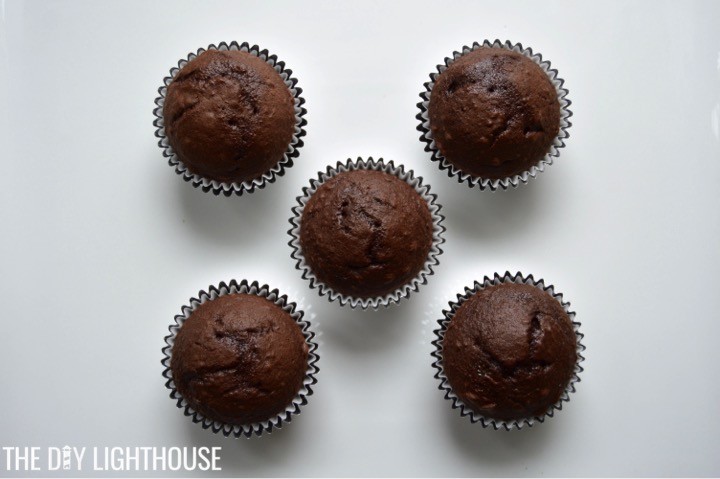 Step 2) Roll cupcake tops in hot chocolate powder
Pour a couple packets of your hot chocolate powder into a small bowl. Pick out all of the mini marshmallows and set those aside for later. Take a cupcake, hold it upside down, and roll the top into the hot chocolate powder so the whole top is covered. Do this to all of your cupcakes.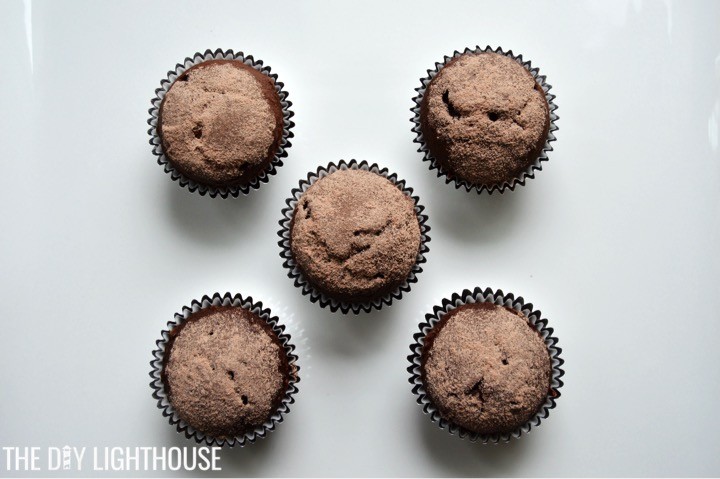 Step 3) Frost the chocolate cupcakes
Using an icing bag and large round or star frosting tip, start on the outside of the cupcake top and circle inward until you have a nice spiral. (If you don't have a simple set of icing tips, an icing bag, or a coupler attachment piece, I recommend invest the small amount to get these. I use them often and it helps the frosting experience go a lot smoother!) Frost all of your cupcakes like this.
Step 4) Sprinkle on hot chocolate powder
You can now pinch some hot chocolate powder between your index finger and thumb and sprinkle some over the frosted cupcakes. Don't go overboard… a nice dusting effect works great.
Step 5) Add a few mini marshmallows
On top of the frosting, add a few of the mini marshmallows you separated out earlier. Spread them out in a random fashion.
Step 6) Add the straws
Cut your straws into thirds or fourths depending on the length you want. Stick these into your cupcakes to top it all off. This is the perfect touch to make it look like a mug of hot cocoa.
Enjoy! Serve with a mug of real hot chocolate and eat with friends and family!