Fall is so fun to decorate for. I'm not a huge fan of the scary Halloween decorations so I much prefer the autumn-themed route. When decorating, be sure to pick a color scheme. Click here for 21 fall color palette ideas. In this post you'll find oranges, yellows, reds, and browns. This is an easy fall color combo because they safely go together and mimic the fall leave colors we all know and love.
If you're looking for ideas on how to decorate for fall on a tight budget, below is some fall decor inspiration and tips for decorating your home. (Excuse the poor-quality pictures. . . I took these with my phone camera before I started blogging.) Throughout this post you will see that my main items are: mini pumpkins, dried flowers and grasses, and bottles and jars.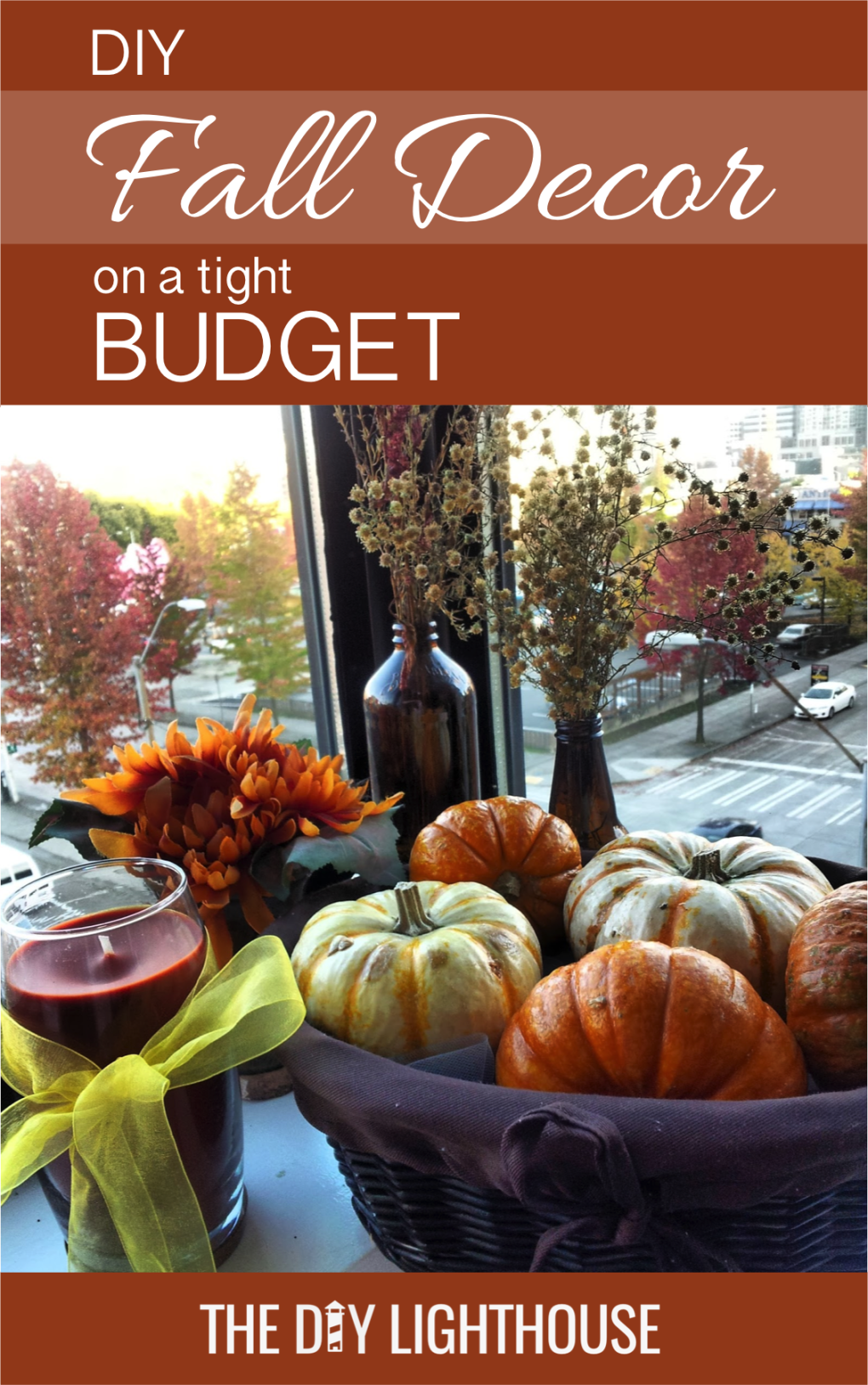 Tip #1: Buy a Cheap Bag of Mini Pumpkins
I got the mini pumpkins you see in the pictures from Costco of all places, but around fall time they are available at most grocery, craft, and dollar stores. Costco had a bag for $6 with all of the pumpkins in this post. Not bad considering that they are the only thing I bought for all of this décor.
Tip for getting the biggest bang for your buck with pumpkins: When you're putting them in a basket or other container, put some padding on the bottom to help prop them up. This lets you use less pumpkin so you can use more somewhere else. For example, the basket in the picture above is deceiving. . . . It looks like a basket full of pumpkins, but really it's just one top layer of pumpkins. I put some cardboard padding on the bottom to raise my pumpkins up and covered the cardboard with some dark gray fabric.
Tip #2: Use Dried Flowers & Grasses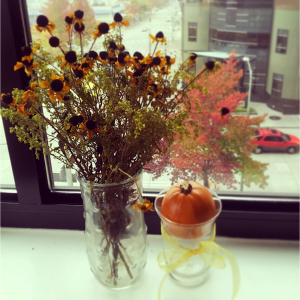 Dried flowers and grasses are totally in for fall decor. This is great news because they are easy to find at craft stores and dollar stores. If you want to make your own dried arrangements, you can easily go thrifty by picking wild flowers or grasses from outside (or you can use an old flower bouquet like I did) and hang them upside down to dry. Click here for a post with tips on how to drying flowers.
Side note: I think it's kind of cute in the picture above that my pumpkin doesn't fit all the way inside of my little vase. It mirrors the top-heavy flowers in a unique way and the bow dangling down the second half of the vase fills in the empty space. It is also nice to have a "floating" pumpkin when my other pumpkins are flat on the surface or nestled into something. Great creative and have fun with your decor.
Tip #3: Make a DIY Fall Banner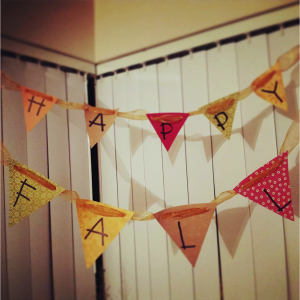 I made this little "Happy Fall" banner for a party we had and just left it hanging up because the colors are fall appropriate and the way the triangles are hanging in that downward slope reminds me of jack-o'-lantern smiles. (Ignore the ugly vertical blinds in our rental and please know that I have since made prettier banners.)
Click here for a tutorial on how to make your own DIY decoration banner. Banners are a great way to cover some empty wall space if you're on a tight budget because the materials are very cheap and the banners are easier to make then you might think.
Tip #4: Utilize Empty Bottles & Things You Already Have Around the House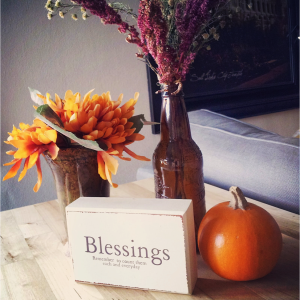 Using a few empty bottles is a great way to decorate on a budget because they are so versatile and inexpensive. I prefer collecting dark colored bottles because you can hide things better. . . . If you look closely you can see that my grass arrangement only goes into the bottle just past the neck of the bottle. At a glance you'd never be able to tell!
To help decorate on a budget, look for decor that you already have around the house. They may not scream fall, but when you group them with your other fall-themed decor they could fit in really nicely! That's what happened to me with the "Blessings" block and orange flowers in the picture above.
Tip for decorating: Create small groupings with decor objects that are different heights. You can see in the picture above that I used a tall object, a medium object, and two short objects. Following this tip will help give your decor some balance.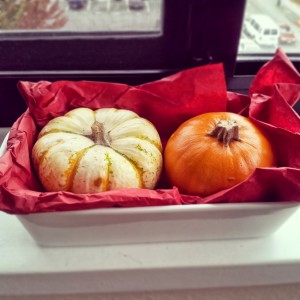 I hope I've given you a few simple, cheap ways to spice up a corner, table, mantle, or window sill with some easy DIY fall décor. Happy fall!