This Cadbury Egg Cake is a lovely Easter dessert. Its four layers mimic the colors of the Cadbury mini eggs, and the whole cake makes a beautiful spring treat. Keep reading for a recipe and directions on how to make your own Easter Cadbury Egg Cake.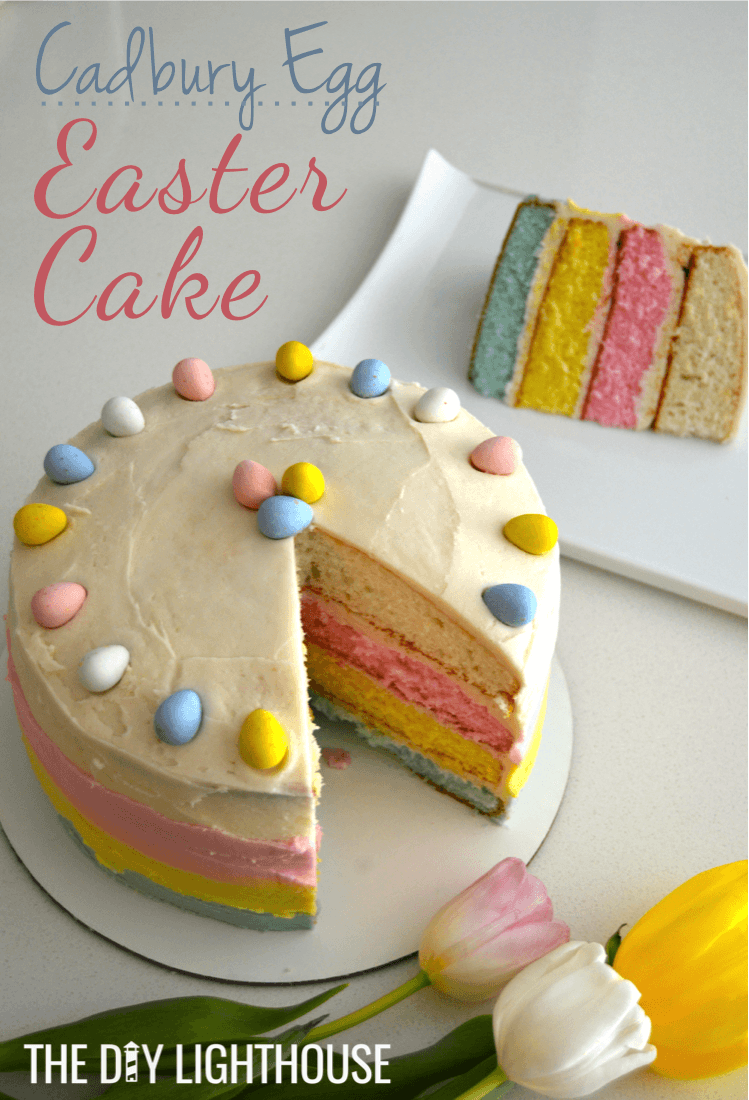 Cadbury Egg Cake Recipe
Cadbury Egg Cake: Ingredients
2 boxes white cake mix (along with the water, oil, and eggs it calls for)
food coloring: yellow, blue, and red (or pink) colors
1 bag milk chocolate mini Cadbury eggs
4 tubs 16oz white cream cheese frosting
1 bag powdered sugar
Cadburdy Egg Cake: Baking Directions
Make your 2 cake mixes according to the directions on the package. (Tip: Your white cake mix should have an egg whites only option. I would use this instead of the whole egg option so it keeps your batter more white.) Separate the cake batters into 4 bowls total. (Divide each mix into two equal portions so it makes 4 batters total.)
Keep one of the batters white. Add blue food coloring to another–I used about 12 drops of blue. Add yellow food coloring to one–I had to use about 14 drops of yellow. And add red or pink food coloring to the last batter. I happened to have some pink gel food coloring and only used 3 drops. (Tip: gel food coloring is much stronger than regular food coloring so keep that in mind while adding your drops. Also, you can always add more coloring so err on the side of fewer drops, then stir and see how it looks before adding more.)
Once you've got your four different colored batters all ready to go, then bake them in 8″ or 9″ round cake pans according to the package directions. Once done baking, let them cool to room temperature. If you like, you can cut off the tops of the cakes like I did to make them more level.
Cadbury Egg Cake: Frosting Directions
Scoop the frosting from three of your tubs into a large bowl. Gently stir a couple cups of powdered sugar into the frosting until well mixed. This will help to harden your frosting up a bit so it will have more body and hold its shape better. Next, take your other tub of frosting and divide it into three small bowls. In each bowl, use your food coloring to color these blue, yellow, and pink to match the color of your cakes.
To frost your cake, start by placing your blue cake on a cardboard cake circle or a cake stand. Cover the entire cake round with a layer of your white frosting. Then add your yellow cake and again cover it with white frosting. Add your pink cake and white frosting, and then top it off with your white cake and a generous layer of white frosting. (Tip: If you've got some curvature going on near the edges even after cutting off some of the cake top, pipe some frosting around the outside border before putting on the next cake layer so that it fills in more of the empty space.)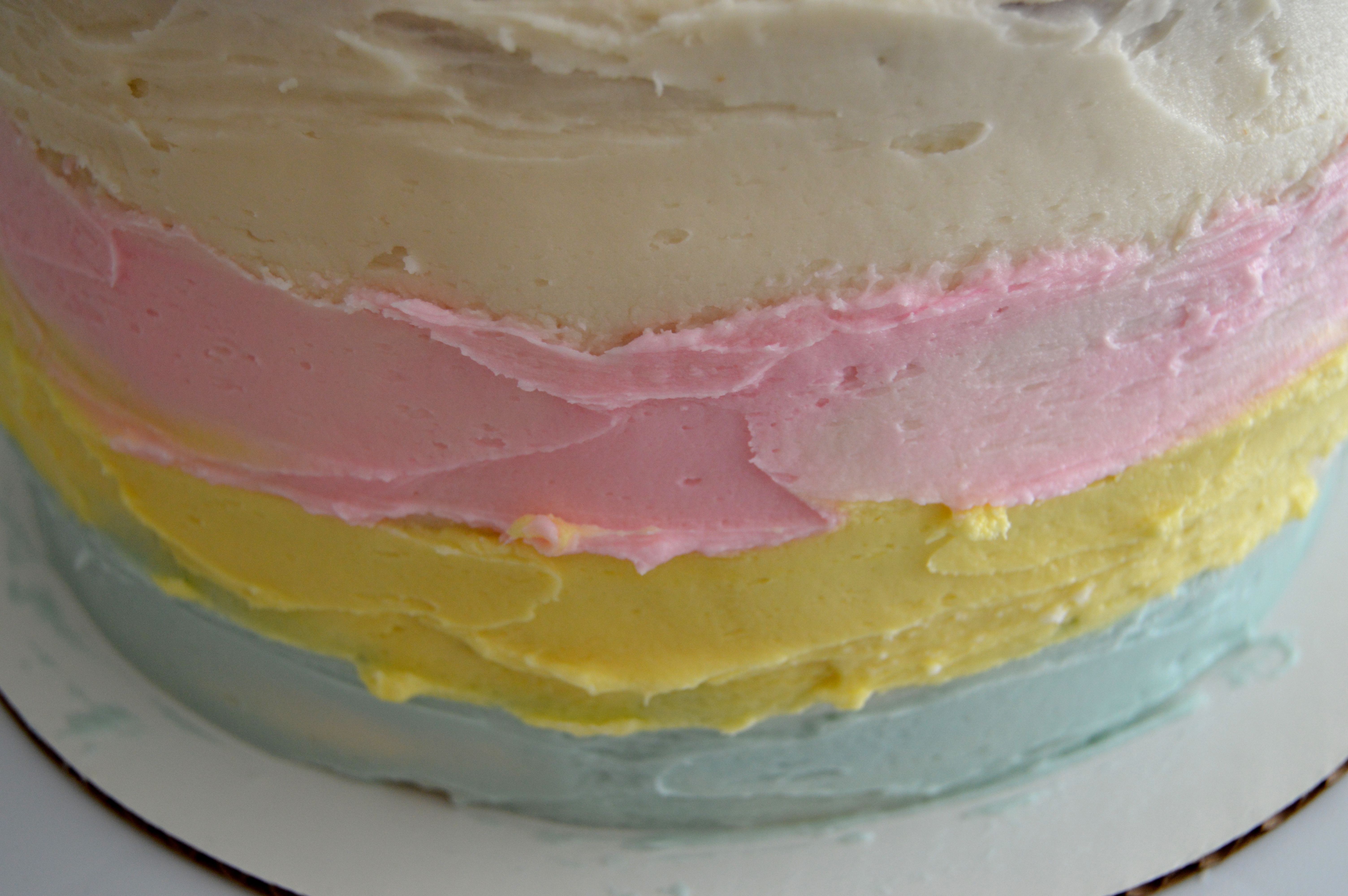 Once your cake is assembled and covered in a layer of your white frosting, it's time to add the colored frosting. Start with your blue frosting at the bottom and work your way up. Carefully spread a layer of frosting around the entire cake about an inch or two up.
(Tip: You will want your frosting colors to match up with your cake layers inside. By looking closely, you may still be able to tell where your cake layers start and stop–use this as your guide for frosting.)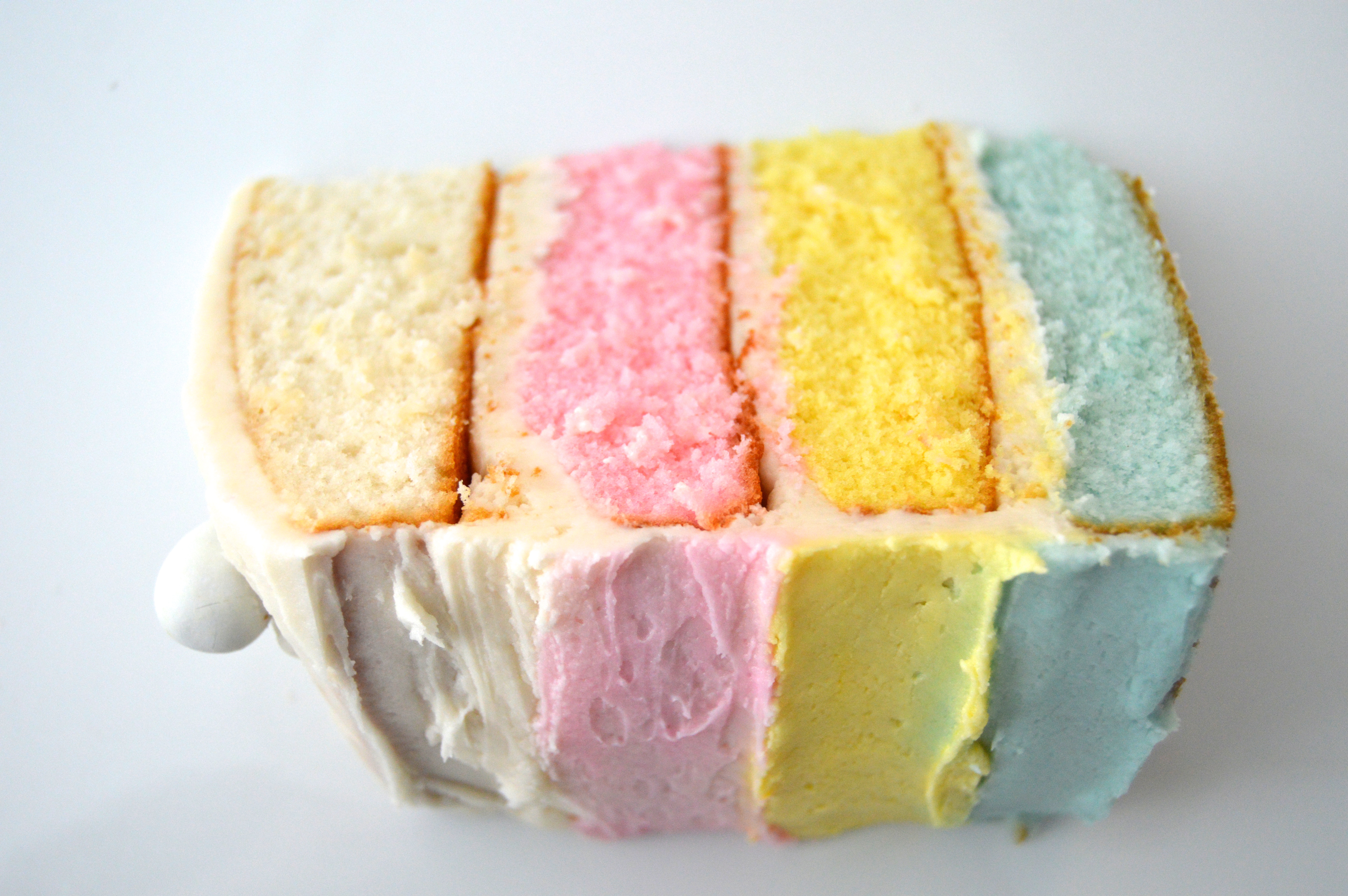 Next add a ring of your yellow frosting. (Don't worry about blending the colors neatly yet.) Then add a ring of pink frosting around the third cake layer. Once you've got your colors spread on the cake, now you can gently smooth the colors together by holding your icing knife downwards and rotating the cake. By doing this they will naturally blend a bit but generally keep their original ring color.
**In full disclosure, I actually made this cake with a cream cheese frosting that I made from scratch, but… it made a gigantic mess, was difficult to spread, and took forever to clean up… so I'm recommending just saving yourself some stress by getting the store bought stuff. When I make cakes I usually just use the store bought frosting and add some powdered sugar to make it a little thicker. It's the lazy version and tastes just as good!
Cadbury Egg Cake: Decorating Directions
Once your cake is frosted it's time to decorate! Around the outer edge of your cake, place blue Cadbury eggs at 12 o'clock, 3 o'clock, 6 o'clock, and 9 o'clock. In the middle of these, place pink eggs. Then put a yellow egg to the left of each pink egg and a white egg to the right. By placing your eggs this way, you can have the same colored pattern you used in your cake and frosting. Then place a little pile of eggs in the center of your cake.
Hope you enjoy making this fun Easter Cadbury Egg Cake for your family and friends! It sure is a fun way to bring spring colors to the table.