If you're on a tight wedding budget and still need the cake, then you've come to the right place. We're sharing how you can make a DIY wedding cake on a budget. This wedding cake is cheap and super easy to make! You can even use a boxed cake mix and frosting from the store.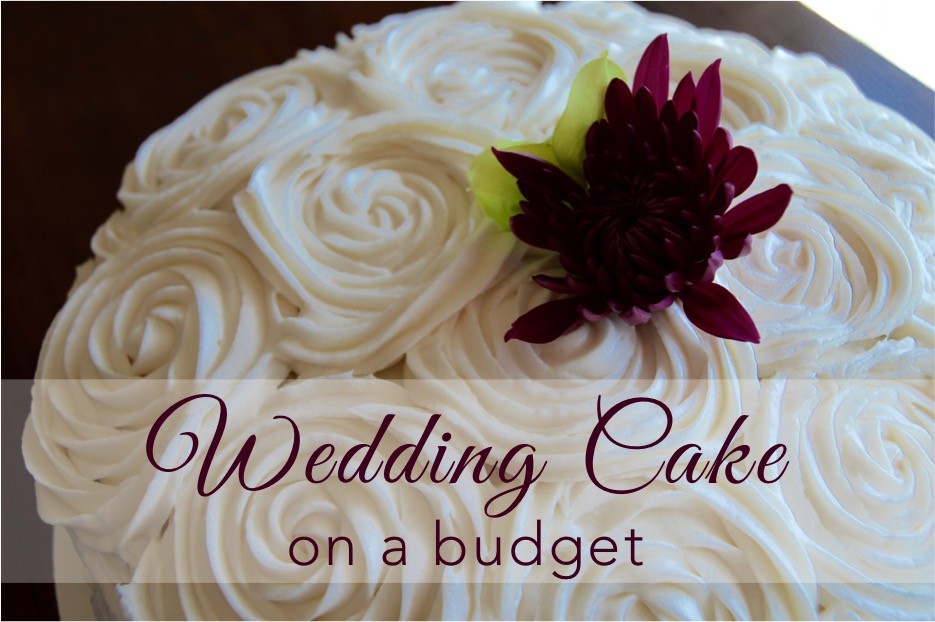 (This page contains affiliate links that we may be compensated for. Your clicks and purchases help support The DIY Lighthouse at no extra charge to you. We only put links to products we love and would recommend anyway to make a tasty, cheap, and beautiful DIY wedding cake on a budget.)
How to Make a DIY Wedding Cake on a Budget
Step 1) Gather supplies
Below are all of the ingredients you will need for your DIY wedding cake on a budget. You can get these at any general grocery store.
1 white box cake mix + box ingredients
2 tubs white frosting
powdered sugar
food coloring (your wedding colors)
Step 2) Make the cake batter
It's time to make your DIY wedding cake on a budget! First, mix your boxed cake mix together according to package directions. Separate the cake batter into two bowls. Add food coloring to each bowl until you have your desired color. (I was making my wedding cake on a budget for a friend and her wedding colors were purple and green. So, I decided to make a purple inside and made one batter a lighter shade of purple and the other batter a darker shade of purple.)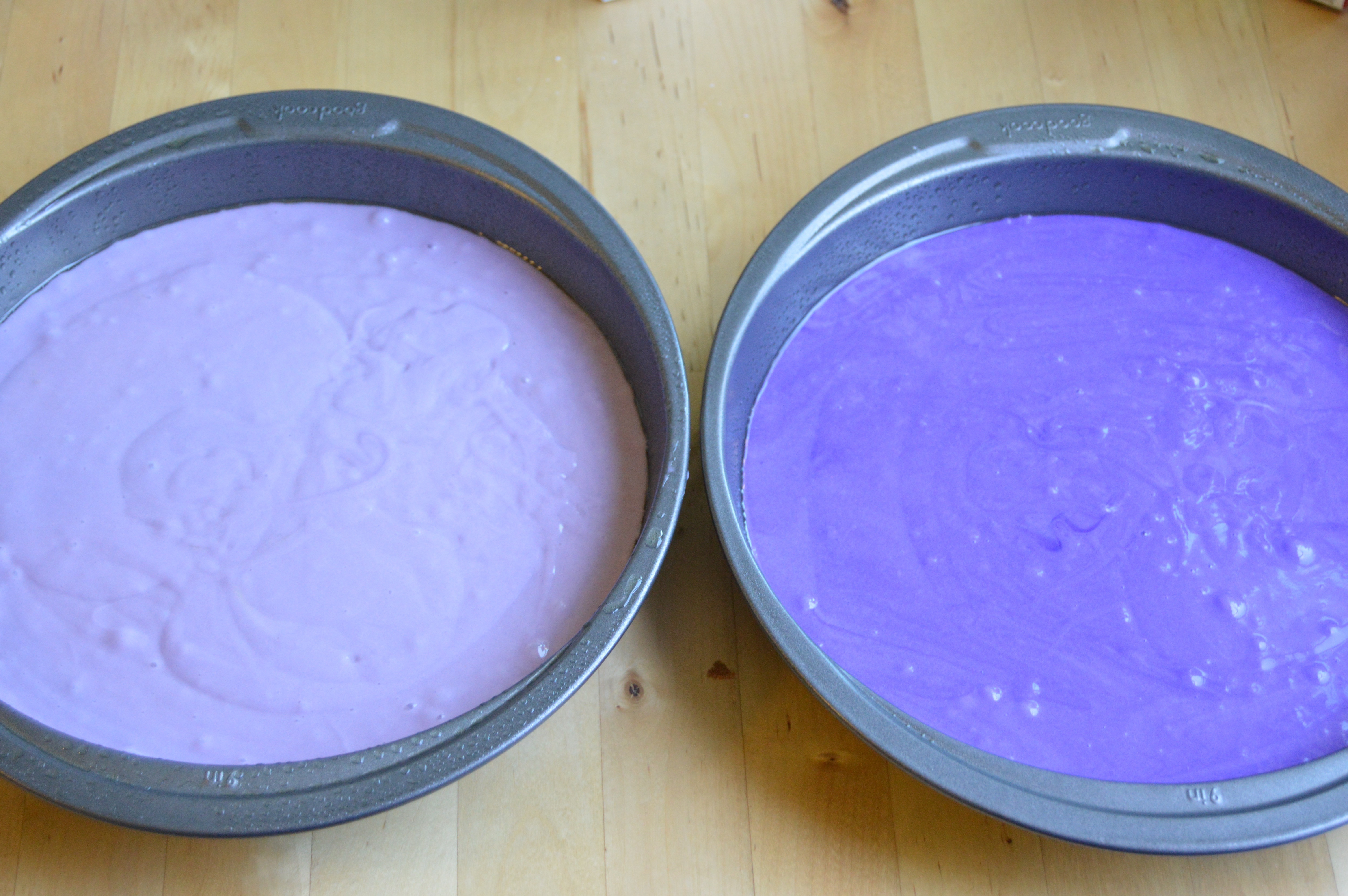 Step 3) Bake the cake
Pour the batter into two round baking pans, and bake according to package directions. Let the cake cool completely on a rack.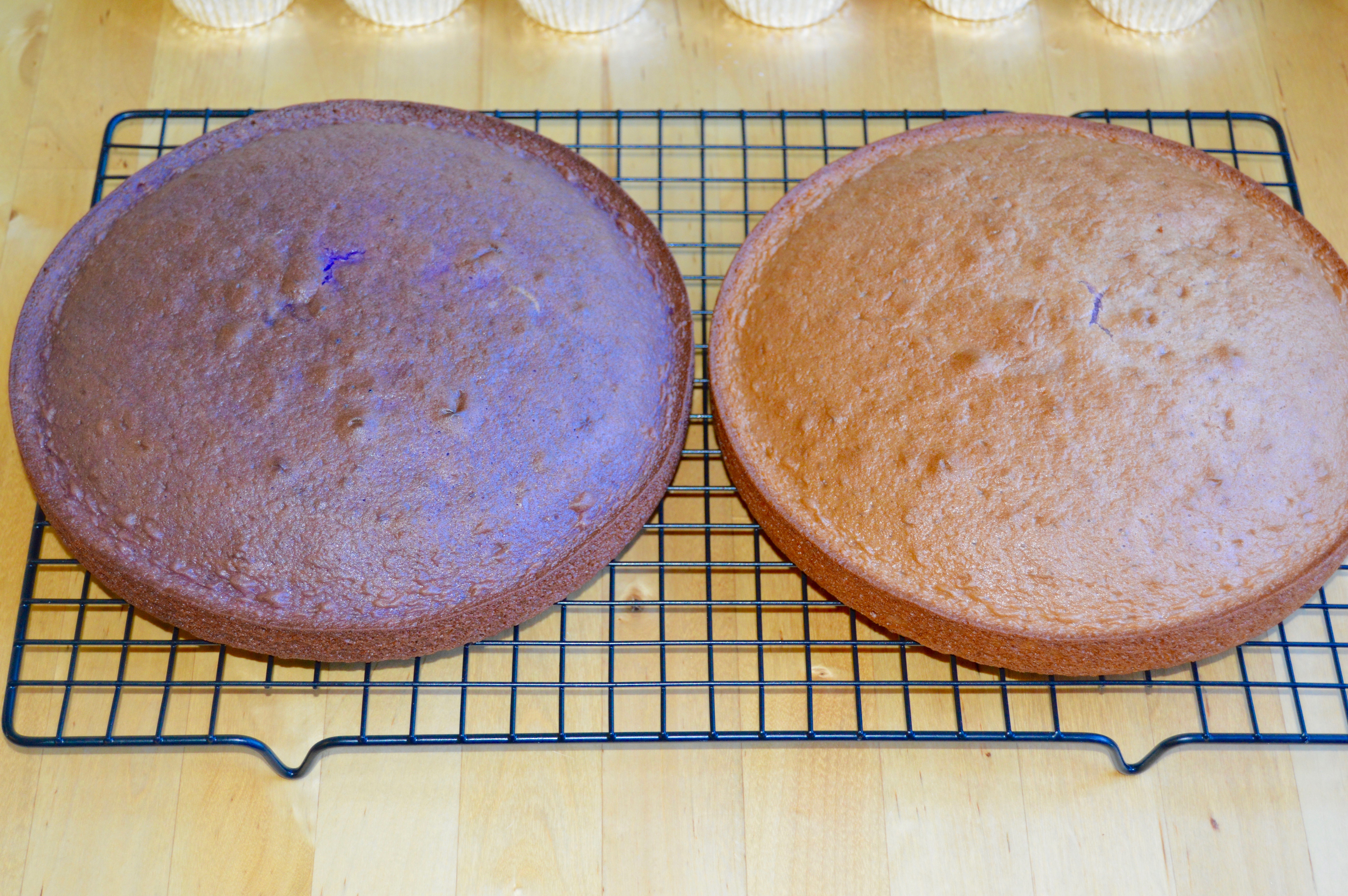 Step 4) Prep your frosting
Your DIY wedding cake on a budget is starting to come together! Now it's time to prep your frosting. Scoop your frosting into a bowl and mix in a little powdered sugar at a time until the frosting reaches a good frosting consistency. It should be thicker but not hard to stir. (I'm guessing 1 cup of powdered sugar for 2 tubs of frosting? It depends on what kind you buy.)
Get your frosting ready to go by putting most of it into a icing bag that has a star frosting tip. (Leave some frosting in the bowl.) If you don't have a set already, here is a nice, simple set of icing tips to get that will include the star tip I mentioned above (and don't forget to get this coupler attachment piece). And then here is the frosting bag I use and love!
Step 5) Frost a thin layer on the cake
Once the cake is cool, move one of your cake rounds onto a serving cake stand or cardboard cake round. I put mine on a Wilton 10-inch Cake Circle so that I could easily transfer my cake around. Using the frosting left in your bowl, take a knife and cover this cake round in a thin layer of frosting on the sides and a thicker layer of frosting on the top. (Tip: If your cake round has a really round top, before frosting you may want to cut off the rounded part of just this cake. It will help the top cake sit more flatly on this bottom cake. But don't cut the top of the top cake or it will make frosting harder!) Place the second cake round on top of your bottom cake, and then spread a thin layer of frosting over the top cake so that the whole cake stack has a thin layer of frosting.
Step 6) Frost on the roses
Take the icing bag you got ready, give the end of the bag a little twist so icing doesn't come out the back when you squeeze, and practice making a rose. I suggest practicing on a piece of wax paper, a paper plate, or something that will be easy cleanup but will also keep the frosting clean (like not on a dirty counter)–you'll want to reuse the frosting.
White roses make a DIY wedding cake on a budget look really elegant! To make a rose you start at the center point of the rose and make a swirl outward. Gently squeeze the icing bag while swirling and then stop squeezing but continue swirling to finish off the rose. Be sure to go in a steady, smooth motion. (Click here for a YouTube video that can show you how to make roses.) Scrape any frosting you use to practice with back into your icing bag so you don't waste frosting.
Once you're comfortable making roses, start making a row of roses along the bottom of your cake. Once you've made a row all the way around the bottom of the cake, do another row just above that and keep going upward and inward towards the top middle. (I made big roses on my cake so I only needed one row on the side.) If you mess up don't worry! Just scrape off the bad rose and start that rose over again. Frosting is forgiving.
If you need to go back through and fill in any gaps, just do little curved lines that go in the same directions as the roses so it looks like a continuation of the rose. If you look closely in the picture below you can see that my middle bottom roses have an added curved line on the top of them to fill in a blank space.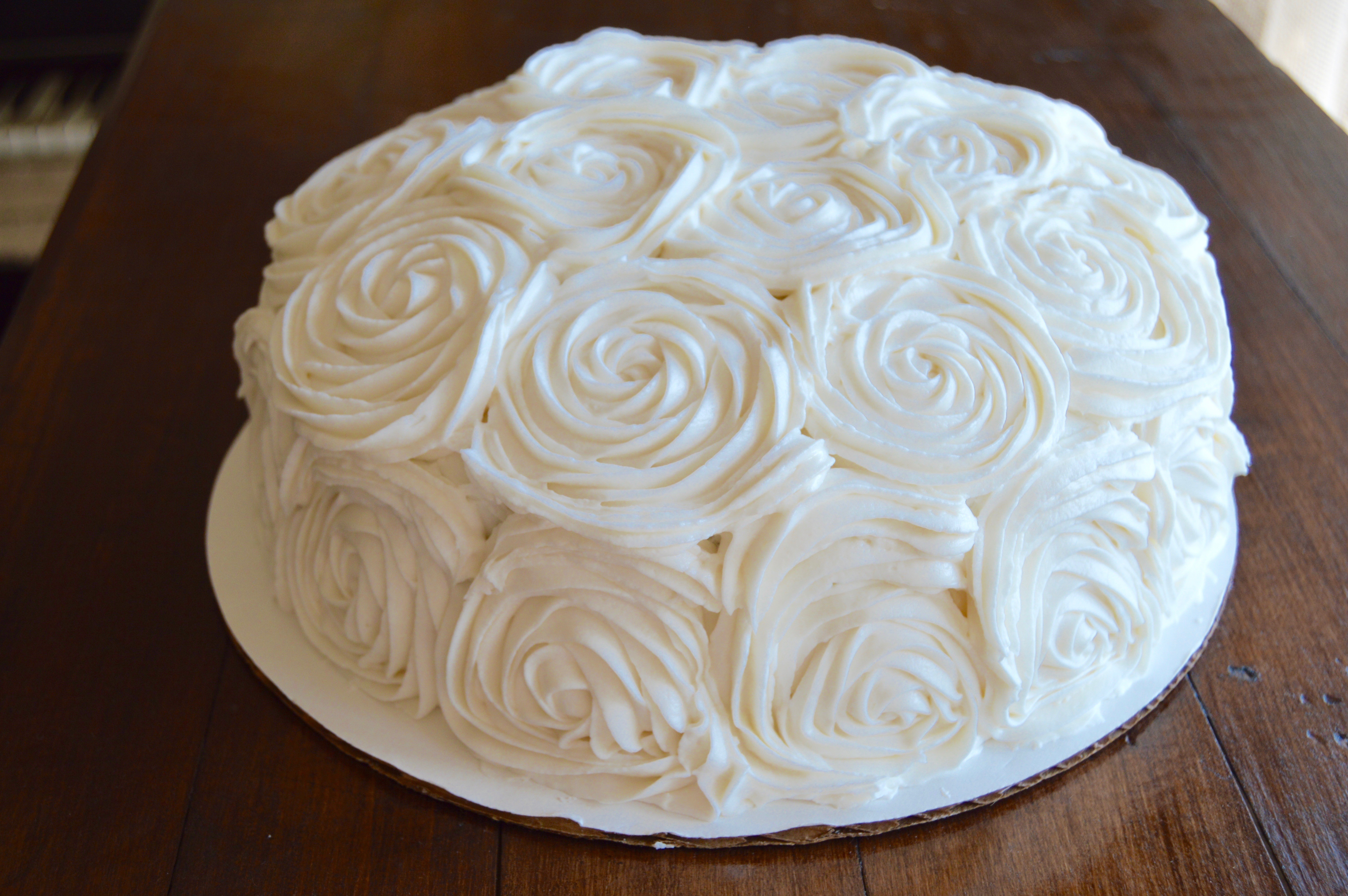 Step 7) Add a real flower or statement piece
Once your DIY wedding cake on a budget is frosted, add a simple but elegant statement piece that will bring your cake up a notch. I added a small bunch of flowers that matched the bride's wedding bouquet and the groom's boutonnière. (Check out our post on How to Make an Easy and Cheap DIY Wedding Bouquet.)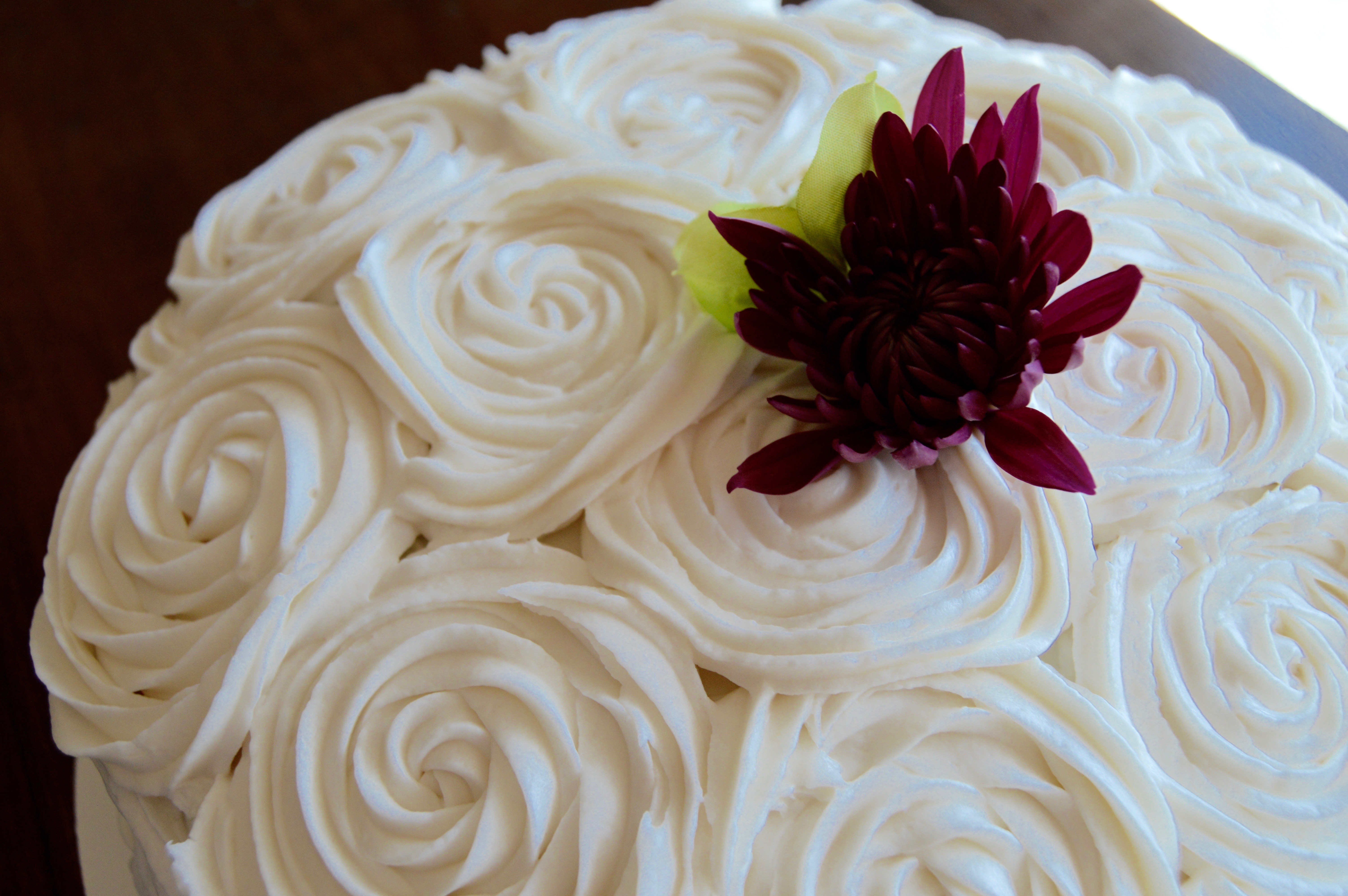 Congratulations!
Congratulations on your upcoming wedding and let me know if you have any questions about making your DIY wedding cake on a budget by commenting below!
Also, click here for our DIY Wedding on a Budget post, or click here for our post on how to make an easy and cheap DIY wedding bouquet for less than $10.
Pin It for Later!

Other Posts You Might Like