Summer is here which definitely calls for making a DIY summer wreath! I need to add some flowers and bright colors to my home decor so what better way to do that than by making a wreath for my door that shouts, "Hello summer!" while still matching my more neutral decoration style. Below I'll share with you the DIY summer wreath I made for summertime and step-by-step instructions so you can make your own.
(This page contains affiliate links that we may be compensated for. Your clicks and purchases help support The DIY Lighthouse at no extra charge to you. We only put links to products we love and would recommend anyway.)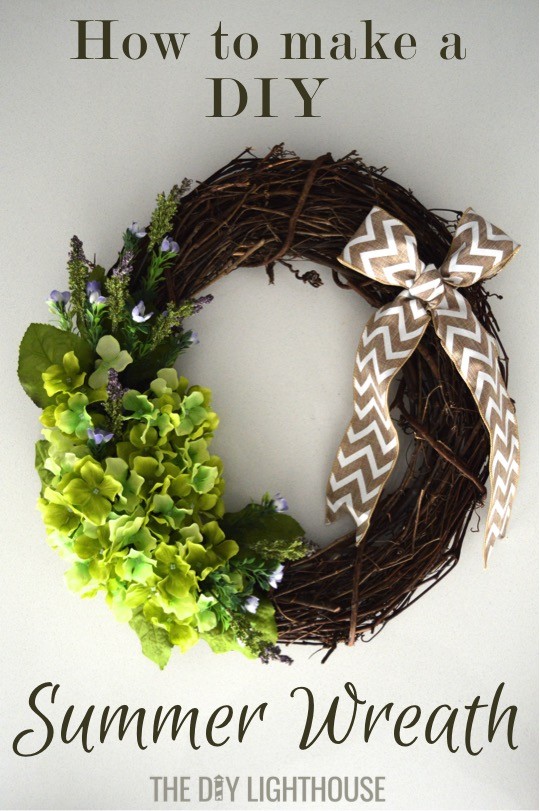 How to Make a DIY Summer Wreath
Step 1- DIY Summer Wreath) Gather supplies
The first thing you'll need to do is gather your supplies. I went to a local craft store, but I'll also share some Amazon links if that's easier for you. (If you want a different type of summer wreath check out our Spring & Summer Wreath Compilation post for ideas and inspiration.)
To make a wreath like the summer wreath pictured above, you will need the following…
Step 2- DIY Summer Wreath) Prep the area
Lay out a garbage bag or something on the table because you don't want hot glue getting onto your working surface.
Step 3- DIY Summer Wreath) Make your bow
Cut a long section of ribbon from the spool. You can always cut your bow smaller so be generous. When you cut, make a little V shape so the threads stay together better. (You can also hot glue the ends to keep them from fraying.) Make a bow. Because of the wired edges, you'll be able to maneuver it to the shape you desire. I personally like smaller loops on my bows.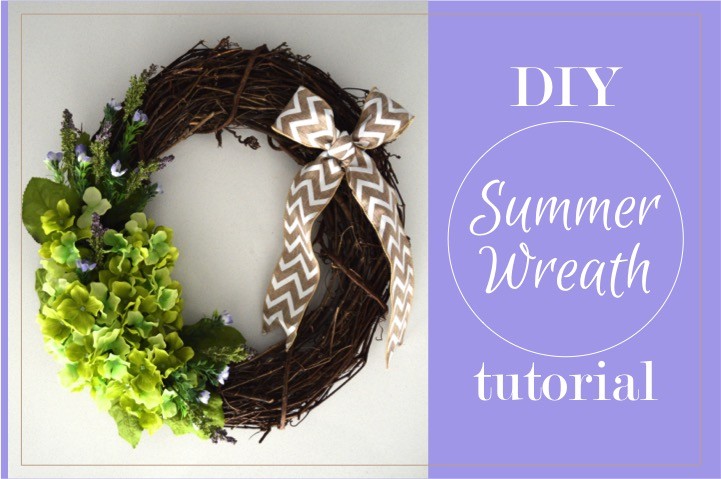 Step 4- DIY Summer Wreath) Lay out bow and flowers
Before you glue anything down, you'll want to cut your flower stems and lay everything out to make sure you like the arrangement. I used leaves from my flowers on the top and bottom of the arrangement to frame it a little bit.
Step 5- DIY Summer Wreath) Hot glue your arrangement
Piece by piece, you'll want to hot glue your flowers and bow to the wreath. I suggest sticking the flower stems down into the grapevines for more stability. You can be liberal with the glue behind the flowers where no one will be able to see. Once you have everything glued, then let it dry for a while.
And you're done! 5 simple steps to making your own DIY summer wreath.
Pin It For Later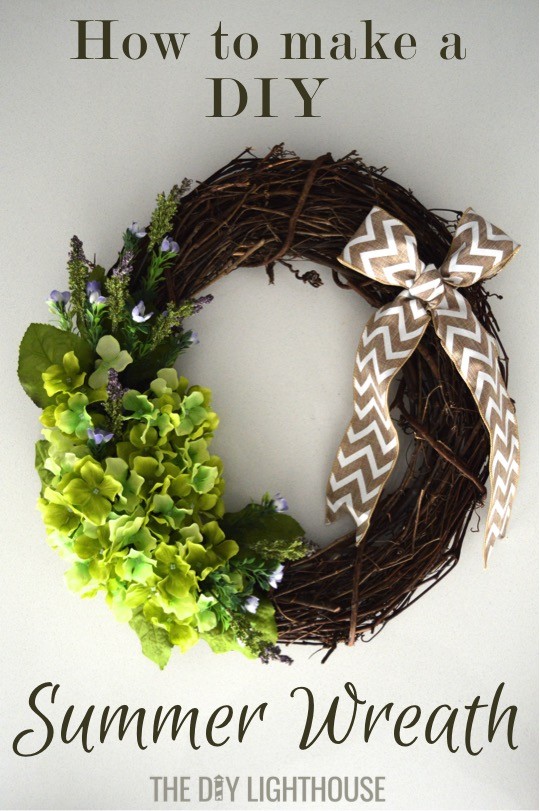 Other Posts You Might Like
For more summer wreath inspiration, check out our Summer Wreath Compilation post.