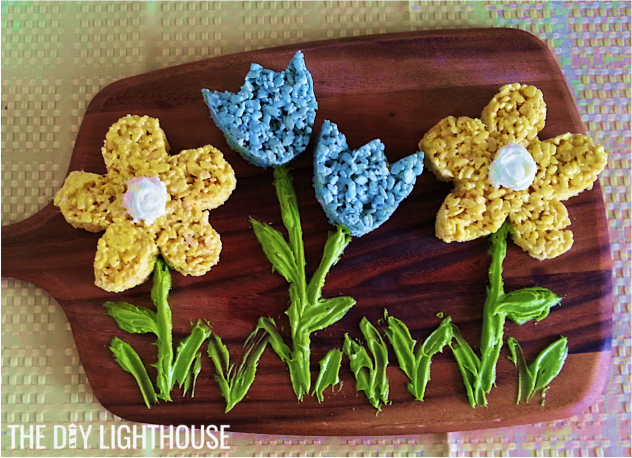 These treats are fun for Easter or any spring day. Here is the short list of ingredients:
1 pkg. mini marshmallows
6 cups Rice Krispies
¼ cup butter
Food coloring
Frosting (optional)
Because I wanted to make two different colored rice krispies, I put half of the ingredients in one saucepan and half in another. I made the rice krispie treats like usual (here is a link to directions: http://allrecipes.com/recipe/marshmallow-treats/) except that before I added the cereal I added yellow food coloring to one of the melted marshmallow mixes and added blue food coloring to the other. Feel free to pick any colors that you want your flowers to be!
After I was done making the rice krispie treats and had pressed them onto a baking pan, I let them cool for a little bit while I got ready to make my flowers. To cut out the flowers it would have been way easier to use a cookie cutter, but I didn't have one so I improvised–there is a lot of that going on in my kitchen. I drew flowers on paper, cut them out, laid them gently on top of the rice krispies so the paper didn't stick to them, and then traced my knife around the paper flowers. Voila! Colored flower rice krispie treats.
Because I was displaying mine on a table, I decided to put frosting in the middle of the flowers and draw stems and grass on my serving tray.
They looked so cute we didn't want to eat them! This was definitely a fun twist on normal rice krispie treats and it's almost just as easy. I recommend taking this to a party because it's sure to wow and it's cheap and easy.
Hope you enjoy making your own! Please share your versions of the DIY Rice Krispie Treat Flowers or add any tips you have in the comments below!