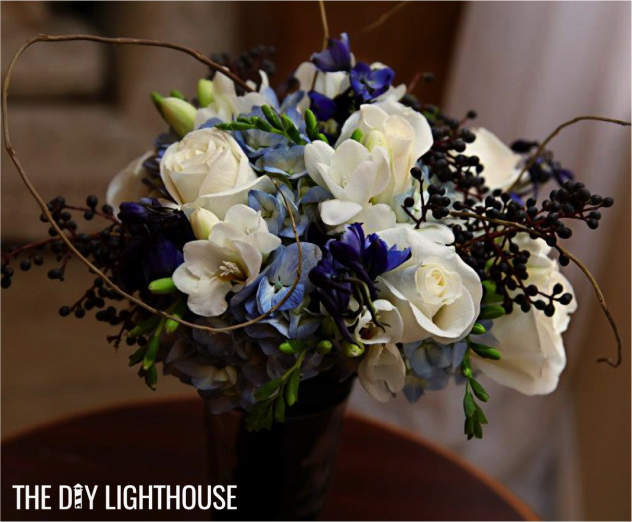 The dress, the bridesmaids, the invitation, the cake, the venue… the flowers…. There are a zillion decisions to make as a bride-to-be and hopefully this post will make the following question easier: Should you use real or artificial flowers at your wedding? Take this short personality test to find out!
Personality Test for Choosing Real vs. Fake Wedding Flowers
Are you a flexible person?
If your heart is set on a specific flower and it is not in season then fake may be the cheaper way to go. However, if you're willing to be flexible and can deal with changing to a flower that is in season, then getting real flowers may be cheaper than going the artificial route.
Are you sentimental and/or do you like keeping memorabilia?
If you want to keep your wedding flowers after the wedding, then fake takes the cake! (Of course you can dry real flowers… I hung my bouquet upside down after the big day to dry them out, and I still have them in a vase looking decent 2.5 years later, but I don't see them lasting more than another few years. Also, it makes moving stressful because I'm worried about them getting smashed.)
Are you frugal?
For some people, the budget dictates a lot of their wedding decisions. If you have a tight budget and/or you are frugal, then artificial flowers are usually cheaper and may be your best bet. However, don't necessarily assume that fake is cheaper! Do a little research because depending on what kind of flowers you are going with real flowers may turn out to be the cheaper option.
Are you either super traditional or a major romantic?
If you said yes to either of those, then you may say go real or go home. Real flowers help create a nice aroma and add to the romantic atmosphere. They are a classic part of the wedding day so the additional cost that real flowers may bring could be worth it to you.
Do you stress about getting things done last minute?
If so, then maybe fake is the way to go. Fake flowers can be made well in advance of the wedding day whereas real flowers have a short shelf life.
Are you indecisive?
If you can't decide between real or fake then maybe the best option is doing a combination of both! You may want a bridal bouquet with real flowers but don't care if the table centerpiece flowers are artificial. Or you may want the lovely smell and look of real flowers in your bouquet but one of your accent flowers is out of season. Do a combo! (Click here to see how to make a DIY wedding bouquet with a combination of real and artificial flowers.)
Hopefully the personality test helped you come closer to making your real vs fake decision. Every bride is different and cares about different things. My advice is do a little research, then go with your gut, and then don't stress about your decision!
If you need additional help deciding, here are two articles on the topic that you may find useful:
http://www.brides.com/blogs/aisle-say/2014/08/wedding-flower-etiquette-costs-who-gets-bouquets.html
http://www.doityourself.com/stry/real-vs-fake-wedding-flowers-comparison#b
Already married? How did you make the real vs fake decision? Comment below!