I had the honor of throwing a baby shower for my friend, Katie. She had a beautiful baby girl! With her nursery theme as a skiing, sailing, and travel theme, we thought it would be a fun idea to incorporate some of that into her baby shower. We settled on a adventure and sailing baby shower theme with a nautical emphasis, and I got planning!
(This page contains affiliate links that we may be compensated for. Your clicks and purchases help support The DIY Lighthouse at no extra charge to you. We only put links to products we love and would recommend anyway for cute sailing baby shower ideas.)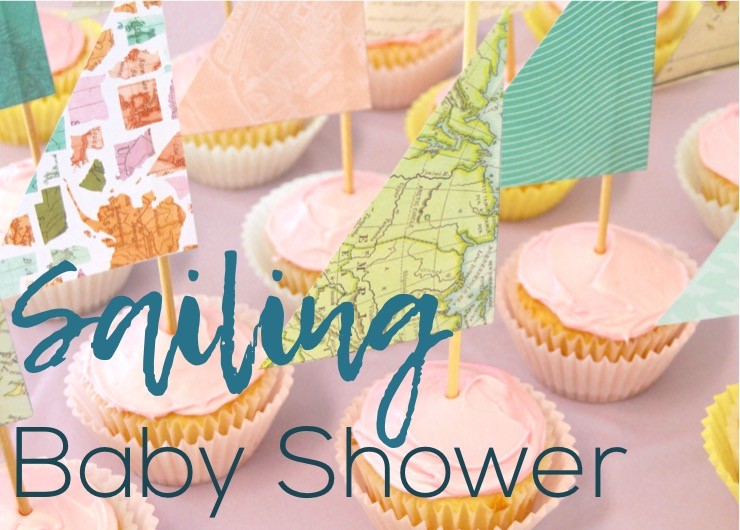 Ideas for an Adventure + Sailing Baby Shower
If you have a travel, adventure, nautical, or sailing baby shower coming up, then these ideas and tips might be helpful to you.
Colors
I used Katie's nursery colors as inspiration for the baby shower: pastel, spring-feeling colors. (She sent me the image below.) It was fun working with these colors when doing a baby shower with a nautical highlight because people usually use navy and/or red, so these were a playful change. I highly recommend coming up with a color palette to use for your baby shower as it provides direction and makes everything look cohesive.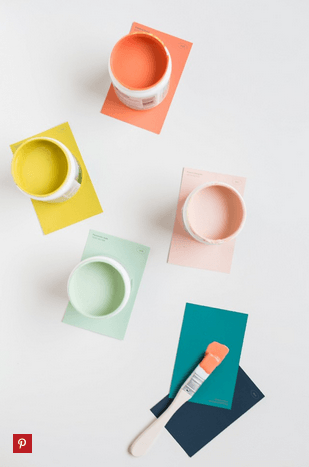 Credit: www.mydomaine.com
Invitation
When you're on a budget and have a time constraints like I did, doing an email invitation is a great way to go. The website www.evite.com has some cute and FREE pre-made invitations that you can use. Below is the invitation that I made on evite.com.
Unfortunately, there is a not a lot of customization available for free on this site, so if you have the time and resources a mailed invitation would be a nice touch. Click here for another invitation idea that I made for a travel-themed bridal shower. The concept would work well with an adventure sailing baby shower theme too.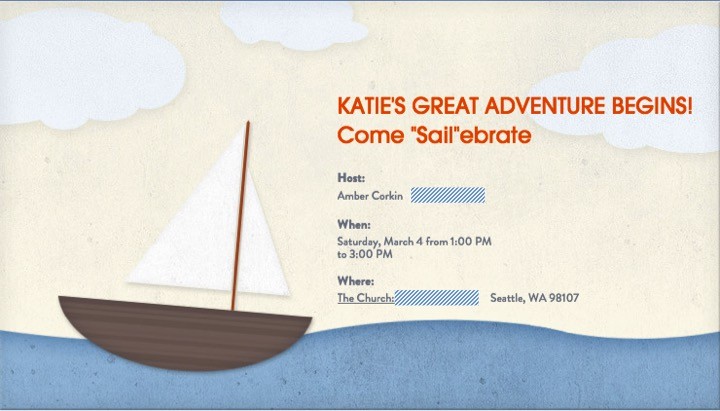 Food
If you follow this blog then you know I love food. In my opinion it's the best part of any party. (Besides the people of course.) I loved using food as a way to incorporate the adventure sailing baby shower theme. Sailing has a strong nautical connotation so I steered that direction. (Pun intended haha.)
Sailboats
Who doesn't love a good cupcake? I whipped up some white (cake box mix for the win!) cupcakes and added pink food coloring to the store-bought frosting. A simple frosting spread on top of each cupcake makes the frosting not distract from the cute paper sails that I taped onto wooden skewers for the sailboat's sails. I added a second paper cupcake liner at the end to make them look a little more dressed up.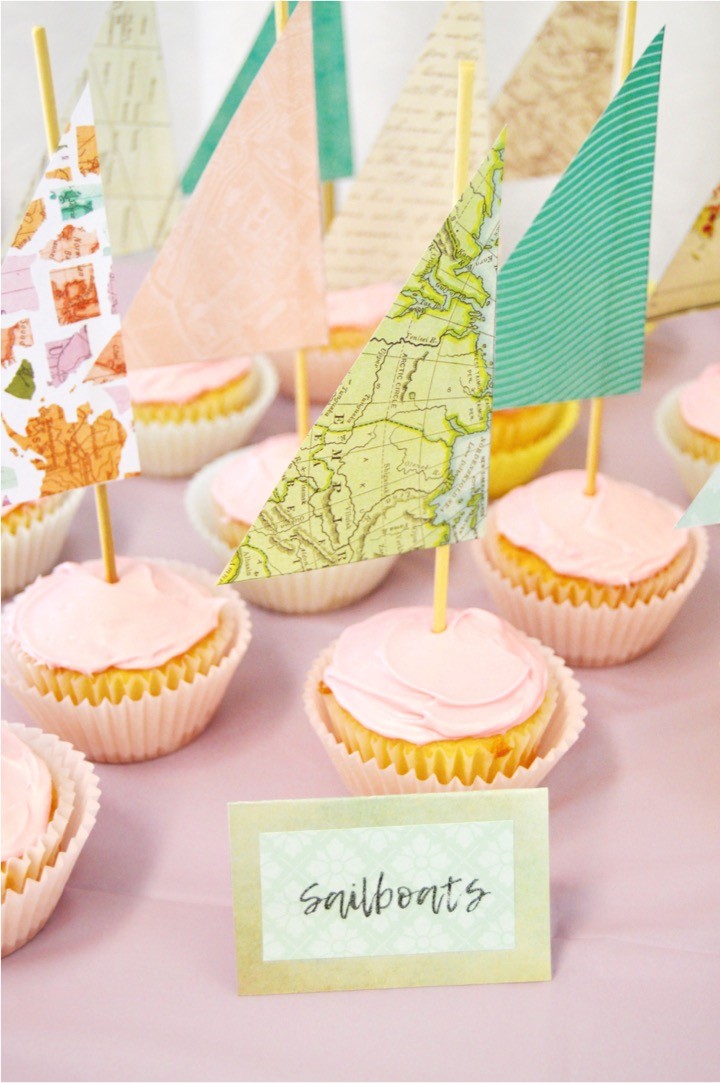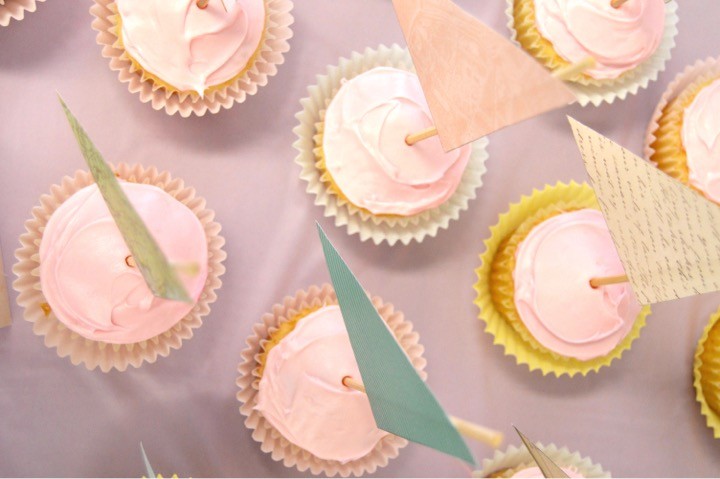 Lifesavers
Mini powdered donuts look like little lifesavers which are a classic sailing must-have. This treat is super easy because all you do is open the package and arrange them nicely on a plate or platter.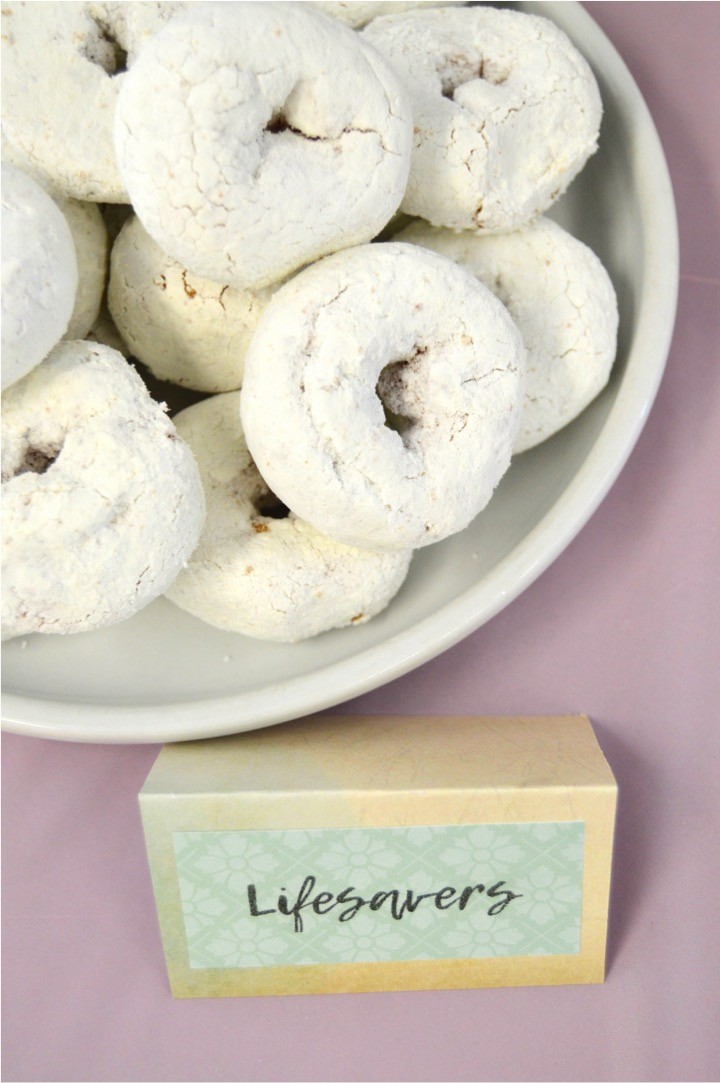 Salt Water Taffy
That's exactly what it is… salt water taffy. Playing off of the salt water in the ocean, this is a quick and easy way to tie in a nautical, sailing baby shower theme and add some sweets to the table. This should be available at any general grocery store. (Also available on Amazon. Click here for an assorted bag, here for a bag of blue taffy, or here for a bag of pink taffy.)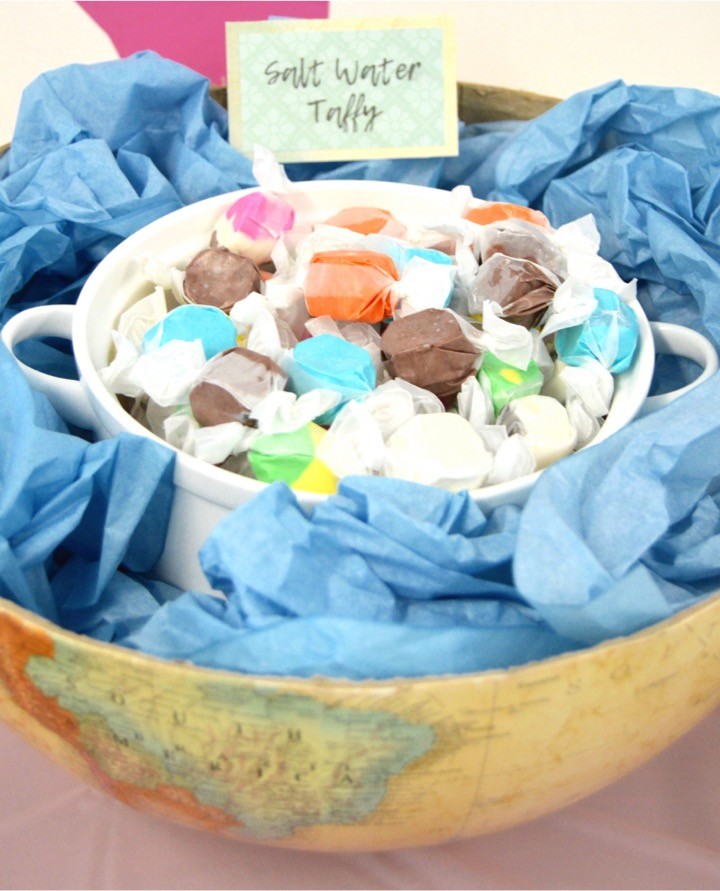 Driftwood
I wanted to have a healthy option for guests, so I cut up some long carrots and celery sticks into individual-sized sticks and put them in a cup along with some ranch dip. The cups are perfect for munching and mingling. (Out of all the food, these went the quickest!)
Seaweed Dip
I saw this idea on Pinterest (I can't recall the exact pin) and loved it! This spinach artichoke dip with bread gives guests a hearty, savory food option. The spinach mimics seaweed which is a perfect tie-in to our sailing baby shower theme. Click here for the recipe I used–it was delicious!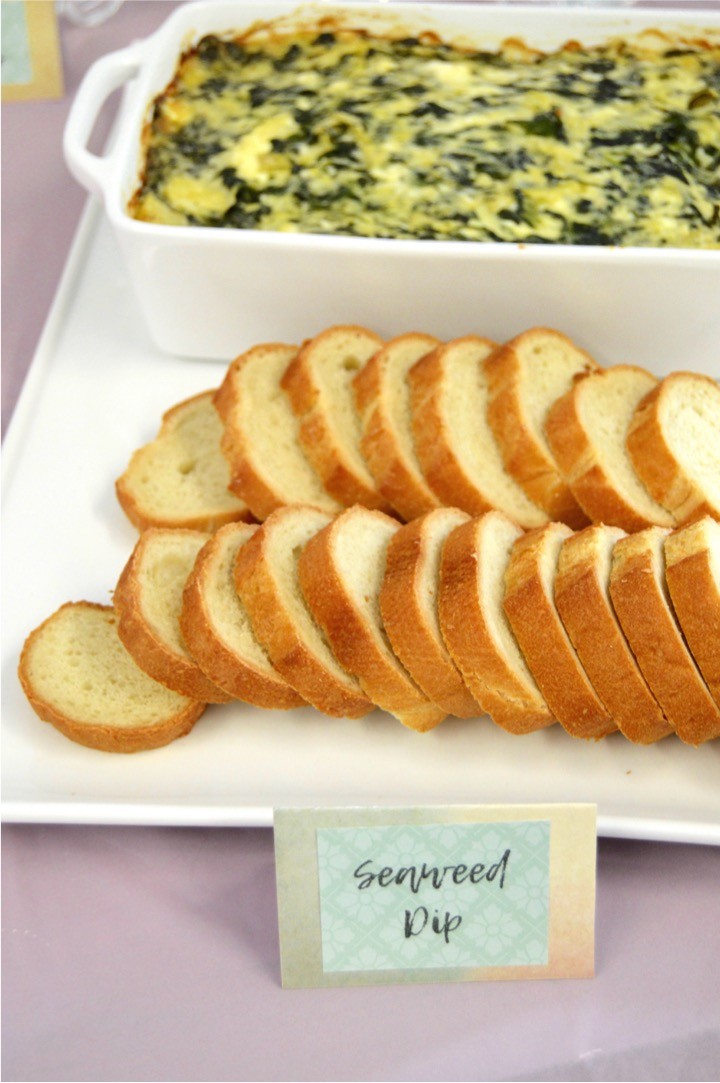 Water Bottles
For the drink, I opted for individual water bottles that come pretty cheap at any grocery store. Water and sailing are obvious together and this drink was almost a second party favor as a handful of guests took their water with them on the road.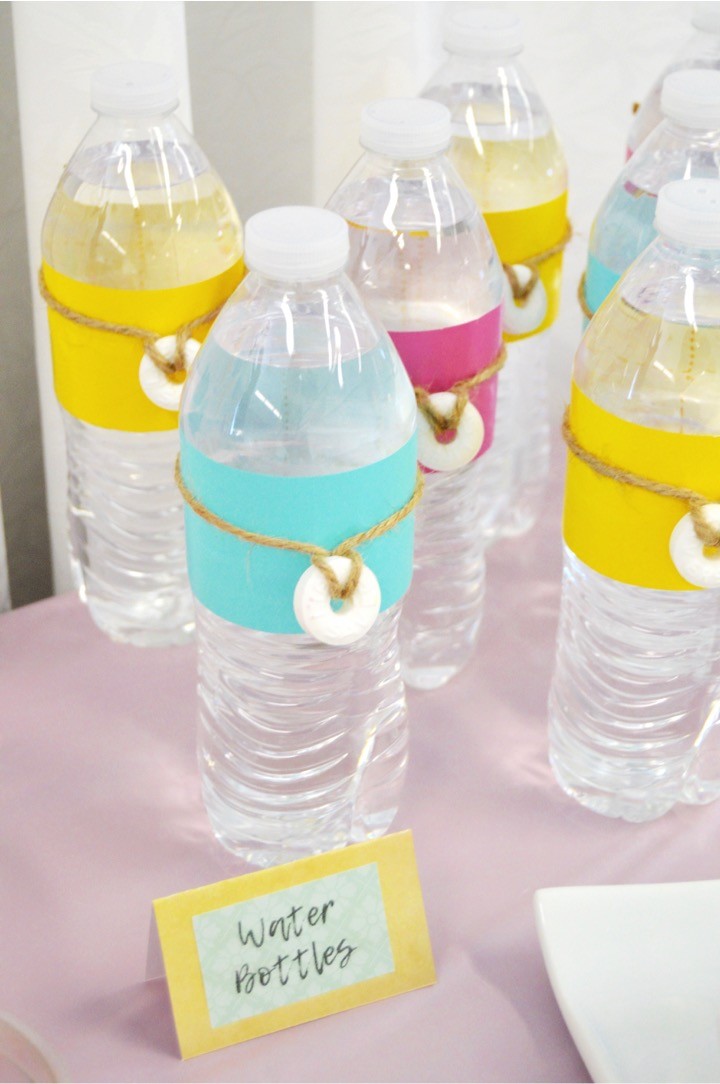 To make these water bottles, I simply took off the label, hot glued on my own colored labels (I used wrapping paper strips but regular paper strips would work well too), and then tied twine and a mint lifesaver candy around the paper. Below is a step-by-step visual tutorial for how I tied on the lifesaver.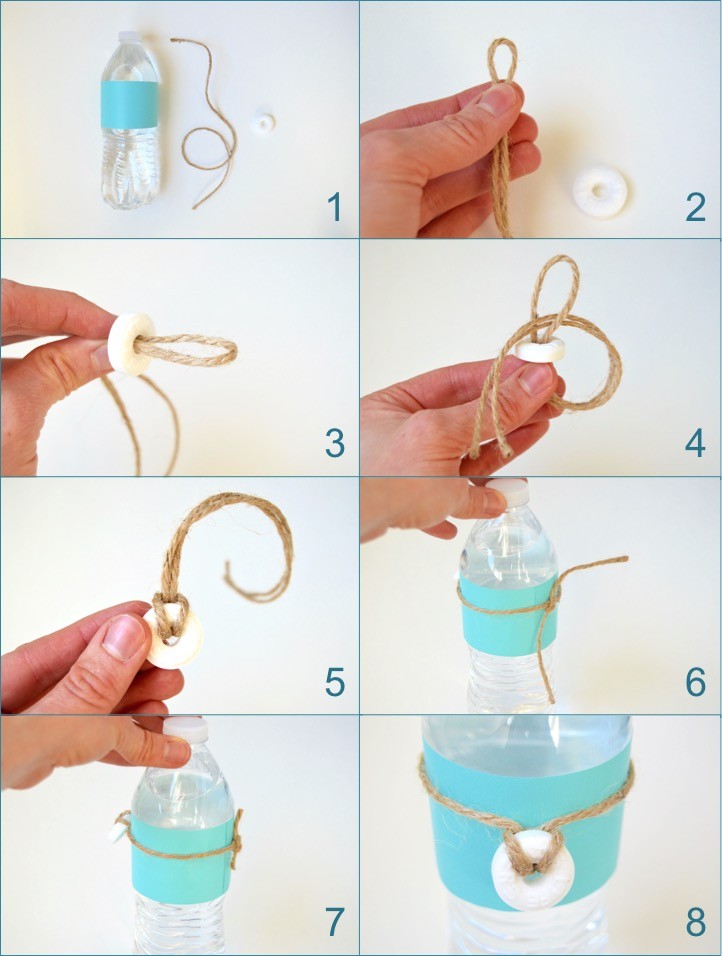 Decorations
If you've seen my other parties or showers then you know I like to focus almost all of my decor efforts on key areas. (Pro tip: I think focusing decor on one or a few key spots is a great way to make a statement but not spend a bunch of time and money trying to decorate an entire room.)
The Whale-come Table
Guests were whale-comed as soon as they walked in with a "Whale-come to Katie's Baby Shower" sign.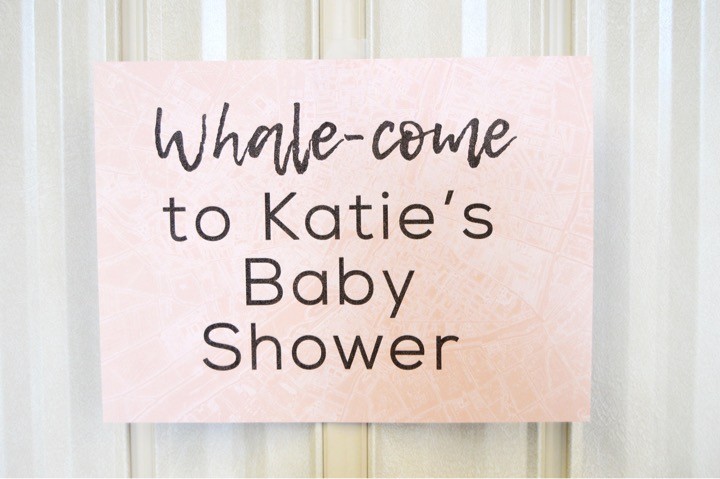 This table served as a place for guests to put their gifts and do a quick activity.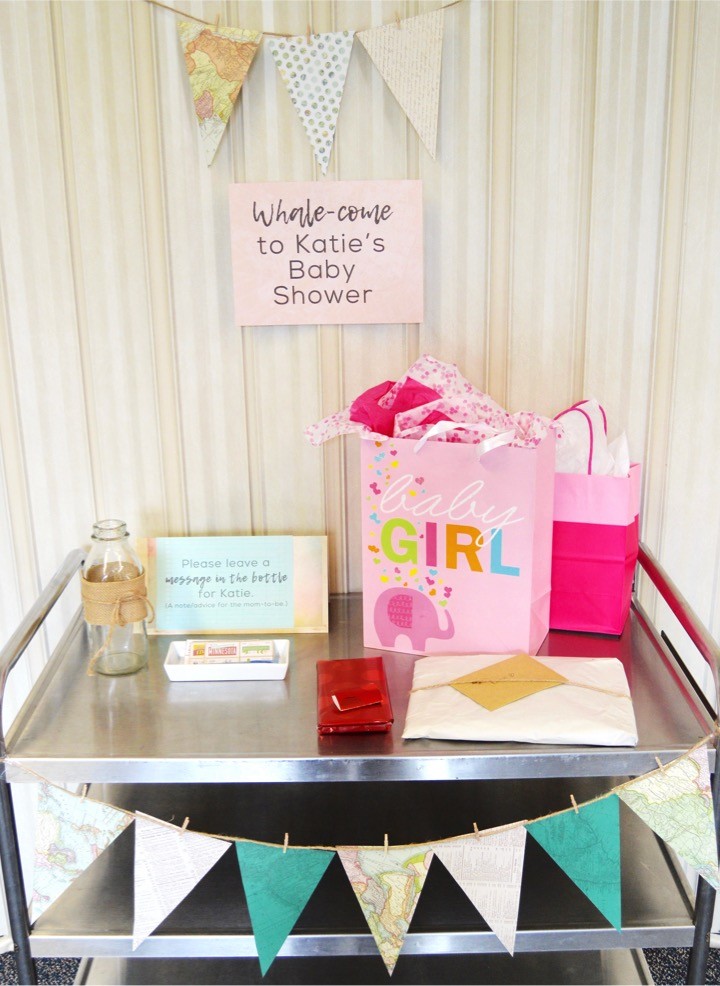 Guests were instructed to "Please leave a message in the bottle for Katie. (A note/advice for the mom-to-be.)" I found an inexpensive bottle with a wide enough opening at a thrift store and spruced it up a bit with some burlap ribbon and twine. (A milk bottle like this would be perfect.) I left note cards and pens for guests to write a little message. At the end of the baby shower, I gave these notes to Katie.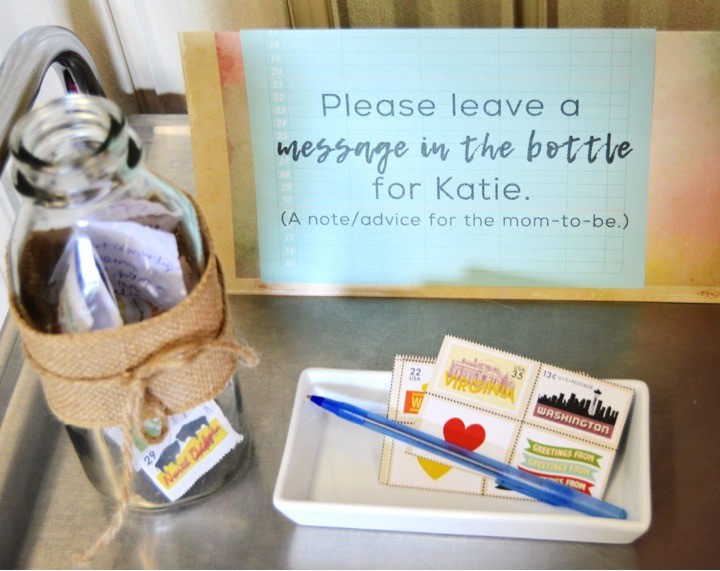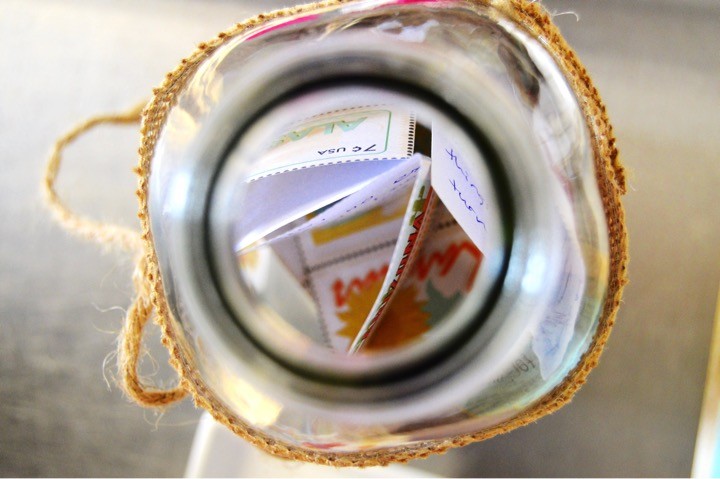 The Food Table
My food table was the main focus of the decor at this sailing baby shower. It had paper and burlap flag banners. The "Life is a Journey" banner helped tie in the adventure aspect of sailing, and it was appropriate that life was being celebrated at the baby shower. (Secretly, I repurposed this banner from an earlier travel-themed bridal shower I threw.)
I also made a quick DIY world map from post board and the same paper I used on the water bottles. Click here for a step-by-step tutorial on how to make a DIY world map. The salt water taffy I put in half of a world globe with blue tissue paper to mimic water. I found a globe like this one that I got used. Also, in a way the food itself was a part of the decorations helping tie in the theme. (And click on these links if you want the plates, napkins, and tablecloth like I had.)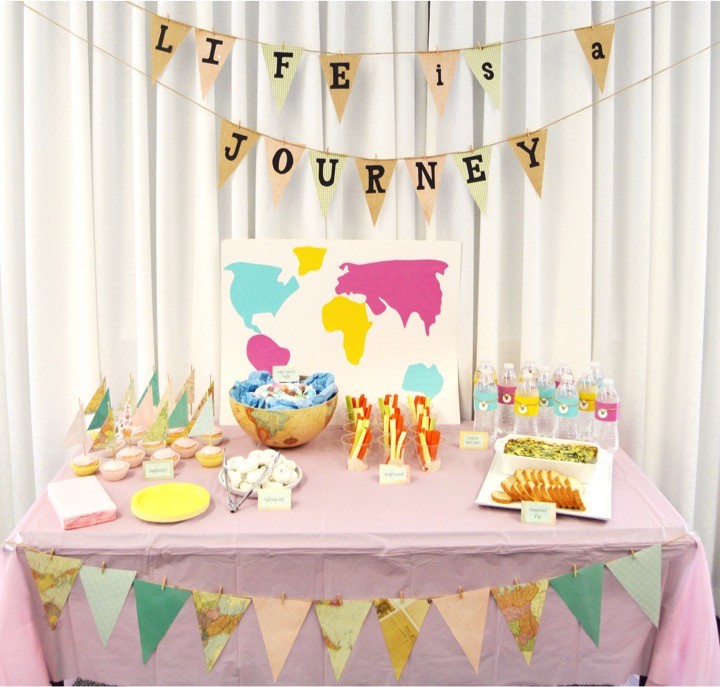 The Party Favor Table
And lastly, the party favor table with its "Thanks for sailing by. Sea you later!" sign. You can't have enough puns for a sailing baby shower 🙂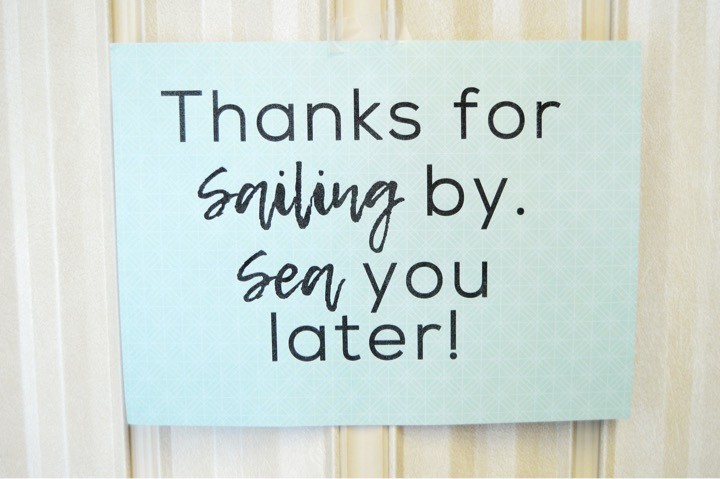 This table held the goldfish cracker party favor cups that I transformed into mini sailboats for guests to take on their way out the door.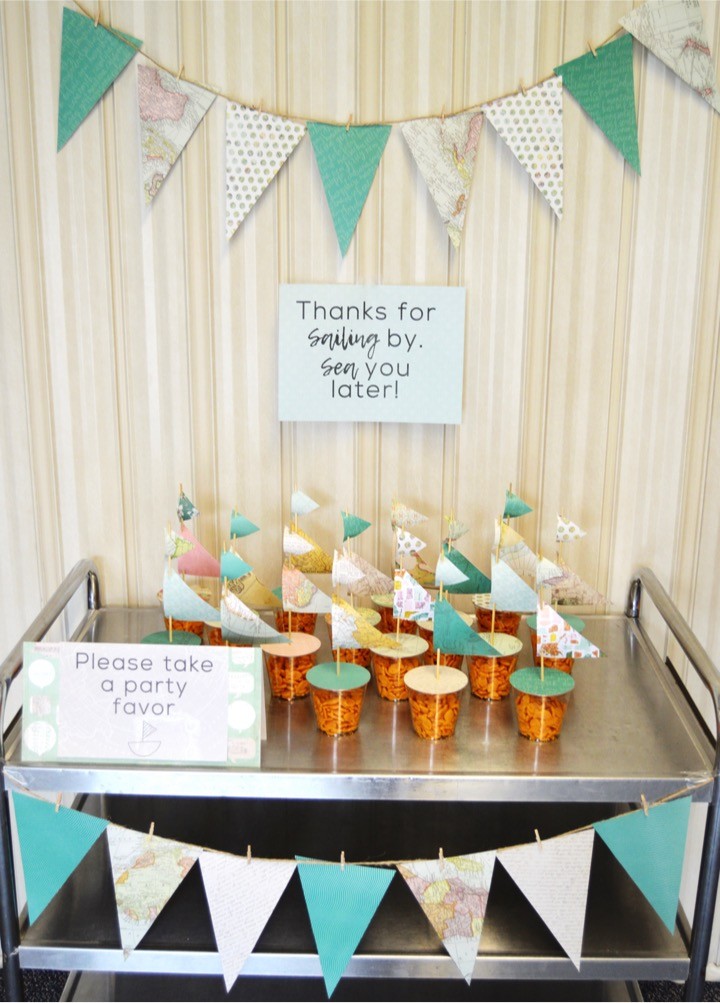 For step-by-step instructions for how to make these sailboat party favor cups, click HERE! We wrote a blog post specifically for making these cute, little party favor sailboats complete with a YouTube video.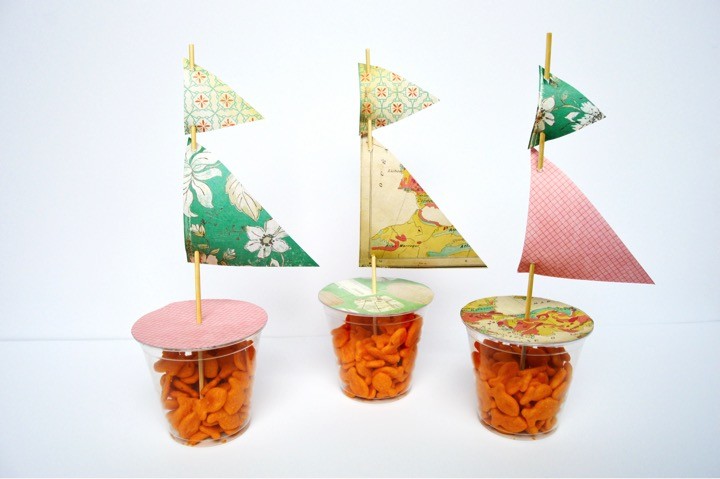 Common Decoration Elements
The colors found in the color scheme above were a cohesive element to the baby shower decor. Flag banners were also a common and important element throughout the party decorations for this sailing baby shower. I cut triangles out of different travel- and sailing-inspired paper and hooked them onto twine with mini clothespins.
I found my travel paper at a craft store, but here are some cute paper pack options on Amazon that would work depending on your needs: old world, set sail, ahoy there, nautical, seafarer, yacht club, cape cod, and travel stories.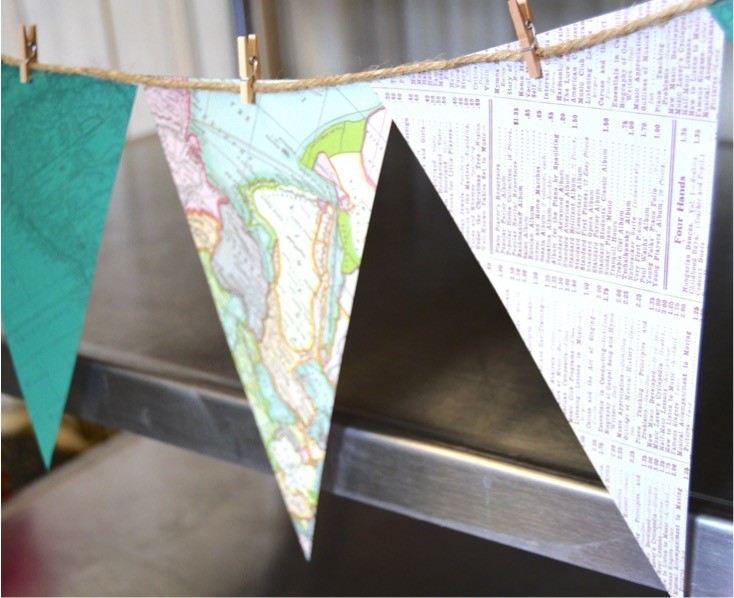 If you have a bigger budget than I did for your sailing baby shower, then here are some really cute options for things you can get to incorporate the nautical sailing theme into the decor:
Games
At this sailing baby shower we played two games. They were both low-key and something anyone would feel comfortable participating in. (None of those gross lick-chocolate-out-of-diapers games.) The winner of each game won a bag of gummy fish (Swedish Fish would work too). You may want to bring a couple extra in case there's a tie… I didn't so they had to duke it out.
Baby Around The World Matching Game
This game was easy to prep, explain, and execute. All you need to do is print off enough copies for each guess to fill out their own and bring enough pens/pencils for everyone. (Click here for a PDF you can print.)
To play the game, guests match which "baby" belongs with which language from around the world. They can draw lines to match them up. Whoever guesses the most correct wins.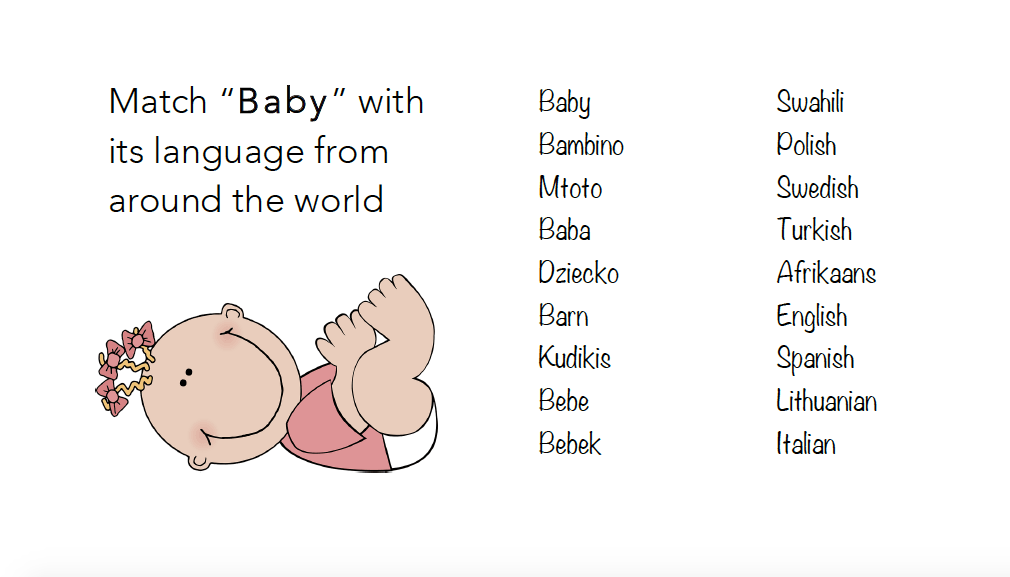 ANSWER KEY:
Baby- English

Bambino- Italian

Mtoto- Swahili

Baba- Afrikaans

Dziecko- Polish

Barn- Swedish

Kudikis- Lithuanian

Bebe- Spanish

Bebek- Turkish
Mom or Dad? Baby Shower Game
I almost always do a version of this game when I host baby showers. It is a fun, funny, and sentimental game that helps the focus stay on the mom-to-be. This game takes a little more time to prep than the last one, but it's worth it. This game was my favorite moment during the baby shower.
Prepare in Advance
To prepare, you ask the mom-to-be and the dad-to-be a list of questions. They cannot hear or know each other's answers. (I emailed them separately with the list and said to keep their answers a secret.) My list of questions went as follows…
During pregnancy which foods did Katie avoid?

During pregnancy which foods did Katie crave?

What word would you use to describe this pregnancy?

What will you miss most about life without baby?

Who will be more nervous when labor has started?

How long will labor last?

What will Katie's first post-baby meal be?

What quality of

Derek

do you want the baby to have?

What quality of Katie do you want the baby to have?

What baby milestone are you most looking forward to?

Will baby be a mama's girl or a daddy's girl?

Who will be stricter with your child?

Is the baby more likely to be a Cougar fan or Ute fan? (They each strongly prefer one team.)

What will your baby's future hobbies be?

What do you think your baby will be when she grows up?
Once you have their answers, randomly alternate which response is read first or second. (I flipped a coin and for head's wrote the mom's response first and for tails wrote the dad's response first.) I recommend writing out the questions and responses ahead of time so you don't have to worry about randomizing them while you're playing the game.
You will also want to prepare popsicle sticks with "Knot Katie" and "Aye, it's Katie!" (replacing Katie with your mom-to-be's name). I printed out these little squares I made with the text, cut out the squares, colored them in quickly, and used a glue stick to glue them onto the end of popsicle sticks.
How to Play the Game
To play the game, give each guest a pair of popsicle sticks. Then, read the question with the randomized responses. Ask guests if the mom-to-be said the first response. (Example… "Question #2: During pregnancy which foods did Katie crave? The answers: 'Anything sweet' or 'Strawberries.' Did Katie say 'Anything sweet'?")
If they think yes, then they hold up the "Aye, it's her!" stick. If they think she didn't say that response then they hold up the "Knot her" stick. Let the mom-to-be reveal the correct answer by holding up the correct stick. Whoever gets the most guesses right wins.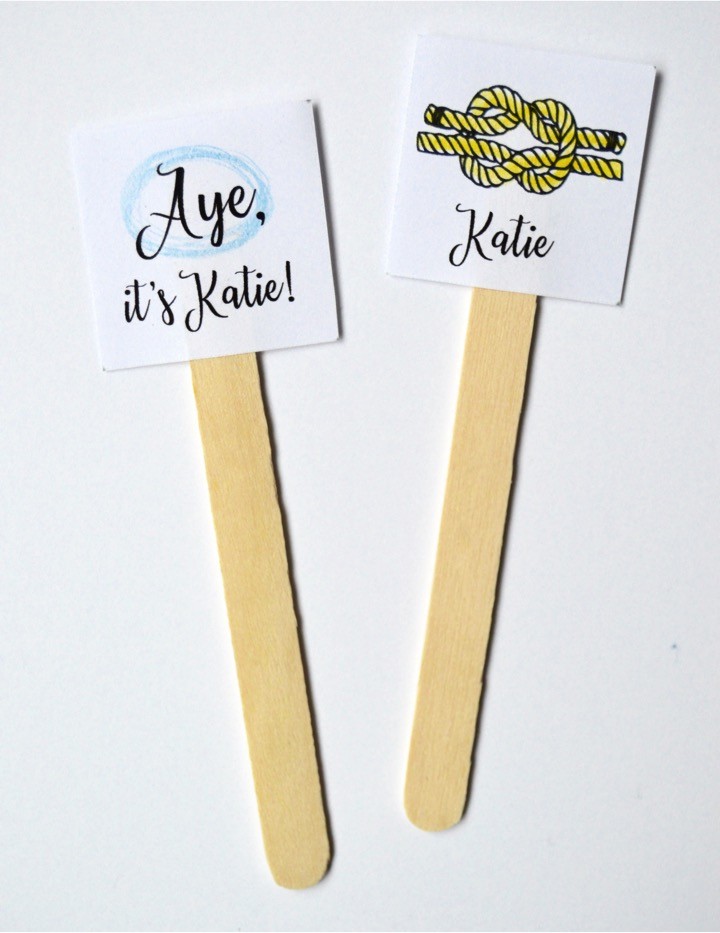 Gifts
If you've got a cute theme like with an adventure and sailing baby shower, you may as well give gifts that go along with it too. I found a cute "Hello World" outfit on Amazon. The specific outfit I got is no longer available, but click here for a similar outfit, here for a tutu-onesie outfit, and here for a gender-neutral outfit.
I also gifted Katie Dr. Seuss's book "Oh, the Places You'll Go!" I heard of a cute idea where the parents secretly have people who are important to the child (delivery doctor, teachers, friends, etc.) sign the book throughout their childhood, and then when the kid graduates from high school the parents gift them the book full of notes.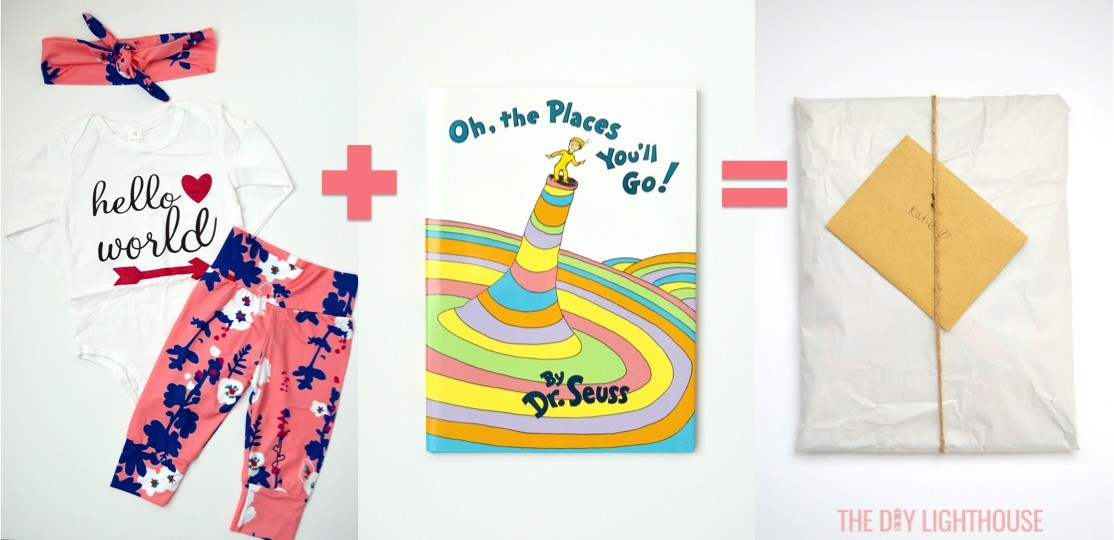 What Do You Think?
Did you find our ideas for a nautical sailing baby shower helpful? If you have any additional ideas please share in the comments section below. Hope your sailing baby shower is a success!
Pin It For Later

Other Posts You Might Like