Wondering what to give your neighbors, friends, co-workers, or family this year for the holidays? These DIY mason jar neighbor Christmas gifts are waaay easy and super cute! Help those around have a merry and bright holiday with a little bit of homemade love. Recreate the ideas below or simply use them as inspiration!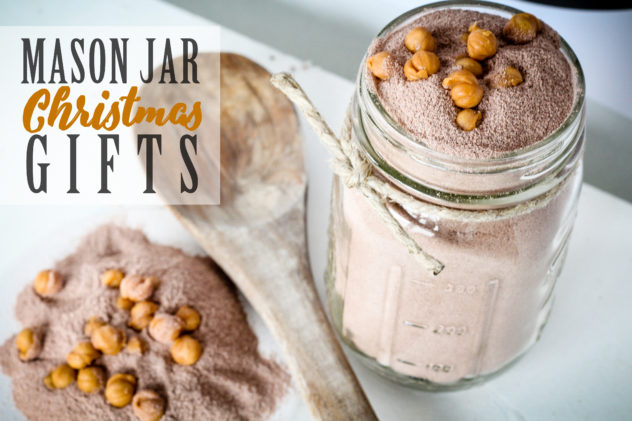 DIY Mason Jar Neighbor Christmas Gifts
For all of these DIY mason jar neighbor Christmas gifts, I used pint-sized mason jars. They cost just over a $1 a piece: Ball Pint Regular Mason Jars + Lids. I also added a bit of thick twine to each jar. You can use plain jute twine (here) or Christmas colored twine (here). Just have fun with it and make it your own!
(This page contains affiliate links that we may be compensated for. Your clicks and purchases help support The DIY Lighthouse at no extra charge to you. We only put links to products we love and would recommend anyway.)
Chocolate Chip Pancake Mix Jar
Make your own pancake mix recipe or simply do what I did and use the Costco-sized Krusteaz Light & Fluffy Buttermilk Pancake mix. Super cheap and super quick! Just add chocolate chips to the batter! Be sure to measure how much pancake batter you put into the mason jar and include a preparation guide alone with the jar. (This brand of pancake mix calls for 2/3 c. of water for every 1 c. of mix.)
Cookie Dough Jar
Who doesn't love cookie dough?! Especially when it has chunks of chocolate graciously spread throughout. You can buy pre-made cookie dough: you can buy an entire case of cookie dough for less than $70! (Click here.) Or, for a more personal touch, make your own family cookie dough recipe. Whether your neighbors, friends, or co-workers choose to eat it as dough or bake it into cookies, they are sure to love it! Add a extra "wow" factor by tying a cookie cutter to your cookie dough jar. You can get an 18 piece cookie cutter set for $11.99 here. (P.S. Be sure to include directions for how to bake them and a reminder that cookie dough needs to be refrigerated.)

Cranberry Layered Cookie Mix
Aren't the layers of this jar just gorgeous?! Plus the red cranberries just it such a fun Christmas twist and flavor. The recipe for this jar can be found on Allrecipes.com, one of my favorite recipe sites! (HERE is the direct link.) It uses simple ingredients that can be bought in bulk, and you can even adapt the recipe to accommodate ingredients you already have in your pantry. When your jar is ready to go, add a quick tag that explains how to complete the cookie recipe and includes baking directions.
Caramel Hot Chocolate
I think this is the easiest of our DIY mason jar neighbor Christmas gifts. *Win!* All you need is hot chocolate mix and caramel bits. Ghirardelli is my favorite brand of hot chocolate…soooo rich, and you can buy a 10 lb. box of cocoa mix for $45 or a less expensive & still delicious 12 lb. package of Marquis cocoa mix for less than $35. The caramel bits are the "icing on the cake" in this Christmas jar. You can get 131 oz. of caramel bits (that's a lot of caramel!) for $28.79. For the amount of hot chocolate and caramel you get, this Christmas jar gift is the way to go! And it'll keep those you love warm during the holidays.

Christmas "Poop"
Snowman poop (aka marshmallows) and reindeer poop (aka Milk Duds) are a fun, whimsical way of wishing your neighbors and friends a merry Christmas. What's great about this Christmas jar idea is that the marshmallows really fill up a lot of space, so you're getting the biggest bang for your buck. Simply pick up marshmallows and milk duds at your nearest grocery store and add a cute Christmas tag. It's a "crappy" and awesome gift idea!
Planning to do other DIY mason jar neighbor Christmas gifts? Let us know what you put in the jar by commenting below! And happy holidays!
Oh, there's no shop like this for the holidays!
Shop The DIY Lighthouse for your holiday gifts:
More posts you might like: