This shop has been compensated by Collective Bias, Inc. and its advertiser. All opinions are mine alone. #OrganizeWithBrilliance #CollectiveBias
Spring is coming up and we all know what that means… spring cleaning! Some people may cringe about spring cleaning and organizing, but I get super excited! Why? Organization is my jam! As a former professional organizer, I am fully aware of the benefits that come from cleaning and organizing in your home. Today we're talking about usually one of the most neglected spaces in the home: the fridge. But have no fear! I'll be sharing pro tips for an organized and clean fridge.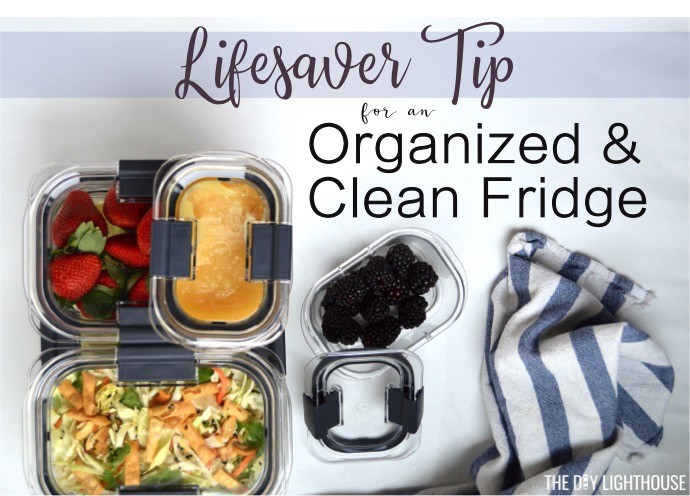 Tips for an Organized and Clean Fridge
There are different ways to have an organized and clean fridge. I'm not just talking about having it be clean today. If you follow these tips your fridge will stay clean and organized but for the long run. Below are some of my fridge tips.
Fridge Cleanliness Tips
Keep food covered to keep odors away
Immediately wipe up spills if they happen so the sticky, hard-to-clean drips and rings don't happen
Regularly (about weekly) do a sweep through of your fridge and get rid of any food going bad
To store food, use clear containers that will let you see the contents so nothing spoils unknowingly
When cleaning your fridge, start at the top shelf and work your way down. This will prevent crumbs from falling onto your already clean areas.
Fridge Organization Tips
So you aren't digging through your fridge looking for something, find "homes" for your different food items and put them there so you always know where a certain food will be (for example, grains on the middle shelf, cheese in the center drawer, veggies in the bottom right drawer, etc.)
Use stackable containers to utilize vertical space between shelves
To decrease clutter in your kitchen, don't stick anything on the outside of your fridge (magnets, pictures, to-do lists, etc.); it'll make your whole kitchen feel more clean and organized
For this post we'll focus on one overarching tip that will help you have an organized and clean fridge….
Lifesaver Fridge Tip: Invest in containers that will keep your fridge organized, clean, and odor-free.
The Best Food Storage Containers
I love making food for myself, my little boy, and my husband. We live off of quick breakfasts, leftovers for lunch, and home-cooked meals for dinner. Even though we save money by not eating out very frequently, as my lifesaver tip mentioned above, I believe it is important to invest in containers that will help you achieve an organized and clean fridge. Let's not make life harder than it already is.
I have recently discovered a beautiful solution to my family's fridge cleanliness and organization problems: the 10 piece Rubbermaid® BRILLIANCE™ food storage containers set. Rubbermaid® BRILLIANCE™ is available nationwide at Walmart, Bed Bath & Beyond, Target, Amazon and other fine retailers. Below I'll share 5 reasons why getting this set is the best thing you will ever do for your fridge. . . .
1) Leak-proof
Raise your hand if you've spilt something in your fridge recently. My hand is shooting up in the air. I recently tipped a yogurt container trying to wiggle it out of the back of the fridge and juice leaked everywhere. Yuck! I spent the next 5 minutes wiping things up and down. Rubbermaid® BRILLIANCE™ storage containers have a 100% leak-proof guarantee. It's the #1 difference between these containers and others. 100% is pretty impressive, and it's kind of a no-brainer that avoiding leaks and spills will you have an organized and clean fridge and an odor-free one too. (Side note, this feature also makes it great for meals on-the-go!)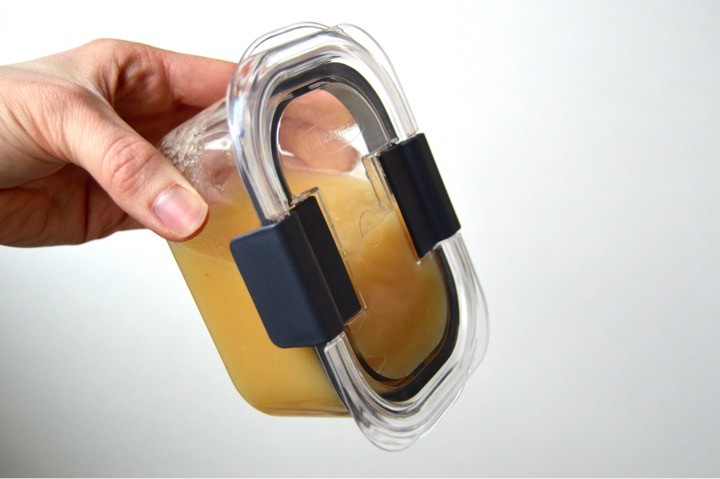 2) Easily stackable
Do you get frustrated trying to fit more in your fridge? There's always one more little spot to squeeze something in, am I right? Being able to stack food items and leftovers easily will keep your fridge stay more organized, and you will be able to fit more in.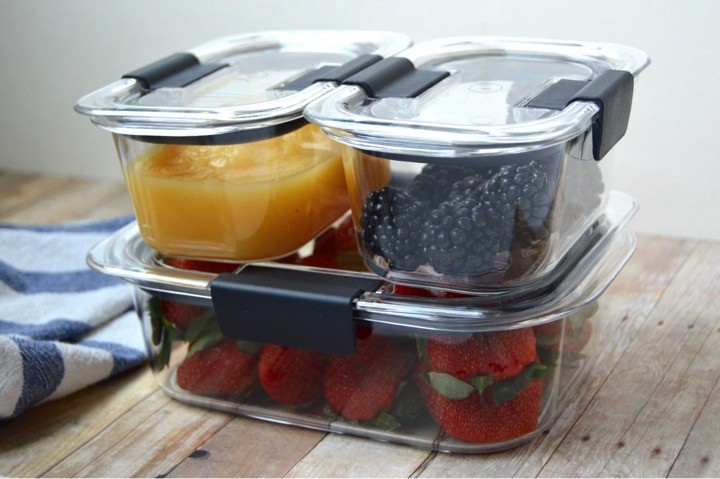 3) Clear visibility
When working as a professional organizer I would always advise clients to use clear bins and containers. This is especially important in the fridge where you have perishable items. Using clear containers will allow you to immediately see the contents of containers without fiddling with opening/closing lids. Rubbermaid® BRILLIANCE™ boasts crystal-clear visibility in not only their base but also their lids, and it resists stains so they will stay that way.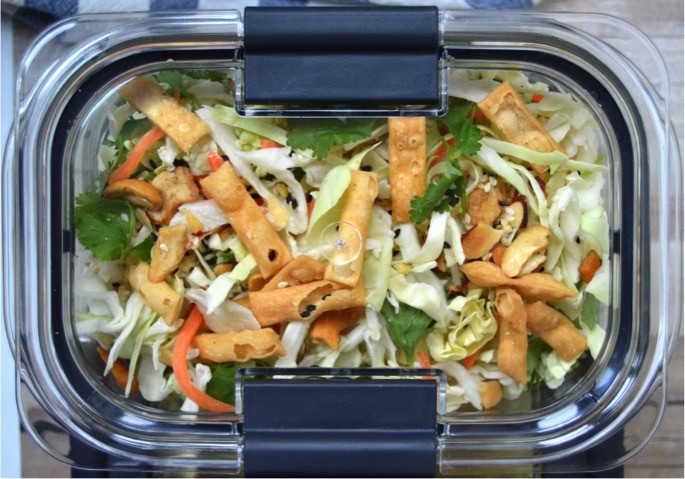 4) Temperature resilient
Although I love making pretty food, I'm a pretty practical person, which means I like food prep and food cleanup simple and easy. These Rubbermaid® BRILLIANCE™ containers are safe for the dishwasher, microwave, and freezer. This means no hand washing, no transferring to a bowl or plate when you're reheating leftovers, and no flimsy freezer bags to store liquids. FYI, there are these little vents on the containers that let you microwave with the lid on and the latches open to help keep splatters to a minimum. A nice feature. (See the picture below. Not that I would microwave blackberries… Just demonstrating how the latches open.)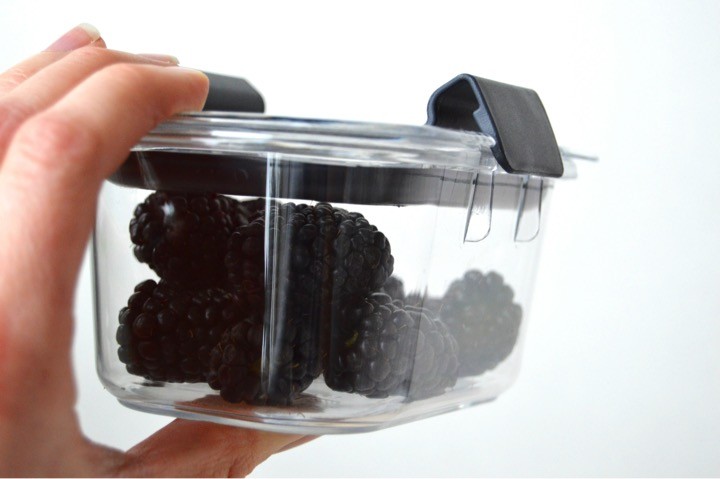 5) Odor resistant
You wash your armpits for a reason… bad odors are obviously not pleasant. Like it is with your body, odor is also a big part of fridge cleanliness. Baking soda can only do so much, so investing in odor-resistant containers like Rubbermaid® BRILLIANCE™ is important.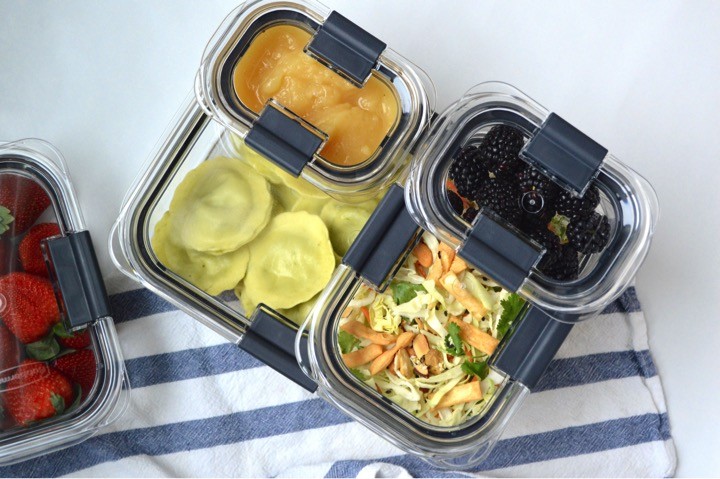 Fridge Success!
To test out the Rubbermaid® BRILLIANCE™ and the fridge organization and cleaning tips, I took a before and after photo of my fridge. The lighting in the pictures is not fantastic, but you can clearly see the dramatic improvement! I now have a very organized and clean fridge. By finding homes for my food (grains on the top shelf, cheeses in the middle drawer, veggies in the bottom right drawer, etc.), and using Rubbermaid® BRILLIANCE™ containers to store my food instead of pots and other containers, my fridge is a lot more organized. I am able to see what food I have at a quick glance… no digging through the fridge needed!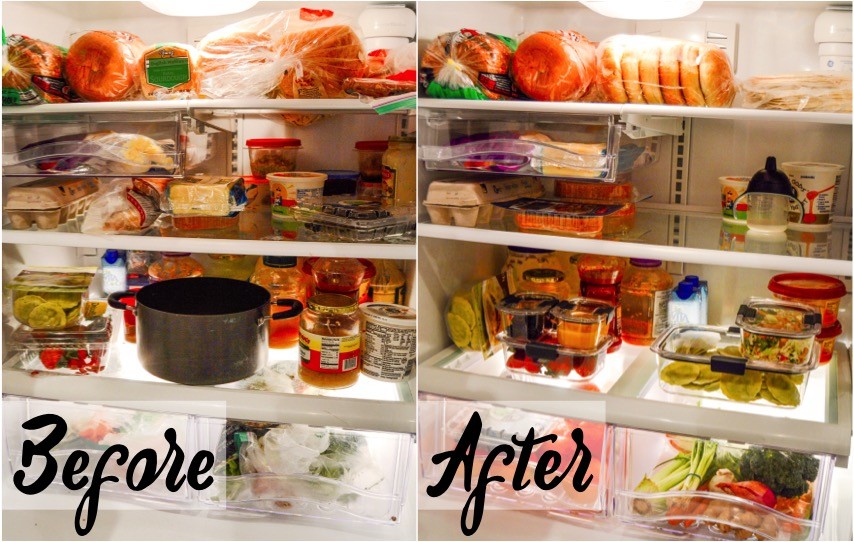 I gifted Rubbermaid® BRILLIANCE™ 10 piece sets to one of my sisters and to a friend. They both loved it! Here is what my sister sent me to say thanks.
Thank you for the wonderful gift! This is SO perfect for our family! [My husband] takes lunch every day to work, and these must have been designed with that in mind because they are lightweight, don't leak in his bag, and they allow for quick/easy microwaving. Plus, they are keeping my fridge nice and tidy! He loves them, I love them. Thank you!
And my friend sent me picture of his Rubbermaid® BRILLIANCE™ in action and said…
"The 100% leakproof seal works great for storing those extra coffee beans. [You can] hear the air get pushed out as the rubber seal slides into place."
What do you think?
Do you need to organize and clean out your fridge? Do you have any other tips for fridge spring cleaning? Please share your thoughts in the comments section below!
Could you use a 10 piece set of Rubbermaid® BRILLIANCE™? Click here to learn more.
Pin It For Later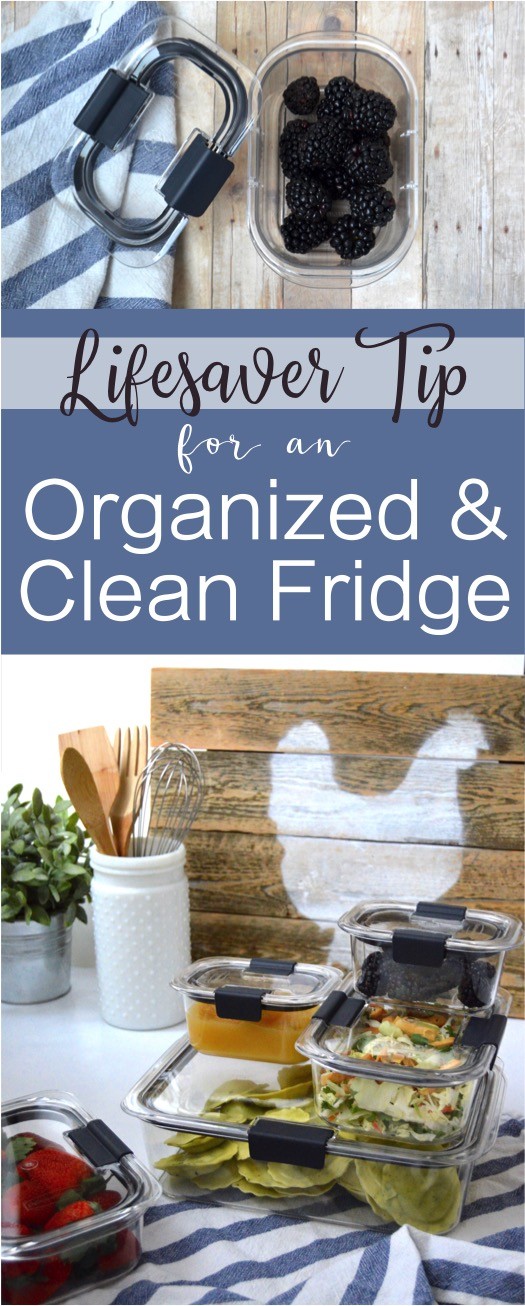 Other Posts You Might Like