A few months ago I made a Jesus Quiet Book to keep my little toddler busy during church. I'm a Mormon and church is 3 hours long every Sunday. Luckily, my son is now old enough to go to nursery for the last two hours, but we still have to keep him quietly busy during the first hour, Sacrament Meeting. Having any toddler sit reverently in a church pew for one full hour is no small feat. Let me tell you, this Jesus Quiet Book has been a lifesaver!
I really liked the idea of keeping him busy and introducing him to gospel stories and references, so I thought a church-themed quiet book was a good call. After looking and looking online to purchase a quiet book for church, I came up empty-handed because everything was either super expensive, not that fun looking, too short, or all of the above. So, I decided to make one myself! One day I will have a sewing machine and learn to use it, but for now I used the next best thing: hot glue. My no-sew Jesus Quiet Book was super easy to make and seriously you can do it too.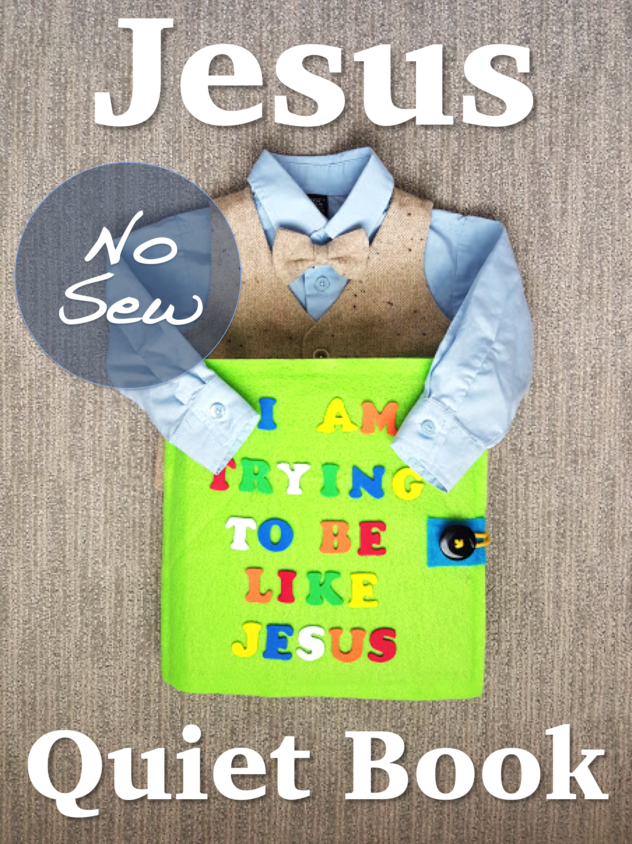 (This page contains affiliate links that we may be compensated for. Your clicks and purchases help support The DIY Lighthouse at no extra charge to you. We only put links to products we love and would recommend anyway.)
Jesus Quiet Book Pages
I landed on an "I'm Trying to be like Jesus" theme because I have plans to make other themes in the future (ideas: Bible Stories, Book of Mormon Stories, The Church of Jesus Christ of Latter-day Saints, and I Am a Child of God). I did some preliminary research and then thought up these pages on my own. Feel free to change and/or add your own pages!
Below are pictures of the finished pages in my Jesus Quiet Book, additional photos that may be helpful, supplies needed, and tips/suggestions for when you go to make your own.
Note: I was not a perfectionist with this book! I figured my toddler was going to be manhandling it anyway, so I didn't fret about making it perfect.
Making the Blank Book
The basic supplies you will need to make this no sew Jesus Quiet Book are:
felt (for the book and the details… I got my main lime green felt on sale at Jo-Ann, but multi-colored pages like this would be cute.)
hot glue (you'll need more than you'd think… these hot glue sticks are a good deal)
pen or Sharpie
individual page supplies beyond these basics (shared below)
Before you can get going on doing the fun stuff (adding the individual page decorations), you have to first form your book. I used a giant piece of green felt and measured, cut out my pages, and hot glued them together at the spine. The next time I make a book, I'm going to save time and buy pre-cut squares. To make my front and back covers more sturdy, I used two felt squares each, measured a piece of cardboard (from a box we had lying around) slightly smaller than my felt squares, and hot glued the cardboard in between them. I'm glad I did this because my book feels more sturdy.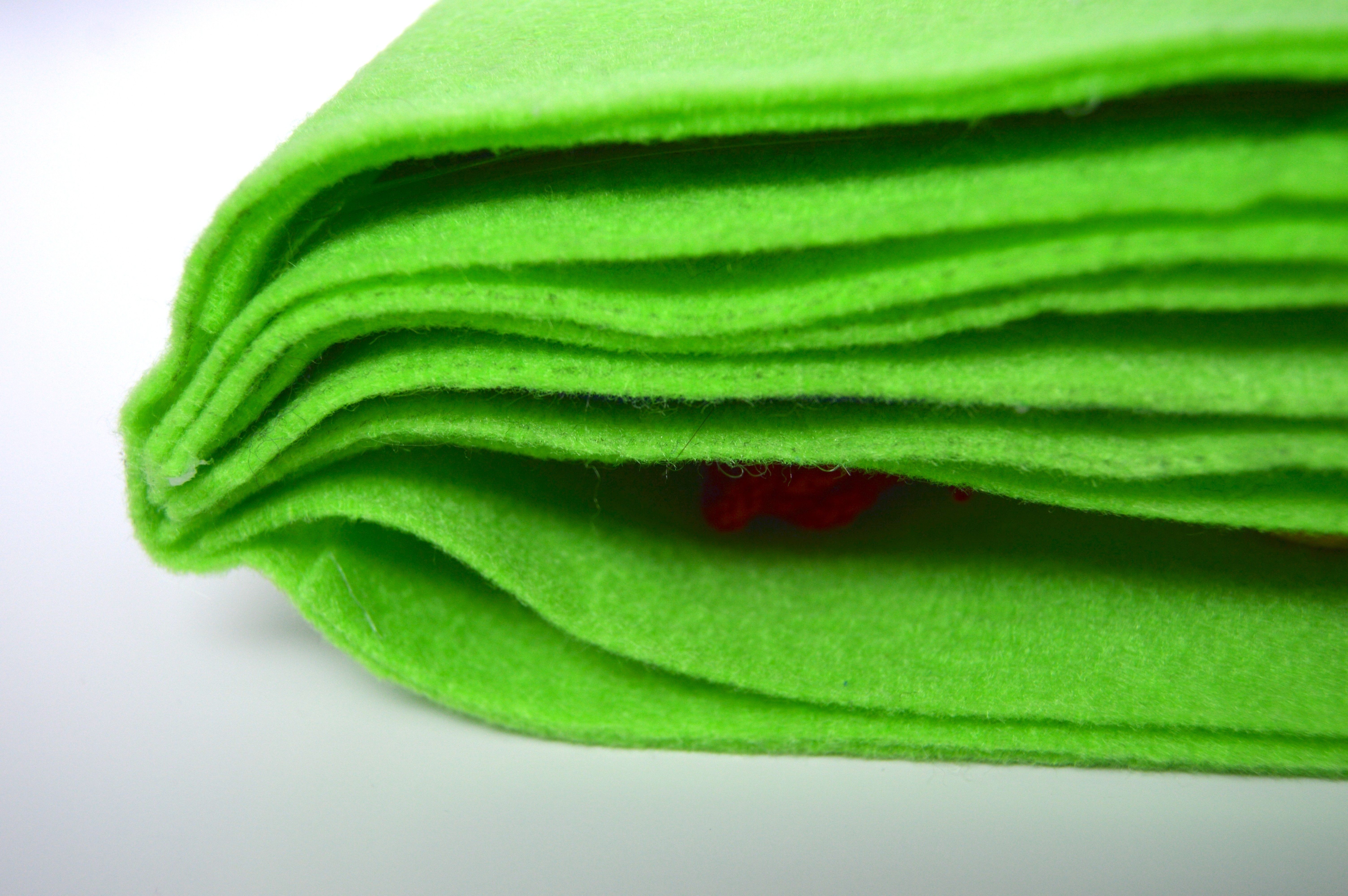 Jesus Quiet Book Front Cover & Back Cover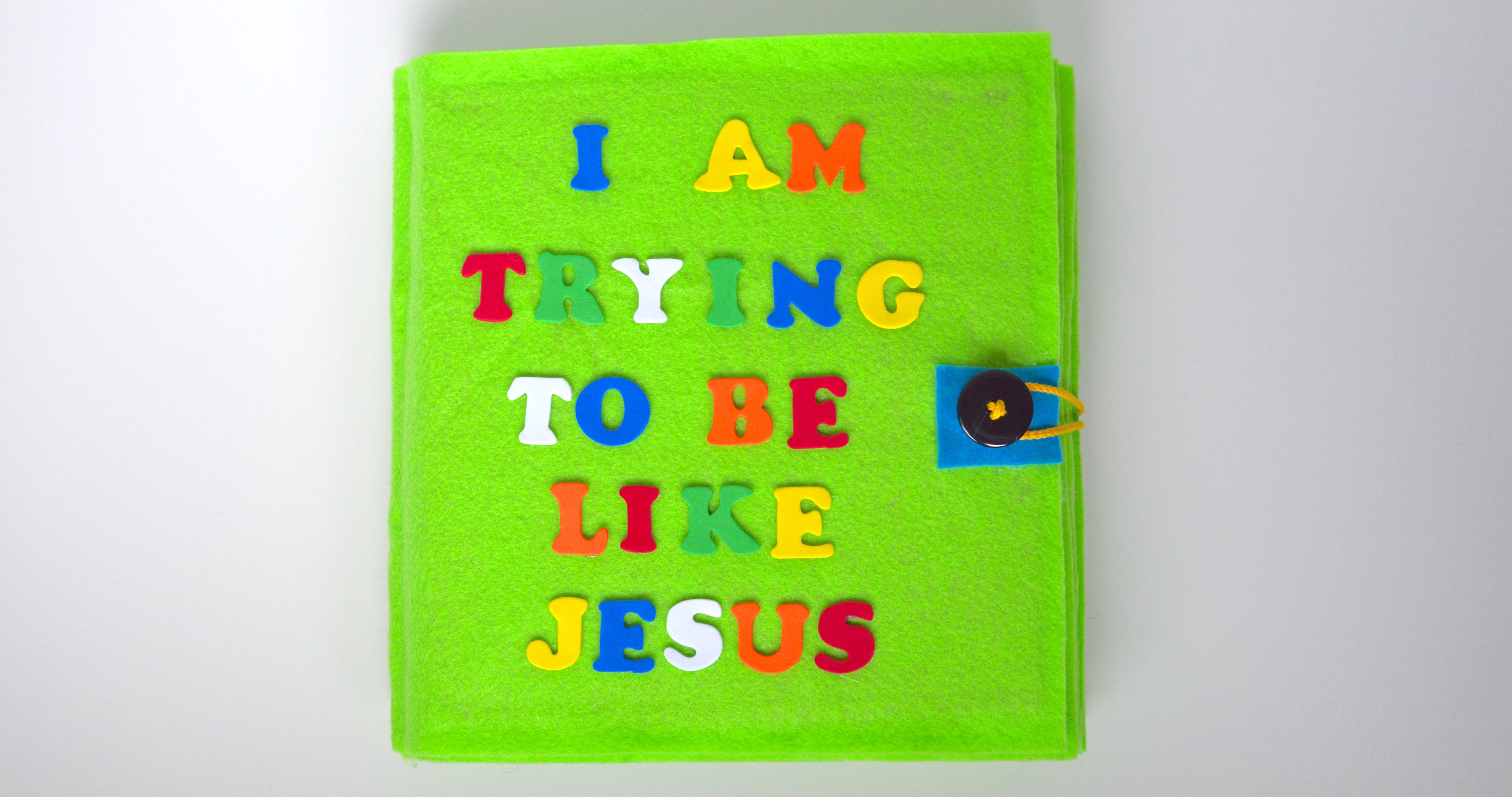 Page Supplies:
Although my foam letters were peel-and-stick ones, I also hot glued them on for security.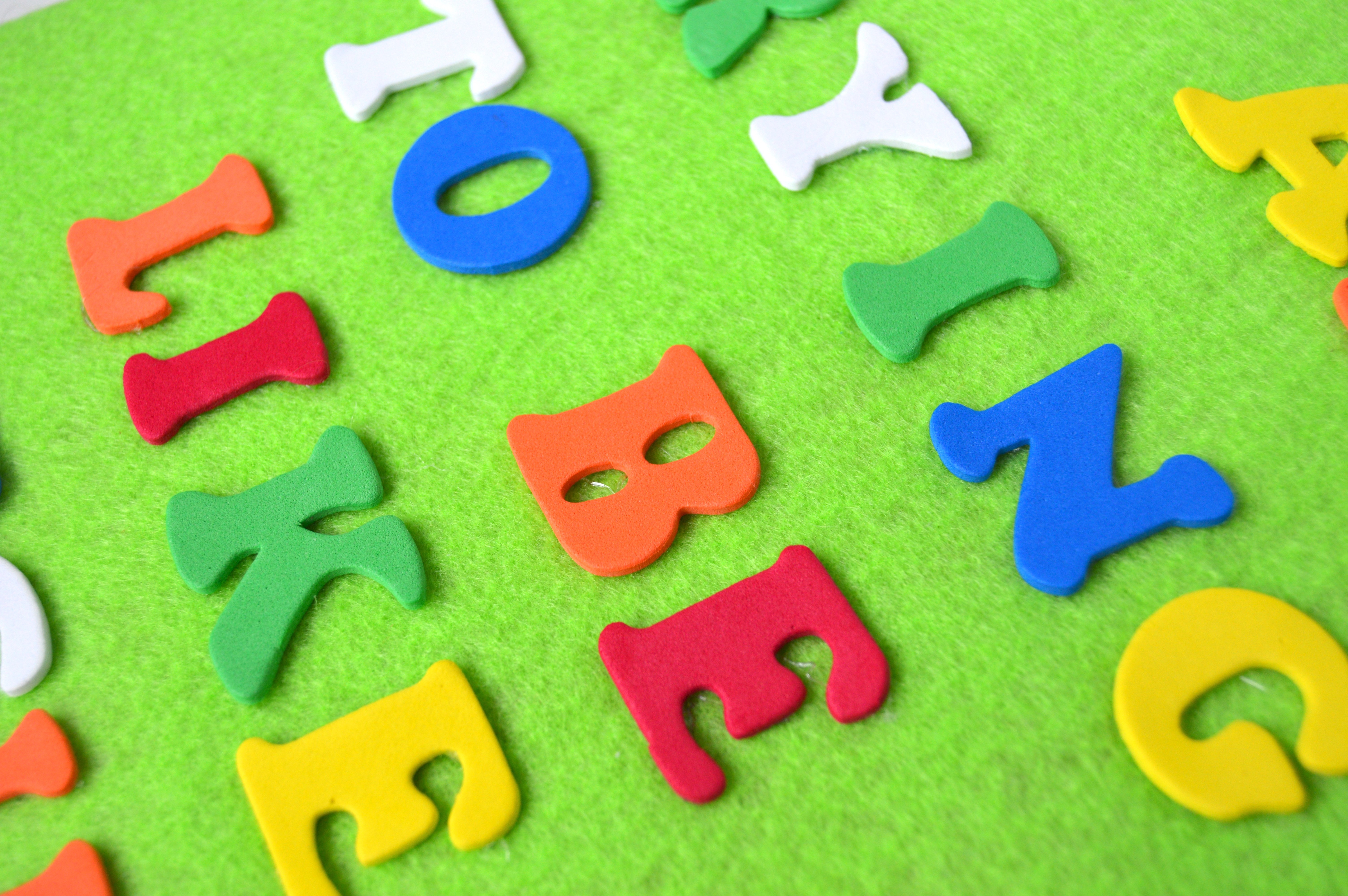 I had this button lying around that I used to help latch my book closed. To secure the button, I crossed two cut pieces of shoelace through the button holes, tied them together on the back side, threaded them through a slit in the blue felt patch and hot glued them to the green cover. Then I hot glued the blue felt down to fully cover the shoelace underneath.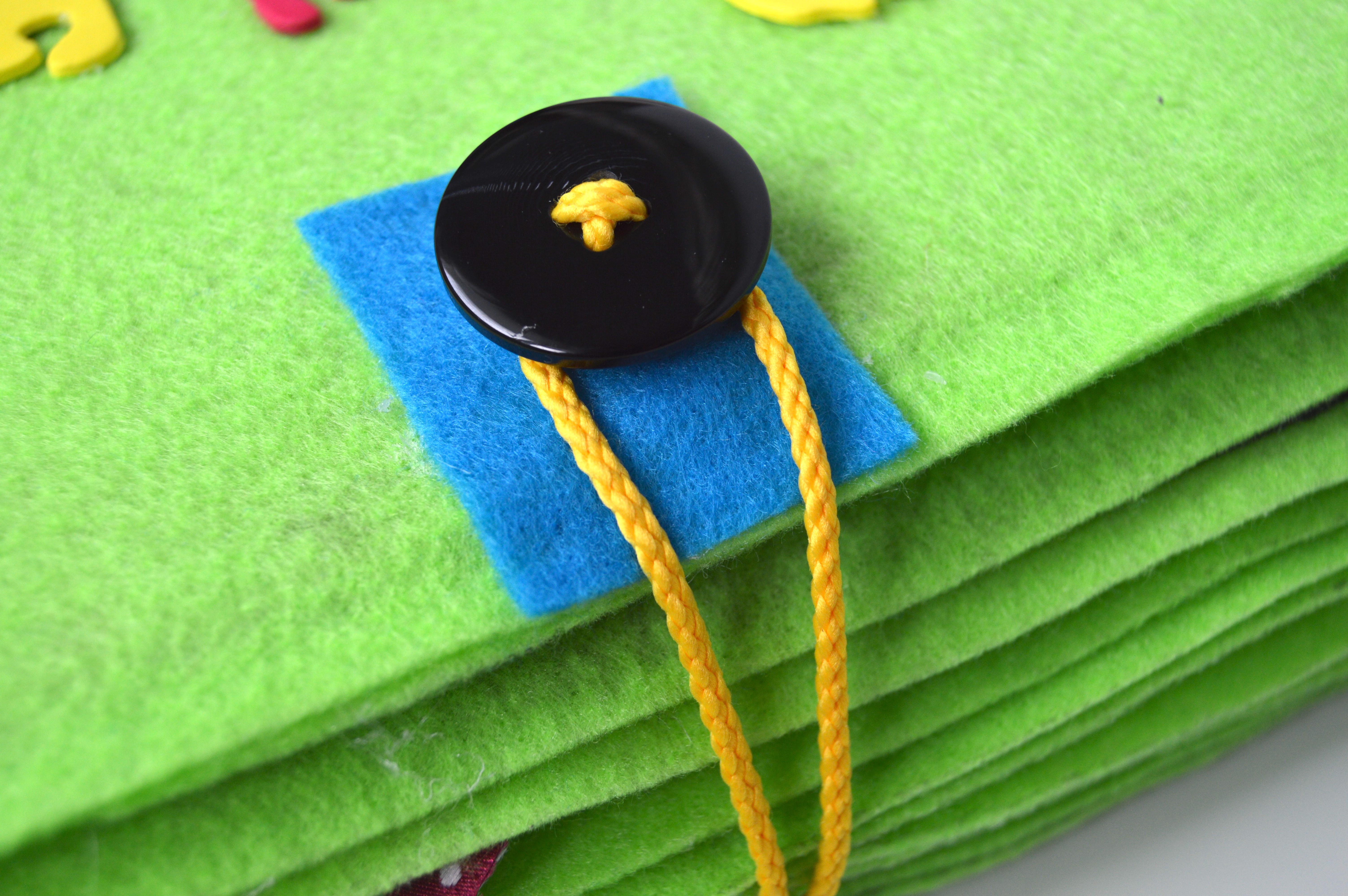 On the back cover, I hot glued my shoelace loop latch to the green felt and then hot glued a blue felt patch over the top.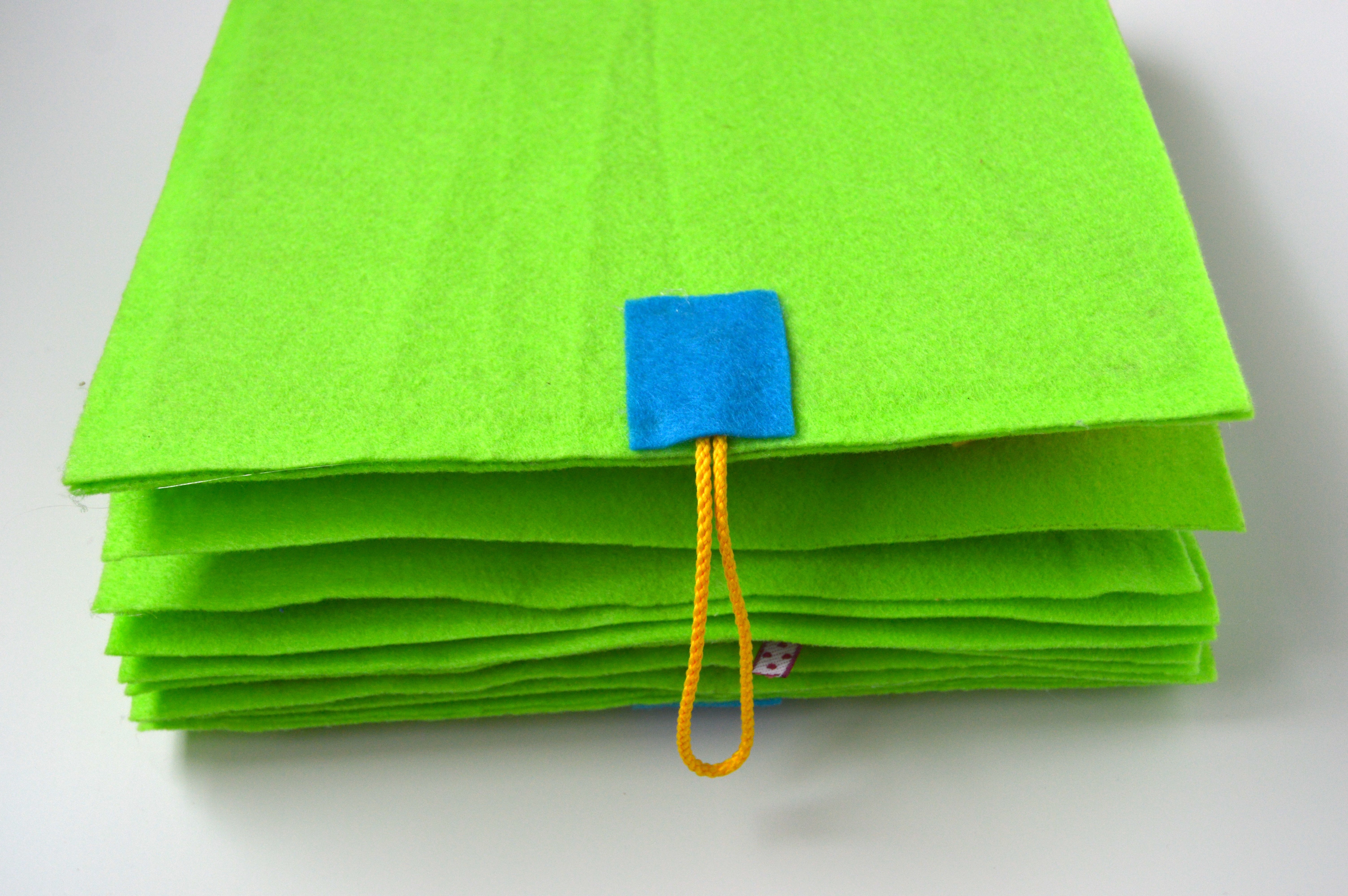 Pages 1 & 2: Jesus Loves Everyone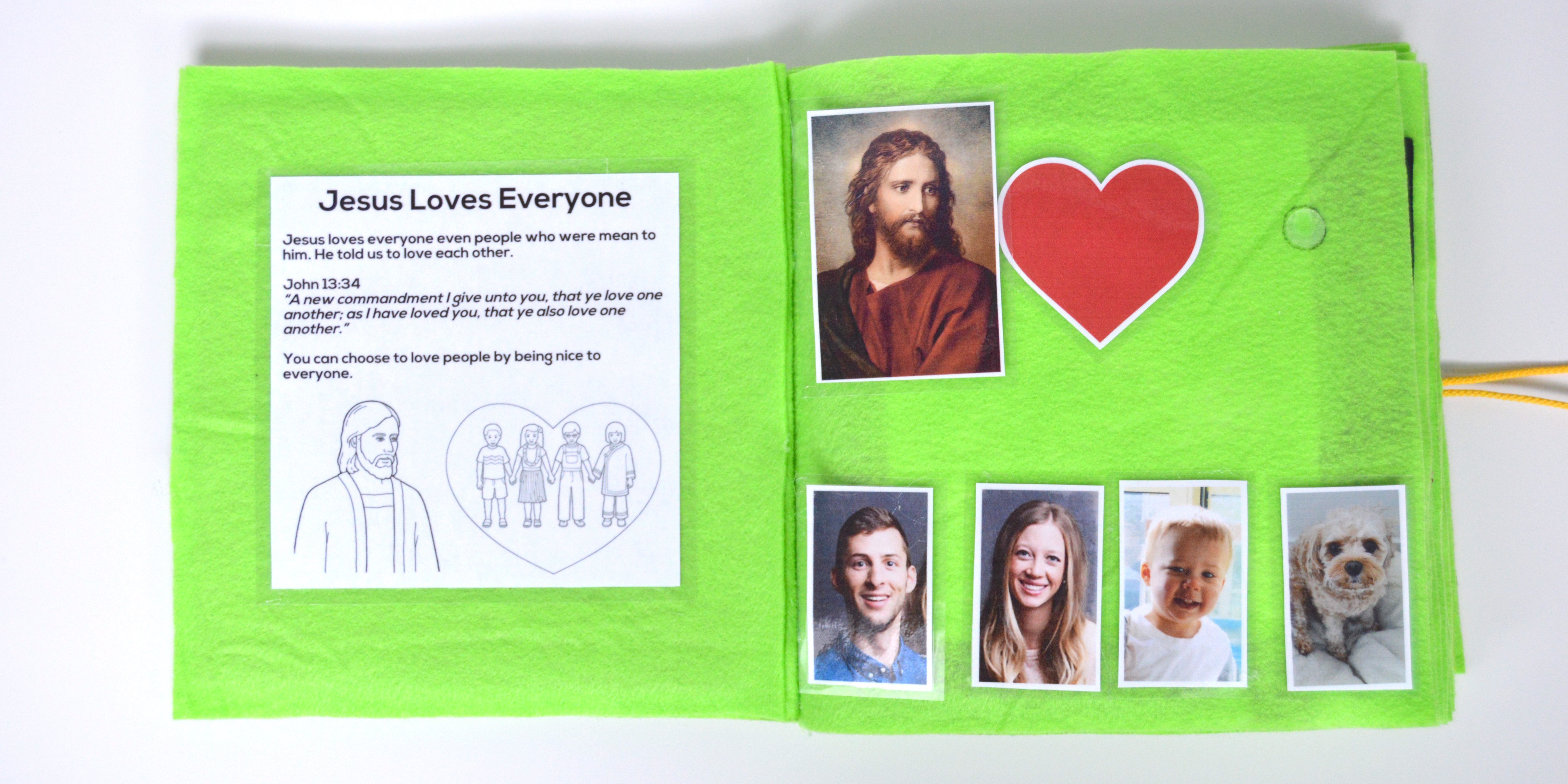 Page Supplies:
You will notice that the inside pages all have a laminated page on the left that 1) tells the page spread's title, 2) gives a brief description, 3) shares a scripture, 4) tells how you can follow Jesus's example, and 5) includes a little picture. To download these in PDF form, click the "Jesus Quiet Book PDF" button below.
Jesus Quiet Book Pages (PDF)
I simply printed out the pages (yes, I even printed my pictures out on regular printer paper), trimmed them down, and laminated them. I hot glued the laminated page on the left straight onto the felt.
The activity on this page is to switch out the pictures so you help your toddler say, "Jesus loves mommy (or daddy, or puppy, etc.)." I hot glued velcro dots onto the backs on my laminated pictures. I put velcro on the back of the Jesus picture too so that my boy can say, "Mommy loves daddy" (or puppy, etc.).
Tip: When you're using velcro at any point in this Jesus Quiet Book, make sure your velcro is going the same way. For example, I always hot glued the scratchy side onto the book and the softer side onto my pieces.
Pages 3 & 4: Jesus Visited the Sick

Page Supplies:
The activity on this page is to help the car move along to road from the house to the hospital. This make this page, I cut out my black felt road and then added the other felt details. Once I had them all laid out and fitting nicely, I hot glued them in place. The house is on a little flap that is hot glued on one side and held down on the other with a velcro dot. The car and scrunched up shoelace live underneath this flap by the "garage" when they're not in use. I hot glued the shoelace under the garage and onto the back of my car.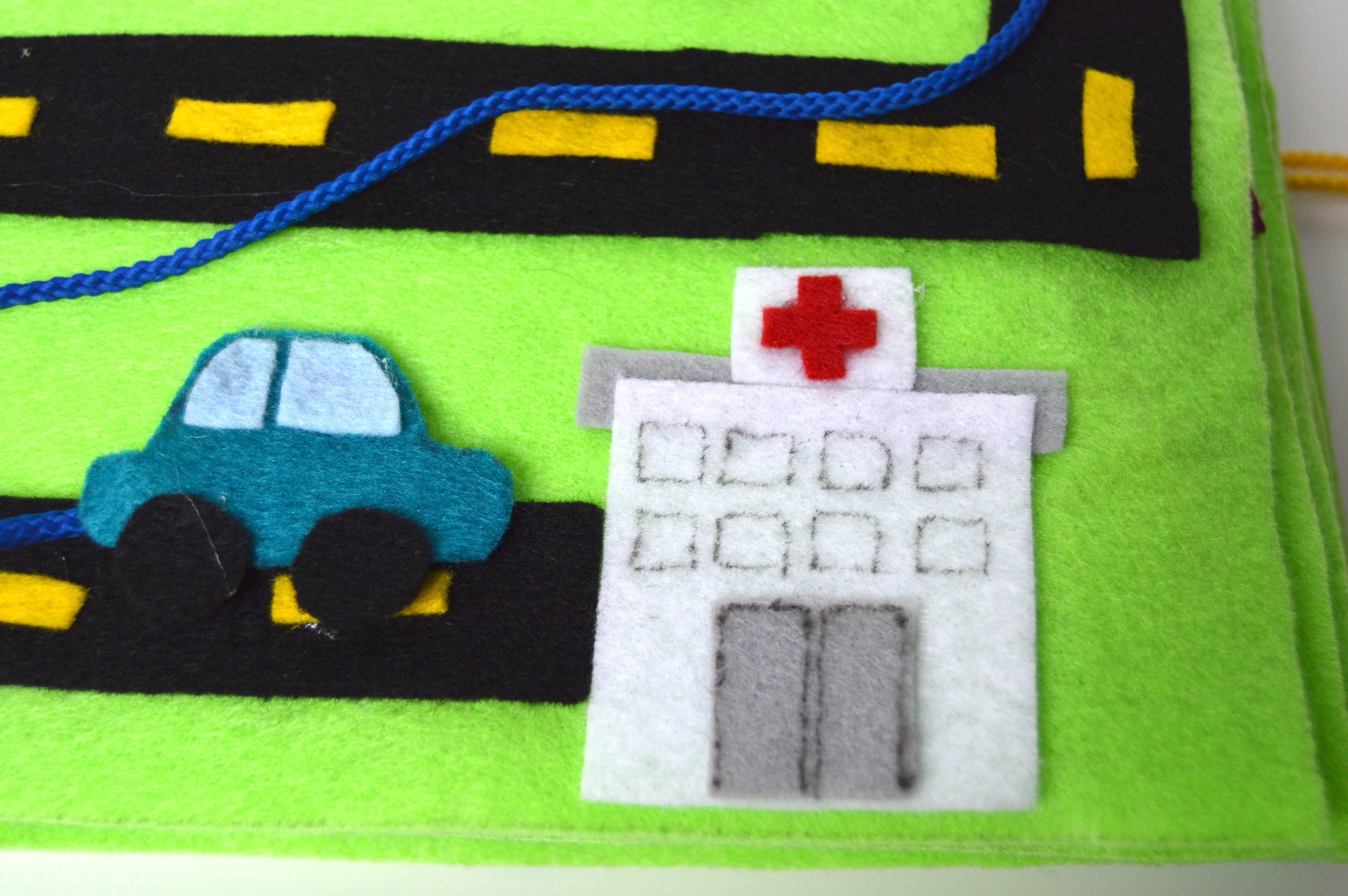 Pages 5 & 6: Jesus Forgave People

Page Supplies:
yarn (here are some color options)
ribbon
wiggle googly eyes (I got mine at Jo-Ann, but they are something like this)
velcro dots (like these)
The activity on this page is to create different faces on the girl, braid her hair, and tie the ribbons. (This ties in because Jesus forgave the woman.) It's pretty obvious, but I hot glued everything down except for the velcro face pieces, and I only hot glued the top end of the yarn hair. I then made different eye options and mouth options that I hot glued velcro dots to.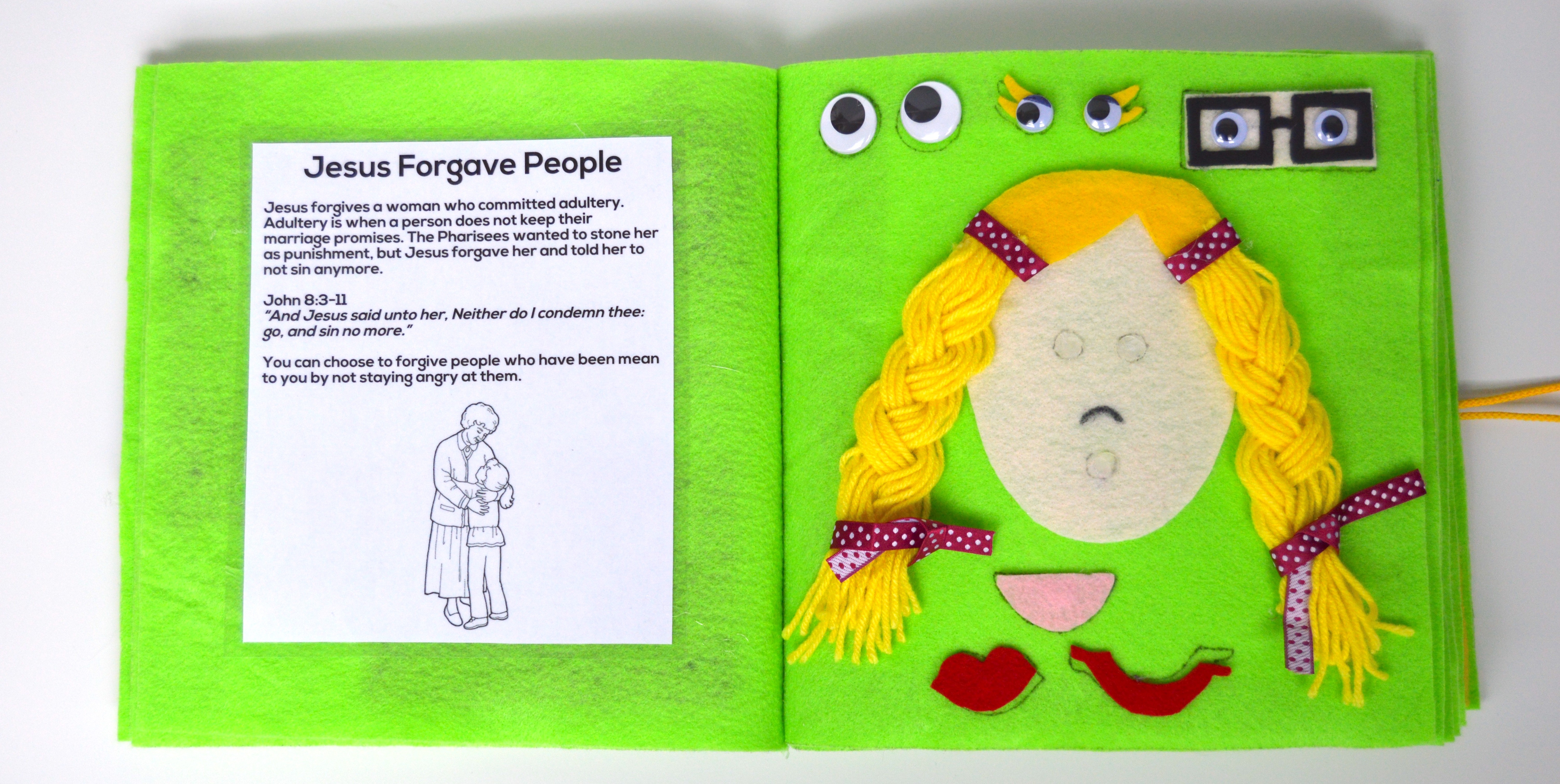 Pages 7 & 8: Jesus Fed the Hungry

Page Supplies:
nothing but the basic supplies (felt and hot glue)
The activity on this page is to arrange different food on the plate and "eat it" (put it back in the pocket). The plate is a big felt circle that I hot glued along the rim only on the bottom half. That way, it acts like a pocket and the food pieces can we stored inside. In the whole Jesus Quiet Book, this was my favorite page to make. The food is so cute!
Pages 9 & 10: Jesus Calmed the Storms

Page Supplies:
nothing but the basic supplies (felt and hot glue)
The activity on this page is to create the scripture story scene where Jesus calms the waters. Like the pocket plate above, the water acts as a pocket for the other felt pieces on this page. I will say, I regret making the two fish bright orange because my son calls them "nack! nack!" (snack) because they look so much like goldfish crackers haha.
Pages 11 & 12: Jesus Blesses Children

Page Supplies:
The activity on this page is playing with the finger puppets. I hot glued the world right onto the page, but the puppets are attached by velcro dots. To make the puppets, I loosely traced my index finger on a doubled over piece of felt right along a folded seam so that when I cut it out I had one piece of felt twice the width of my finger. When tracing, give the sides some extra room to glue. (My cutout piece made a double arch on the top like the McDonald's "M.") Then I hot glued the felt to itself except for the bottom opening where the finger goes inside. Lastly, I added faces, hair, and velcro dots to the backs.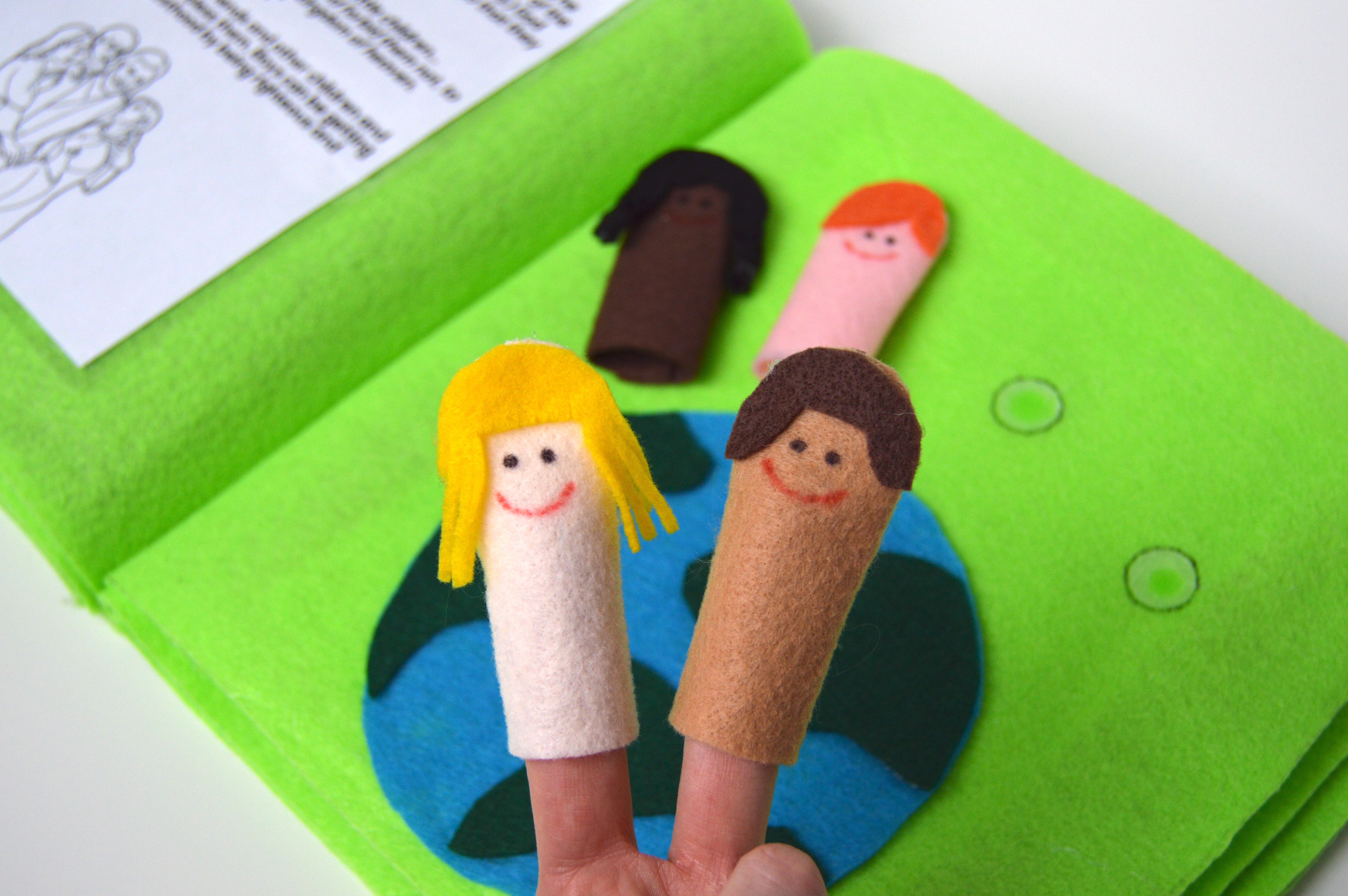 Pages 13 & 14: Jesus Said, "Come Follow Me"

Page Supplies:
The activity on this page is to thread and tie the shoelaces on these foam shoes. There are two shoelaces in each color so kids can choose if they want the shoelaces to match or be different colors.
This page was probably the trickiest to make in the Jesus Quiet Book because I didn't know how to do the shoes. I ended up tracing the bottom and sides flaps as one piece and adding the tongue flap after. By leaving some excess around the top of the tongue piece, I was able to hot glue it underneath the shoe and it stays down nicely. I also elected to add a piece of white felt around the tongue part to give the shoe some variety. The bottom of the shoe is securely hot glued to the page. Then all you have left for the shoes are hole punching some holes along the side flaps for the laces to go in.
Along the bottom, I hot glued little strips of felt with velcro dots so they could be wrapped around the extra shoelaces. Be sure they are held in there nice and snuggly.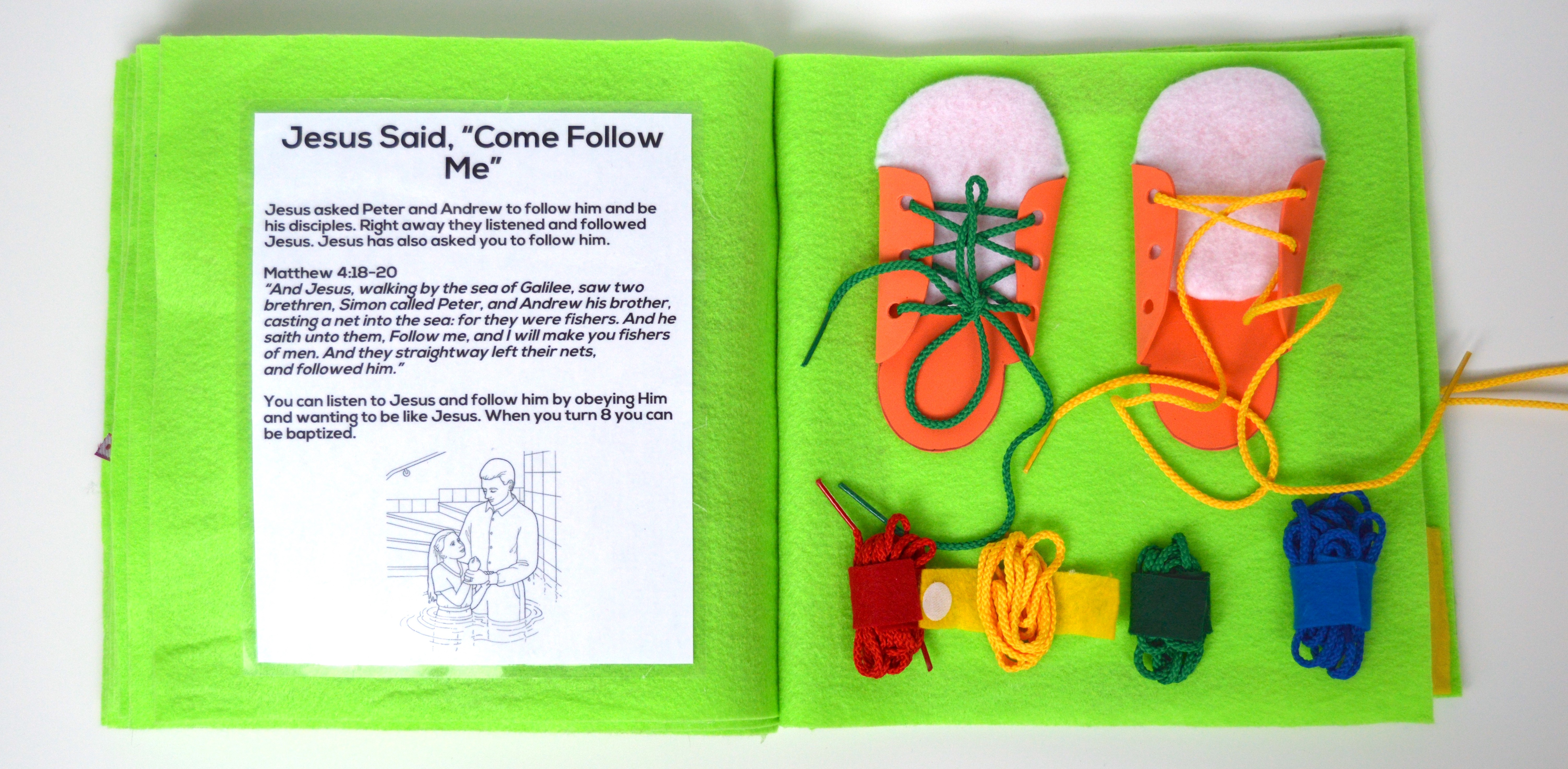 Pages 15 & 16: You Can Be Like Jesus

Page Supplies:
flat, circle mirror (I got mine for cheap at Jo-Ann, but something like this is the idea)
The activity on this page is to arrange the flower petals around the mirror so they go in ascending order. And the mirror is also quite fun especially for younger kids. To make this page, I cut out one flower petal and used it to trace and cut out all of the others. The yellow square in the bottom right corner is a little pocket to hold the petals when they're not in use.
As you can see, the page on the left is different from the others in the Jesus Quiet Book. As the last page spread, I thought it would be cute to put the lyrics to the primary song, "I'm Trying To Be Like Jesus." This is the conclusion page where throughout the book they've been reading about all the ways to follow Jesus's example and this last page brings it home. I think the mirror ties in nicely to the theme (do they see Jesus in their countenance?), and the flower symbolizes growth and process to becoming like Jesus.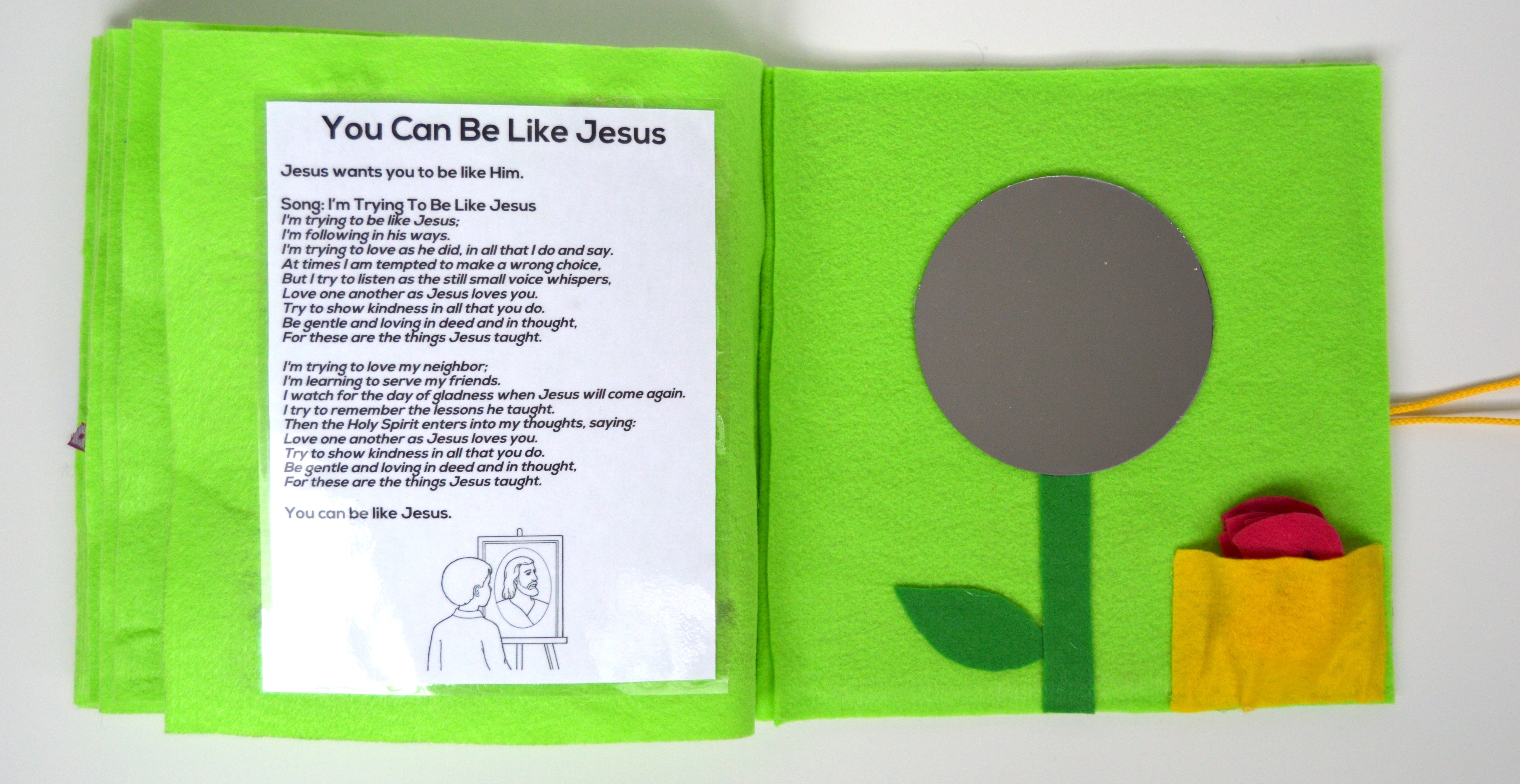 That sums it up! This Jesus Quiet Book has been great for us so far, and I hope it helps your church experience be a little more pleasant too. I like that there are activities for different mental and motor development stages so as my son grows up different things will entertain him. Obviously he can't read yet (he's only 20 months!), so the pages on the left will be more interesting later. But, for right now, I feel like this book is helping as an introduction to Jesus while he's so young.
Let me know what you think of my Jesus Quiet Book in the comments section below! And share any other fun quiet book ideas you have!
Pin It For Later

Other Posts You Might Like